About
Driver Booster
Quickly and Safely Keep Over 3,000,000 Drivers & Popular Game Components Up-to-date
‣ Large Driver Database
For high performance of your windows system, software and hardware need to work accordingly with each other. So it is necessary to get device drivers regularly updated and always function properly. Driver Booster 6 checks and updates over 2,500,000+ device drivers from Intel, Nvidia, and AMD etc. to help you reduce system freezing and crashing.
‣ Smooth Game Performance
Sluggish game performance makes you frustrated? It's time to get Driver Booster 6. It easily keeps graphics drivers and Game Ready drivers updated to get best performance of hardware and take gaming to the next level. It also quickly shuts down background processes and unnecessary Windows Service to unlock the full potential of your PC game. Game components for most PC games are also available to help launch your game successfully.
‣ Quick & Safe Driver Update
Deleting useless files in installation package and distinctly compressing installation package, Driver Booster 6 saves your time on updating drivers and makes your routine stay undisturbed. To keep your computer safe, Driver Booster 6 only provides drivers passed Microsoft WHQL tests and strict IObit Review tests. It also creates a restore point before installing a driver in the event something goes wrong with the installation.
‣ Fix Hardware Errors
Driver Booster 6 fixes malfunctions of hardware in your computer system. You could fix no sound problem quickly and be able to enjoy crackle-free sound while listening to music or watching videos. Network failure and unplugged device data also can be easily fixed and deleted. Moreover, Device error codes in Device Manager can be detected and repaired as well.
‣ Smoother PC Game
Get new-released Game Ready Driver to boost performance, fix bugs and improve gaming experience. Necessary game components are also available to help run your game smoothly.
‣ Auto & Secure Update
Automatically update selected types of drivers with fast speed to save your time. Previous drivers would be backed up automatically in case of anything expected.
Software type
On-Premise
Device type
Windows
Category
driver updater
Screenshots
No screenshots yet
Marketing files
None marketing files yet
Pricing model
One-time-license
Subscription
Driver Booster - PRO
Features
Automatically scan & identify outdated, missing & faulty drivers
Update outdated drivers with 1 click
Only provide drivers passing Microsoft WHQL test and IObit Review test
Compressed driver package with smaller size to save time
Larger database to update more outdated & rare drivers
Unlock driver update speed limit
Automatically backup all drivers for safe restore
Auto download, install and update drivers during system idle time
Easily fix device errors for Better Performance
Boost game performance by stopping unnecessary processes
Priority to update Game Ready Driver for smoother and better game performance
Improve gaming experience with necessary game components
Auto update to the latest version
Free 24/7 technical support on demand
1-Year Subscription
3 PC
Please ask and discuss questions
Driver Booster review 2019 + Free download
Although computer drivers ought to get checked and updated automatically through Windows updates, often they get out of date. Especially when users turn off the updates, which is a quite popular practice. Driver updater tools then become a helper, and in continuation to our previous Top-10 driver updaters review, we'd like to analyze few of them more carefully. This is a Driver Booster review.
Driver Booster is a product of IObit, a company founded in 2004 and devoted to PC optimization, security software, performance optimization tools. Outstanding products include Malware Fighter, Advanced Systemcare, Smart Defrag, etc. Today we'll be looking at their free Driver Booster version.
Vendor description
First off, what is Driver Booster? Here is how IObit presents its driver updater program. Driver Booster is driver updater tool for Windows - it supports Windows 10, 8.1, 8, 7, and down to Windows Vista and XP. It regularly and automatically checks drivers on user's device. It downloads and updates all the drivers in one click.
Driver Booster 6 is among most popular driver update tools. With database of 2.5 million device drivers, drivers from Intel, Nvidia, AMD and more, game components, it can guarantee an accurate update and stable system performance. Also, Driver Booster offers options to create restore points, view system information, fix separate device issues.
Specifications:
Vendor: IObit (visit site)
Newest version: Driver Booster v.6.0.2 out 09.26.2018
Operating systems: Windows XP/Vista/7/8/8.1/10
Installer file size: 19.7 MB
Menu languages: 48
Driver database: 3,000,000
Extra features: Game Boost, one-click update, feedback channel
Pricing: free / Driver Booster 6 PRO Trial
License: €19.95 Driver Booster 6 PRO (1 Year Subscription, 3 PCs)
---
Setting up Driver Booster review
Windows 10 actually needs driver updaters very seldom, XP and Vista are too old already that are in use rarely. Thus, Windows 7 seems the most relevant operating system that is still the most popular among users - 48.5%, according to Business Insider. We also use Windows 7 Professional 64-bit, so it was the most suitable to conduct our Driver Booster review on it.
For perspective, we used 2 devices: a PC and a laptop, so shortly you will see performance results for both to get a fuller picture. The desktop PC has 8GB RAM, Intel Celeron CPU of 2.60 GHz, and 1920x1080 screen resolution. The laptop is Acer Aspire with 3GB RAM, Intel CPU of 1.30 GHz, and 1366x768 screen resolution.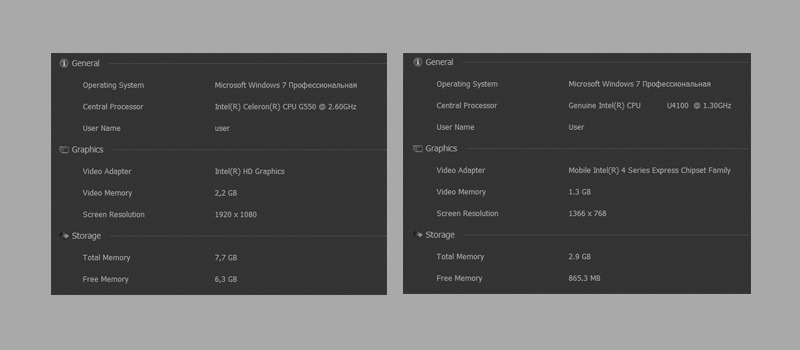 On both devices we had Windows Updates turned off for at least one month, as we could remember. Upon updates search, the system displayed 135 important and 70 optional updates pending. In regards to software installation, we had to measure our Internet speed, to be totally fair. 304 Mbps via Speedtest and 332 Mbps via Xfinity, as you can see below.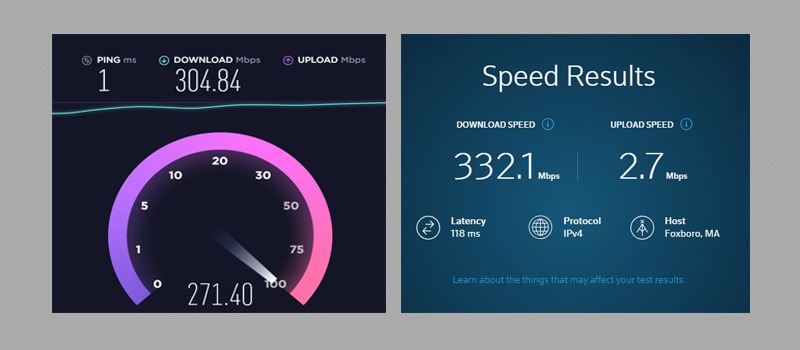 Now that we have it out of the way, let's review Driver Booster step-by-step.
#1: Installation
It's all plain and simple: get the installation file from publisher's website (19 MB) for free, save and then execute it. On a welcoming screen you have the option to select a language for driver updater, main red Install button and a smaller one for custom install below.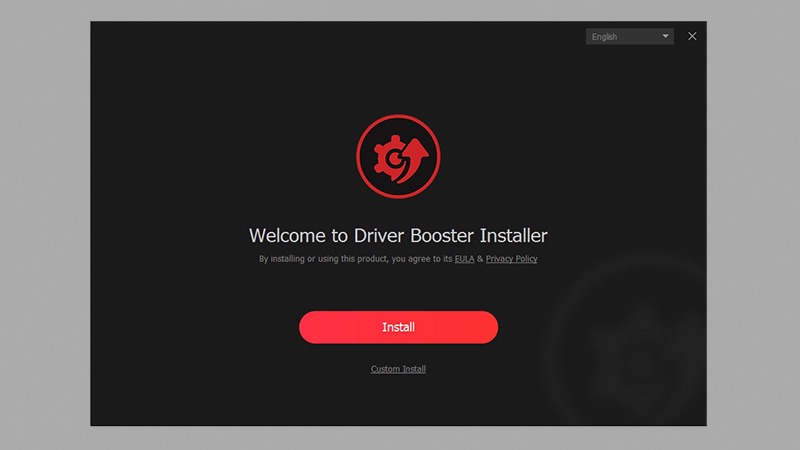 Driver Booster free download here. We recommend choose Custom install to be able to: a) select a path, create a desktop icon, pin to taskbar; and b) skip or install additional tools.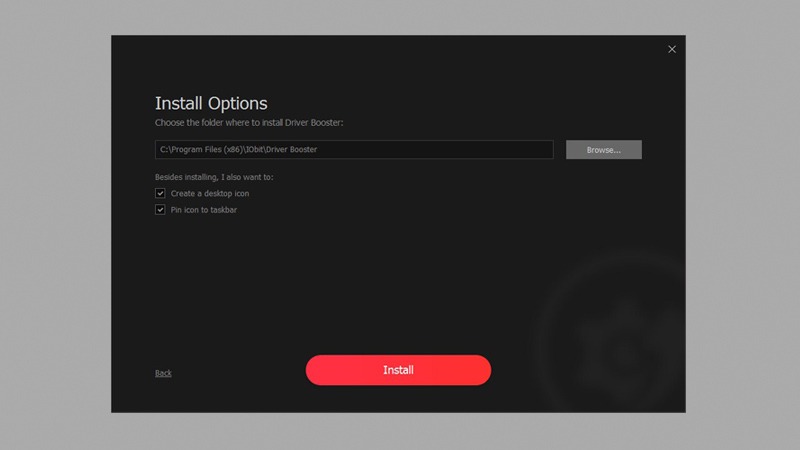 Proceed when ready, and installation process starts - with progress on a screen. This was the first data we've measured on 2 devices.
Installation time: 35 seconds on PC, 2 minutes on laptop. And then comes the trick - after complete installation, Driver Booster starts the scan immediately, want it or not.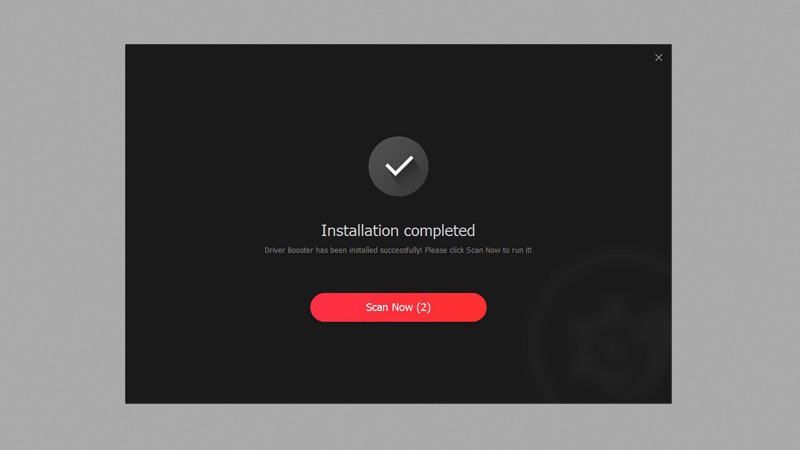 #2: Diagnostics / Scan
So, if a user doesn't click Scan now button after installation, Driver Booster starts diagnostics process in 5 seconds automatically. On a dark-grey interface, the main screen appears with a central large Scan/Stop button.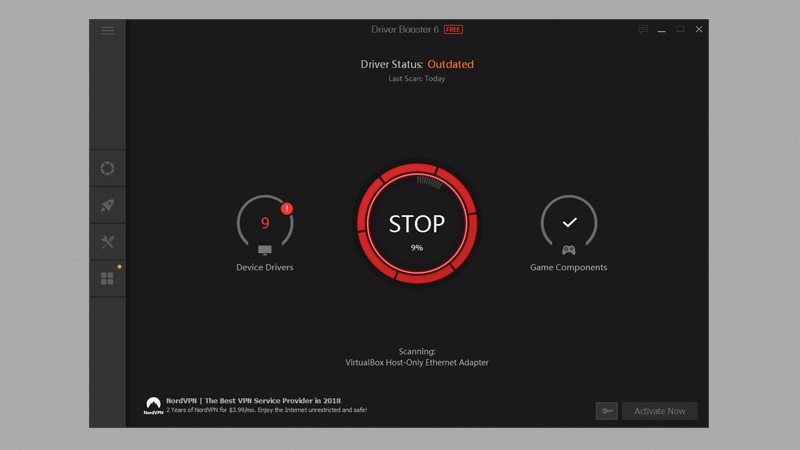 As part of our Driver Booster review, and to answer users requests like "Is driver booster good?", we measured the driver scanning time. And it turned out to be real fast.
Scanning time: 30 seconds on PC, 2 minutes 30 seconds on laptop.
Next big parameter is, of course, out-of-date drivers found. Our desktop PC is in better shape by far, than our old pal Acer laptop, and results were appropriately corresponding.
Outdated drivers found: 9 drivers on PC (and 75 drivers good), 33 drivers on laptop (and 70 drivers good).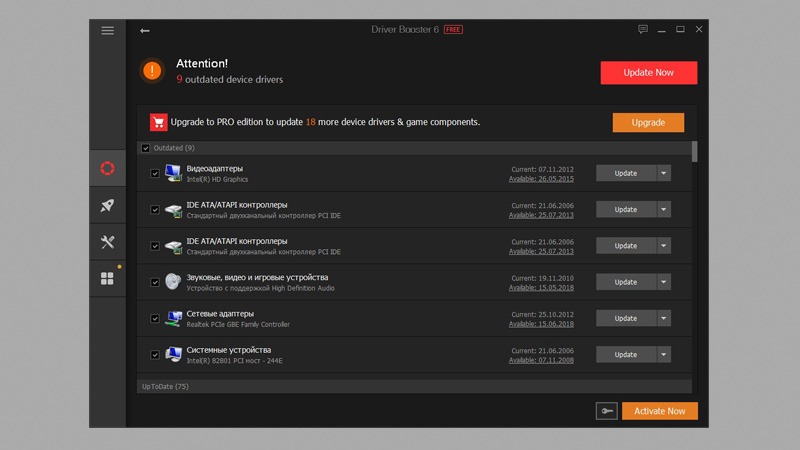 Driver Booster displays information on each driver to update to a great length: name, category, current version with date and publisher, new available version with date and publisher. Then, a user may update it, ignore it or even uninstall it, as well as an option to update all in one click.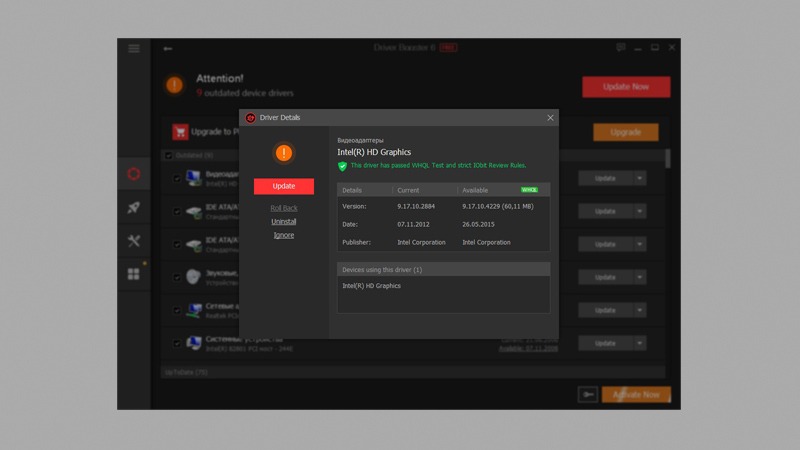 #3: Repair
Driver updater software is all straightforward - you run a scan, check results and choose the further action. Stage number three in our Driver Booster overview is repair. After a full scan it displays old drivers to update. For our out-of-date drivers (9 on PC, 33 on laptop) we click Update all.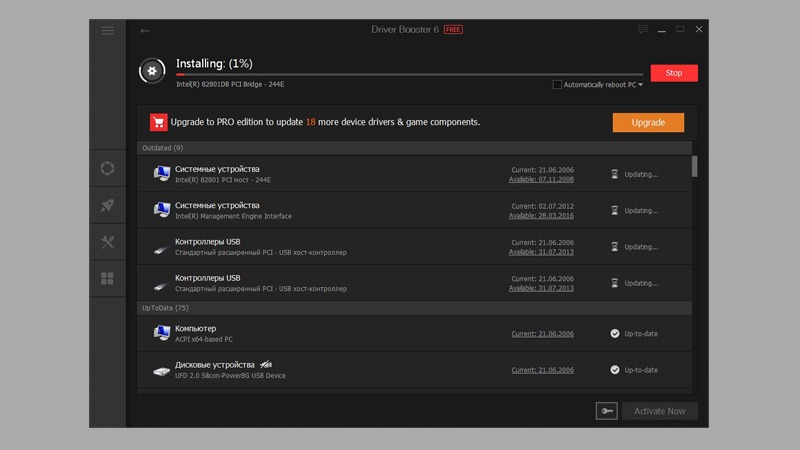 Before it begins, program will warn you if there is a conflict with security software on a device, and that you may encounter network disconnections or other programs' crashes. Some drivers will require a reboot afterwards, and there is an option for automatic reboot after updates - click a checkbox in the upper right corner.
During drivers installation a user can view the update status of each driver (preparing, downloading, completed, reboot required). After the reboot Hooray, all drivers are up-to-date.
So how much time did it take to update our devices? Driver update time: 5 minutes 45 seconds on PC, and 22 minutes 10 seconds on a laptop.
#4: Extra features
It all worked well - efficient scanning, driver downloads and installation, fast performance, easy workflow and nice design. So is Driver Booster legit? - many of you ask. Well, to answer that Driver Booster 6 offers several handy tools in addition.
| | | |
| --- | --- | --- |
| System optimize | + | Free to scan for junk files, registry, system issues |
| Game boost | + | Configure apps/processes not to interrupt your gaming |
| IObit Malware Fighter | + | Protection against malware, ransomware, spyware, etc. |
| Smart Defrag | + | Disk fragmentation, optimization, quicker boot time |
| Dashlane | + | Passwords manager |
| Tools | + | Fix errors (no sound, bad resolution, network failure, etc.) |
For example, Advanced Systemcare tool found 1925 items on our PC, and 4783 items on our laptop to optimize. The only drawback of this is that you actually have to install this tool to correct the issues, which will then prompt you to buy a subscription.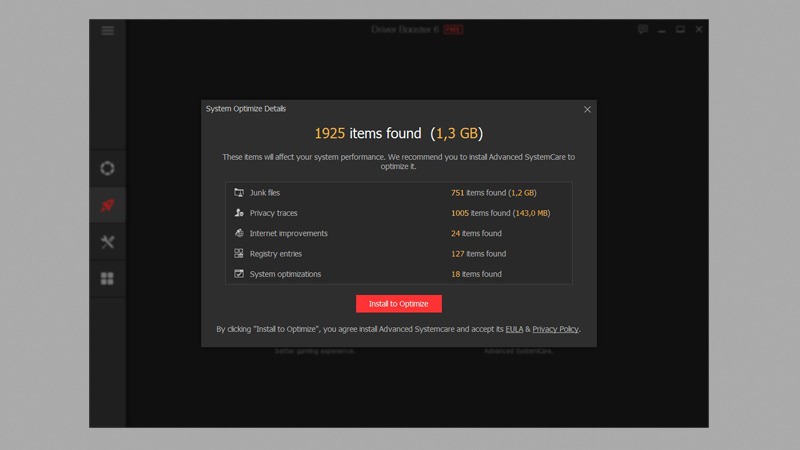 #5: Settings, support
The layout of Driver Booster is simple and fine (the only possible matter is a choice of colors), working with it is easy. From the main page users may run the program and access all the features and settings. You can set the language, font sizes, layout transparency, as well as basic options such as launch with Windows, reboot automatically, schedule scans, etc. There's also a folder for all driver downloads and backups. Certain features are only available in Pro version.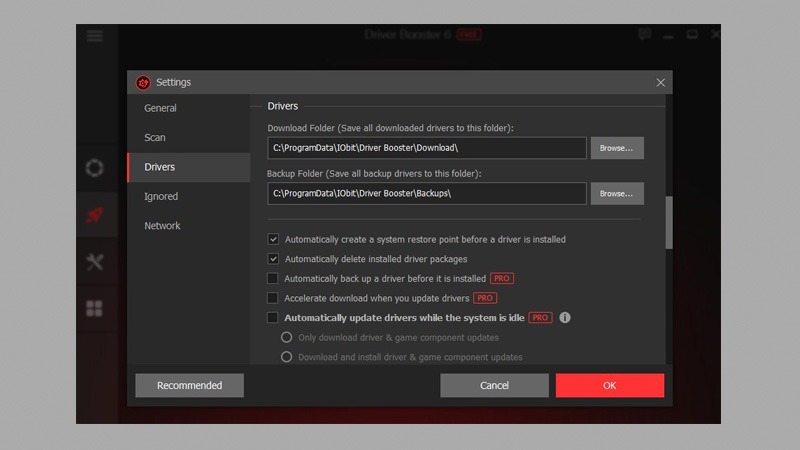 In regards to support, first off, there is a direct feedback option - a chat icon in the right upper corner. You can use it to communicate with Driver Booster team. Then, on IObit web page there's a support section, which includes FAQs, manuals, refund requests, online support, etc.
#6: Performance summary
Driver Booster 6 free version performed well during our tests. Installation and scanning were easy and lightning-fast, the program did not use too much resources of either our devices. Here is a brief summary for both PC and laptop.
| | | |
| --- | --- | --- |
| | PC, 8GB, Win 7 | Laptop, 3GB, Win 7 |
| Disk space | 74 MB | 74 MB |
| Installation time | 35 sec | 2 min |
| Full scan time | 30 sec | 2 min 30 sec |
| Outdated drivers found | 9 | 33 |
| Update time | 5 min 45 sec | 22 min 10 sec |
For the sake of real performance review, we ran 2 other driver updater tools, let's call them Competitor A and Competitor B. Both detected more out-of-date drivers on PC (19 and 19), but less on a laptop (26 and 30), compared to 9 and 33 by Driver Booster.
#7: Benefits, pros and cons
Driver Booster is an easy-to-use driver update software that comes with many extra options and tools. Is Driver Booster safe? Well, it creates a restore point to each update installation, it downloads only WHQL tested drivers…. So, yes, it all seems legit. Plus, we didn't encounter any issues or threats during our review.
Pros:
Automatic driver checks
One-click download and update
Support for all Windows versions up to Win 10
Automatic reboot or shut down option
Various tools - e.g. fix sound, screen, network, etc.
WHQL compliance for drivers
Backups for all updates
Cons:
No MacOS, Linux, iOS, Android versions
A bit too dramatic warnings about old drivers
Some drivers may require an individual update
No cautions or mentioning about missing drivers
Translations only partial, done by volunteers
#8: Driver Booster Pro
The enhanced version, with 3 million drivers database and all the extra features, Driver Booster Pro costs $24,95 per 1 year and 3 devices. This is actually a limited discount offer as of October 2018. In the course of DB free version test, we found 9 outdated drivers, while 18 more issues needed optimization.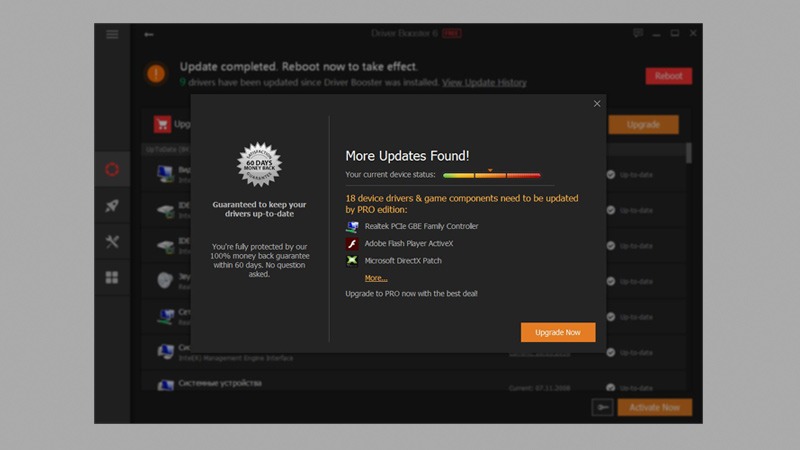 In our case, those extra issues detected were all game components, i.e. Microsoft DirectX Runtime, Adobe Flash Player ActiveX, Microsoft Silverlight, Visual C++ redistributables, Open Audio Library, etc. After hitting Update All button it took 13.5 minutes to download and install those 18 components.
Another useful feature in Pro version is Advanced Systemcare tool. Remember those 4783 items found on our laptop to optimize performance, we've mentioned in part 4? Driver Booster detects such items that potentially may affect device performance, e.g. junk files, privacy traces, registry entires, etc. In our test, it all amounted to 3.7 GB, which is pretty significant. Then, cleaning process for that, with the help of Avdanced Systemcare v.11.5, lasted 4 minutes. Oh, and one more thing: it also includes scanning for spyware.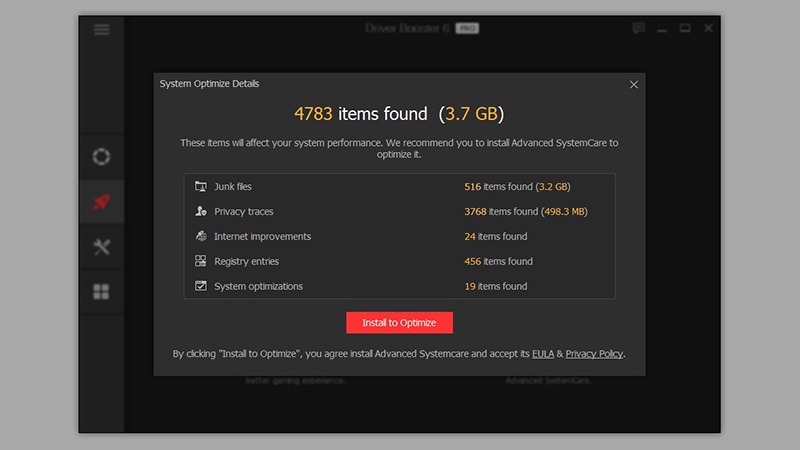 One more bonus to Driver Booster Pro is that users actually can chaange interface skin, which is especially nice for those who don't like dark colors. One may switch between black, white, blue or any other selected color in the bottom left corner of settings (see below).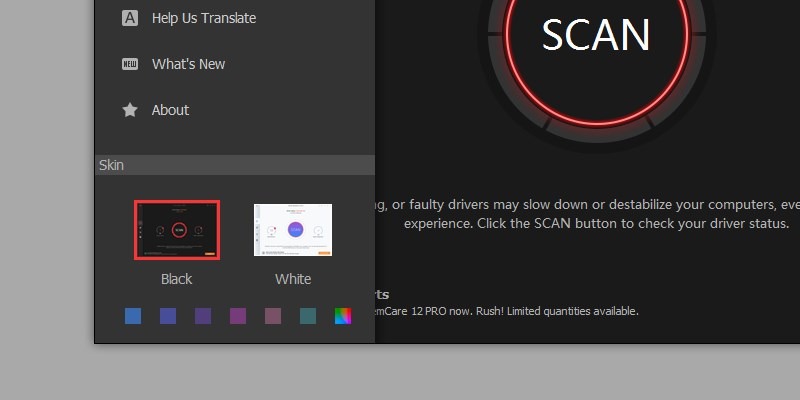 If you're curious enough, you may try Driver Booster free first, and then decide if you want to upgrade. And even when upgrading, there's a positive safeguard - a 60-days money back guarantee. Not bad, not bad. Moreover, for those who wish to remove Driver Booster after all, there's a special tool for that too - IObit uninstaller 8 free, to ensure you've wiped away any traces from your PC.
This is it. If you've tried Driver Booster too, share your experience with us. If not, which driver updater do you prefer?