About
TeamViewer
The Widest Array of Features in the World of Remote Desktop Access
Whether you need to maintain a lifeline to the office while traveling, reduce travel and costs associated with in-person support, or work closely with remote team members, TeamViewer offers incredible features that can catapult your productivity and increase customer satisfaction. While we're constantly innovating and adding new functionality, you can take a look at our most popular features below.
‣ REMOTE DESKTOP
✓ Remote Device Control
Control a remote computer, Android, or Windows 10 mobile device as if you were sitting in front of it.
✓ Cross-Platform Access
Connect across multiple platforms, from PC to PC, mobile to PC, PC to mobile, and mobile to mobile.
✓ VPN Alternative
Enterprise-class security and scalability without the VPN complexity and expense.
✓ Mobile Device Access
Use your mobile device to provide support or connect to your computer from anywhere.
✓ Secure Unattended Access
Access unattended computers, servers, Android devices, point-of-sale devices, or public displays.
✓ iOS Screen Sharing
Use your mobile device to provide support or connect to your computer from anywhere.
✓ Wake Up, Restart, and Install
Remotely wake, restart, and install applications on sleeping devices running TeamViewer Client.
✓ Flexible File Sharing Options
Transfer files of any size from your computer or cloud storage using one of TeamViewer's fast and secure file sharing methods.
✓ Remote Printing
Print documents locally, from the remote computer that you're accessing when connecting between Windows devices.
✓ 4K Remote Desktop Access
With our industry-leading intelligent scaling technology, TeamViewer provides flawless connections to UHD displays.
✓ Increasing Customer Satisfaction
Leave That Special Touch to Increase Customer Satisfaction
✓ Time-Saving Shortcuts
Access TeamViewer's Primary Functionalities Through These Time-Saving Shortcuts
‣ CORPORATE & TEAM
✓ Channel Groups
Create channel groups within your license and assign to users so specific teams always have access to the channels they need.
✓ Comprehensive Reporting
Improve productivity and billing precision. Log incoming and outgoing connections to know who did what, when, and for how long.
✓ ServiceCamp Ticket Management
Provide efficient and personal customer support. ServiceCamp streamlines team collaboration through its seamless integration into TeamViewer.
✓ User and Device Configuration Management
Manage security with special permissions and licenses. Set policies and create channel groups to assign specific access.
✓ Automated Mass Deployment
Deploy TeamViewer or TeamViewer Host (silently) to thousands of devices at once via group policy (GPO) in an Active Directory domain.
✓ Multi-User Support Sessions
Invite multiple support technicians into your complex support scenarios.
✓ Service Queue
Collect service cases and auto-assign unique session codes for improved organization.
✓ Custom Branding
Generate custom TeamViewer modules and customer portal with your logo and branding to give a personal touch to your IT services.

✓ Management Console
A web-based platform for intuitively managing your TeamViewer contacts and logging connections.
✓ Multi-Language Support
TeamViewer is available in 30 different languages for your tech needs across the globe.
✓ Hardware and Software Integration
Integrate the features of TeamViewer into your helpdesk, ticket, or CRM systems. Use our pre-built apps and scripts, or develop your own custom solutions.
‣ ONLINE MEETINGS & COLLABORATION
✓ Whiteboard
Collaborate with your remote team using the Blizz virtual whiteboard.
✓ Text Chat
Connect instantly via group chats, web-based chats, offline messaging, persistent chat groups, and customer-initiated chat.
✓ HD VoIP Voice and Video Conferencing
Both our remote access and remote conferencing sessions are supplemented with HD-quality voice over IP calling solutions.
✓ Computers and Contacts
Centrally manage TeamViewer connections partners' computer and contact information and instantly view their availability.
✓ Session Recording and Compression
Need to record your remote control sessions over TeamViewer? Use this essential session recording feature to enhance your meetings.
‣ SECURITY & MONITORING
✓ End-to-End Security
Control a remote computer, Android, or Windows 10 mobile device as if you were sitting in front of it.
✓ Security for HIPAA Compliance
Remote access and support capabilities with the level of security and privacy necessary for organizations to remain HIPAA compliant.
✓ Malware Protection
Enable reliable protection against malicious software. Guard your computers against threats such as viruses, ransomware, Trojans, rootkits, and spyware.
✓ Remote Data Backup
Have peace of mind in knowing your data is stored safely and –in case of disaster –can be restored remotely from anywhere and at any time.
✓ Remote Device Monitoring
Manage all of your websites, servers, networks, and applications from one easy-to-use and intuitive dashboard.

Software type
On-Premise
Device type
Android, iOS, Windows, MacOS
Category
Collaboration software, Remote support software
Screenshots
No screenshots yet
Marketing files
None marketing files yet
Pricing model
One-time-license
Subscription
Single User
Features
Access & Control Computers Remotely
Custom Branding
Secure Unattended Access
Remote printing for Mac & Windows on any printer
File Sharing
Unlimited Endpoints
Up to 200 Managed Devices
Cross-Device Access to Desktops
Device Management & App Customization
Support for Mobile Devices
1-Year Subscription
Multi User
Features
Access & Control Computers Remotely
Custom Branding
Secure Unattended Access
Remote printing for Mac & Windows on any printer
Remote printing for Mac & Windows on any printer
Unlimited Endpoints
Up to 300 Managed Devices
Cross-Device Access to Desktops
Device Management & App Customization
User & Device Management Console
User Access Reporting
Servicecamp Service Desk
Support for Mobile Devices
Extra Concurrent Users
Service Staff Agents
For Teams
Features
Access & Control Computers Remotely
Custom Branding
Secure Unattended Access
Remote printing for Mac & Windows on any printer
File Sharing
Unlimited Endpoints
Up to 500 Managed Devices
Cross-Device Access to Desktops
Device Management & App Customization
User & Device Management Console
User Access Reporting
Servicecamp Service Desk
Multiple Concurrent Connections
Mass Deployment
Device Access Reporting
Pre-Built Software Integrations
Support for Mobile Devices
Extra Concurrent Users
Service Staff Agents
Please ask and discuss questions
TeamViewer 13 review: setup, remote control, file transfer, interface, etc.
TeamViewer is a desktop sharing program that allows users to control other computers remotely and with little technical skill. Basically, it is accessible to anyone these days to grasp. To clarify each aspect and see how it works we've figured to do a little TeamViewer review.
The principle of any remote access tools is simple: run the program on both your side and other person's. Each session is protected by a unique ID and password. It is pretty popular due to costing nothing if using for non-commercial purposes, though there are asterisks to that.
Key values/features enlist ease of use, remote control, session records, file transfer, chat, meetings, phone and video calls, availability for all devices. Primarily, we are looking into TeamViewer free version, as most people would use it to fix issues remotely or help a friend with a certain task. First, the basic data.
| | |
| --- | --- |
| Software type | Remote administration, desktop sharing |
| Version | 13.2.26558 |
| Freemium | Free for personal use |
| License | Business - $49 / Premium - $99 / Corporate - $199 (monthly, billed annually) |
| OS | Windows, MacOS, Linux, Android, iOS, Windows Phone, Chrome OS, Blackberry |
| Installer | 19.7 MB |
| Disk space | 84 MB |
| Languages | 12 (en/de/no/nl/pt/it/sp/fr/se/pl/dk/fi) |
1. Setup: How to install Teamviewer
Go to the vendor's website where on the main page you will see big green button "Download for free". Upon clicking TeamViewer_Setup.exe file will be loaded to a folder of your choice. Then click on that installer to begin.

In the first window select the type of installation: basic (general use), unattended access, or one-time use. Select commercial or non-commercial use, and note if you'd like to cheat you'll end up outsmarted by the program anyway. Eventually, it will require a license activation due to frequent activity.
Wait one or two minutes to finish the installation and launch TeamViewer 13. You will see that your PC is assigned an ID and password. You can create new random password, copy it to clipboard, or set personal password. Write it down. You will see a green-lighted notification in the bottom part - 'Ready to connect'.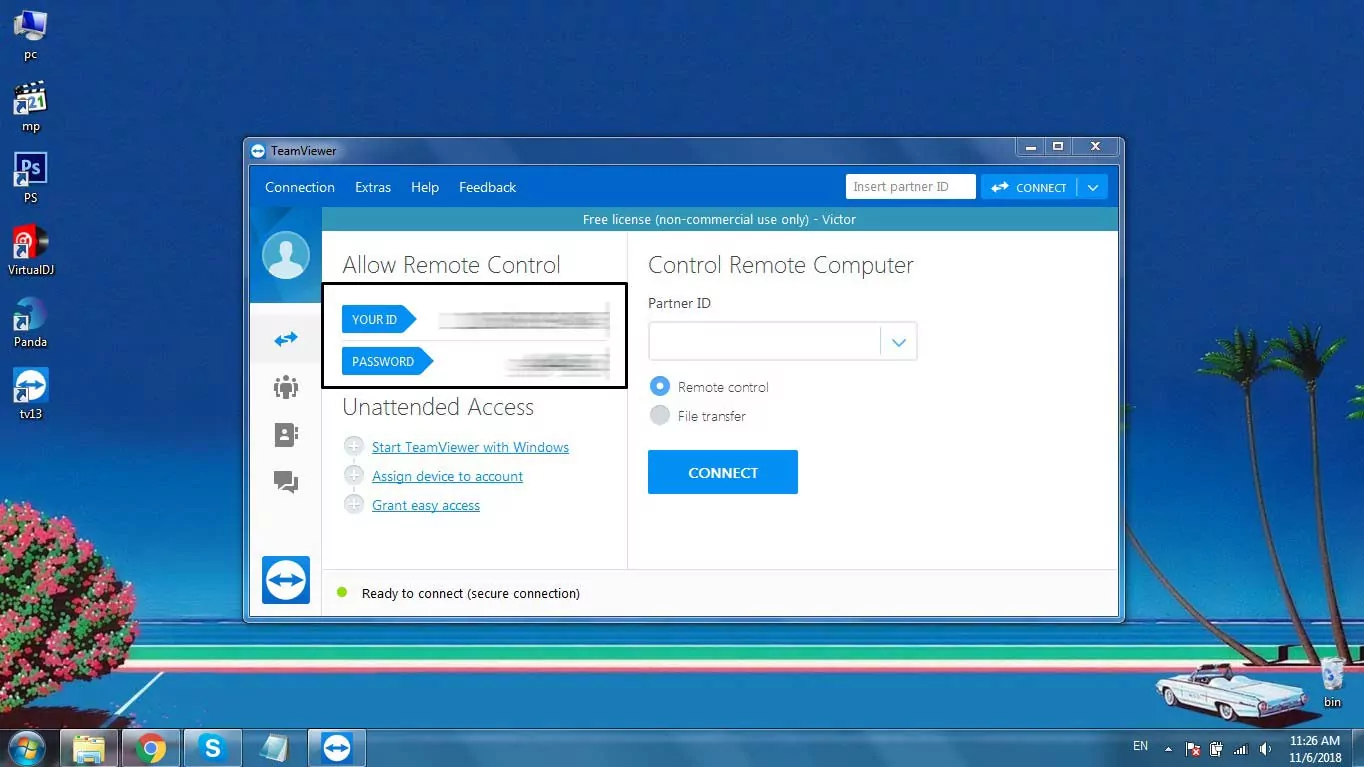 And you're ready to go, nothing complicated. In addition, you can go to 'Settings' to set TeamViewer to start automatically with Windows, assign a device to account (optional) for easy access, etc.
2. Interface, features overview
TeamViewer is designed both for personal use (to access home PC remotely) and IT departments - as a support and/or a collaboration tool. Your PC and partner PC, or host and admin computers, can share access to each other, send files, while also being secured in alternate to VPN way.
Interface is clean and well-organized in a white-and-blue color scheme. A split screen with your ID/password and remote connection options. A panel with options, settings, help, etc. on the top, and a side panel for remote control, meetings, chat.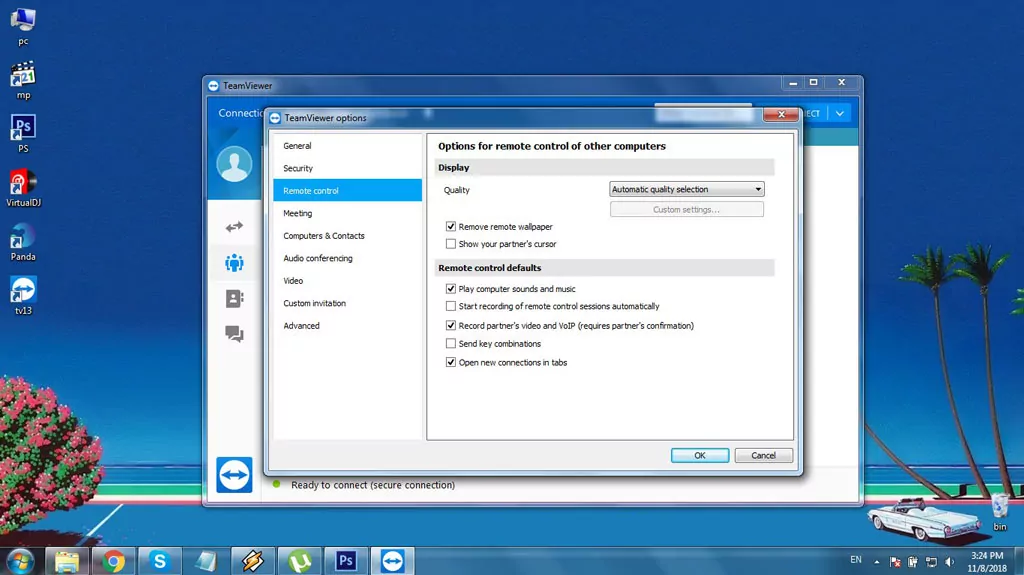 In 'Options' tab you have user control over all program's settings, starting from password, account, display quality to audio/video conferencing and advanced settings that can amend TeamViewer performance.
Of course, the main purpose of TeamViewer is to access remote devices, but here's what is available besides that:
-Cross-platform support - PC, laptop, smartphone, tablet;
Unattended access - without someone on the other side to grant access (requires specific type of installation);
File transfer options - shared clipboard to copy-paste, 'transfer' connection, integration with Google Drive or Dropbox;
Printing - on local printer from remote computer files;
Team accounts - with multi-user sessions, corporate groups, management console, etc.;
Collaboration tools - online meetings, messaging, video conferencing, play and record options.
Free version has its limitations, unfortunately. Full functionality is only available within a bought and activated license. Moreover, if you're using TeamViewer intensely and frequently, it might interpret it as commercial use and ask for a license.
3. Remote control
Now, let's explore the main feature of TeamViewer: remote access. When you've got partner's credentials, you need to enter that ID, tap 'Remote access' below and click 'Connect'.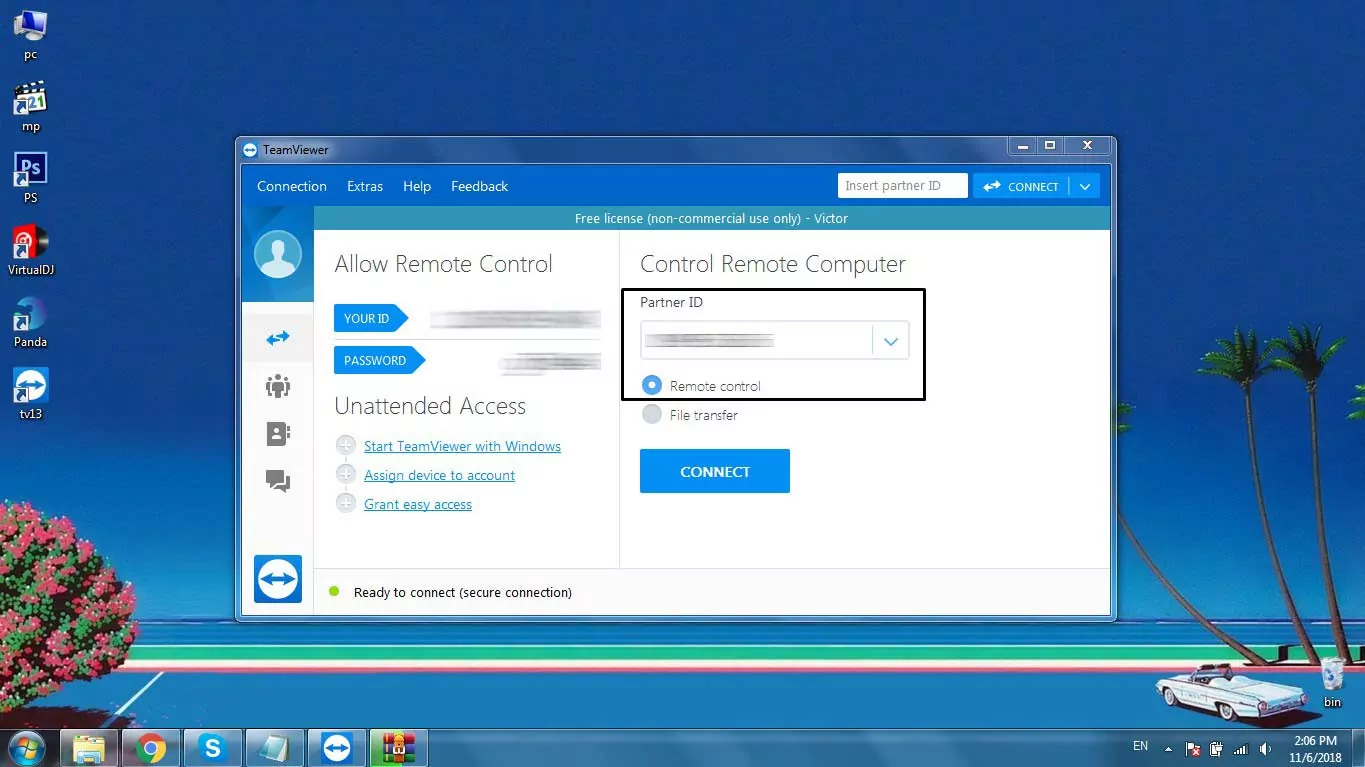 Note, that the program should be installed the same way on the computer/device you're connecting to. Thus, it will also have the ID and password, which consists of 6 digits by default, but can be re-set to 8 or 10, or even set as personal password.
Then, for authentication, enter the password from remote PC and click 'Log on'. If successful, you'll see a remote desktop and then will be able to do whatever you need there. The desktop will appear in a window with a toolbar on top of it.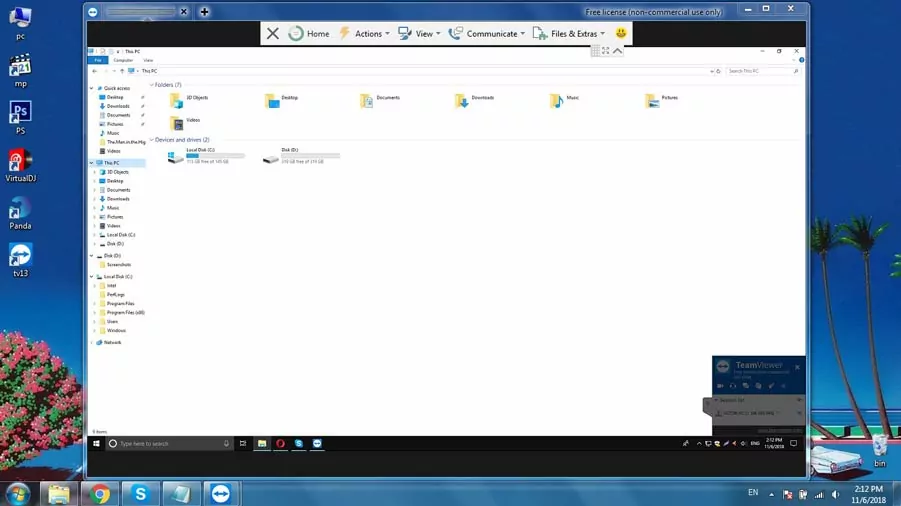 Toolbar has shortcuts to most likely actions one has to perform, such as remote system info, reboot, leave note, adjust a display, making screenshots, etc. By default, a wallpaper on remote device will change to all-black, but don't worry, you can uncheck to show it, as well as a cursor.
4. File transfer
If one needs TeamViewer primarily to send or receive files, choose 'File transfer' type of connection on the start. Using this option from 'Remote control' mode is not a problem either - just go to 'Files & extras' tab in the toolbar.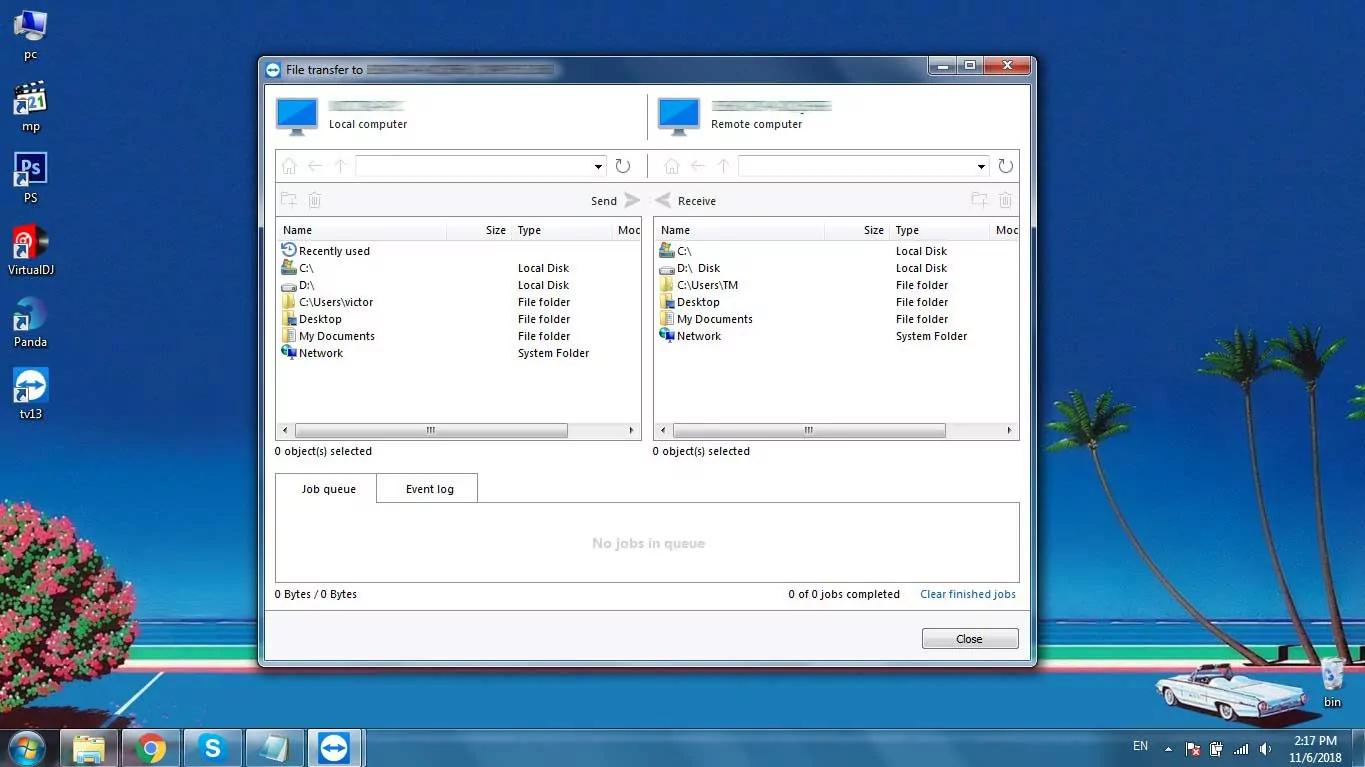 File transfer can be done via a standard dual-pane window for local and remote devices, or a 'File box' to drop files into. We have tested a dual-pane manager by sending 1GB file and it took 4 minutes 33 seconds. All smooth and no lags.

In any type of connection, one can use an alternative way of sending files and documents. In the toolbar on the top click 'Open file transfer' (dual-pane) or 'Share via file box' to choose files from host computer, Google Drive, etc.
5. Chat, calls, meetings, etc.
TeamViewer is also a collaboration tool. In the second tab in the left-side menu, users can schedule a meeting or join one. This could be a fine alternative to Skype, for example. When one schedules a meeting, it has an ID - something like mXX-XXX-XXX, so that only invited people can join in.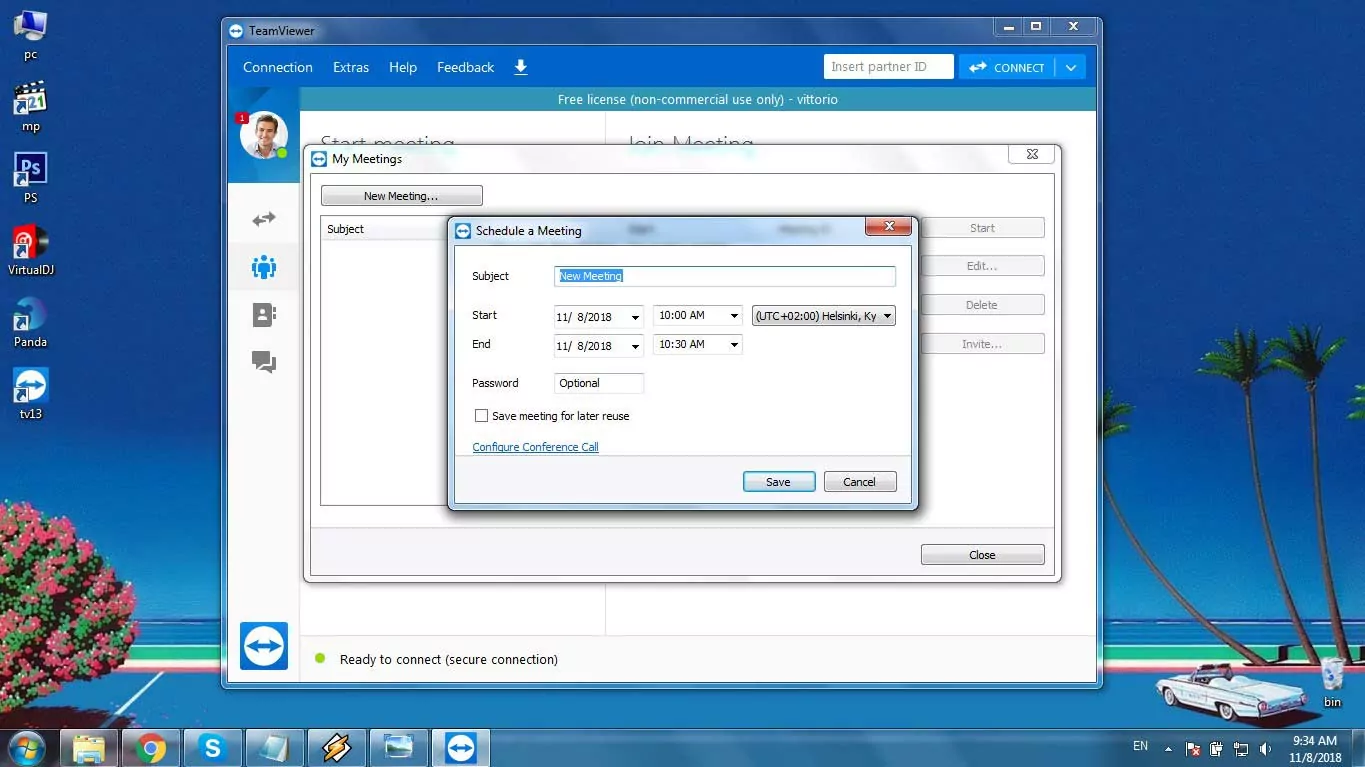 Users may invite others by sending an email straight from TeamViewer with a link and meeting ID, or copying information to clipboard. All in all, this feature could become handy to conduct calls, conferences, chats or presentations with remote teams. Recording a session is available as well.
One can share screens, present some idea or product while explaining/commenting it via a phone or video call. For some people 'Whiteboard' feature might be of great use - drawing and outlining parts on a screen by cursor, as if on a board. For others, chat is helpful, for instance, if audio isn't working properly, or you just want to leave a note.

6. TeamViewer mobile app
Actually, there are 3 apps. TeamViewer - to control remote device from a smartphone, TeamViewer QuickSupport - to allow remote control of a smartphone, and TeamViewer Host - for unattended control of mobile devices. QuickSupport is the one we need.
Download the app, allow control, and see an ID assigned (though it seemed a bit strange that there was no password for connections, like on desktop app). To be frank, it will also require a separate add-on for a specific smartphone model to install as well.
After that, the workflow is easy. Connection and control via QuickSupport is similar to the one on PC - once a remote session starts, a smartphone screen appears on a computer. From there one can access and do everything on a phone: install apps, check contacts, go to settings, etc.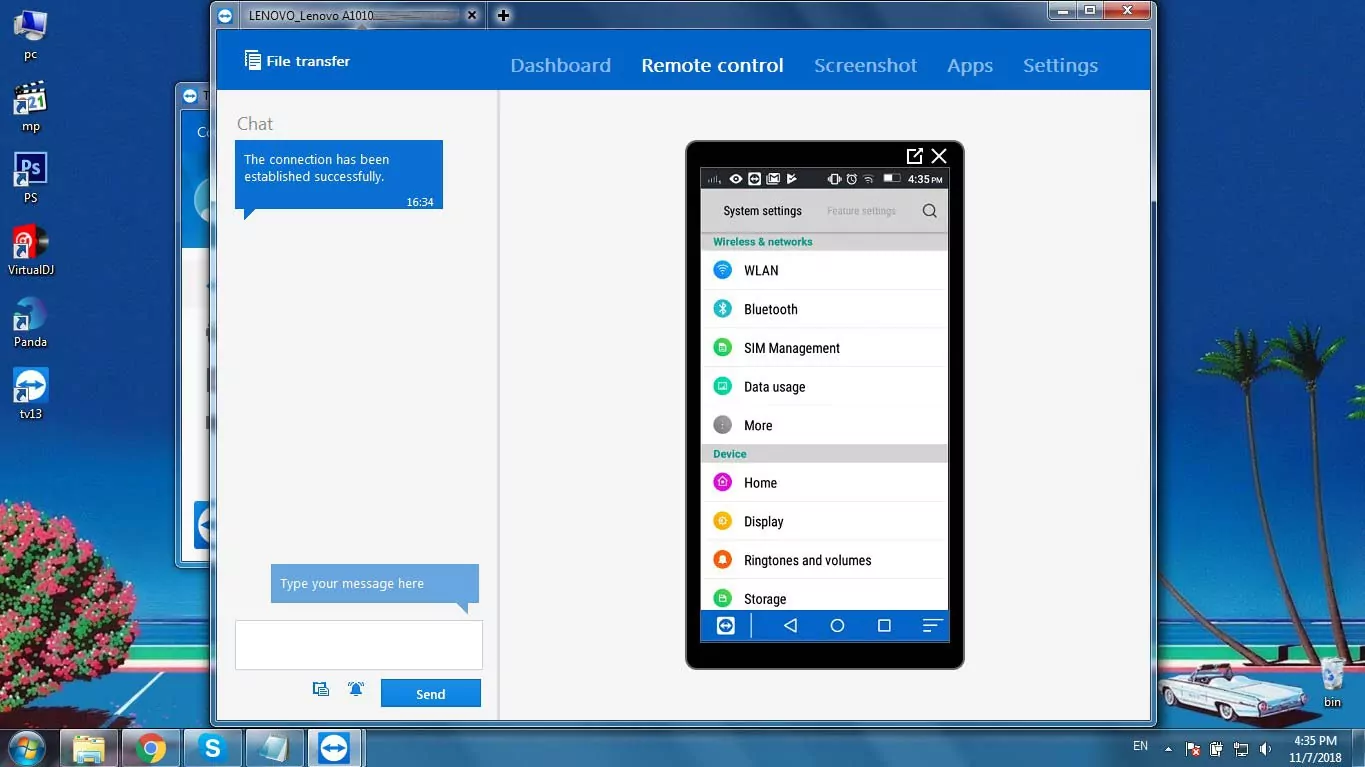 This might be especially helpful for repairs, as technicians are able to view device information, transfer files, stop processes, check wi-fi settings, etc. Essentially, its the same as having a phone in your own hands.
7. Security
Of course, online security is crucial to all of us these days. TeamViewer has thorough enough security measures in place. They enroll data encryption with 2048 RSA private/public key and 256-bit standard, which essentially means client-to-client data protection, that even TeamViewer's routing servers can't read. Find out more here.
In terms of security measures by a user, there are several possibilities. To use TeamViewer app on another device, or to access a host device when nobody is there, one has to have an account and enter the credentials. This way one adds a device to 'Trusted devices'.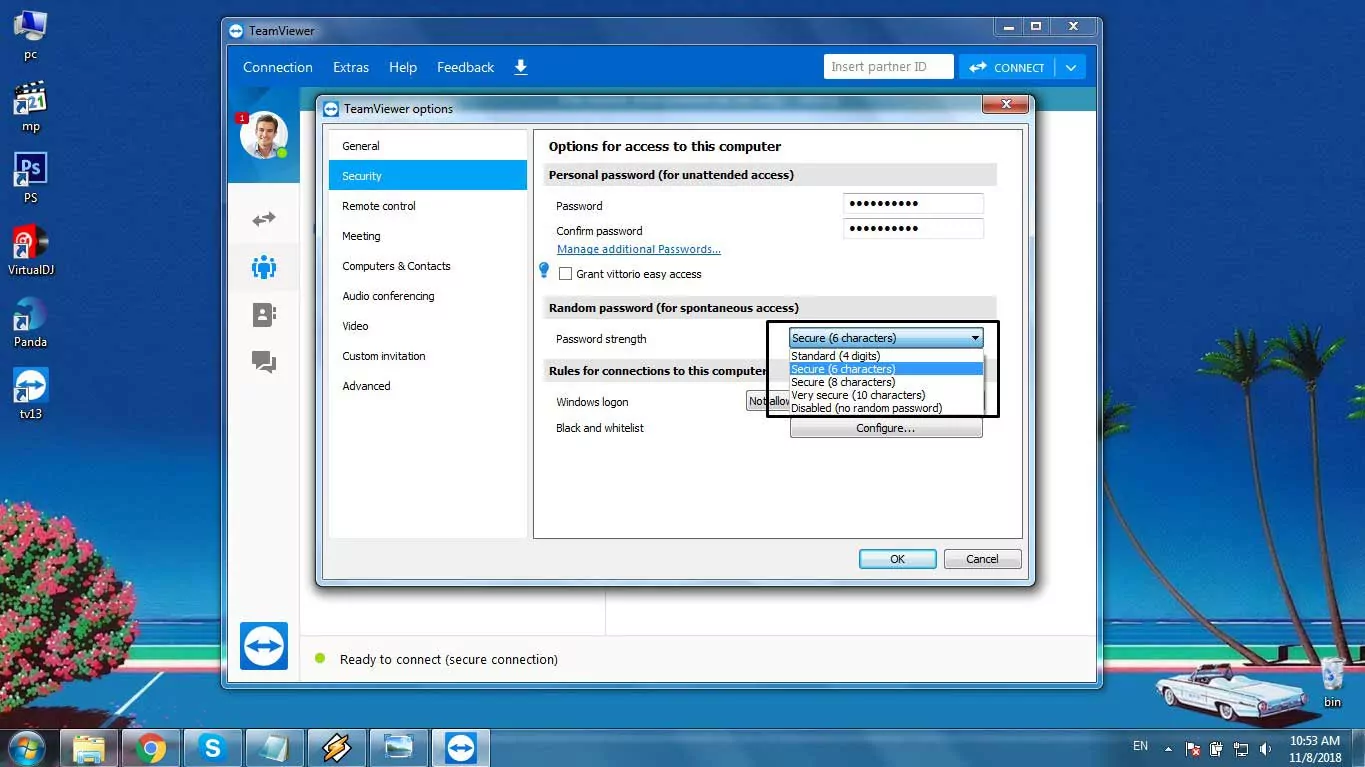 Other option is to generate a new random password, to set your own password, or change standard password length from 4 to 6, 8, or 10 characters. Additionally, there's the option to grant specific users easy access, i.e. no passwords to connect. And a blacklist as the most blunt option to block users.
8. Pricing / License
While using the free TeamViewer 13 version, there is often a notification to 'Register an account for full functionality' and other similar pop-ups. Moreover, TeamViewer monitors the activity and may restrict a free account in case of intense activity. This is commercially reasonable, as nothing is really free.
There are 3 pricing plans, all billed annually:
$49/month - single user, unlimited, 1 session at a time;
$99/month - multiple users, 1 session at a time, full functionality;
$199/month - multiple users, 3 sessions at a time, mass deployment and integrations.
It means, one has to pay $588 for personal 1-year use, or $1,188 for corporate use. Find more details here.
9. New TeamViewer 14 beta
New improvements are on the way and already available in TeamViewer 14 Preview version. Firstly, it comes with upgrades of performance: low bandwidth connections, MacOS Mojave tools, one-click script execution, new design and dark mode, more management options. Secondly, Augmented Reality remote support - for camera sharing, 3D annotations, video streaming, etc. More in the video:
Closing thoughts
As it turns out, TeamViewer app offers good performance and usability, little lag time. It definitely deserves a look if you're seeking a remote access tool. Beside simple personal use, it can be applied as a support/collaboration tool by IT departments. It works on desktop PCs and mobile devices, it is easy enough for everyone. Plus, there are plenty of FAQs and how-to videos on their website. Speaking of a flip side, TeamViewer license is quite expensive.