Avast SecureLine VPN: Ultimate Review
About Avast SecureLine VPN
Avast is one of the well-established companies in the field of computer and data security. It was founded in 1988 and its headquarters is located in the Czech Republic. It provides many tools  for internet security as well as antiviruses. One of the security tools is Avast SecureLine VPN software which this article reviews.
Why Do You Need a VPN?
The primary role of a VPN is to protect data, especially sensitive data, from hackers and fraud. The idea behind a VPN is to replace the real IP of the device with a virtual one from another network provider. For example, you may use your device in New York, yet your IP appears as if you live in Paris.
Avast SecureLine VPN Features
Avast SecureLine VPN provides you with unlimited bandwidth and premium speed as well as being compatible with Mac, iOS, Android, and Windows devices. Unfortunately, it is not compatible with Linux based devices or open source routers.
Avast SecureLine VPN allows you to use one license on different devices. Once getting your license, you can utilize it on five different devices of the same type.
One of the remarkable advantages of Avast SecureLine VPN is that it allows peer-to-peer sharing and torrenting. This service is available only on a limited number of servers, more specifically, servers located in Frankfurt, Prague, Miami, New York City, Amsterdam, London, Seattle, and Paris.
Using Avast SecureLine VPN will not cause any problems with Netflix streaming or downloading, as it possesses a well-distributed number of servers that cover most of the world while providing very good speeds. It has one server located in Gotham City in the USA that specifically supports streaming.
Avast SecureLine VPN has not developed the policy of zero-logs. However, it uses a bank grade encryption method which guarantees the highest levels of security.
Avast SecureLine VPN Geolocation Servers
Avast SecureLine VPN used to have 27 servers in 19 countries, and this has increased to 74 servers in 54 countries to cover more geographical regions and to enhance the software functionality. The added servers are located in Austria, Denmark, Belgium, Malaysia, Hungary, Luxembourg, Portugal, Switzerland, Norway, Israel, South Korea and New Zealand.
Using Avast SecureLine VPN might result in slowing the connection speed down a bit, but its overall speed rates are above average. In most cases the slowing down is limited to only a few kbps. In the worst case scenario , you can still make use of glitch-free downloading and streaming with unlimited bandwidth. The summary of the software specs is given in the table shown below:
| | |
| --- | --- |
| Number of servers | 74 |
| Number of countries | 54 |
| Registration country | Czech Republic |
| Compatible software | Windows, iOS, Mac, Android |
| Necessity of real name | Yes |
| Protocol of encryption | AES-256 |
| Supported protocols | IPSec (Mac -iOS), Open VPN (Windows-Android) |
| Data usage | Unlimited |
| Bandwidth | Unlimited |
| Privacy | Connection information of logs |
| Customer support | 24/7 (Phone Available) |
| Payment Methods | PayPal or Credit Card |
Setup and Interface of Avast SecureLine VPN
Installing Avast SecureLine VPN is simple to do on Windows, iOS, Mac and Android devices. First, visit their official website – here.
The screenshot below shows the Avast website. It gives you two choices, either to download the 7-day free trial  or to buy now.
The .exe file of the software is only about only 15 MB, so depending on your internet speed it does not generally take long.
After downloading the .exe file, the installation process is simple. It only takes a couple of minutes to install the software on your device. Once installation completes, the program opens, and its graphical user interface (GUI) is user-friendly as shown in the screenshot below.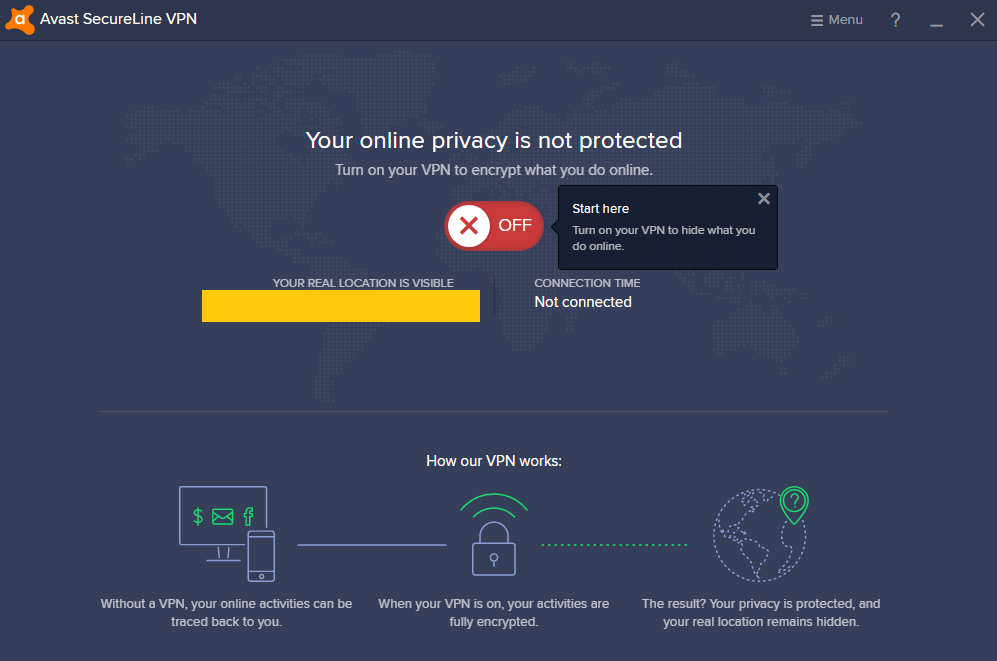 Avast Secureline VPN Pricing
Avast SecureLine VPN offers different subscription plans. You can subscribe for 1 year, 2 years, or 3 years for both Windows and Mac devices. The subscriptions are summarized in the table below.
Windows & Mac Devices
One Year
Two Years
Three Years
$59.99
$109.99
$159.99
Regarding Android and iOS devices, Avast SecureLine VPN offers only monthly and annual subscriptions and they are summarized in the table shown below.
Android & iOS Devices
One month
One Year
$2.99
$19.99

Avast SecureLine VPN offers discounts from time to time. Avast SecureLine VPN also offers a subscription plan for multiple devices—up to five devices. The prices are summarized in the table shown below.
Multi-devices up to 5
One Year
Two Years
Three Years
$79.99
$149.99
$219.99
Also note that PCs have a subscription plan that allows for up to 10 devices at a higher price.
One of the most important things to note about Avast SecureLine VPN payment is that your purchase is guaranteed by a thirty-day money back policy.
You can pay by credit card, PayPal or wire transfer. Payment by cryptocurrencies such as BitCoin and LiteCoin is not an option at present.
The pricing as it appears on Avast SecureLine VPN official website is shown in the screenshot below.
Avast SecureLine VPN Privacy and Security
Two protocols are used for data encryption—OpenVPN and IPSec on UDP with AES 256-bit encryption—which guarantees the highest levels of encryption. AES 256-bit is the most secure protocol available at presents. To encrypt data on Windows and Android devices, OpenVPN protocol is used, while IPSec is mainly used for Mac and iOS devices.
Once the software executes, it encrypts all ports, not only the ports of the internet browser, to guarantee that all data traffic is totally secure.
Although your activity is not monitored by the company, certain logs are kept. They are not the type of logs that threaten your privacy; only logs of session duration, bandwidth, and connect and disconnect time are kept and this data is deleted every thirty days. It is essential to register using your real name to be able to get Avast SecureLine VPN.
Something to take into consideration about the security provided by Avast SecureLine VPN is that there is no option for a killing switch to cut the internet activity off, if the VPN server connection is lost.
Avast Secureline VPN Customer Support
The company provides great customer support. An independent section for support exists on their website and it contains rich information about the software. You can check it from this link.
Once you get to the support section, you can search for an answer to your question or make an inquiry using the search box shown in the screenshot below.
If your inquiry is about product activation, refunding, sales or billing, you just need to click on the required icon and it will direct you to the answer.
The same support page contains articles about Avast's other products as shown in the screenshot below.
The second helpful section is the forum. You can search for your exact question in the search bar as illustrated in the screenshot shown below.
Avast Support offers excellent 24×7 responsive phone support. Using their ticketing system, you can send an email to the billing or technical support teams and you will receive prompt confirmation of your request. A detailed answer is usually sent in less than a day. Another way to communicate with the support team is to send a direct request by using the Avast SecureLine VPN client service.
Avast SecureLine VPN Pros
Avast SecureLine VPN is one of the best VPN providers currently available due its simplicity. It is understandable and user-friendly software. It takes little time to learn how it works and start using it. Having no negative effect on the device or its speed is one of its benefits; it runs in the background without stalling other processes. The major advantages of Avast SecureLine VPN are discussed below.
Compatible with Different Operating Systems
Being compatible with Windows, Mac, Android and iOS devices makes it the first choice for many users, as not all VPN providers offer this compatibility with different operating systems. Using the same VPN provider for your PC and cell phone offers you ease of operation and good subscription offers.
The similarity of interface between PC and mobile versions of Avast SecureLine VPN makes it the first choice when setting up a VPN provider on your mobile phone to secure data transfer. By just touching the mobile screen a couple of times, the Avast SecureLine VPN application is installed, and your location and IP are now altered without slowing down the device.
The screenshot shown below shows that Avast SecureLine VPN provides compatible licenses for Windows, Mac, Android and iOS devices.
Avast SecureLine VPN Multiple Geolocation Servers
Having 74 servers in 54 different countries in six continents makes Avast SecureLine VPN distinct from any other VPN provider as it covers almost the whole world. Some countries have more than one server:
USA has 16 servers
UK has 2 servers
Spain has 2 servers
Germany has 2 servers
Russia has 2 servers
Canada has 2 servers
The geographically well-distributed servers give more options to choose from, and the more the options, the better the quality of service and hence the internet speed.
Avast VPN Compatibility with Other Device Processes
One of the major advantages of Avast SecureLine VPN is that it creates minimal interference with other processes on the device it is installed on. It does not stall any of those processes, slow down the device, or degrade its performance.
For Windows based devices, it only requires about 48 MB of hard disk space to be installed. Once Avast SecureLine VPN is opened and executed to have a virtual IP and location, you can start working on your device while it is working seamlessly in the background.
If you are searching for the easiest VPN provider, Avast SecureLine VPN is strongly recommended, as its graphical user interface (GUI) is easy and user-friendly. Everything from downloading and installing through executing it is simple and clear. Once it is executed, you can choose any one from the list of 54 countries that have servers.
The list tells you how many servers there are in each country, if the server allows for streaming or not, and if the server allows for P2P networking or not. Moreover, their website and supporting forum are user-friendly and you can easily find an answer for any question you may have.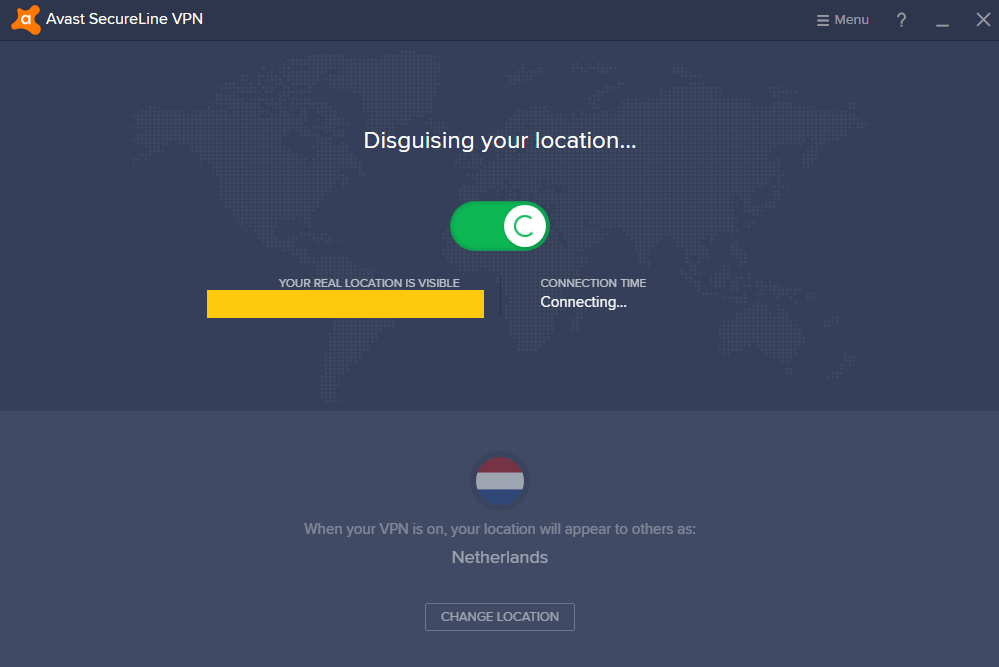 Avast SecureLine VPN Allows for Streaming, Torrenting and P2P Connections
Not every VPN provider allows for streaming, torrenting or P2P connections. Avast SecureLine VPN offers these services through specific servers. More specifically, torrenting and P2P connections are provided through the servers in the locations listed below:
London, UK
Frankfurt, Germany
New York City, USA
Paris, France
Seattle, USA
Amsterdam, Netherlands
Prague, Czech Republic
Miami, USA
Streaming is allowed only through the server located in New York City in the USA.
As mentioned in the privacy and security section, using OpenVPN and IPSec on UDP with AES 256-bit encryption protocol is one of the strong points of Avast SecureLine VPN, because it is the most secure protocol currently available.
AES 256-bit is a military grade encryption where "256" defines the strength of the encryption. This encryption is used mainly by governments and security agencies all over the world. Avast SecureLine VPN has a remarkable plus over many other VPN providers as it provides DNS-leak protection.
Avast VPN availability of Updated License for Multi-Devices Use
Avast SecureLine VPN did not originally include more than one device in a license; the user had to pay for a license for each device. This was a major disadvantage of Avast SecureLine VPN compared to other VPN providers at that time, as those VPN providers had long been offering access to their software on multiple devices by only purchasing one license.
Avast SecureLine VPN changed its policy and now offers the use of Avast SecureLine VPN software on five devices by purchasing only one license for $79.99 per year.
Before this change, if you had a PC and a mobile phone and it was essential to add Avast SecureLine VPN to both of them, you would pay $59.99 for the PC and $19.99 for the mobile phone annually which would be $79.98. Now, you can pay the same amount of money and enjoy Avast SecureLine VPN on five devices instead of only two.
Although the update works for most individuals, it does not work for companies that want to secure their devices using VPN providers. If a company decides to purchase Avast SecureLine VPN, it might be expensive, depending on how many devices the company has. Avast SecureLine VPN needs to work on making better offers to companies and businesses.
Avast SecureLine VPN Cons
Nothing is perfect, and Avast SecureLine VPN has some drawbacks that could be improved.
Avast SecureLine VPN does not work on routers, only on computers and mobile phones. If it could be installed on routers, it would definitely provide higher levels of protection and security.
It might not concern most users, but Avast has to take this issue into consideration to enhance software performance and security of data. Imagine that you are in your home or your company and all the devices in the premises are secured through a central VPN shield provided by the router itself—that would be a great innovation. The internet of things (IoT) is going to spread widely in the near future which in turn will increase the demand for such a service.
Streaming Support is limited
If someone wants to stream while activating Avast SecureLine VPN, you need to connect to the server located in New York City, NY, USA (NYC) as it is the only server that supports streaming. A user located far away from NYC may not be able to connect to this server. Keeping in mind that streaming is something essential for most internet users, an enmity exists between Avast SecureLine VPN and Netflix, and, in most  cases, Netflix wins. Netflix always knows that you are using Avast SecureLine VPN connection and it prevents you from streaming. Of course, Avast SecureLine VPN developers are working on this issue as they now have a server that supports streaming, but they have to ensure in the future that  all servers  support streaming.
Payment and pricing were discussed in the above sections, but when it comes to talking about the disadvantages of Avast SecureLine VPN, pricing needs to be mentioned again. 
Originally, Avast SecureLine VPN offered its annual service for $79.99 for Mac or PC devices which was much higher than other VPN service providers. Then the annual subscription was lowered to $59.99 per year which is  is comparable to other VPN provider subscriptions.
Avast SecureLine VPN offers licenses for only one year, two years, or three years with nothing in between or for shorter periods for PCs or Mac devices. They used to have a license that lasted for one month for $7.99 for PCs and Mac devices, but now it does not exist any more.
For Android or iOS devices, as mentioned in the pricing section, you can purchase a license that lasts for a month for $2.99 or an annual license for $19.99, but what if you need to use their software for less than a year? Unfortunately, Avast SecureLine VPN does not give offers for that; you have to renew your license month by month if you choose not to purchase a full year. At $2.99/month, it is more cost-effective to buy the annual license if you plan to use it 7 months or more. 
Avast SecureLine VPN provides a free trial for one week, so you can try out the service.. Moreover, if you are not satisfied with their service, you can get your money back under the Avast guarantee.
One of the cons of Avast SecureLine VPN is that it does not give the user any surveillance of how the device is protected. Many users want to monitor their usage and control the features, but, unfortunately, there is no option for that. 
Avast SecureLine VPN cannot deal with extra features that users may need such as ad-blocks, forwarding of ports, or switch killing.
If you are looking for an easy VPN provider, then Avast SecureLine VPN is strongly recommended, but if you want to really control your security and how you are protected, other VPN providers can handle this better.
Some internet browsers allow for VPN plugins to be freely downloaded and added to the browser to provide VPN shielding.
Using a VPN provider does not necessarily mean that you are doing unethical or illegal activities. You can be using a VPN to secure yourself against possible threats from anyone that can access your information or identity and may cause harm to you if your information is not well-secured. But what if the VPN provider itself is the one that threatens you? It has all your information and can easily access it. Although Avast SecureLine VPN claims that they can never do this, their Acceptable Use Policy has a major contradiction saying, "If we receive a complaint about misuse (for instance, from a copyright owner), we will investigate and take action if the complaint is correct."
How would they investigate if they cannot access your information? What would  be the situation if you found that Avast investigated the activity of your internet usage? You accepted their policy before using their product, so now it is their right to hang on to your data and personal information, although they claim that they will never do that.
It is clear that there is no VPN connection that is 100 percent secured. You may have installed Avast SecureLine VPN to avoid your local internet service provider (ISP) storing your data only to realize that no matter your VPN provider, they control information about your identity, your data, your information, and your location. For public figures or activists—or anyone who has concerns about personal safety from people or entities that may harm you—trust in your VPN provider may be a life or death consideration.
One last thing to note in this topic is that Avast does not allow for any anonymous payments; it accepts only well-known credit cards and does not allow for payment using cryptocurrencies. This is considered a plus from the privacy point of view.
Conclusion
After critically reviewing Avast SecureLine VPN, it can be said that Avast SecureLine VPN is a good, user-friendly software with many advantages such as compatibility with different operating systems. However, it has disadvantages like pricing and lack of user control of features.
Avast SecureLine VPN is recommended for beginners and users who do not want to check and control how they are protected, but not for professional VPN users.
Please, read our previous aticle:
Avast Pricing: Ultimate review price for each product
Read more about Antivirus