The word "Avast" is not new when it comes to the tech industry. Avast has been around for as long as anti-malware has been functioning. Avast is well-known for its friendly-to-use protection software. Specializing in protecting clients from various malware as well as viruses, the company added a VPN to its list of protection shields. And we're going to do an Avast VPN review.
Secureline joins the crew as an online browsing mask, enabling users to surf the internet anonymously. Just like the popular Avast Antivirus software, the VPN comes in two versions, free, as an add-on to the Avast antivirus software and as a standalone subscription.
Platform Features and Functionality
Avast Secureline is a multi-platform software that supports a range of devices. Although the number of platforms supported is short of impressive, it does not disappoint either. The VPN is compatible with the latest Windows version as well as its previous versions such as XP, Vista, 7 and 8.
It also supports a range of Mac OS which includes the X series of 10.9.x, .10.x, as well as .11.x. Android and iOS devices are included too in the list of supported platforms. However, open source routers, Chromebook and Linux computers are not supported.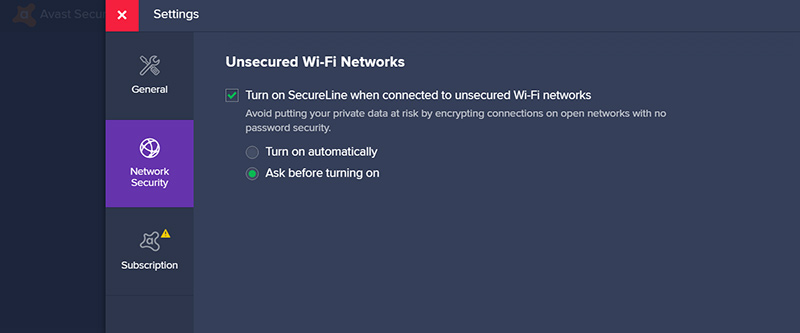 When connected, Secureline VPN encrypts the internet traffic using the developer's data centres and reroutes it through a tunnel. Such functionality anonymises your online activity thus preventing any forms of surveillance as well as getting hacked.
It also protects user data as well as browsing history from ISPs who collect and sells it. When switched on, Avast Secureline modifies your geolocation which is represented in the form of an IP Address to an alternate VPN server. We discovered that one could set the app to auto-connect when connected to unsecured Wi-Fi networks.
User Interface
Just like any other software released by Avast, Secureline VPN has all the basic features, yet it is still one of the easiest VPNs available for use. As such, this is one of the strong points that Secureline has; easy-to-use. Even for someone without prior VPN knowledge, you can download and install the app in minutes by just following the on-screen instructions.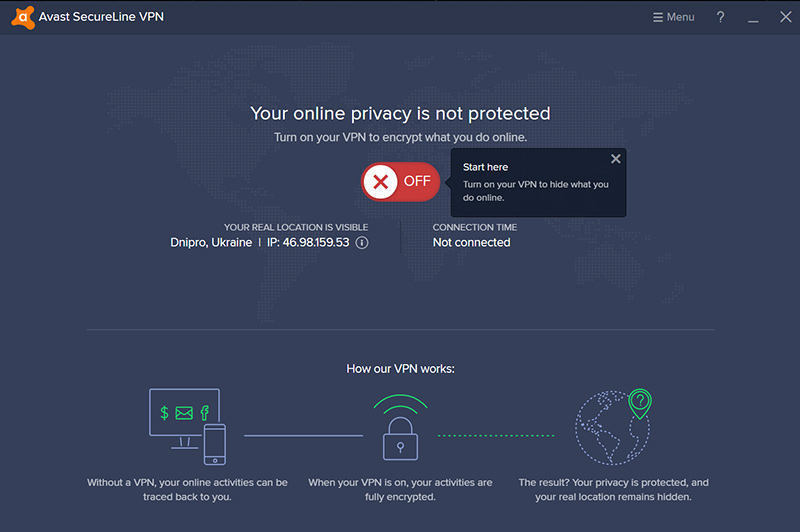 Everything is self-explanatory and written in general terms. We expected to see more options under the Menu button, but only a few features exist under this section. The design is simple and does not have any complicated or special features. All that you need to do is select a server and enable the VPN. You can let Secureline auto-select the best location for you by selecting Optimal Location.
Features & Values
Secureline VPN has got great features all laid out simply and pleasantly. The VPN comes with unlimited bandwidth, and this is a great feature as most VPNs we have tried have limited data on offer. P2P sharing is also available on some of the servers. The servers that we tried in P2P sharing include Amsterdam, London, as well as Paris.
The good aspect about this feature is that you do not have to waste time checking out the available P2P sharing servers. P2P servers are already indicated when you select your VPN location. We also tried streaming on Netflix. Unfortunately, it failed.
At this point, this is one of the major issues that we came across while accessing the VPN. Secureline comes with a kill switch. With a bright, easy and clean user interface, there is not much difference between mobile and desktop platforms. The kill switch feature also adds weight to Secureline.
In the likelihood of VPN dropping the connection, this feature prevents your IP address from being exposed. If there is a connection failure within the VPN server, this feature automatically shuts down your internet connection.
Secureline VPN has a significant number of servers worldwide.
Upon selecting your preferred location, the VPN indicates your Optimal location. Compared to most of the reckoned VPNs, Secureline has got fewer configuration options, and that includes the inability to switch between VPN protocols. It also does not have an ad blocking system.
Available Locations
Avast Secureline VPN provides more than 50 servers in 36 nations globally. Although the figures may appear relatively low, to a certain extent by having a server in almost every corner of the world, Avast provides an above satisfactory job. For the entire time spent testing the VPN, all locations could connect without a problem.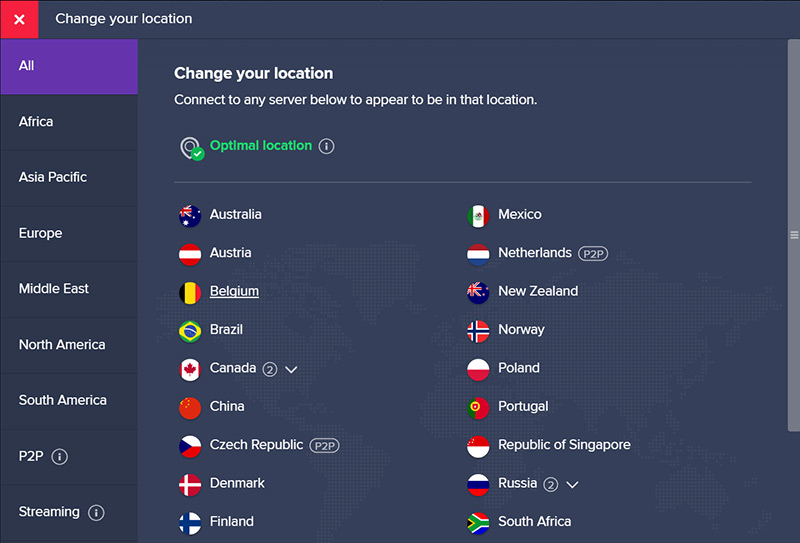 Internet Speed
We tested network speed using various locations. The results were pretty decent indicating that the user can stream HD videos without experiencing any problems. However, internet speed differs from location to location, and there is a significant difference. These are the two locations that we used to test. See the results below: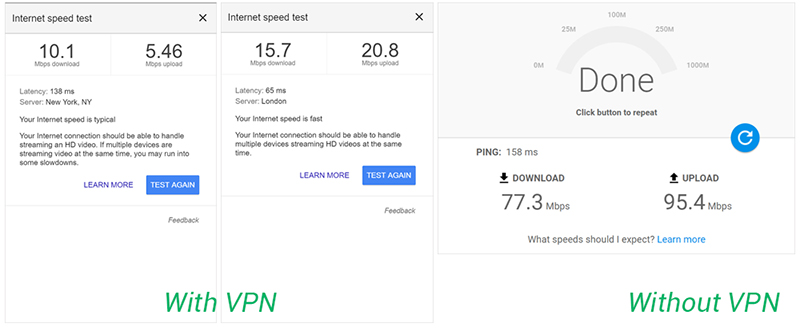 Encryption & Privacy
Secureline utilizes a couple of protocols namely IPSec as well as the OpenVPN. Both of these protocols come with encryption of AES 256-bit commonly regarded as the most secure up to date. Windows, as well as Android devices, use OpenVPN while Mac OS X and iOS platforms have IPSec implemented. All ports are encrypted by the software, therefore, ensuring security in all of your activities.
Secureline does not monitor your online activities. As a result of this observation, we realized that it does keep some logs, but you should not worry as they are not the type that will jeopardize your privacy. The logs kept include the amount of time spent browsing, bandwidth, as well as periods of connection and disconnection.
This data gets deleted after 30 days. Although the logs collected do not raise much concern, a policy implementing zero logs would be much better and safer. One thing for sure, there is no way you can browse anonymously with Secureline as they do not offer BitCoin payment methods.
Language Packages
The Avast Secureline VPN is available in 19 different languages. This gives almost everyone a chance to have a much familiar user interface and makes it easier to roam around the app.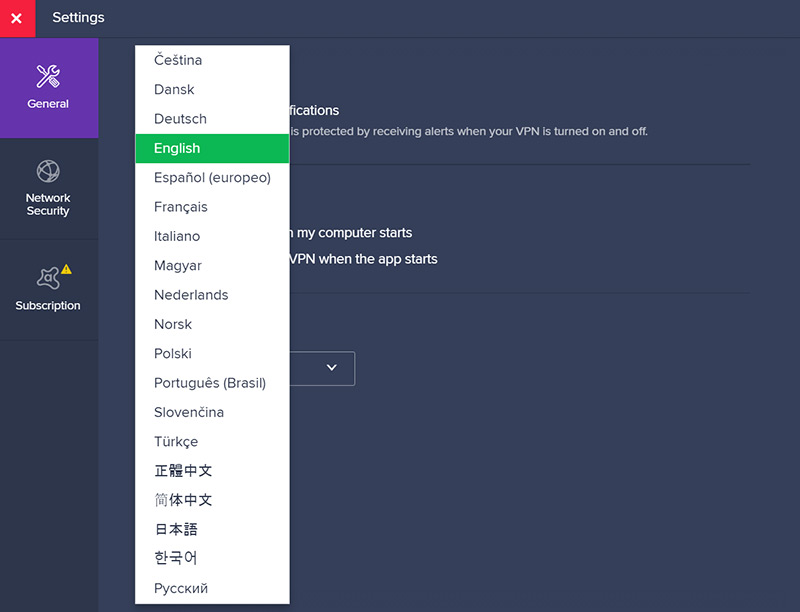 Support Service
Avast company has been around since 1988, and this should tell you something. This is a company that knows the importance of having an efficient customer support service. With that said, it is safe to point that the company view their support service as an investment rather than as an expense. We did find some loopholes in their support system such as offloading most of their customer support to forums.
They do make up for it though by providing a search field. What made them stand out in this category compared to their competitors is the availability of phone call support. This gives clients the opportunity to get urgent pressing issues looked into instantly. Overall, their support service presents a fine face, and we do not expect you to struggle or get stuck.
Subscription
Avast has always been one of the most affordable, easy-to-use software providers, and in this case, they did not disappoint either. The pricing is fair and competitive too. There are three types of subscriptions made available; 1 year, 2 years, and 3 years.

However, we have to point out that the difference in prices is significantly low and it would not motivate you to get a 3-year plan. There is also a lack of a monthly subscription option when purchasing for a single device which is bizarre considering that there are people who would want to use a VPN for a short period.
We also realised that prices displayed on the websites strangely contradicts with the ones shown on the app. On the website, VPN subscription for one device (PC or Mac) is $59.99 while on the app it is $47.88. The difference has no explanation in any forum, therefore, it is up to you to assume whether it is a discount or something else.
Payment Methods
Avast does not have a long list of payments, but they do provide the most common which can cover clients from all ends of the world. We checked and only found 5 payment methods on offer which include the mighty PayPal, Mastercard, Amex, Discover, and Visa.
There is a 7 day trial period for first-time users. The trial period gives you access to all features such that you can use it during such a short trip. Avast also gives you a 30-day money-back guarantee if you do not like the VPN.

Rankings & Awards
Avast Secureline is relatively a new software in the industry having been released only in 2013. In most of the reputable VPN sites such as VPNmentor, the VPN fails to make it to the top 10. However, considering that the VPN just turned 5 years old, it still needs some time as they continue improving. The company itself is doing well in scoring recognition by reputable sites such as AV-Comparatives. Thus, you would not expect them to jeopardise their reputation by keeping Secureline below par.
Pros & Cons
Simplicity is the main advantage of Secureline. Even for someone at an entry level or with no prior knowledge of VPN use can download and install the app by just following on-screen instructions. In most cases, issues faced by beginners are a lack of understanding user interface. However, this VPN is designed for everyone and room for error is reduced to a minimal level. Other advantages include:
Available on multiple devices – with most of its competitors offering services to PC and Mac, Secureline has a great range of platforms that include iOS and Android devices.
Diverse in Geographical Servers – with just 36 countries and more than 50 servers available, you would not expect to get the location from all continents. The availability of servers from the most prominent locations is a plus for this VPN.
Little Interference – at times we would forget that the program was running. As silent as it could be, Secureline ran seamlessly in the background doing its job at its best.
Killswitch – not most of the VPNs have this feature written in their codes. This is a vital feature which gave Secureline an upper hand when compared to its competitors, and we find it a necessity to consider when you are searching for a reliable VPN.
Speed – of course, VPNs are go-between guys, therefore, you should expect to lose some of your internet speed but not to the point that it will fail to perform common tasks. Secureline did not disappoint as we ran an internet test on two different locations with both presenting impressive results.
Support – to be honest, we had our doubts about this feature until we discovered the availability of phone support.
Cons
When something is easy to use, it means you should not expect to perform any heavy duties with it. For beginners interested in learning how to use a VPN, Secureline is perfect, but it isn't the same for experts. Here are some of the disadvantages we discovered:
Pricing – Avast pricing is somewhat strange, but that should change soon. When purchasing a license for a single device, we could not find an option for a monthly subscription. There is also a lack of a 3 months or 6 months subscription option.
Internet Speed – as we mentioned that it is impossible for your internet speed to remain the same as it is going to to reduce. We figured that in some locations, the decrease is significantly higher.
Limited Options – as simple as it could be, Secureline presents few options to those who love to control how they keep their devices safe. There are no advanced features which mean it is a matter of selecting the location and turning it on.
Number of location servers available – apart from the few servers available, most countries have got 1 or two servers on offer.
Avast VPN review: Final Verdict
Avast Secureline VPN checks quite a number of boxes for beginners. However, we do not think it is a great tool for advanced individuals who are looking to gain control over their browsing security. There is not much flexibility when it comes to subscription options such that you might end up stuck on what to do.
With everything considered, Avast Secureline VPN gives you an opportunity to make the decisions by yourself as it provides a 7-day trial period with all features included. All factors considered, we advise that you take advantage of the trial version to make a sound decision.