Starting from 1998, based in Czech Republic, AVAST Software enterprise has been developing antivirus software and growing to offer numerous anti-malware options to its clients. These include Avast Free Antivirus, Avast Internet Security, Avast Ultimate. To make the Internet experience even more safe to those who are willing to protect their actions on the web, company offers a separate VPN service – SecureLine. So, naturally, we'd like to perform a little Avast VPN review.
The products by AVAST Software enterprise have proven to be the leaders among digital security services. Avast SecureLine VPN offers its customers 56 servers in 35 countries, using different protocols (UDP, IPSec, P2P) to make your Internet experience safe. It clearly places it in the list of leading VPN services.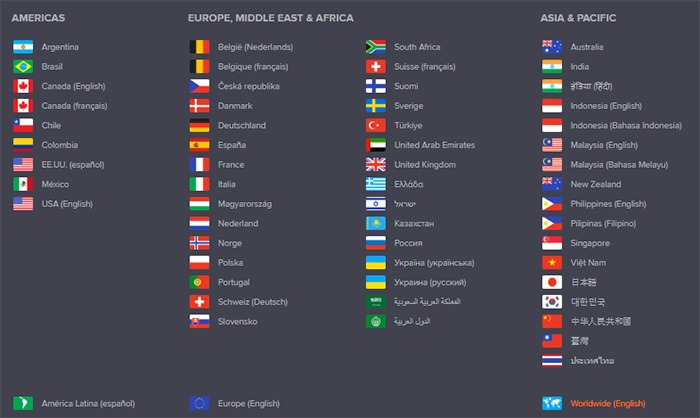 While private virtual networks (VPNs) are one of the most reliable security services, they are still not very popular in usage. Even the best VPNs tend to limit Internet connection speed, plus many users have not even heard of such protection feature, or simply don't realize what kind of options these services provide. SecureLine VPN manages to balance performance and simplicity of use, therefore it attracts even those who were not familiar with private networks before. It is available on Windows, Android, iOS and MacOS platforms.
SecureLine VPN was launched quite recently – in 2014. This VPN allows you to protect yourself against some common privacy threats: usual dangers of public connection or unknown Wi-Fi network. Some ad networks and government services can monitor web traffic – these unpleasant things can be easily avoided, and Avast VPN gives you all the tools.
Specifications:
Vendor
Avast Software s.r.o. (website)
Newest version (for Windows)
Avast SecureLine VPN v.5.5.515 out September 2019
Operating systems
Windows, MacOS, Android, iOS
Installer file size
19.8 MB
Menu languages
21
Countries
35
Extra features
No Logs, P2P support, DNS leak protection
License
Trial / Subscription
Pricing
$3.99 (1 Month, 1 Device)
$5.33 (1 Month, 5 Devices)
Safety options
SecureLine by Avast provides top safety options for their users who can protect all the data with 256-bit encryption. Such feature keeps your private information from any attempts to steal or decrypt it, while being transmitted through servers. To be more precise, the program is supplied with UDP and IPSec protocols which are among the most reliable security protocols on the market.
Since this is an open source system, you do not need to worry about the fact that some outside system will somehow track your personal data. Avast SecureLine does not store your activity information in the logs as soon as you have connected to the selected server. This VPN does not track visited websites, viewed content and even the applications you use. Logically, if there is no information left afterwards, no records – no one gets to know about what resources you have visited.
The service also provides reliable built-in protection against DNS leaks to keep your data confidential – such feature is even more attractive to smartphones users. Despite all those options, there amount of available servers is not big, especially in comparison with others VPNs on the market. However, SecureLine is constantly adding new servers to the general network to meet the high standards.
Installation & Interface
The installation process is designed with maximal ease of usage. It starts on the SecureLine home page: to start downloading the application, you need to follow the link (for the PC). As soon as you have downloaded the file, open the installation wizard and read the given instructions in the dialog window to finish your installation.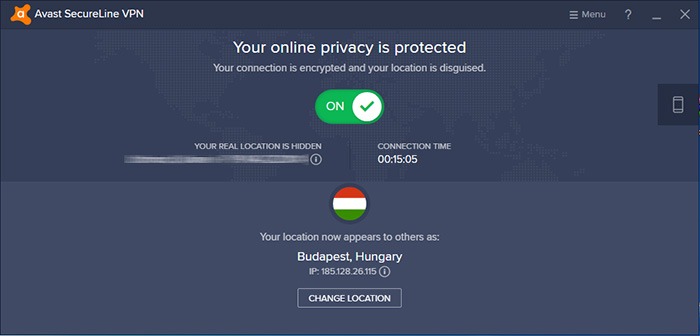 As you see, the start of working with application is easy, which has been already approved by its many users. Even those who do not have the previous experience or advanced technical skills will not experience any problems with the application.
The application works with both wireless and wired networks, and can be installed on all computers and laptops with Windows operating systems (XP, Vista, 7, 8), smartphones and tablets on Android platform (version 4.0 and higher), an extra feature is provided for Android TV; as well as iPhone, iPad with iOS (version 5.0 and higher).
SecureLine attracts with its minimalistic presence on a computer, so it won't interfere with other programs. Access to initial functions is given through using the system icon, if you want to control the process, you can use the main application, which is displayed as a small window.
You can select any server from the app menu, or you can trust a selection process to be performed by SecureLine itself – it will choose the closest, and the fastest (if possible) for you. On the VPN server, each user receives a new IP address, which will be processed by other websites. As a result, the user's real IP address and real location is hidden. Avast SecureLine VPN operates within the fixed set of servers in different countries that provide IP addresses to users from their available set.
Avast SecureLine VPN runs without problems on different platforms – Windows, Android, iOS and MacOS. Considering that, the functionality and principles of working with the application are identical on all three platforms, the only things that differ are the user interface and installation methods – to use it on Android and iOS, Avast SecureLine VPN has to be installed as a separate application. The smartphone app interface is simple too – all it takes to connect is one tap. However, this VPN works only in desktop mode on PC and as separate app on smartphone (or smart TV), with no browser extension.
Avast VPN review: Testing
Performance tests (speed)
We started our testing with checking servers performance. With the help of Speedtest application we measured the ping, download and upload speed. Getting the same measurement results from a remote server is impossible if it is used by several users at the same time, so the average numbers were taken into account.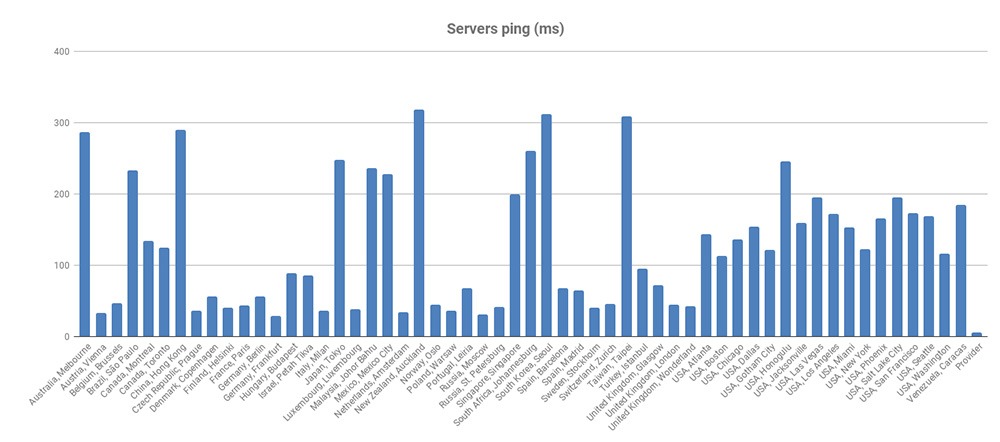 SecureLine operates at high speed while surfing the Internet, with
– ping from 30, 2 ms on Russia server to 308, 4 in Taiwan.
– highest download speed in Finland, Poland, Germany, Hungary (30, 834 – 30, 354 Mbps);
– highest upload rates in Austria, Czech Republic, Denmark, France (53, 064 – 49, 444 Mbps).
There are several lists that include IP addresses that have "bad" history (for example, spamming). Major email providers, site administrators exchange this data and, to protect customers, block access to their networks from these IPs. We tried to check if Avast SecureLine VPN manages to keep its addresses "clean". The service Whatismyipaddress was used as it checks the IPs in 70 different databases at once. SecureLine passed the test with 67 – 69 addresses unlisted on every server. In general, we can say that VPN uses "clean" IP addresses.
Using dnsleaktest and browserleaks services we performed safety test to prevent any leaks that might lead to revealing the real location of the user. Potential DNS, WebRTC leaks test was passed on every server, occasionally displaying Not found result if there was any error.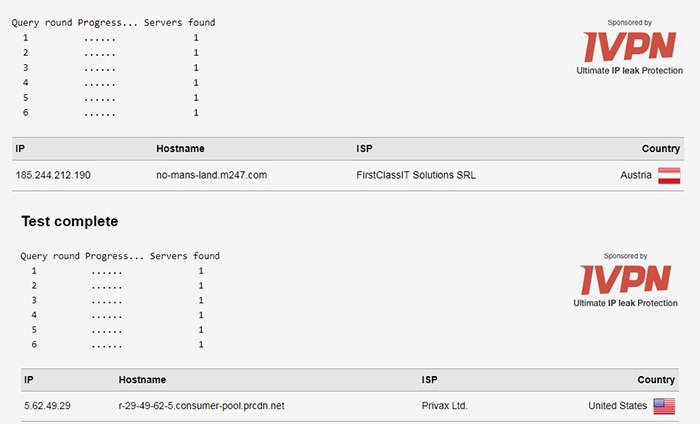 IP address and HTML5 Geo checks show if the user is surfing the web with "new" location given by VPN. The VPN proved to be safe on every server, with small percentage of possible server errors (Not found). We should note that no server has revealed our real location, but errors in SecureLine system might cause potential vulnerability.

In addition to server selection, a user can choose an action when Avast SecureLine detects an unsecured Wi-Fi network – do not protect, automatically protect, or ask about the need to protect the connection.
Avast SecureLine provides servers in 35 countries around the world, with the amount of 56 working ones. To take these countries separately, there is one or more server for each, in several cities. The greatest number of servers is in the United States – 16. Despite quite limited range, Avast SecureLine has servers for P2P networks, mainly in the UK, the USA, Germany, Netherlands, France and Czech Republic. The new IP address is provided with every connection.
The service works steadily when connected to streaming services, radio stations. The most popular one, Netflix, loads rather quickly, but there are some restrictions regarding the use of VPN services. Average quality videos on Youtube or other sites upload without interruptions. The torrenting is enabled.
Pricing & support
After installation, SecureLine offers a one-year subscription to its users. A customer has to choose a subscription for one PC, Mac, Android or iOS device. To add, the subscription for smartphones presupposes a lower price, than for PC. Avast offers several different payment methods. You can choose from the following options: pay with the one of the main bank cards (Master, Visa etc.), Paypal, Paysafecard, AliPay for the users with bank account in China, Payu. The anonymous payments are not accepted.
The prices are based on the device you install the app to. If the subscriber chooses to connect to the maximum of 5 devices, the option will cost $79.99 per year, meaning $6.67 for each month of use or about $16 per year for each device. This plan depends on the platform: access to SecureLine for your PC or Mac will cost $47.88 per year. You will pay about $8.99 for access to only one device. The package of functions for Android, iPhone, or iPad is $19.99 per year, with $1.67 per month for one mobile device.

SecureLine offers a free 7-day trial, without any limitations or payments, so the users could test it properly and decide which plan would be more suitable for their needs. You don't need to provide any payment information before the trial period expires.
If we speak about technical support provided by SecureLine, there are several things that need to be mentioned. For any technical questions during your trial period you will have to search for the information on the official site which includes necessary amounts of installation, usage and functionality details.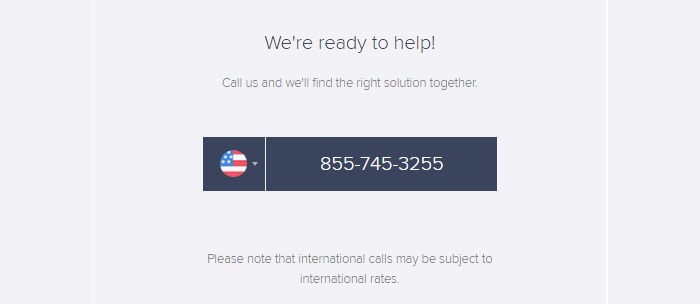 You can also try the forum to find a solution to a similar problem by other users. It can be quite challenging for more specific problems. So, by making a paid subscription, you can contact technical support by email. To be able to use this option, you'll have to provide the number of order. Unfortunately, 7-day free trial users have no access to it.
Still, after you have bought a subscription, you can have your money paid back, on request within 30 days. For this, you need to contact technical support during these 30 days to get a refund. In addition, the user must disable regular automatic payment in their account, otherwise the service might continue to charge a monthly subscription. The Avast SecureLine technical support does not presuppose 24/7 option or live chat. All problems are dealt with after subscription, with personal emails.
Pros & cons, verdict
Wrapping up Avast VPN review, we should say that among obvious pros of SecureLine is online security and privacy. Users receive protection against data leaks in unsafe networks, the ability to choose preferred location and bypass geographical restrictions when accessing websites. Simple, you can even say minimalistic, user interface of the program makes your working process really convenient. As the interface and given functions are simplified, the use of SecureLine VPN does not require any special knowledge or skills.
The fact that program is supported by multiple operating systems: Windows, Android, MacOs and iOS, is definitely a plus. This allows you to use the familiar product without being restricted to the main workplace, and have all VPN options on the go. The most frequently mentioned cons include rather limited number of available servers. The next issue, that might be potential drawback, is high prices. Many users note that high costs of SecureLine packages had to allow more functionality. The product doesn't have an option for changing the VPN protocol.
Pros
secure web browsing

bypass geo-restrictions

convenient interface

available on many platforms
Cons
pricing above average

fewer servers than in competitor apps

separate subscription for each mobile device
SecureLine has no ad blocking, which can be problematic while surfing the web. If you want to use SecureLine on a mobile device, you need to purchase a separate subscription for each. To conclude, one can say that Avast SecureLine VPN is a simple and convenient program that can be used on different operating systems, which is especially important for users with multiple devices and multitask approach.
One can choose to use SecureLine as a separate application, or as one of the additional tools of AVAST antivirus Software. The given VPN service demonstrates high connection speed and reliability. While connecting to available servers, most users will have no difficulty choosing the nearest and best functioning one.
Avast SecureLine VPN allows torrenting, and keeps only connection logs, the connection itself is leak free as observed. However, the relatively high price, limited selection of package plans and the need to acquire a separate subscription for mobile devices are significant drawbacks. Limited functionality and minimal server information prevent SecureLine from receiving only positive reviews.
P.S. Find more VPNs in our Best free VPN post.
FAQ
Q: How does Avast VPN work?
A: Avast SecureLine VPN uses reliable protocols and numerous servers to protect you from information leaks on the Internet.
Q: Is there Avast VPN browser extension for Chrome?
A: This VPN has no browser extensions. Still Avast VPN is available on Windows, Android, iOS and MacOS platforms.
Q: How much does Avast VPN cost?
A: The price depends on purchased subscription plan. After 7-day trial period standard monthly subscription will cost $8.99.
Q: How to download Avast VPN?
A: Follow all given instructions on Avast SecureLine VPN official website. The installation process is organized with maximum ease.
Q: How to use Avast VPN?
A: Download the application from the official website, install it on your device and connect to any provided server at once. You may also choose from the list of available servers.
Q: Is Avast SecureLine VPN good for torrenting?
A: The torrenting option is included in VPN tools. The tests demonstrated that torrent files can be downloaded and uploaded as usual.
Q: How many devices can use Avast VPN simultaneously?
A: The subscription is available for up to 5 devices. You will have to manage the application on each device separately.
Q: Does Avast VPN have free trial?
A: There is a 7-days long trial period which will help you to decide if you want to use this product and if so, define your main preferences.
Q: Does Avast antivirus include a VPN?
A: Yes, Avast antivirus includes a VPN service.
Q: Is there Avast VPN for iPhone?
A: Avast VPN is available for iOS, as well as Android platform smart devices.
Q: How to fix Avast VPN connection error?
A: There are lots of information about possible difficulties in using Avast SecureLine VPN on its website. If the problem is of more specific character, you can always contact the technical support.
Q: Avast VPN is flagged as virus. What do I do?
A: You can write to the SecureLine technical support via email, after the subscription.
Q: Why is Avast SecureLine on my computer?
A: Avast SecureLine is automatically included as a part of Avast antivirus.
Q: Is Avast VPN safe?
A: It is worth mentioning that a number of experts indicate Avast SecureLine VPN as not 100% anonymous, since traffic goes through a number of countries. Also, the use of VPN will not help to protect the device if it has already been infected with malware.
Q: Is Avast VPN good?
A: Taking into account all performed tests, Avast SecureLine VPN can be recommended as well protected service, but with rather high pricing.