In April 2018, we had launched Google Adsense Auto Ads campaign. One month later, in May 2018, we got as "impressive" income as $3 per day from Google Adsense (laugh or cry – you decide), while having 200,000 page views and lots of traffic, mostly from Tier 1 and Tier 2 countries.
After many sleepless nights, and to our luck, we contacted Ezoic, who answered right away and scheduled a call. Adam, a representative of Ezoic, did all the best to help us allocate ads template for our blog posts to monetize it.  One week later we've started receiving $40 daily from Ezoic vs to $4 daily from Adsense.
Why are we sharing this story with you? Because it led us to investigate Google Adsense alternatives, and we believe there is a good value in it for everyone.
1. Sell ad spaces through a marketplace
Best example is Buysellads. Just click and see how many different websites in different categories are offering they offer. The publisher defines a price and amount of impressions, usually without optimization, which is not ideally optimal. Despite that, BuySellAds usually makes payments after 2-3 days after a request day.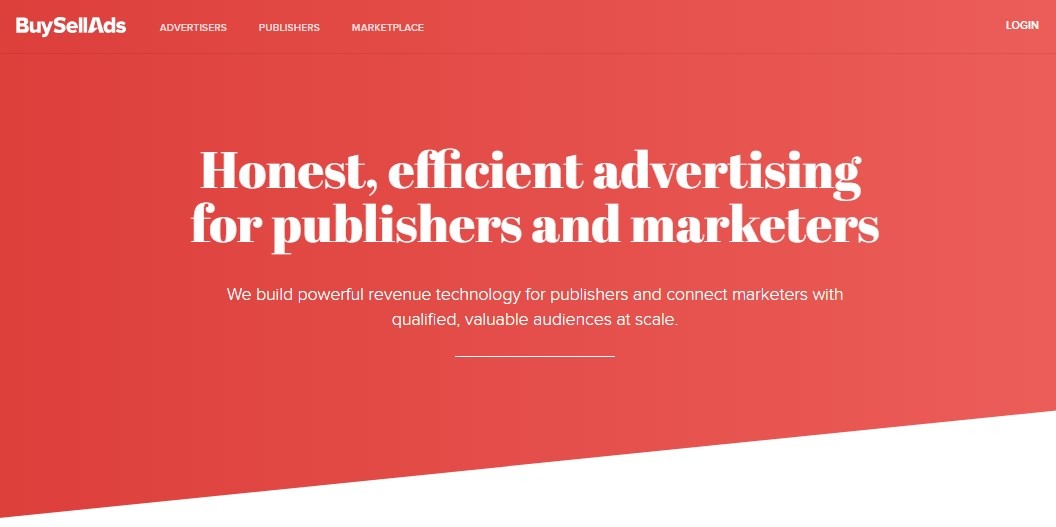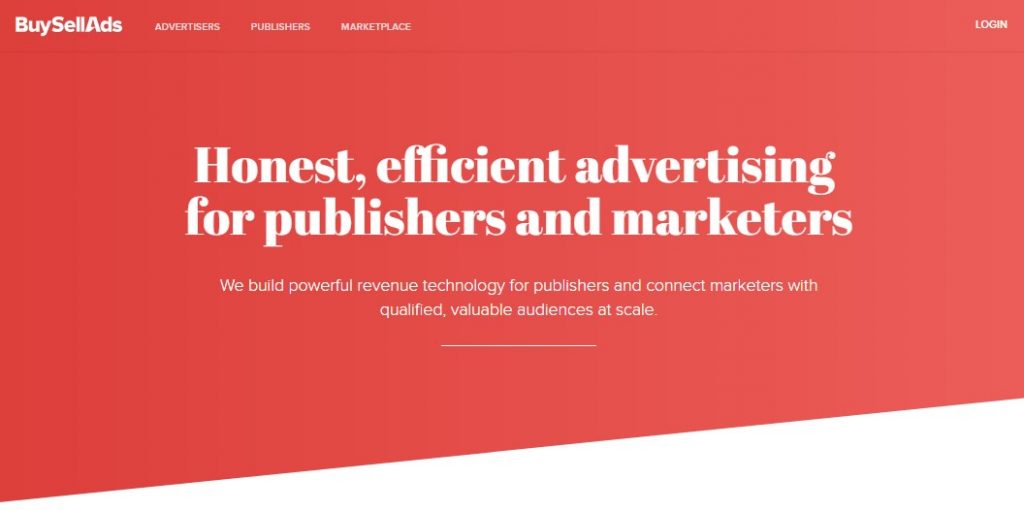 However, they decline  many publishers due to high demand and desire to get traffic (from US, Canada etc). There is an ability to select traffic by:
ads type (desktop, mobile, top, bottom etc.)
by country
by cost (fixed price per month or CPM)
Let us consider couple of examples. In a Buysellads campaign for a food-and-drinks blog RecipeTips, we see the following ads inventories for mobile and web: a website has close to 1 million impressions to sell (an average price $2.5 per CPM, draft revenue is 1,000 * 2.5 = $2,500), mobile devices have about 800,000 impressions to sell at a same price (800 * 2.5 = $2,000). Draft calculation: 2,500 + 2,000 = $4,500 monthly in case we sell all the ads spaces. Similarweb shows estimated 650,000 monthly visitors and $4,500 average revenue.
In a second example, Buysellads campaign for a parenting/education blog AllKidsNetwork, we see ads inventories for web only: 75,000 impressions at $3 price. Draft calculation: 75 * 3 = $200 monthly. Similarweb show estimated  200,000 monthly visitors and $200 revenue, which is too low and should be at least 10 times higher.
In third case, a campaign for a finance blog Coindesk, we see website ads for 9.5 million monthly impressions and $30 price. Draft calculation: 9,500 CPM * 30 = $285,000 monthly. According to Similarweb, the estimation is 11 million monthly visitors and $100,000 monthly revenue. This is probably due to the recent hype about bitcoins and cryptho currencies.

So, let's go further to investigate the latter example and visit Coindesk advertising page:
Mobile ads (Expect $20,000+ monthly)
Newsletter sponsorship (Expect at least $10,000 monthly)
Research Partnerships ($5,000+ monthly)
Event Partnerships ($5,000 monthly)
Summary #1: this fine website gets at least $130,000-140,000 monthly. Summary #2: BuySellAds declined our request. But that's not the reason to worry, there are still alternatives.
2. Sell ads via machine learning ad platforms
Ad platform
Money
hold
Daily
income
Minimum
sessions
Decline
rate
Conditions
Ezoic
30 days
$40
10,000
low
At least 30-40% traffic from the USA
MediaVine
90 days
$40
25,000
very high
Main traffic from the USA
Adthrive
45 days
$35
100,000
high
Main traffic from the USA
Goole Adsense
no hold
$4
none
very low
No conditions
Media.NET
no hold
$3
none
very low
No conditions
Media.Net by Yahoo is closely similar to Adsense in regards to revenue and conditions. These are average numbers for a website with 200,000 page views per month, with 60-65% desktop traffic share. There is also a Monumetric, but it's launch is still delayed, and we reckon that data won't be higher than of Ezoic or MediaVine.
After all possible experiments, research and discussions with colleagues, we had made the following conclusions:
If your website has lots of traffic from North America and richer parts of EU (UK, Sweden, Germany, France),  and it amounts to 30,000-40,000 visits monthly, you can try Mediavine. Caution: you will have to wait 3 months to get your money, and also Mediavine declines a lot of new websites.
If your website has the similar or same traffic quality but with 100,000 monthly visitors, try Adthrive.
Our personal favorite to sell ads on websites is Ezoic, and here is why:
Most of websites looking to monetize their blogs with ads, don't have large traffic.
A median case is ~10,000 sessions per month and less quality traffic – e.g. India, Latin America, Middle East, etc.
You don't have to wait 45-90 days for payment, 30 days instead.
Great and fast support – in our experience responses by email in 2-3 hours, all issues like disable ads on specific pages, primary relocation of ads, CDN, solved smoothly.
A Chrome plugin to allow locating ads through a website.
Lots of ad network partnerships, including Google, and AI-based ad allocation improvements.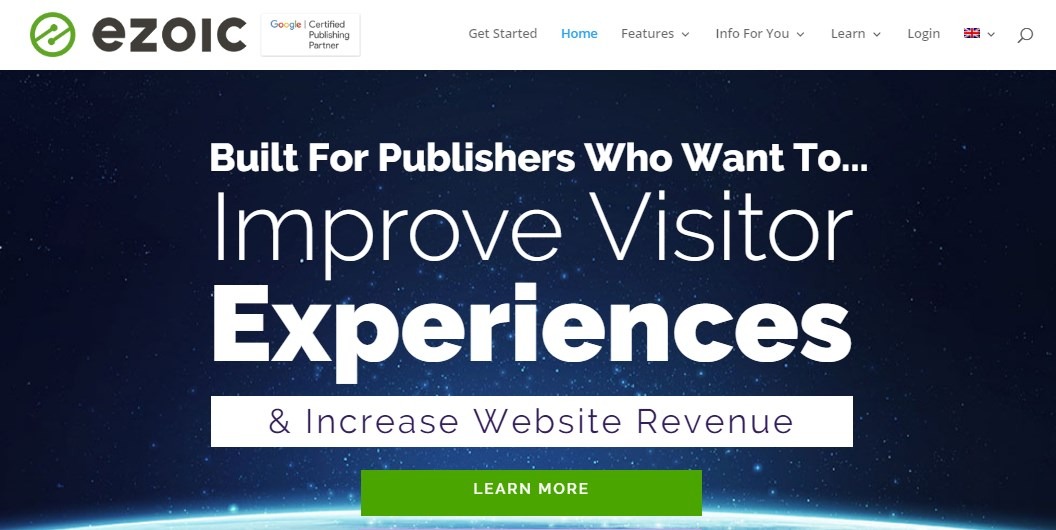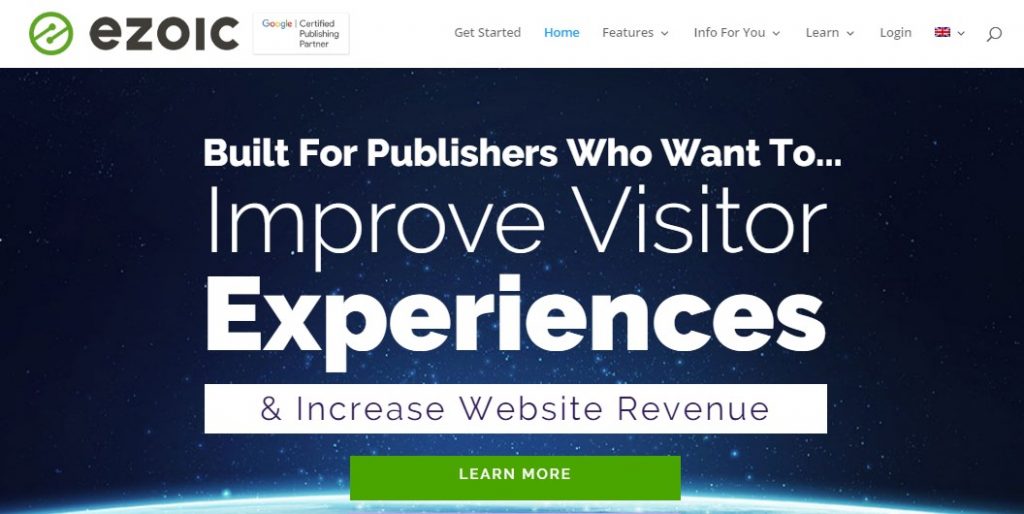 3. Sell ads directly through ad networks
Biggest players here are Google Adsense and Media.Net. Despite the fact that Adsense and Media.Net are mostly ad networks, they have implemented ad managers for best ad placing on a website pro-grammatically and with AI. Therefore, we also included them into a previous comparison table.
Google Adsense pushes auto ads for desktop and AMP hard, which indeed is a kind of AI allocation of ads, and similar to what Ezoic does. Despite all that, ad revenue is still very low. Another popular ad network is Infolinks.
Summary: don't expect to get much revenue from ad networks  – whether it is Adsense or another ad network. Expect about $1-2 eCPM, and it's a matter of A/B testing on a specific website.
4. Sell ads as pop-ups
So far, we had experience with only 1 such service, namely Popads.net, and in the best-case scenario one can earn a $1-3 eCPM revenue, similar as with Adsense or lower. A couple of considerations herein:
Google does not like pop-ups and may downgrade page rankings
If you really require pop-ups, we recommend using native pop-ups in 2 ways: 1) to increase email subscription base, 2) to encourage people click on affiliate links.
In case you get at least 1 successful sell through affiliate, you earn much more than through pop-up ads.
5. Sell text link ads
Platform examples include Backlinks.com and Monetizer. How it works: you integrate a JavaScript code into a website and such service automatically does all the rest. Although, note that revenues are usually relatively low, and there's a good chance to face trouble due to spammy domains.
Summary: it is up to you, but we would not advise this option, plus we didn't learn of any website earning much money from text link ads monetization.
6. Sell ads directly, or how to monetize without ad networks
Note: you must have your own sales/marketing team, but usually ROI is positive. As a rule, selling ads directly to a specific customer might be worth it in one of the following cases:
strong brands with big amount of traffic, e.g. over 500,000 pageviews
selling and placing ads on your own forums, blogs, etc.
if one wants to avoid commissions
when one has full control over all inventory
when dealing with stuff like Forex, Adult, etc., that Google restricts.
Let's throw in few examples. Elite Trader Forum got $25,000 monthly from sponsorship, so here is a draft calculation based on their current information. Surely, they make $2,000 or more from email promotions which cost $999 each (they have two). Hence, at least $25,000 monthly if 650,000 visitors by SimilarWeb is correct, which is an excellent result.
Another case is Forex Factory Forum that earns $380,000 monthly on direct ad sales. It has 2 ads for the website and 2 ads for mobile visitors, with 19 million impressions monthly and $10/CPM (per 1,000 impressions). Draft calculation: 2 ads * 19,000 * $10 = $380,000 monthly with 10 million estimated visitors, according to SimilarWeb.
In the same manner, Buzzfeed collects about $30 million monthly. This website has 75M users, and has delivered 66 billion video views in 2017. Thus, we can approximately calculate a $350 million annual revenue, which is about $30 miliion each month.
Quora generates $6 million with its 190 million monthly active users, enormous number of topics and comments. Estimated annual revenue of $8 million with only 66 employees. And their figures will only rise, as Quora has launched its own ad platform only a few years back.
Those numbers are through the roof, and yet realistic. Who could have thought that it is possible to earn $20,000 or $30,000 per months on ads? But it is real, so everybody has a chance.