The revolution of blockchain is the reason why developing countries have the hope of turning the fate and becoming the leading economies. blockchain provides such grounds and opportunities for transformation. India, in particular, has taken advantage of blockchain technology recently. A number of  projects continues to emerge in healthcare, social sector, etc., for example, Indicoin is set to rectify poorness. That's why we decided to compile a list of top blockchain development companies in India – with focus on outsourcing services in this area.
Also it is worth noting, that blockchain technology is becoming a widely used mechanism in scamming and security laws violation. Thus, the list could also be helpful as a security measure with reputable blockchain companies in India.   
Top blockchain development companies in India
Established in 2006 as a product development company, Somish has managed to create a powerful brand name in automation mechanisms. Since blockchain's emergence in 2008, the company joined the streamline and now advocates and builds solutions based on blockchain. They have been working on  token funds, bill discounting, P2P insurance, etc.
Portfolio. Somish has got an impressive portfolio. Backed by a versatile team, the company's flagship blockchain solution such as the GovBlocks gave them a good reputation. GovBlocks blockchain protocol is an Ethereum based project designed for decentralized governance. Other standout blockchain projects under the company belt include:
Aviation maintenance – the fundamental target is to lessen the cost of operating as well as layover periods within the airline and aviation authorities.

Subsidy distribution – a public distribution mechanism which focuses on assured as well as accurate end-user; thus, improving transparency, standardization and attributable.

Transfer of tokenized funds – a DTF on blockchain for markets that are emerging to crane Financial Inclusion omitting bank branches last stage process.   
The company was founded in 2003 and since the establishment of blockchain, has managed to recruit top-talent to develop blockchain products. With leading clients such as eBay, Sprint, Mannatech, Nokia, World Vision as well as other successful startups, CIS employs over 600 experts from 5 countries. The company is proud of quality certification of CMMI Level 3 and ISO 9001:2015. Other services besides blockchain include:
Mobile application development

Website development

UI/UX design (mobile and web)

Quality assurance
They focus on developing end-to-end blockchain solutions that enable businesses to improve the user experience. What Techracers does is it presents pre-designed blockchain-based frameworks which are also adoptable. They are keen on delivering innovative blockchain solutions, in particular:
Development of enterprise blockchain

Smart contract development and audit

ICO launch services

Development of cryptocurrency

Development of cryptocurrency wallets

Private blockchain development
Portfolio. Oddex Beta (app on React.JS) and Acebusters (dApp for Ethereum) in the past. A New Frontier in energy sector and Asset Tracking Ecosystem in supply chain. Find out more in Case Studies section.  
Located in the middle of India, Delhi, with 450 employees, this company is one of the trusted blockchain development companies in the region. Operating at a global scale, the company have managed to service close to 5000 clients in 35+ countries across the world.
PixelCrayons specializes in blockchain development,  decentralized applications, Ethereum, Solidity etc. They also provide consulting services in ICO implementation, digital wallets, crypto exchange platforms, blockchain consulting.  Some of their clients include VW, Puma, eBay, HP, Vodafone, WinZip.
Upon checking the company's contact info, we were impressed by the availability of phone service in 4 countries which include:
USA +1 646-415-8677

India +91 888-210-8080

UK +44 1923-606-162

AUS +61 2-8015-5687
One of the top blockchain development companies in India with over 200 employees. Prolitus' motto states: "We do what is right, not what is easy." The company's expert team close focus is on financial operations, seems to be.  
The main service, surely, is all related to to blockchain development sector, which includes blockchain app development, smart contracts and POC, blockchain consultation, smart contracts for ICO, marketing services for ICO, wallets.
Portfolio. Regarded as one of the trusted blockchain companies from India, Prolitus presents a great list of their past work samples. Each sample is clearly explained on how it was developed giving you, as a potential client, a clear understanding of how they work.
The company focuses on developing blockchain apps for efficient business processes. It was established in 2015 and have since grown to be a force to be reckoned in the tech industry. Team members assist in identifying Dapps as well as smart contracts that match your business requirements. That's the start typically. Their key services cover:
cryptocurrency development

token sale

smart contracts

private blockchain

distributed ledger

legal contracts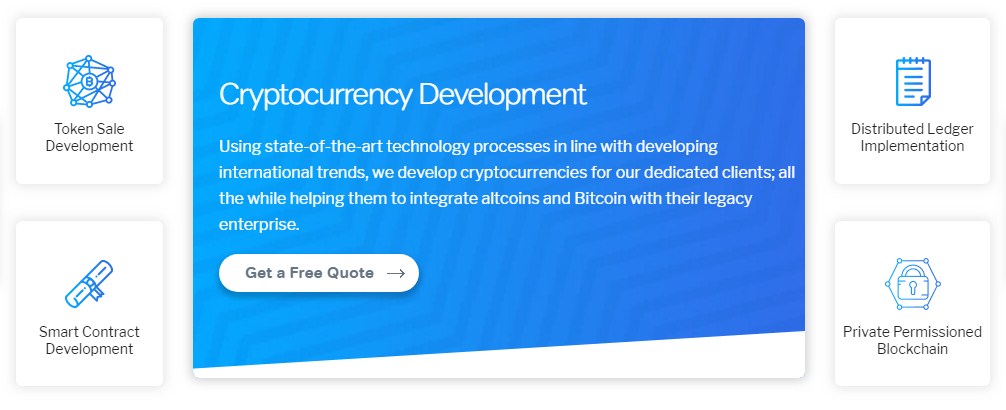 Portfolio. Working with platforms like Ethereum, Hyperledger, Quorum, Stellar, Tron, EOS, R3 Corda, Minddeft finished a dozen on projects. One of them is Blockchain MVP – a blockchain project for a real estate startup.
LeewayHertz is an Indian blockchain development company established in 2007 and now based in the US. The company is among the leading brands in delivering an end-to-end solution in developing blockchain application at enterprise-level.
LeewayHertz has managed to deliver 450 applications confirming their skills in mobile strategy, manufacturing, design. They present a great understanding in developing immaculate solution related to mobile platforms including:
Blockchain development

Creating smart contracts

Development of decentralized apps

Developing iOS and Android apps
Portfolio. The company works for top customers such as the ESPN, ADX, World Poker Tour, iCruise, as well as other proprietary projects. With an hourly rate of $100-150, LeewayHertz is one of the most affordable top blockchain development companies in India.
This Indian blockchain company delivers creative blockchain solutions on a global scale. Sphinx Solutions offers a wide range of services – from software development (mobile apps, e-commerce, UX/design) to digital marketing services, chatbox development, and, of course, blockchain.
Portfolio. Sphinx Solutions has got an impressive presentation of its works and these case studies are available for download from the website. Some of their proud projects include Vivino, Wizzle, Dahmakan, Chocoholics, Seekmi.