In the age when information is of the utmost value one has to take care of data backup. Right away we want to note the difference between cloud backup and cloud storage. Cloud storage serves as an extension of a hard drive sitting in data centers. Cloud backup contains multiple time-point versions of user data and the ability to restore it. This is handy in case one gets hacked or critically infected with malware. So we'd like to talk about cloud backup services for Mac. 
Apparently, the only native macOS option for backups is saving data to an external storage drive via Time Machine. Yet there is the ability to save files to iCloud which is close to cloud storage for various data types: photos, mail, contacts, Safari bookmarks, etc. iCloud works both on macOS and iOS, but for Macs it's more of a storage and for iOS devices it is a backup option. 200GB for $3 monthly or 2TB for $10 could be of great help. To configure iCloud on your Mac, open System Preferences > iCloud.
5 cloud backup services in question
Now let's take a look at the best third-party cloud backup services for Mac. We've picked the most safe, affordable and transparent ones. Though pricing of online backup providers is typically lower than physical storage, this option is more preferable for most users. Here's a brief introduction. 
| | | | | |
| --- | --- | --- | --- | --- |
| | Price (monthly) | Trial (days) | Data Versioning | Encryption |
| Backblaze | $6 | 15 | Free 30 days, or 1 year ($24) | 2048-bit RSA, 128-bit AES |
| Carbonite | $6 | 15 | 12 versions | 128-bit SSL, Blowfish, Triple DES |
| SpiderOak | $6 | 21 | Unlimited | 2048-bit RSA, 256-bit AES |
| SOS Online Backup | $4.99 | 30 | Unlimited | 256-bit AES |
| Acronis True Image | $5.83 | 30 | up to 99 | 256-bit AES |
Backblaze
Backblaze started in 2007 and went a long way to today's achievements. In 2014 Backblaze hit 100 Petabytes of storage with 30K hard drives, and 400 Petabytes were reached in 2014 (1 PB = 1024 TB). In 2015 they released B2 Cloud Storage allowing IT companies to build their own storage solutions. By 2020 Backblaze hit 1 Exabyte of files stored (1 EB = 1024 PB).
Trial. Backblaze offers a 10GB backup storage for 15 days. What even more impressive – unlimited upload speed, only affected by your Internet provider.
How to start? One has to register an account, then download and install the client. 
Security. Backblaze provides data encryption that has to be decrypted with a private key (2048-bit RSA) and account credentials. For large files and large numbers of files a symmetric key is applied: the same key to encrypt and decrypt. All files on a Mac are encrypted in 128-bit AES and transferred over a SSL connection. The data is then stored in data centers with 24/7 staff with biometric security and redundant power.
In addition, Backblaze has a computer tracker on its website. The feature is called Locate My Computer, and it is similar to Apple's Find My Mac. To turn it on, log into the user account, click Locate My Computer, then Mapping is On. Also, check the information such as the last time your Mac was online, IP address.
UI and settings. The backup process starts in auto mode after you install and launch Backblaze. It is then integrated into macOS interface and settings (System Preferences > Backblaze Backup). Settings contain adjustable options: performance, schedule, exclusions, security, reports.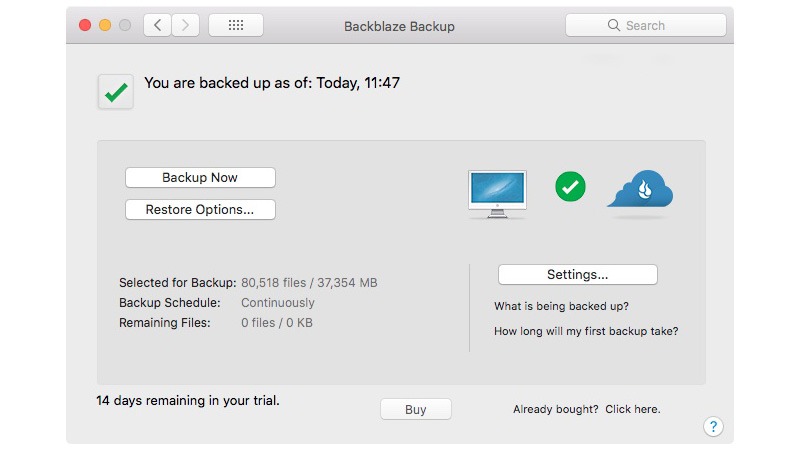 So, one can set a computer name, external storage device, reminders, wi-fi network blocklist; view data uploading speed, the amount of data saved daily, as well as configure automatic backups. In the Exclusions tab you can specify file formats to back up, for example, .mp3, .jpg. Your individual private key to decrypt data (Security tab) is vital, so be careful not to lose or forget it, otherwise no one will ever be able to make use of your backups.
Pricing. Backblaze offers a few subscription options: $6 per month, $60 per year, $110 for 2 years.
Pros
automation option

file versioning is up to 1 year, or lifetime

private encryption key
Carbonite
Carbonite started in 2005 and since then has gained over 1 million customers. Currently, the company employs over 1,000 workers and hosts 700 billion files. In 2017  Carbonite had acquired EVault and Double-Take software and began providing enterprise-tier solutions. In 2019 Carbonite was bought off by OpenText and became one of the leading data services.
Trial. Carbonite offers a 15-day trial with no limitations or restrictions.
How to start? Register an account on the official Carbonite site, download and install the application. During the installation, Let the app decide what to backup automatically, or set files and folders manually. Launch Carbonite from Applications.
Security. It begins with data encryption on a user device, then the 128-bit SSL for transferring, and ends up at a secure storage. Carbonite applies special tools for online banking transactions, i.e. Blowfish and Triple DES encryption. 24/7 staff at Carbonite go through biometric scanners with electric key cards.
UI and settings. Excellent cloud backup services for Mac have to check out exact characteristics, one of those is automation. The point is that a user doesn't have to do a thing, a program performs backups automatically, which is exactly what Carbonite does. Left menu hosts all the tools.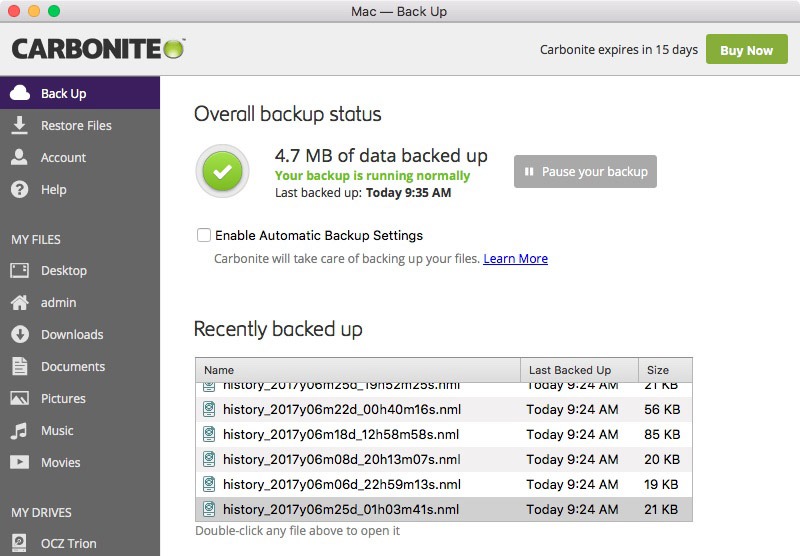 Pricing. Home plan for 1-3 users costs $6 per month. For 250GB, 25 computers and a central management dashboard get $24 monthly ready. 500GB starts at $50 per month. Every additional 100GB is $99.
Pros
free support line, even in trial

flexible pricing policy

backup for large files
Cons
only 250 or 500 GB cloud backup by default

file versioning 30 days only
SpiderOak
SpiderOak was founded in 2007, iIn 2013 the company began to develop a JavaScript framework where the server does not know what content it is storing ("zero-knowledge"). By mid 2014, SpiderOak gained over 1 million users, and in 2017 they've changed the direction towards enterprise software.
Trial. A 21-day trial version of the product with no other limitation.
How to start? Download SpiderOak, create the account with email and password, and that's it.
Security. Encrypted cloud storage with a key on a user side, so even SpiderOak employees can't access data. There are two types of encryption in use: 2048-bit RSA and 256-bit AES. The traffic goes through SSL/TLS. SpiderOak practices a "No knowledge" software building principle, meaning backup contents are nobody's business.
UI and settings. The interface of this program may not be as simple to navigate as other cloud backup services for Mac, but it has a lot to offer. Dashboard informs about the latest actions, uploaded files, cloud backup size, authorized devices. Backup, view, rename, remove data, as well as synchronization over multiple devices (SpiderOak Hive folder), share files with other people.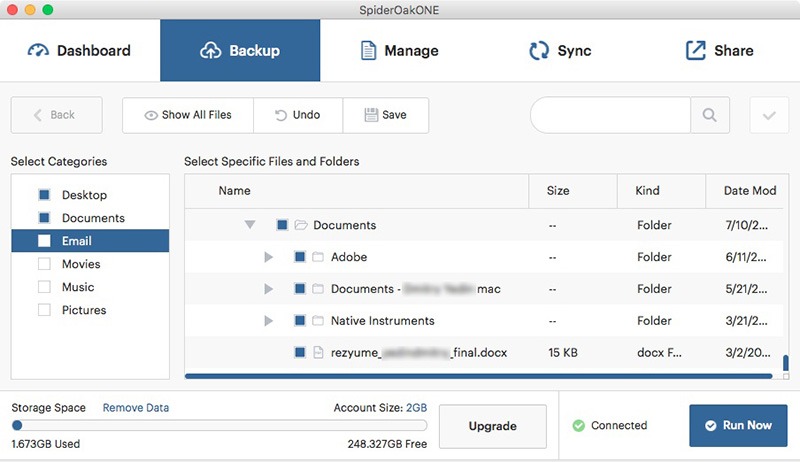 Preferences comprise of password setting at program startup, disable SpiderOak on a device, exceptions for specific file formats, including size and date; scheduling, HTTP proxy settings, limiting bandwidth (max upload kb/second).
Pricing. Starting at $6 per month for 150GB, $11 for 400GB, and up to $14 for 2TB, $29 for 5TB.
Pros
unlimited devices in all subscriptions

adjustable backup exceptions

zero-knowledge policy
SOS Online Backup
Sos Online Backup is a part of the Infrascale company, founded in 2011, with data centers in the USA, UK, Canada, Ukraine, India. Infrascale acquired Eversync Solutions in 2014 and began offering recovery, backup and archiving solutions. In 2017 Infrascale partnered with Google Cloud Platform for faster performance.
Trial. An unlimited 15 days of Home edition trial, and 30 days for Business.
How to start? Select a trial version, fill in the form, proceed to download it. Install and launch the application.
Security. A familiar data protection approach: UltraSafe 256-bit AES encryption, sending data over SSL connection, storage via a user-unique 256-bit AES protocol. Users can set a password for files and folders.
UI and settings. SOS interface is to the point, it only has two tabs: Backup and Recovery. Backup tab includes adding/removing folders, setting a schedule, adjusting email notifications. There'a also a peculiar option called "Delete files from the cloud if they're deleted from the local computer, after X days".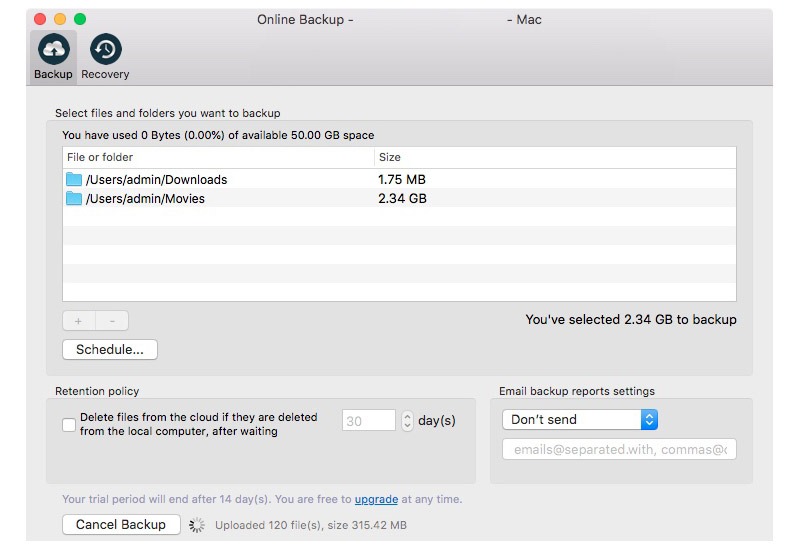 Pricing. There are a variety of paid plans, differing in storage size and billed monthly or annually. For instance, the starting point is at $5 monthly per 50 GB, in the middle we have $20 for 500GB, and the highest point is $300 monthly for 10TB. 
Pros
locate computer on a map

flexible paid subscriptions

triple encryption process
Cons
poor client functionality
Acronis True Image
Acronis is a multi-faceted software vendor with lots of popular products in disk partitioning, boot load, backup, etc. To capture more market, in 2012 Acronis had acquired GroupLogic Inc., and focused more towards mobile software, including Apple products. Their cloud data centers are located in Japan, Singapour, USA, Germany, etc.
Trial. True Image trial is limited to 30 days and 1TB of cloud storage.
How to start? Download the latest version of Acronis True Image on the official page, install it. Select trial or Pro and register a user account.
Security. Acronis offers a triple-layer password protected AES 256-bit encryption. To make sure user data avoids unauthorized access, it encrypts a backup on a user computer, not on their side. Private encryption keys bring an extra security measure, but be extra careful not to forget it later on.
UI and settings. Everything one might need is on the left-side main menu. Backup – for selecting folders, files, hard drive to backup, destination (external device or Acronis Cloud). Click the Activity tab to view recent actions. Click Recovery to select the data to restore. Disk Cloning is for creating the same boot loading disk. Active Protection, enabled by default, acts against ransomware.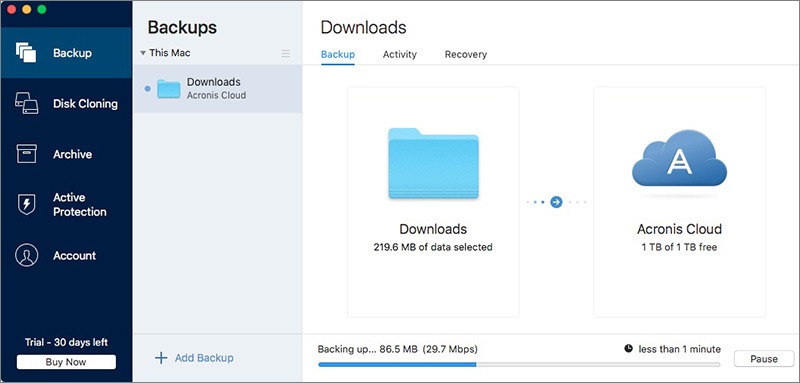 Acronis True Image has an excellent mobile application as well. Users can save photos, videos, contacts, calendars, etc. from a smartphone. One of the most impressive abilities of Acronis is system backup that includes OS version, applications, settings, configurations, drivers, files.
Pricing. There are three paid plans in total. One of those, Premium, will get you 1TB of cloud for $100/year per 1 device. Features that are available in all plans: cloud backup, Microsoft 365 backup, ransomware protection, disk cloning, full image backup.
Pros
full system backup including OS, settings

30 days, 1TB trial

private encryption password

mobile app
Cons
backup client has a few functions only
Read next: 16 best backup software tools.