If you got to this article, probably, you already have thoughts on opening your web store. Fair to say that eCommerce is the future of retail, and no retail business can compete staying out of it. Luckily, today becoming online retailer does not require deep technical knowledge, as well neither much time nor tons of money. You can hire a software agency, or choose one ecommerce platforms and do it yourself. Below are some of our suggestions of such ecommerce software platforms.
Celebrating this spring ten-years anniversary, Magneto can proudly call themselves as one of the best eCommerce website platform, with such clients as Burger King, Huawei, Pepe Jeans. The platform offers unlimited customization options, up to three hundred scalable plugins and extensions. Some of the widgets are already pre-installed into themes, some you have to buy. With the online market built by Magento, you can control finance (taxes and accounting), marketing (CRM, SEO/SEM, advertising, email marketing), content (translations, media, product content0, payments (fraud, payment integrations), sales (POS, promotions, gifts, rewards & loyalty), shipping services (OMS, WMS), site optimization and analytics.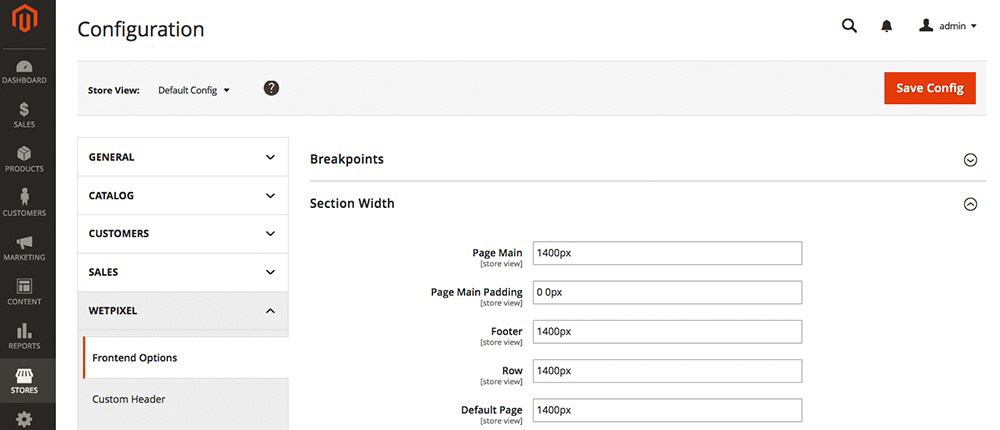 While each theme has premade design, it remains very flexible to changes: footer, layouts, fonts, colours, animations, tables, dividers, heading styles, block quotes, pricing boxes, toggles, tabs, icons lists. But unlike other open source eCommerce software, you do need some technical backup to work with Magento. We believe, that the big enterprises with a huge amount of products and services will get the most efficient result from collaboration with this platform.  
Pricing:
Magento Community – open source software;

Magento Enterprise – from  $18.000/yr.
Headquarters: Campbell, CA, U.S. / Founded: 2008 / Employees: 823/ Contact: +18557335533
Website: https://magento.com/
Powering over 28% of all online stores, WooCommerce became one of the best, easy to use and affordable eCommerce platforms. Developed as a WordPress plugin, it requires some previous experience working with this CMS, but the admin panel is still looking quite easy to manage. WooCommerce gives options to sell any kind of good, both physical and digital, with unlimited variations of colours, size, fabric and so on. Shopping services include built-in payment channels (Stripe, PayPal, credit cards, direct bank transfer), shipping rates, taxes.
WooCommerce provides the variety of customized and SEO-friendly themes with built-in blogging and options to manage the content – adding categories, tags and attributes, images and galleries, sorting and filtering, location customization. You also can try Storefront to build a theme by your own sketch. For advanced online store, currently there are 293 extensions. Facebook, Booking, PayPal, Amazon, Square, Stripe, Checkout, Membership, Invoice are the most popular widgets.
Pricing:
Free plugin;

Paid extension from $0 – $299.
Headquarters: San Francisco, U.S. / Launched: 2011 / Employees: 646 / Contact: contact
Website: https://woocommerce.com/
Mobile-ready, SEO-friendly, scalable, reliable and affordable online shop – this is what you get working with 3DCart. The eCommerce platform offers more than 50 free and 23 premium ($99 – $199) responsive themes with an excess to HTML and CSS code, CMS, built-in blog and tools like Quick View, Quick Cart, Recently Viewed items, Single page checkout, and more.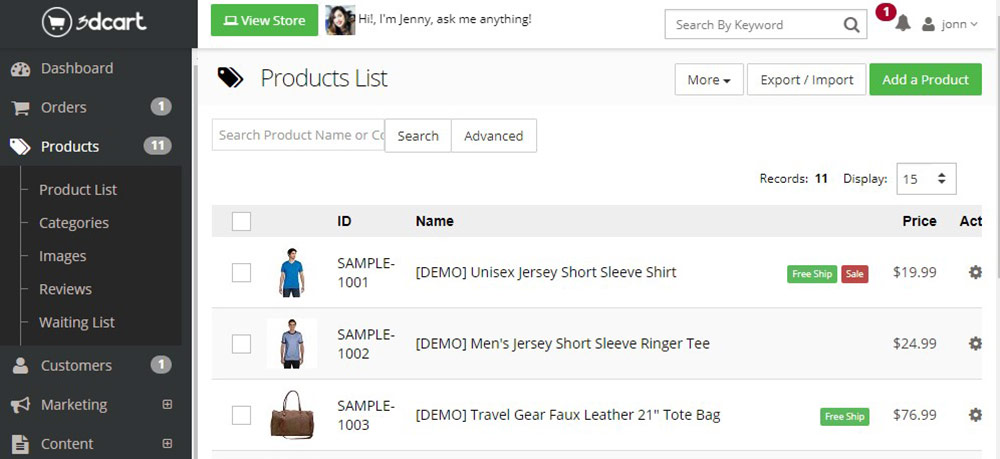 With PCI Certified, sitewide HTTPS, and fraud tools of protection, 3DCart provides 100+ supported payments and order synchronization with eBay, Amazon, Google Shopping, Facebook. Over 200 built-in features let to operate the shopping cart with tax and shipping setups, accept payments, wish list and save cart services, manage orders and products (dynamic zoom, multiple product images, waiting list), control marketing process (promotions, coupons, gift cards, affiliate program, Google Analytics, store statistics).
Pricing:
15-day free trial;

Startup Store $19/mo;

Basic Store $29/mo;

Plus Store $79/mo;

Pro Store $229/mo.
Headquarters: Tamarac, FL, U.S. / Founded:1997 / Employees: 72/ Contact: +18008286650
Website: https://www.3dcart.com/
CoreCommerce is probably the only paid eCommerce platform to offer so many affordable pricing plans suitable for both B2B and B2C. The service offers eighteen free, customized and mobile-friendly themes. Each page template you can change in the admin dashboard (logos, navigation, sidebar widgets, fonts, borders, header, style) or through the HTML/CSS editor.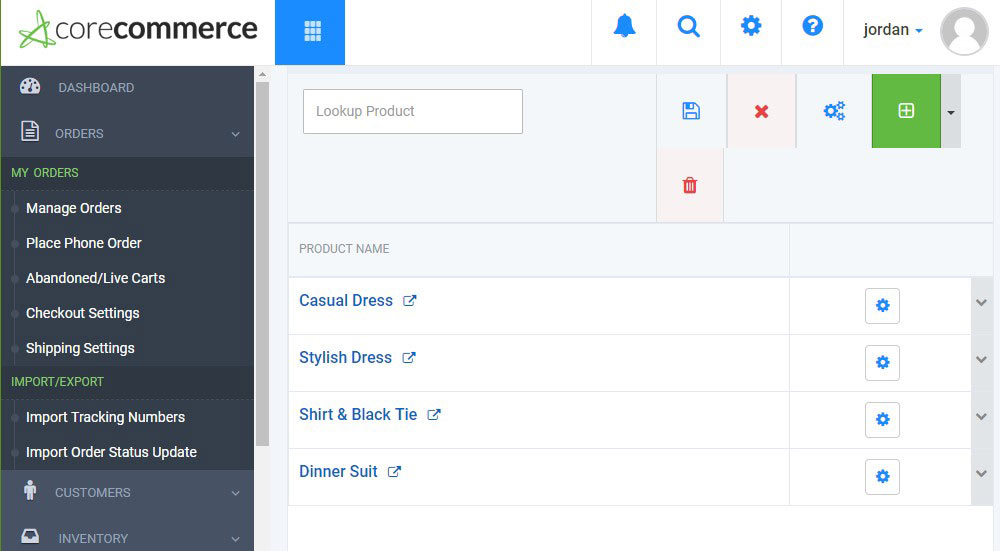 With CoreCommerce you can get all-in-one online store, equipped with powerful tools to accelerate and drive sales. The admin panel helps to operate checkouts, inventory, payments, shipping, taxes, manage orders, site content and theme design, plug-in apps and set up widgets. The platform assists in marketing (discounts, mailing list, Google Analytics, keyword tracking, affiliates), in global selling (English, Spanish, Portuguese translation, live exchange into 163 currencies, etc) and integration with Amazon, eBay and Facebook marketplaces.
Pricing:
15-day free trial;

Personal $19/mo;

Pioneer $41/mo;

Progressive $71/mo;

Pro $144/mo;

Premier $203/mo;

Enterprise $540/mo.
Headquarters: Brentwood, TN, U.S./ Founded: 2008 / Employees: 9 / Contact: +16155505523
Website https://www.corecommerce.com/
The platform provides services for the small business, B2B eCommerce and big enterprise to create an online shop with inbuilt marketing and conversion tools. BigCommerce gives the ability to integrate with eBay, Amazon, Facebook, Pinterest, Google Shopping, easy to convert the desktop version to mobile. There are 7 free and more than 100 paid responsive themes to customize in the drag-n-drop editor.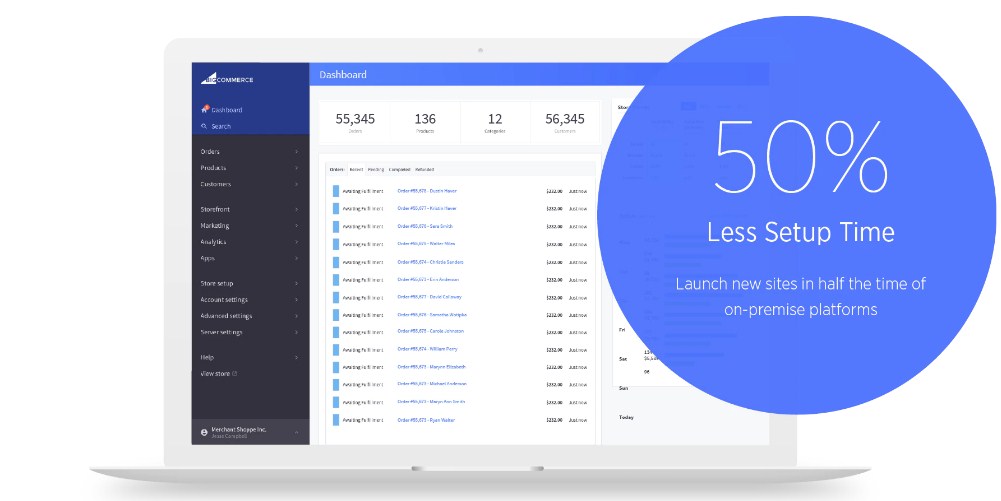 The platform provides such store settings like managing orders, products and customers sections, analytics,  integration with apps. Among features, you can choose single-page checkout, Apple Pay, coupons/discounts/gift cards, real-time shipping quotes, reporting tools, product ratings and reviews, etc. With storefront functional, the user can edit style and colour content, fonts, background, images, buttons and icons, blog and create email templates.
Pricing:
15 days of free trial;

Standard $29.95/mo;

Plus $79.95/mo (annual $71.95/mo);

Pro $249.95/mo (annual $224.95/mo);

Enterprise – custom pricing.
Headquarters: Austin, Texas, U.S. / Founded: 2009 / Employees: 559 / Contact: +15127587588
Website: https://www.bigcommerce.com/
Shopify is oriented on online stores apps, social selling and e-commerce, currently supporting over 600,000 online shops with more than 1M active users. The client can choose one of 100 free to use, fully responsive themes or buy premium designed theme with the ability to change colours, imagery, and fonts. This eCommerce solution helps to manage unlimited products and inventory with multiple selling channels. And what is even more important, it is really easy to use.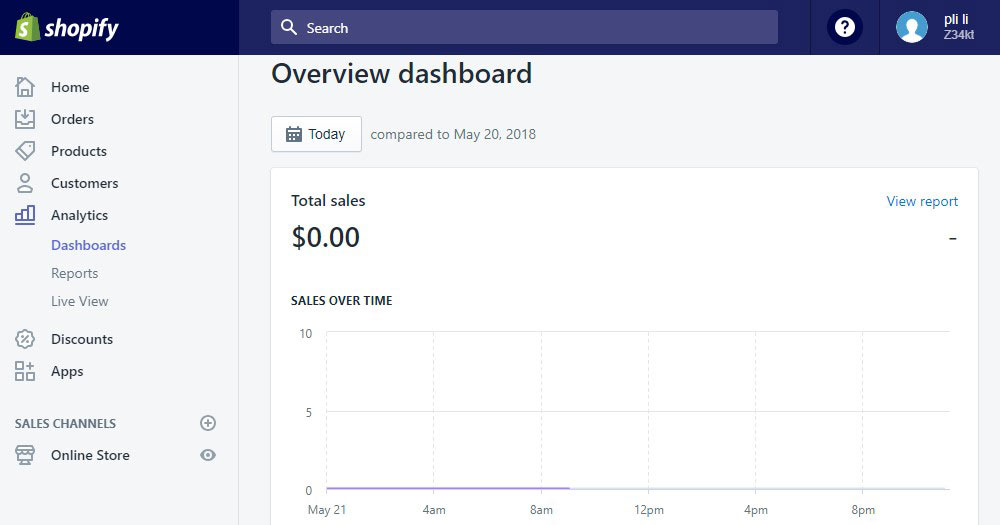 Like previous BigCommerce, Shopify is all about creating a fully operated online store. With this software, you can coordinate the orders, add and edit products (+ inventory, transfers, gift cards), coordinate customers section, check analytics (sales, convention rates, total visits, order value, etc.), create discounts. Built-in SEO features, automated marketing (Kit, Mailchimp), integration with 2,300 apps, Amazon Store support, social media integration, Google Analytics are just a few other Shopify features. And don't forget about the ability to customize the theme and content – choose colour, style, change fonts, edit images, buttons, logos, etc.
Pricing:
14 days of free trial;

Shopify Lite $9/mo – for selling on Facebook;

Basic Shopify $29/mo;

Shopify $79 /mo;

Advanced Shopify 299/mo;

ShopifyPlus – for enterprise – custom pricing.
Headquarters: Ottawa, Canada / Founded: 2004 / Employees: 3307 / Contact: +1 888 746 7439
Website: https://www.shopify.com/   
Focused on multi-vendor online marketplaces, Yo!kar allows start-ups to create responsive feature-rich web stores. All offered themes are intuitive, UX optimized and mobile-friendly. For more customized result there is a simplified designing process. Multilingual and multi-currency platform, unlike others, will require some knowledge in PHP.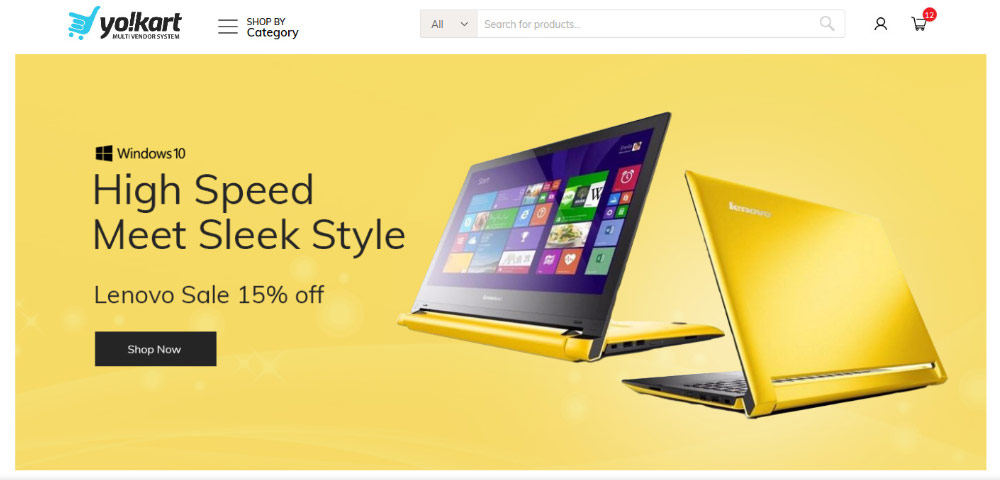 As for the features, the latest YoKart V8 updates again expanded the software functionality. The admin dashboard gives opportunity to manage users and orders (payment method, referral, site commission), install social media and blog integrations. YoKart supports PayPal, Amazon, Stripe, Razorpay, Omise gateways and uses e-wallet, credit cards, bank transfer and "Cash On Delivery" as payments channels. Such built-in services like personalize local settings, SEO tools, visitors statistics and traffic analytics will definitely help to boost your sales.
Pricing:
GoQuick V7 $999;

Go Custom Lite V7 $2999;

Go Custom V7 $5999.
Headquarters: Mohali, India/ Founded: 2004 / Employees: 70 / Contact: +18325485757
Website https://www.yo-kart.com/
Free open source program OsCommerce managed over 12K online shops, compatible with Bootstrap 3, support HTML5 and CSS3. The online store is installed via the web browser interface. The platform offers the package pre-installed payment and shipping modules. In osCommerce you can to submit unlimited numbers of goods with following information: description, photos, price, tax, methods of payment and delivery.
The eCommerce platform is ready for the global selling by multi-currency (+ exchange rates) and multi-language supports. Typical for the open-source services, the themes market is quite limited. However, there are options to adjust headers, footers, columns and more. Claimed as easy-to-use by most clients, OsCommerce' admin panel helps to integrate with payment systems (SagePay, PayPal), and install one of 7 000 extensions (free or paid).
Pricing: free download.
Headquarters: Solingen, Germany/ Founded: 2000 / Employees: 10 / Contact: support
Website https://www.oscommerce.com/
Best known as website build platform, Squarespace also offers impressive possibilities to create an upscaled online store. Hard to compare to such giants like Shopify or BigCommerce, Squarespace still supplies all important features eCommerce platform. Fourteen beautifully-designed templates are easy to customize – you are free to change the logo, titles, style, lock screen, badge, informational bars, etc.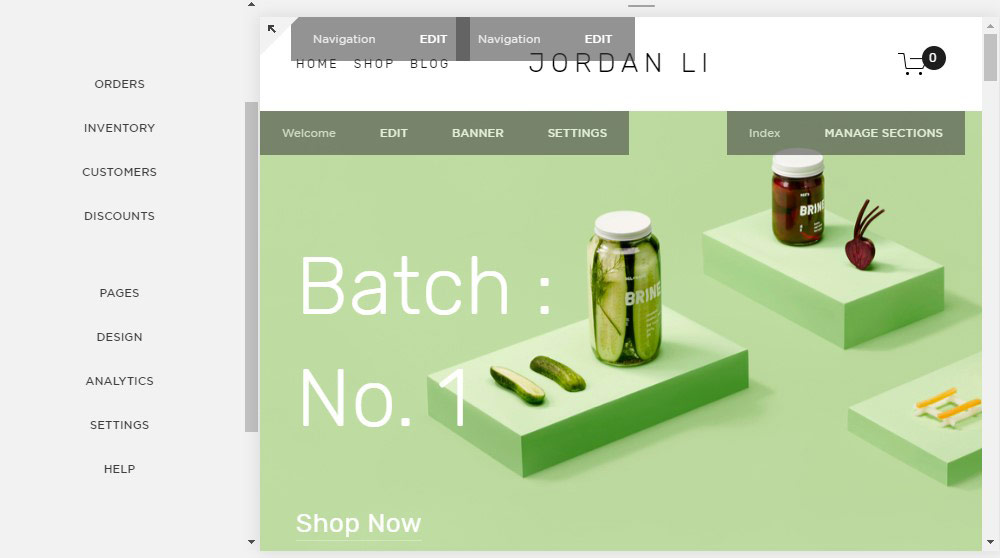 Mostly used by small business and startups, Squarespace helps to sell unlimited number of products. The editor has a nice and understandable interface, with traditional left-side admin panel. The platform gives the control over inventory, orders, taxes, shipping and more. You can simply merchandise, organize, and manage by using tags, categories, drag-and-drop sorting tool. Two payments systems, Stripe and PayPal, are able to cover all the consumers' needs. Squarespace is famous due to its SEO and marketing tools – full social integration,  301 redirect, meta descriptions, make custom URLs, and so on.
Pricing:
14-day free trial;

Basic $26/mo;

Advanced 40/mo.
Headquarters: New York, U.S. / Founded: 2004 / Employees: 818 / Contact
Website https://www.squarespace.com/
"Easy to use" – this is how every consumer estimates Volusion. Trusted by more than 180,000 entrepreneurs, this platform offers all-in-one eCommerce solution. The access to source code and editor's functionality let to customize 11 free and 36 premium themes depending on your needs and preferences. The built-in marketing tools – social integrations, SEO Tools, search-friendly URLs, custom metadata, Google Analytics – work on growing and boosting sales. Like any other eCommerce platform, Volusion has a set of features to operate the online marketplace ( orders, customers, shipments, inventory) and integrate with payment systems like Stripe, PayPal, Amazon.
Pricing:
14-day free trial;

Mini $15/mo;

Plus $35/mo;

Pro $75/mo;

Premium $135/mo.
Headquarters: Austin, TX , U.S.  / Founded: 1999 / Employees: 314 / Contact: +18006463517
Website https://www.volusion.com/
OpenCart is an open-source eCommerce platform for building professional, scalable and responsive online stores. Its marketplace offers more than 13 000 modules, themes and extensions. The service provides over 20 payment and shipping gateways (PayPal, FedEx, Amazon Payments, Skrill, etc.). The administrator dashboard contains all required features to run the online business. You control orders, sales, customers, people online, analytics and so on. OpenCart even let you manage multiple stores from one admin interface.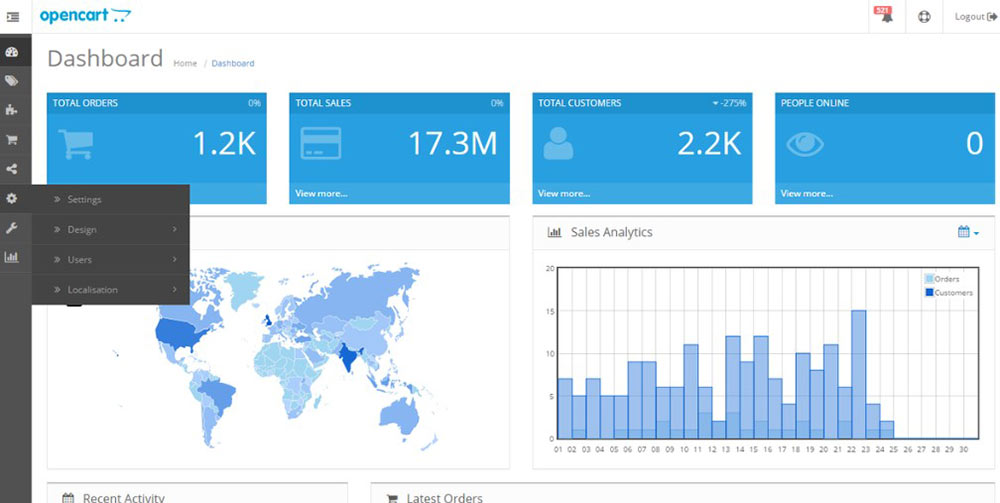 The platform makes an accent on the product's customization – unlimited categories and subcategories, a variation of sizes, colors, length, height, provides useful search filters. With OpenCart, the marketing becomes less painful. SEO extensions, managing marketing campaigns directly from the dashboard, inbuilt Affiliate system, offering discounts and coupons – are just s few options to increase the market share and sales.
Pricing: Free.
Headquarters: Tuen Mun, Hong Kong / Founded: 2005 / Employees: 19 / Contact: +852 24990996
Website https://www.opencart.com/
The cloud-based platform, Kibo has powered online stores for over 800 innovative brands. The omnichannel software, as they call themselves, unifies eCommerce, order management and retails. Suitable for both B2B and B2C, Kibo offers advanced personalization options – collecting real-time data, creating Customer Experience Profiles, landing pages, personalized marketing emailing, optimized product search and many more.  
If to choose the best features, provided by Kibo, we'll probably name following. A modern SaaS architecture, intelligent merchandising and order routing, advanced consumer targeting, etc. With the Kibo, you can become very agile seller. For example, order management system allows variety shipping methods (BOPIS, Store-to-Store, Vendor Drop Ship). Or you can provide flexible payment options – integrations with outside payment systems, paying with gift cards or rewards, splitting the cost between shoppers.  
Pricing: Individual price formation.
Headquarters: Dallas, TX, U.S. / Founded: 2016 / Employees:232 / Contact: +1873503866
Website https://kibocommerce.com/
Free to download, easy to install, Prestashop offers one of the widest lists of online store themes. All of more than 4000 templates are responsive, most of them are SEO optimized, includes graphics, image zoom effect, blog system, parallax scrolling, font editor and color switching, etc. The price can vary from €59.99 to €499.99. This eCommerce platform is highly recommended for international retailers because it is already translated in 25+ languages.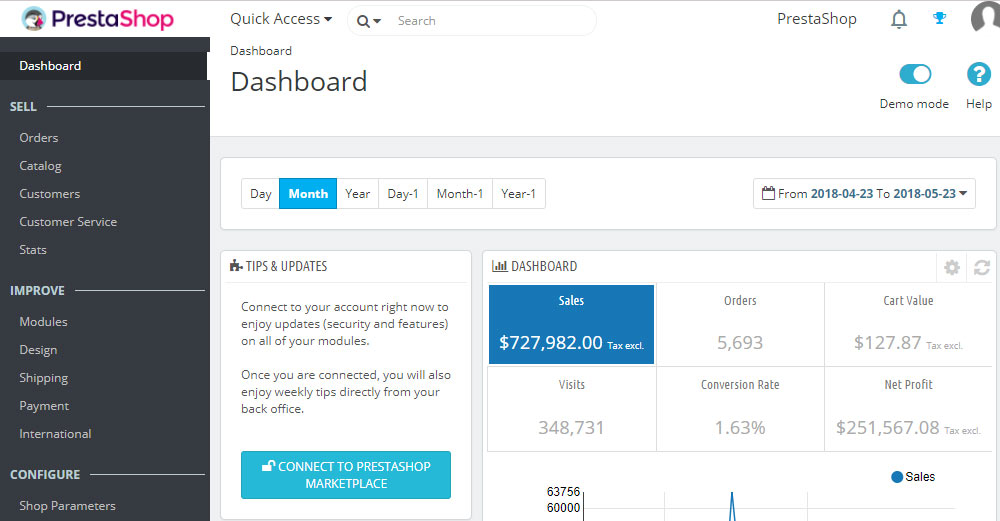 Prestashop now offers 600 built-in features and thousands of extra modules. With admin panel, you can create and customize products and its navigation, set the payment methods, run taxes, create special offers, manage orders and shipping, use SEO tools, increase customers' engagement. Free and paid (up to €999.99) modules serve to customize online store, increase traffic, improve conversion rates and build customer loyalty. The most popular are Amazon Marketplace, SEO Expert, PayPal, Google Merchant Center and so on.
Pricing: Free download.
Headquarters: Paris, France / Founded: 2007 / Employees: 192 / Contact: +442036971999
Website https://www.prestashop.com/
What is common between Adidas, New Balance, Reebok, Versace, Barneys, Tommy Hilfiger, Hugo Boss, L'Oreal besides that they are the world's biggest retailers? Guess what, their online shops are powered by Demandware. As one of most advanced eCommerce platforms, it also works as SaaS, has a great scalable architecture, which can provide stable performance regardless site loads (f.e. during Black Friday). Demandware, as a packaged service, is quite flexible to create customized store's design.
Cloud order management is one of the reasons why to create or migrate the business to Demandware. You control omnichannel shipping methods, manage whole order lifecycle, integrate and share information with other retail systems. And also your store never stands on the place, as this platform permanently provides updates, up to four major renewals during the year.
Pricing: Individual price formation.
Headquarters:Burlington, MA, U.S. / Founded: 2004 / Employees: 323 / Contact: +18885539216
Website https://www.demandware.com/
With a smaller baggage of features than in competitors, Big Cartel found its own niche – "easy online stores for artists and makers". Very enjoyable and simple dashboard interface still helps to manage an online marketplace with all necessary options. The platform offers fifteen well-designed, mobile-friendly themes, which you also can change depends on your needs. The biggest con – to customize templated and to manage the store you will use two different editors.
Product options include adding goods, creating a set of options, shipping services, managing inventory, adding categories and product lists. You are able to control, search, and fulfil orders, print packing slips, download CSVs. Big Cartel provides statistics on visitors, product's views and ratings, category trends and Google Analytics integration. The platform helps to create discounts, control bills, and integrate with marketing, shipping, store management apps.
Pricing:
5 products free;

25 products $9.99/mo;

100 products $19.99/mo;

300 products $29.99/mo.
Headquarters: Salt Lake City, UT, U.S. / Founded: 2005 / Employees: 19 / Contact: support.
Website https://www.bigcartel.com/