Are you looking for a tech solution able to increase productivity and speed of your app? Are you planning to contact a software company to create a new application? If you remember our examples of Node.js apps, you know that NodeJS develelopment companies can provide highly reliable backend solutions via this leading framework – Node.js. 
Listing all the benefits of Node.js will take a lot of time, and it is obvious if Paypal, Netflix, NASA, Trello use Node than it is really worth it. LinkedIn, for instance, moved from Ruby-on-Rails to Node.js and its servers immediately showed a 20-fold increase in speed. 
15 best NodeJS development companies
With the growing popularity of Node, the number of companies specializing in providing Node-based development services has also grown. To choose the best of the best, we analyzed potential companies based on their experience, specialization, customer reviews on specialized sites, as well as their portfolio.

Spiria
Web + Mobile development
Custom software
Digital transformation
Visit website

Future Mind
Web, mobile, cloud
JS, Node, Angular
Dedicated team
Visit website

Waverley Software
From: USA | Founded: 2015 | Hourly rate: $99
7ninjas is a relatively young Node.js development team of 30 employees. It uses Node.js to provide web and mobile applications, chats, proxies, and dashboards solutions. The 7ninjas team also uses Express.js, Nest.js, Docker, GraphQL, and Sentry technologies to speed Node.js up.
Let's check the company's interesting Node.js projects to find out what 7ninjas guys can do. For example, RoomSync is a roommate matching software available for campus housing and student apartments (iOS & Android apps). 
Another case that the 7ninjas guys worked on using Node.js technology is VR educational platform project FloreoTech. To expand the capabilities of the platform, the company eventually provided 79 new blocks and 20 new flow connections.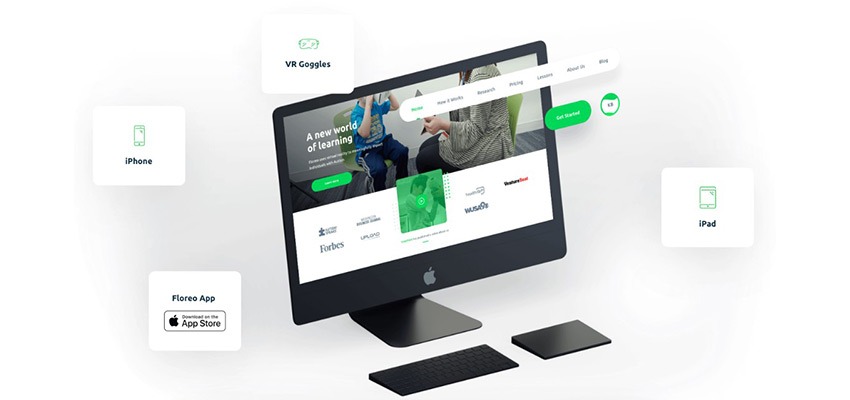 But the company also faced some tests, for example, the need to create a solution that could easily cope with a lot of data, workload, and multifunctionality. The company provided one solution for different user groups according to their level of knowledge: trainers, scientists, companies, and individuals. As a result, the team created 14 wireframes screens, 18 user assets, and 430 layers.
From: Canada | Founded: 2003 | Hourly rate: $149
Spiria is a web app development company delivering web, mobile, and IoT solutions. The company consists of 150 experts and has over 400 finished projects in its portfolio. To provide a multi-browser web application development services the Spiria guys excels in such technologies as Node.js, React, Python, AngularJS, MongoDB, MySQL, HTML5, PHP, CSS3, PostgreSQL, Oracle, RoR, jQuery, etc.
Shutterstock is one of the projects in the company's portfolio, for which Spiria guys had the task to create a sales analytics platform with 40 different transaction screens. In the process of working on the project, the client was provided with development, process analysis, UX / UI design, and quality assurance services.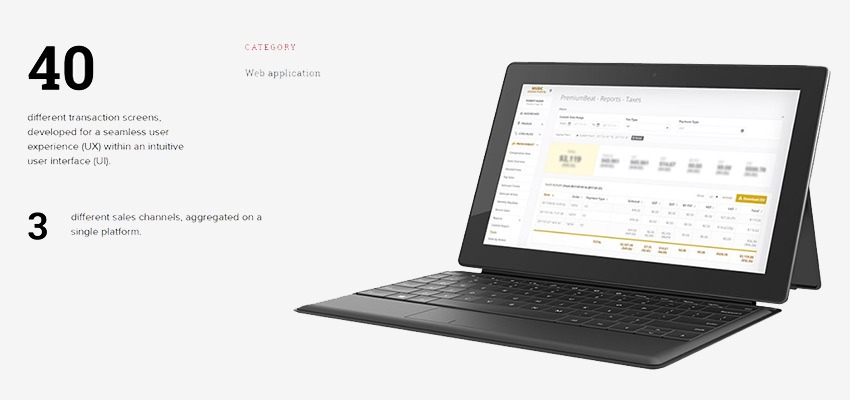 A feature of the project was also that the company created 3 different sales channels, aggregated on a single platform. This was made possible through the use of React, Node.js, and Elastic technologies.
The aim of the next project was to conduct an audit with a further correction of the system to make it more human, reactive, and interactive. Skillable is a learning platform in the audit process of which several bottlenecks were discovered that would interfere with the further development of the platform and were soon fixed by the guys of the company. 
To correct errors, improve and add functionality for the smooth progress of the platform, the team used Node.js, Angular.js, AWS, and MySQL technologies stack. As a result, Skillable can serve more customers by providing enhanced services. 
From: Poland | Founded: 2008 | Hourly rate: $99
Future Mind is a web development company of 40 employees, delivering frontend and backend solutions. The team works with such backend technologies as Node.js and Python. Node.js is used by Future Mind guys for developing dynamic single-page apps as well as data-intensive, real-time applications. 
The team offers Node.js based internet and fin-tech solutions, streaming applications, and instant messengers. Today the company's portfolio consists of over 40 web and 60 mobile apps. Let's take a look at one of the company projects based at Node.js backend. The goal of the Quize House project was to create an interactive mobile application with unique quizzes and online games.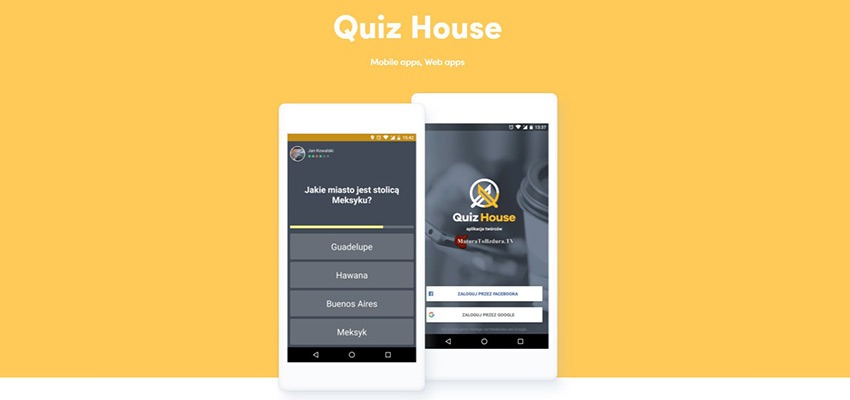 An efficient backend was built, written in Node.js, which supports a mobile application and is divided into 3 parts: REST API, WebSockets, and PUSH notification servers. Also all modules were written using Typescript 2.3: Node.js ES6 / ES7. As a result, in just 11 months of operation, the application has been downloaded over a million times.
From: USA | Founded: 1992 | Hourly rate: $49
Waverley Software is an outsourcing company providing web development services. The Waverley guys aim to serve different industries by using Node.js backend framework and also HTML5, AWS, Angular, React, C/C++, Python technologies. Today the team consists of 150 technical experts. 
One of the company's projects is Jibo. A feature of this project is that the team had to create a server-side and provide mobile development services for the first social robot. For this project the company immediately offered 3 teams: server-side/backend, mobile, and QA. Server-side, mobile, and QA expertise was provided by using robotics, architecture, Node.js, Java, Swift, Objective-C as technologies stack and more.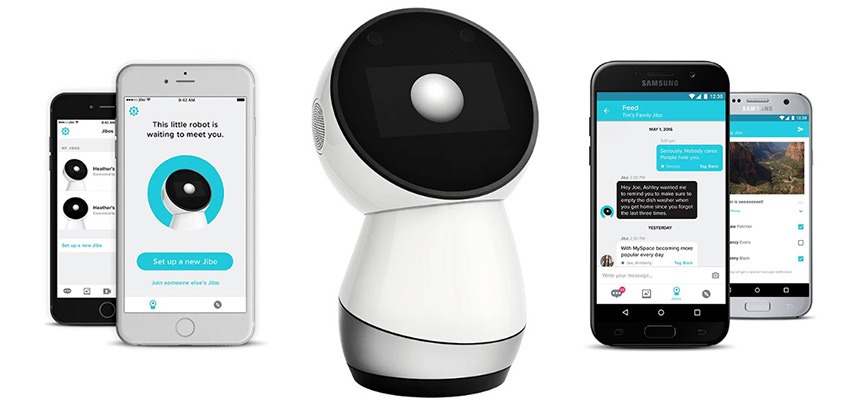 From: USA | Founded: 2002 | Hourly rate: $49
iTechArt is a team of over 1400 professionals who deliver custom software development solutions for such clients as Microsoft, Google, Uber, and Facebook. Specializing in developing back-end solutions the company use the power of JS, especially Node.js framework, React, Vue and Angular.
The project that we will consider was created for moving industry – Moved. The purpose of the collaboration was to increase the development of multifunctionality of the client's web base and to implement performance improvements.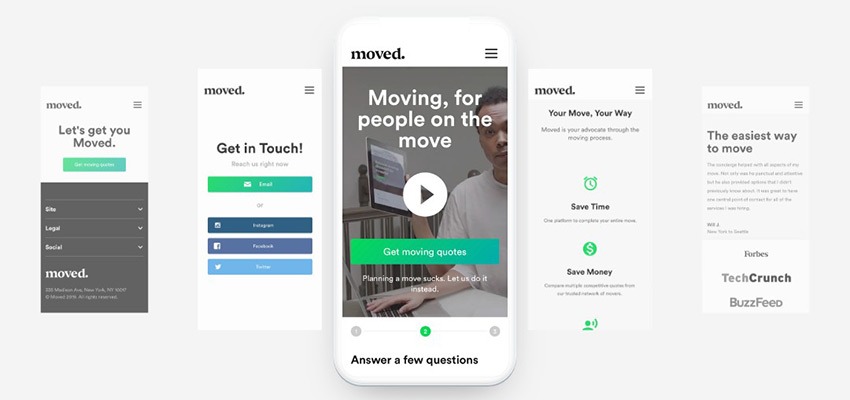 The team provided such services as checking the performance and security of the current API as well as its modernization, setting up continuous integration and continuous deployment for a mobile application, developing a new design and functions. 
To fix the mistakes of the previous developer and provide new features, the team used a technology pack including backend Node.js, Django, and Python 3, frontend AngularJs, TypeScript, React, JS, mobile React Native and more.
From: Poland | Founded: 2005 | Hourly rate: $99
STXNext is a software development outsourcing company that consists of over 300 team members, 170 of which specializes in delivering Python, JS, React Native solutions. 
STXNext specialists offer such Javascript services as website and web app development, boosting page load time, scalable and high-performing frontend solutions, user-friendly interface design, and more. Today STXNext has over 350 delivered projects in its portfolio. 
Let's take a look at one of the company's projects – Credit Rubric. The goal of the project was to develop a tool that would be helpful for traders to help them make the right market decisions.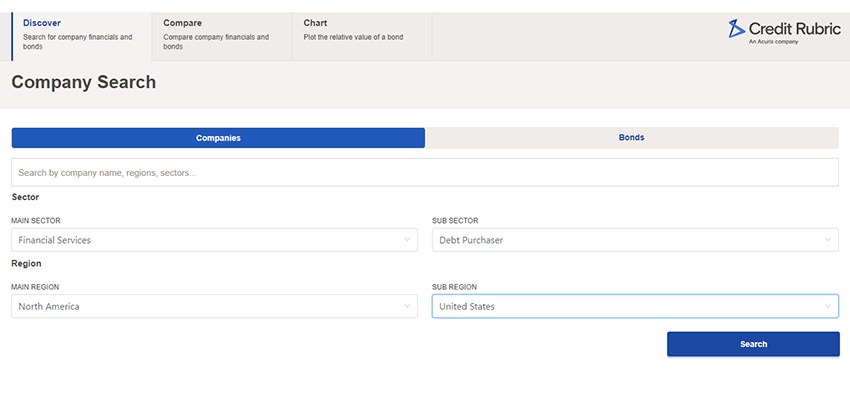 The newly created platform was to collect, consolidate, and provide the necessary information, including statistics on financial indicators and profitability calculations. For this purpose, the guys used Node.js and REST. NoSQL database was used to store data, ElasticSearch was used for indexing and efficient data retrieval. 
From: USA | Founded: 2010 | Hourly rate: $25
QSS Technosoft is a web and mobile development company which specializes in delivering app development, testing, and design services. The company consists of over 150 specialists. QSS Technosoft web development team uses the power of JS technologies, including Node.js framework. 
The QSS Technosoft guys deliver such Node.js services as customized Node.js web development, backend web API development, personalized portal development, e-commerce website development, migration and upgrading facilities, support and maintenance services.
The Mobile Healthcare App is one of the projects in the process of which the company used Node.js technology. The peculiarity of the task that the company faced was to create a multifunctional application for doctors, medical personnel, and patients use for monitoring the patient's state of health and conducting consultations using IoT technologies.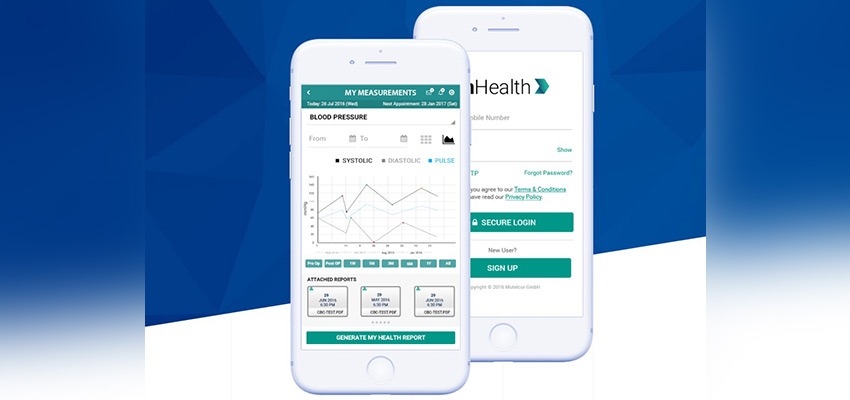 For this purpose, the company used a technology stack, including Node.js, React.JS, Native Script, HTML5, CSS, MySQL, and more. The app has such features as integration with 12 IoT devices, complex business logic, and high availability. 
Another project of the company is the inventory and logistics project for A&R Bulk-Pak. The main task was to create an application that would cope with a large amount of data, simplifying the user experience, automated workflow, and with a robust inventory management system. For this purpose, the team used Node.js, AJAX, NPM, HTML5, CSS3.
From: USA | Founded: 2009 | Hourly rate: $49
eTeam is a web development company that provides outsourced IT services and employs 150 specialists. The eTeam guys developed solutions for Google, Apple, Walmart, CVS Pharmacy, and Sony. By offering web development services the team provides back-end solutions based on Node.js framework. In the company's portfolio, there are over 150 finished projects. 
The first case we will look at is a software project for Sapience, a company engaged in automated and modern security API testing. In the process of creating software, the eTeam guys used a technology package that included Node.js, ReactJS, CCS3, HTML5, PostgreSQL, Ruby on Rails, JQuery, and more.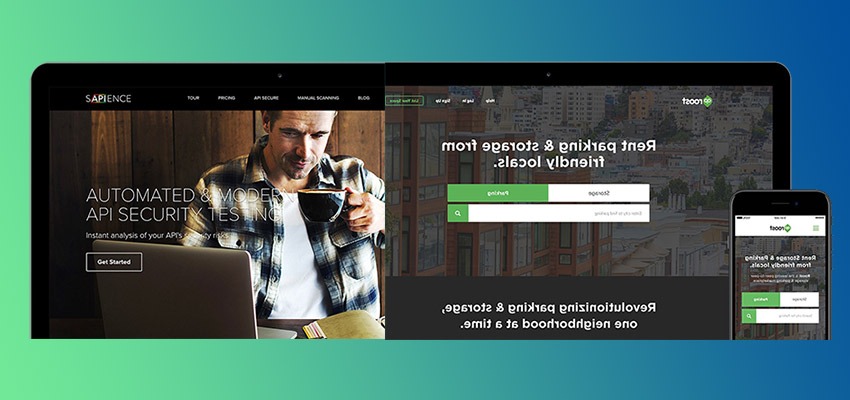 Another project created by eTeam guys is the Roost project to create AirBnB for storage and parking. The objective of the company was to modernize and improve the existing platform allowing users to find and pay for parking spaces in large cities. The team focused on improving user experience and provided solutions using Node.js, ReactJS, HTML5, CSS3, RoR, PostgreSQL, Sidekiq and Docker technologies. 
From: Belarus | Founded: 2010 | Hourly rate: $49
AIS Novations is a software web developer who offers web-based solutions and mobile back-ends. The company delivers web solutions for RBC life, Cambridge University, and other clients. Consisting of over 50 in-house staff the AIS Novations provides back-end services mostly based on Node.js framework.
Let's verify the company's ability to create Node.js based quality products by checking one of the AIS Novations  projects. The team faced the main task: to create a reliable, and most importantly, robust, multifunctional online shopping aggregator that would withstand a load of 10 million users per day.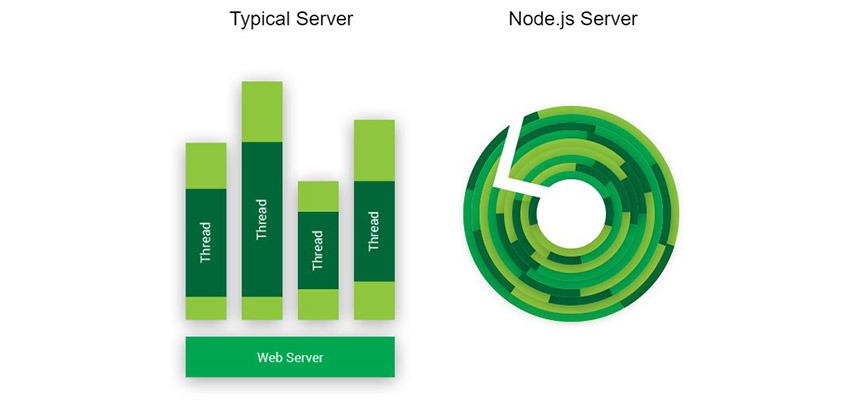 To achieve the goal, the team suggested using Node.js technology as the basis of the platform from the server-side. The project also used technologies MongoDB (for storage), HTML5, CSS, JS for front-end part, and ExtJS framework for the administrative part. As a result, the platform allows users to sell, buy, study, order, and buy goods without delay and saving time.
From: USA | Founded: 2015 | Hourly rate: $99
StartupCraft Inc is a web development company that specializes in delivering custom web applications solutions for startups and enterprise companies. The company consists of over 50 experts who aim to provide back-end, front-end, and DevOps solutions by using Node.js, React, Ruby, Elixir technologies in the development process.
One of the projects that the StartupCraft team had to work on was the project of creating source for premiere analysis for the FantasyInsiders game. The main task was to improve and recreate the software using new technologies, as well as adding unique features such as SSO authorization with RotoGrinders, the admin panel, various access levels, rating of NFL players, alerts.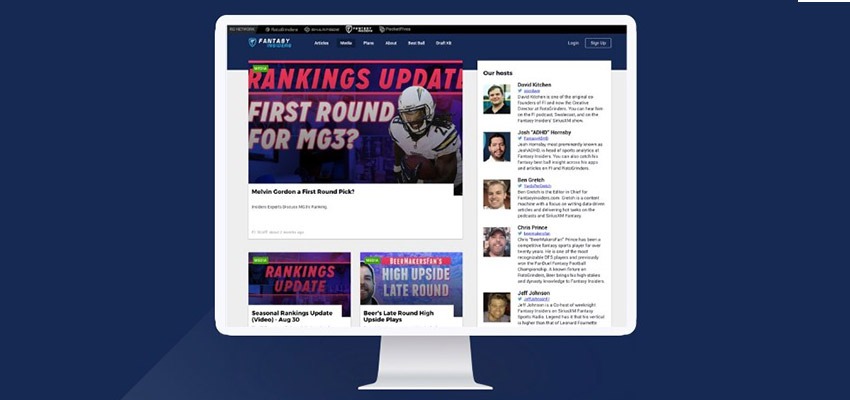 In the process of creating the software, technologies such as Node.js, React, Apollo, GraphQL, etc. were involved. As a result, a new version of analytical tools was released and immediately attracted attention, since, during the first weeks, more than 60 subscriptions were sold.
From: Poland | Founded: 2012 | Hourly rate: $49
The Software House is a software development company that offers scalable applications development services through using Node.js framework and has over 10 Node.js and JS professionals in its 130 members team. For today The Software House has over 250 delivered projects.
MindMint is one of the projects on which the team worked using Node.js framework. The main goal of the project was to create a hybrid event management system for iOS, Android, and web-based devices for the Torchlight client.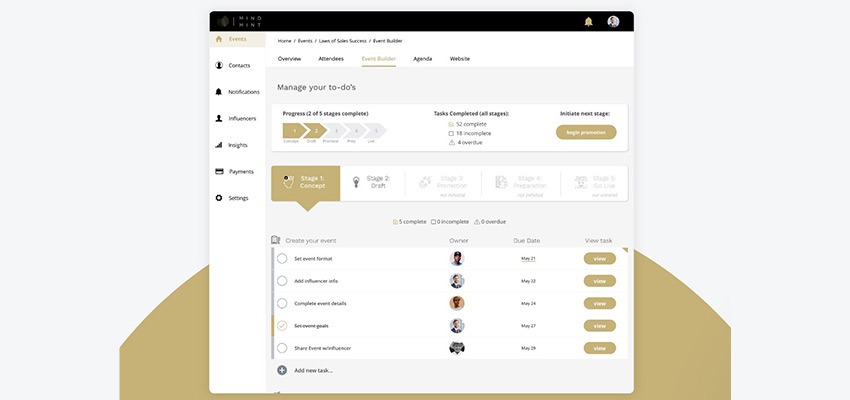 As a result of the work, the team created, tested and deployed a hybrid mobile application and web platform that has such features as time frames, task lists and requirements, registration of participants along with payment, video guides and more.
One of the most successful collaboration turned out to be a partnership with BrickVest, whose revenue exceeded 100 million pounds. The role of The Software House was that the team provided technical solutions using Node.js, PHP, Symphony, band JS tech-stack.
From: USA | Founded: 2010 | Hourly rate: N/A
AgileEngine is a team creating server-side web development solutions by using the power of Node.js framework, PHP, Python, and Ruby. The web development team consists of 64 members who's created over 26 applications with robust, scalable, and secure backend architectures. 
Let's check the Logi Analytics project for a self-service analytics company. The tasks that the client set for the company were to develop packages of new functions using the stack of Node, Angular and Java technologies, as well as to support the flagship product LogiAnalytics – LogiINFO.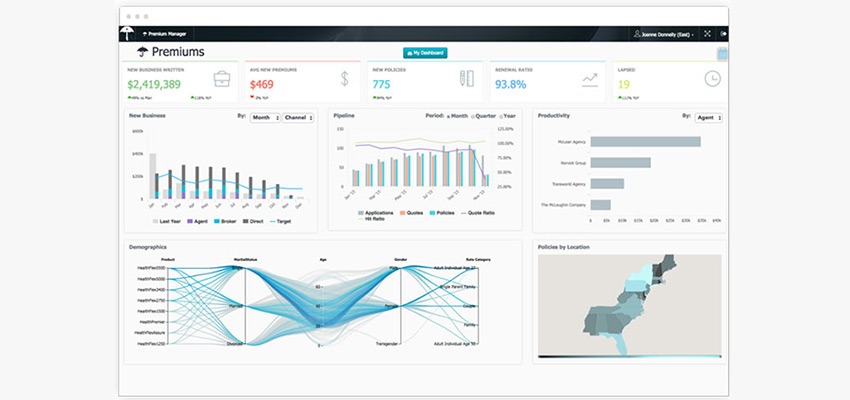 To fully satisfy the needs and desires of the client, the AgileEngine team also used the ANTLR, Spring, Cucumber, and MongoDB technologies.
From: USA | Founded: 2004 | Hourly rate: $149
STRV is a software design and engineering partner that already developed over 400 applications and over 25 apps featured in app stores.In development processes, the STRV guys use such technologies as Node.js for backend development, React for frontend, iOS, Android, and also the power of machine learning, AR/VR, and QA testing. Today the STRV team consists of 200 professionals.
One of the projects that the company worked on is the AllVoices project. The team had the task to create from scratch a web platform that would be used by employees of any company to anonymously report a violation of their rights to management. The company provided a backend solution based on Node.js.
Another project in the process of which the company provided a backend, and frontend solution is an auction-based app project for sneaker marketplace – Flip. The created application has already been recognized by AppStore in Best New App category.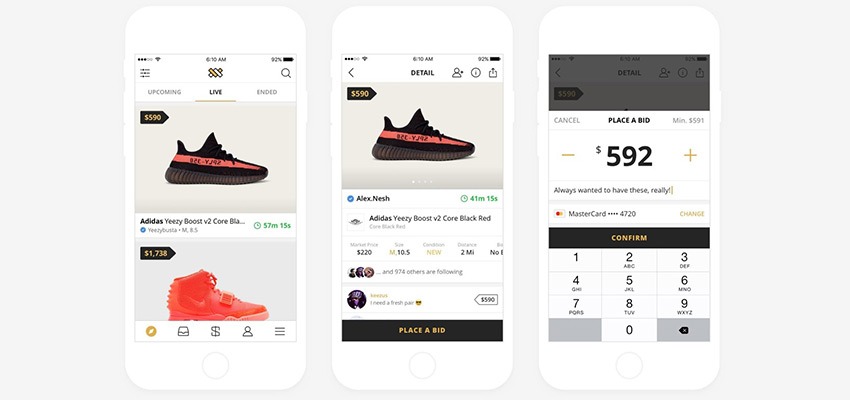 From: USA | Founded: 2009 | Hourly rate: $25
Techtic Solutions is a development company specializing in complex backend solutions and applications using  NodeJS. The team consists of 70 employees who offer custom Node.js app development, API development, Node plugins, etc. Today Techtic company has over 3000 websites and web applications in its portfolio. 
Let's take a closer look at one of the Techtic cases for which the Node.js technology was used. The MyBabyQs project became special because it was based on the personal experience of a young family.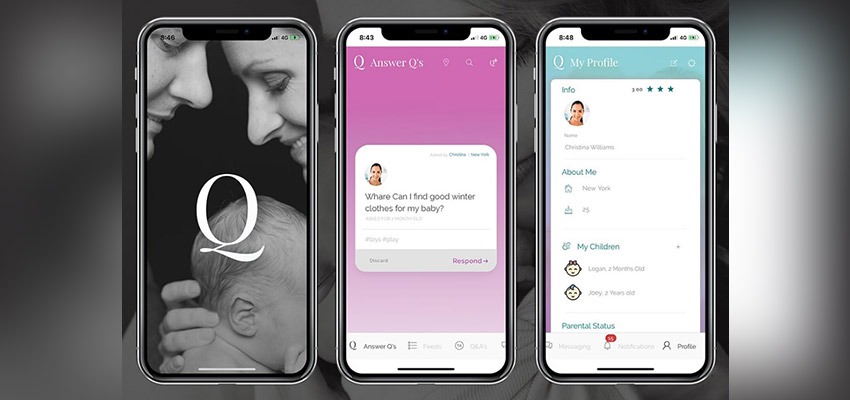 The purpose was to develop a mobile application with which parents could ask questions about children and get  answers. For this mobile and web solution, Ionic, NodeJS, AngularJS, HTML 5, JavaScript, and JSON were applied. 
From: Poland | Founded: 2005 | Hourly rate: $99
Neoteric is a software house which aims to provide web application development services. For back-end services, Neoteric team uses Node.js as the main tool for high-speed web solutions. In addition, the company sponsors and implements one of the Node.js platforms – NestJS.
Appmixer is a fine example of Neoteric work. The goal was a web platform with which users could create automated workflows via Trello, Salesforce, without coding skills.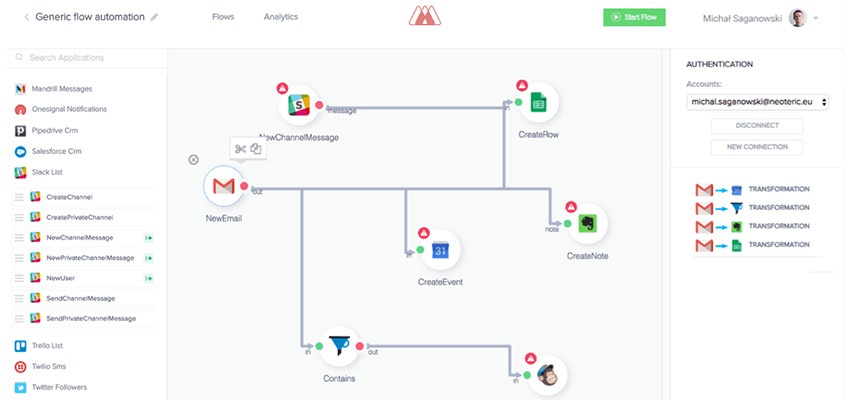 To make the platform an agile and scalable the team proposed to use NodeJS as a development platform. Thanks to NodeJS, the interaction of different services was ensured, and as a result, all external services were successfully integrated.