Multimedia files playback is fundamental to mobile phones, computers, laptops, tablets, etc. Still, often it occurs that a default player does not support certain formats or has other difficulties. As alternatives we have VLC, KMP, MPC-HC, Kodi, etc., for Windows OS. And what about Macs? Naturally, we have to look into the best video players for macOS. All of them basically do the same thing, and the differences are in extra features. We've taken into account such aspects as UX, number of video formats, system load, streaming features, pricing.
Developer: Rocky Sand Studio Ltd. | macOS: 10.10 or later. | Version: 1.4.1. | License: $6.99.
MKPlayer is available on macOS, Windows, iOS and Android devices. In addition to video files, it  supports audio and various subtitle formats. Upon launching, the file selection window immediately opens. Playback is stable even with large and high-resolution files. MKPlayer is designed to play videos/movies on big TV screens (though check the compatibility first). It also supports AirPlay formats, but not all.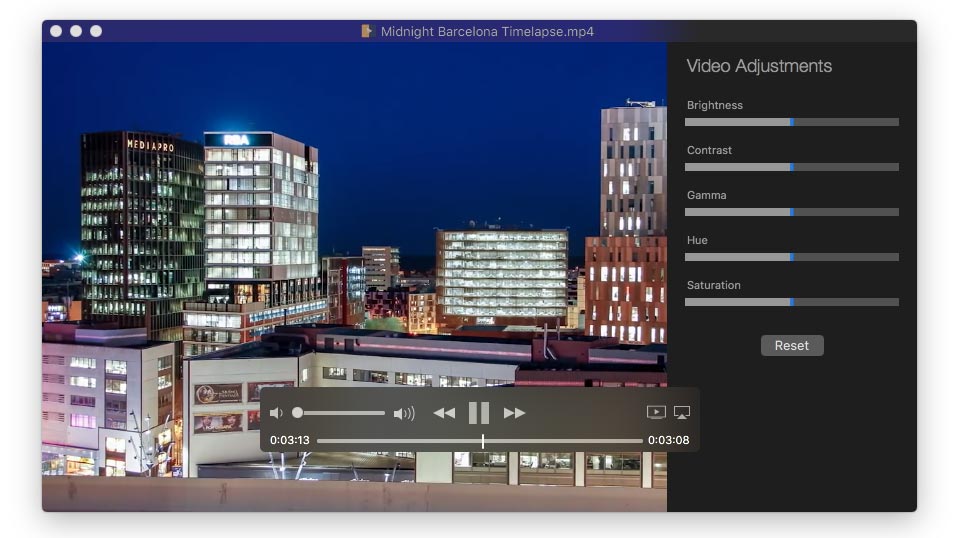 Another interesting detail is the ability to customize video via 5 different parameters: brightness, contrast, gamma, hue and saturation. This is helpful when a movie is too dark. The app can stay on top of all windows – there is a pin function. Also, if you pin the player in the dock, you can open a file by dropping it onto the icon.
Pros
Unlimited free version

Safari extension
Developer: Eltima LLC | macOS: 10.9 or later | Version: 7.10 | License: $14.99.
Elmedia is a workhorse among video players for macOS. It is a multimedia player, actually, supporting more than 40 different formats of video, audio, photo files, as well as several subtitle formats. The interface is pleasant, somewhat resembling YouTube layout. Useful functions include pin on top of all windows, sound settings, playlist management.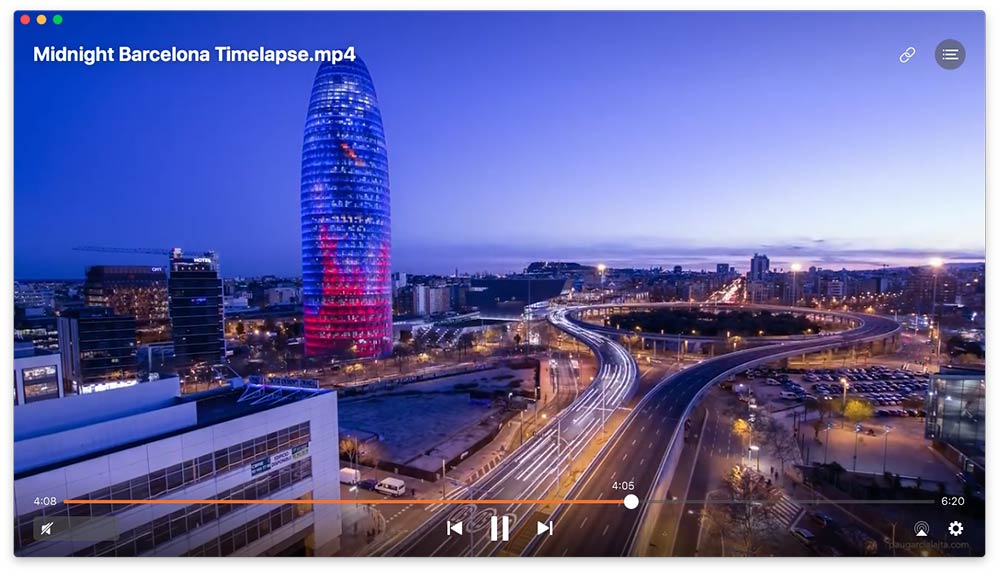 We've also noticed some more outstanding settings. By clicking on the Setting button in the bottom right area, a window with three tabs appears: Playback (video/audio/subtitle delay), Video Tuner (brightness, hue, saturation, contrast, sharpness, Equalizer (sound settings). On the other hand, many features are not available in the free version. Pro version offers video adjustment, audio EQ with presets, streaming (Smart TV, Airplay), audio settings, screenshot tool.
Pros
Color adjustments

40+ formats

No ads
Cons
Smart TV and Airplay streaming have to be purchased
Developer: ChengHao Wu | macOS: 10.13 or later | Version: 1.2.7. | License: $9.99.
With over 80 popular formats playback, including 4K video without quality loss, we can say that OmniPlayer is definitely worth considering. Add to that additional functions. For example, various manipulations with the video, such as crop, align horizontally, measure angle ratio, and so on. Or produce GIF images up to 60 seconds long from a movie. OmniPlayer can also stream to different devices through DLNA and Chromecast protocols.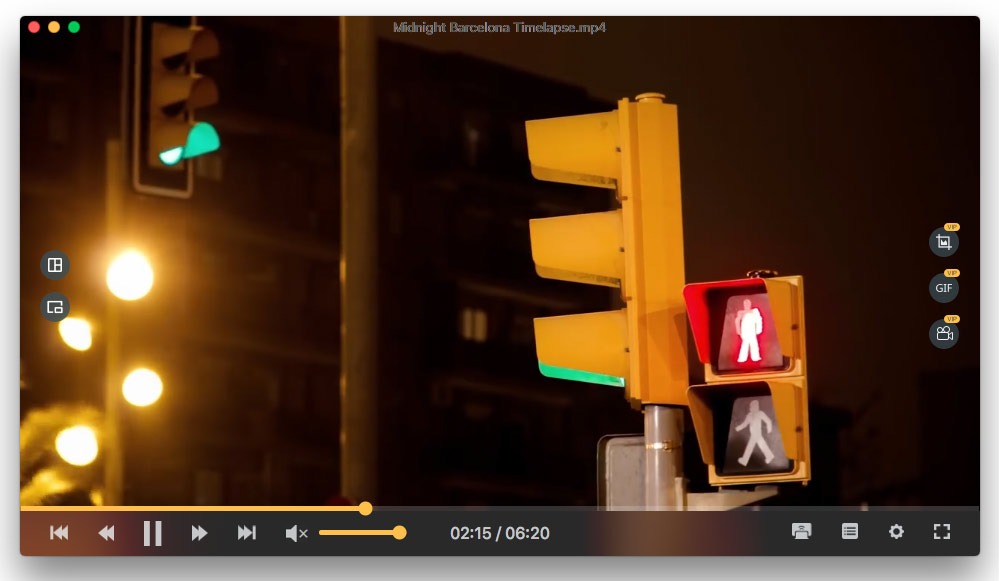 Even within the free version it contains exciting tools for interacting with video. In settings, one can tweak playback speed, aspect ratio, rotation, audio delay, EQ. The player has both a mini-mode and display in front of other windows, enabling the user's preferred view.
Pros
Mini mode + Always in front feature

EQ, flip, aspect ratio tools

Chromecast support
Developer: Cynoble Technology Ltd. | macOS: 10.12 or later | Version: 1.0.5 | License: Free.
FVP is an entirely free video player for Mac. It has a sole function – playing videos. No ads, paid subscriptions, no extra tools. The developer claims it applies a brand new video playback technology, resulting in smaller application package, better optimization, smooth playback with less load on CPU. This app is a pioneer among lightweight video players for macOS.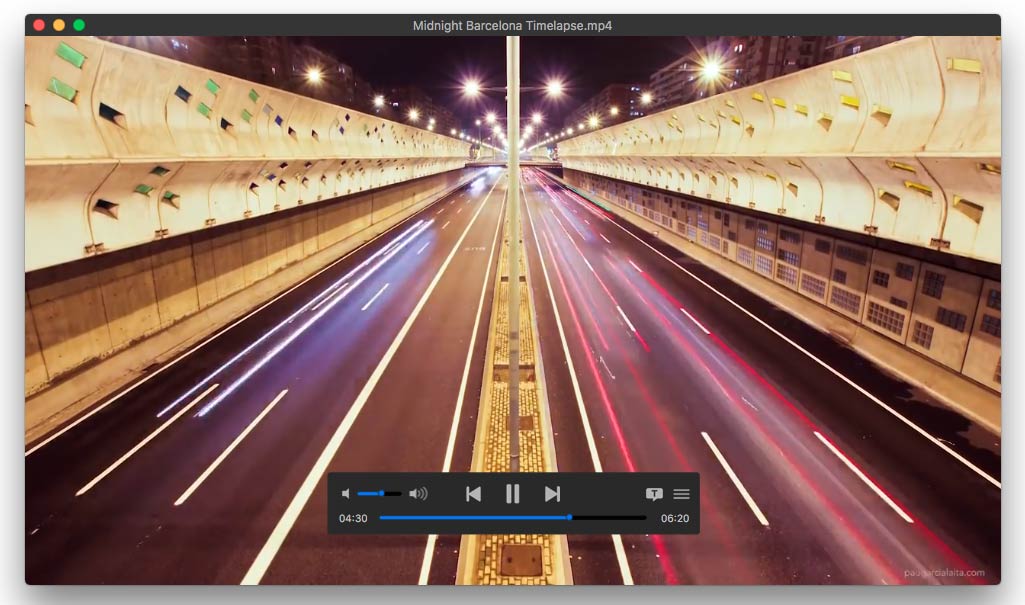 The interface is nice and coherent, nothing excessive, all controls are in place. From extras, we've only got playback history and subtitles management. In terms of use, you simply drag the file into the app or open it via Explorer, sit back and enjoy stable playback. Sancta simplicitas.
Pros
Lightweight, user-friendly

Absolutely free app
Developer: iFunia Corporation | macOS: 10.10 or later | Version: 3.6.0 | License: $6.99.
Another to-the-point media player on our list. In the free version there are no ads, it works stably and supports a large number of video formats, including 4K and 5K resolutions. iFunia will play videos with multiple audio tracks (and lets you select) and subtitles, as well as can grab a screen and save it as a picture.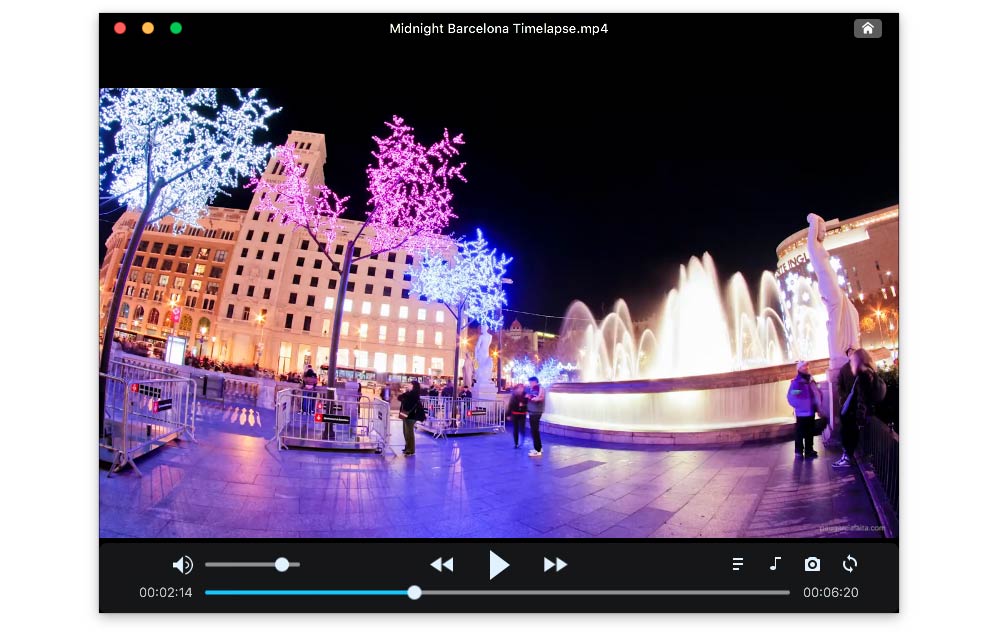 Moreover, the player has a video conversion function, so one can turn video files into .mp4, .m4v, .mkv, .mov, .avi, .m4a, .mp3, although only in the Pro version. Powerful traits of this app are simplicity, stability and playback quality.
Pros
Screenshot capture

Free version
Developer: Haiqiang Long | macOS: 10.12 or later | Version: 8.5.1 | License: $24.99.
SupremePlayer is a typical median player working with almost every media file format. It's developer from China states that additional formats are unlocked after purchasing a full version. And it is the most expensive subscription from all video players for macOS on the list. Opening several player windows simultaneously, adjusting playback speed, video correction tools are also in Pro only. All in all, it looks minimalistic and clear.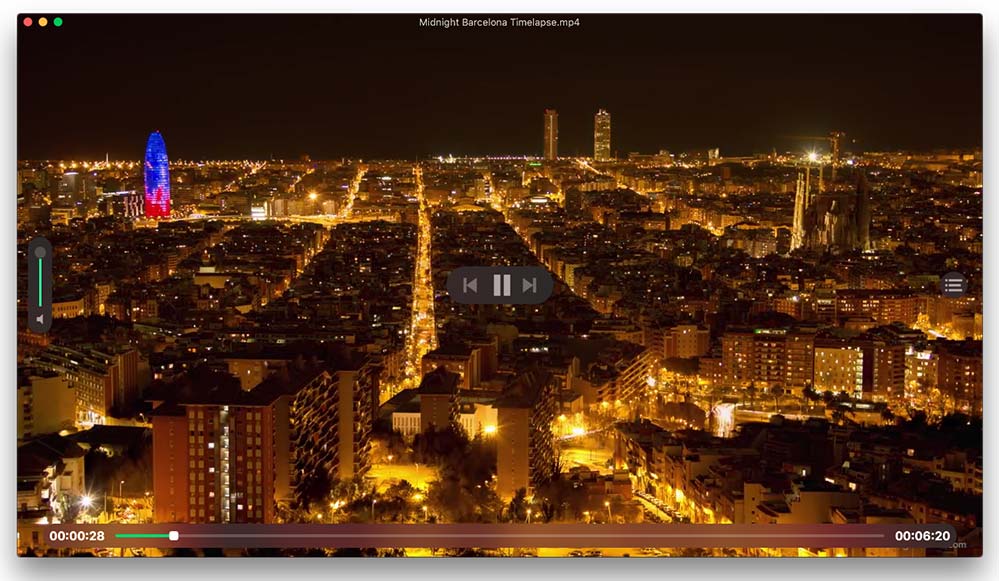 Pros
EQ, playback speed settings
Video tuning options
Cons
High price
No streaming support
Developer: Collider Ll | macOS: 10.11 or later | Version: 1.0.6 | License: Free.
IINA is a free, open-source video player, so users can amend and publish it according to the General Public License. The developers note that the player supports playback of almost any media file. Add to that changing aspect ratio, cropping, color filters, rotation, playback speed, and much more.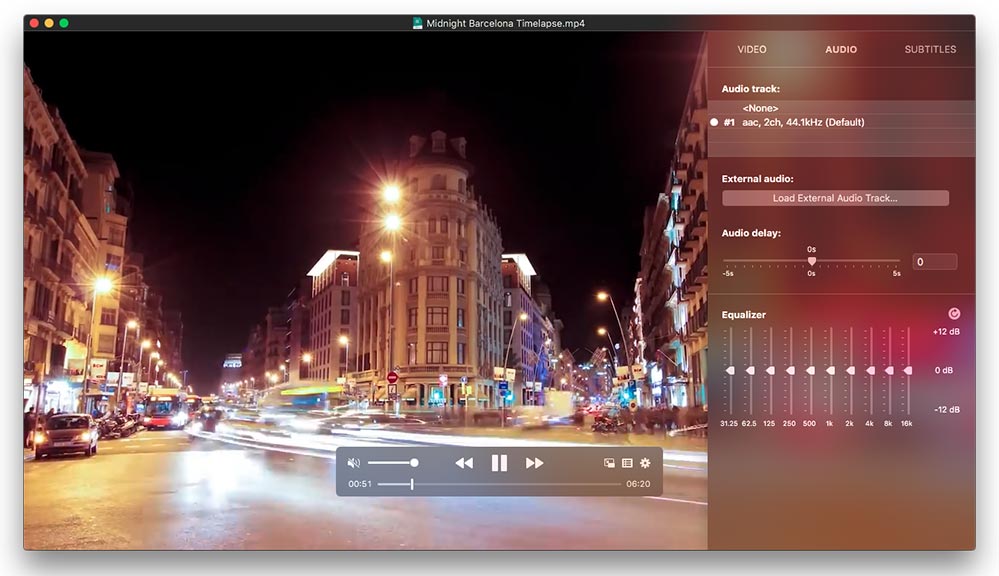 Also, it looks like part of the macOS, and some design elements are transparent. Switch between light and dark themes and a few more options for customization. And of course, all the necessary functions in terms of video and audio playback.
Pros
Free application + open source

EQ, crop, flip, subtitles, audio delay

App on top, music mode
Developer: Mplayer2 Projects | macOS: 10.10 or later | Version: 0.32.0 | License: Free.
MPV is another free, open-source, cross-platform media player. Thanks to the powerful scripting capabilities, you can make it do almost anything. However, MPV is still under active development, therefore anyone can contribute. In terms of design, it is minimalist, all playback controls are located at the bottom. Features are typical: subtitles, audio delay correction, video playback speed, pin player on top. As extras, one can play files by URL, import playlists.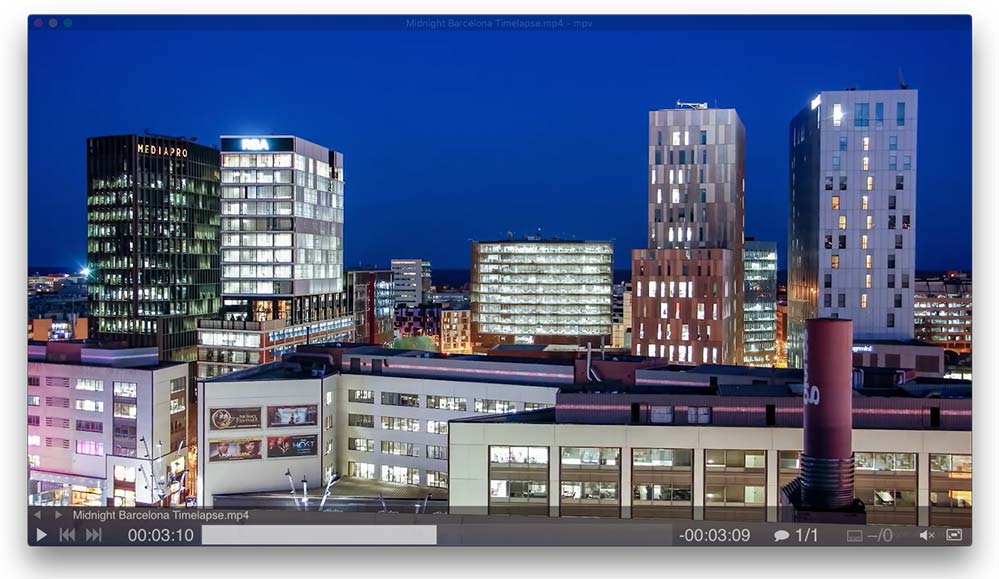 Pros
Free video player
Active development (new features, bug fixes)
Developer: VideoLAN Association | macOS: 10.7.5 or later | Version: 3.0.10 | License: Free.
VLC is one of the most popular multi-platform players, you've definitely seen it. It supports a huge number of modern media formats and codecs. And by the way, it is absolutely safe: no ads, no spyware, no tracking. The high status of VLC isn't baseless: it can play multimedia files from a computer, from video services by pasting an URL, from CD/DVD, and can convert files in video/audio formats.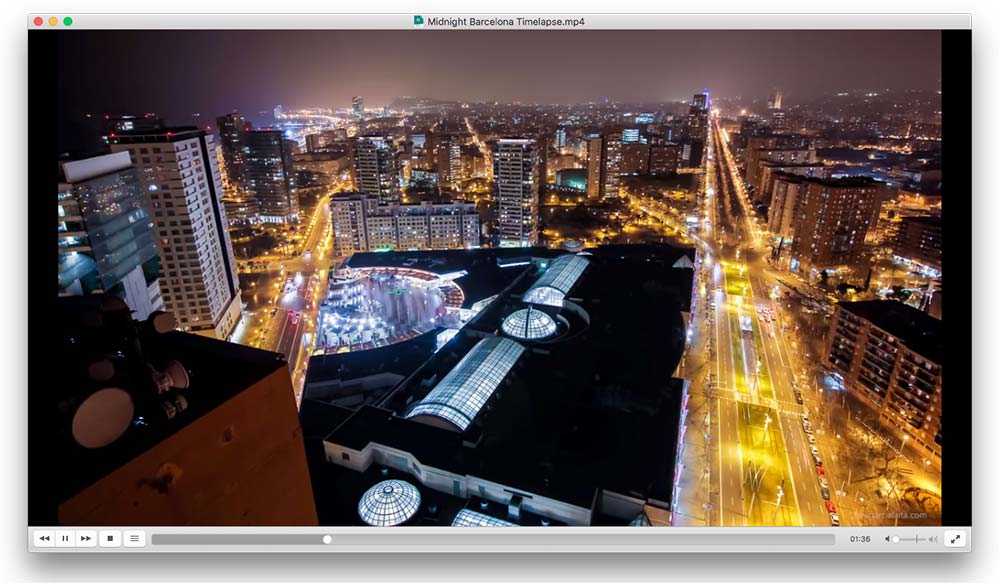 The design is comprehensive to any user, plus there are multiple ready-made skins as well as the option to make your skin using the VLC editor. A huge variety of functions can come in handy in different situations: from playing movies at home to showing a movie on a projector with a watermark and color adjustments. One final touch: VLC is free.
Pros
Skin editor

Video conversion tool

Effects: crop, add text, watermark, etc.
Developer: Apple Inc. | macOS: all | Version: 10.4 | License: Free.
A default classic macOS application, which we could not help but include in this list, since it is one of the best video players in regards to stability and features. On the other hand, it only supports certain video formats. In addition to stable video playback, one can capture the screen and record audio from an external source. Unfortunately, it can't cope with video streaming technology, let's hope that Apple developers will add this feature soon.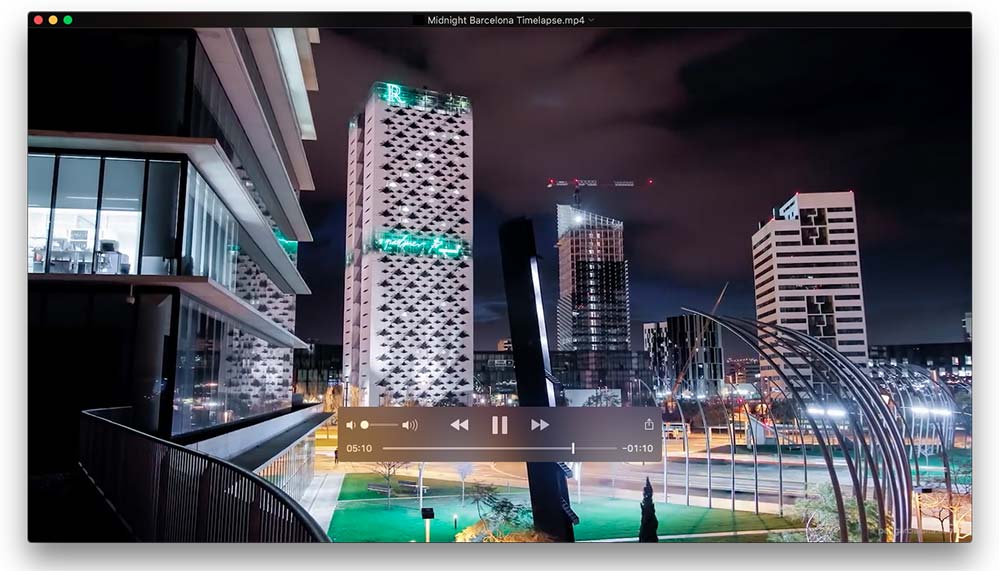 Pros
Screen capture, audio recording
Always-on-top option
Native macOS app
Cons
For limited file formats only
Summary
Rarely the developers indicate the exact number of supported formats, yet it is clear that each player app will play all the popular formats.
| | | | | | | |
| --- | --- | --- | --- | --- | --- | --- |
| | Free | Licence | Size, Mb | Smart TV | Languages | All popular formats |
| MKPlayer | ✓ | $6.99 | 44 | ✓ | 1 | ✓ |
| Elmedia | ✓ | $14.99 | 126 | ✓ | 13 | 40+ |
| OmniPlayer | ✓ | $7.99 | 185 | ✓ | 11 | 80 |
| Final | ✓ | Free | 44 | – | 1 | ✓ |
| iFunia | ✓ | $6.99 | 74 | – | 1 | 66 |
| Supreme | ✓ | $24.99 | 22 | – | 1 | ✓ |
| IINA | ✓ | Free | 88 | – | 1 | ✓ |
| MPV | ✓ | Free | 53 | – | 1 | ✓ |
| VLC | ✓ | Free | 136 | – | 65 | ✓ |
| QuickTime | ✓ | Free | 15 | – | 1 | ✓ |
Read next: 10 free video downloaders for Mac.