Getting a company to design a website for you without having a proper idea may lead to a disastrous outcome or something completely contradictory to your business needs. For starters, web design companies can only build an eye-catching user-friendly website if you provide them with a precise and fully-detailed brief.
How long does it take to design a website?
Designing a professional website takes longer than what most people think. In general, professional companies will take 8-14 weeks to complete designing an outstanding website. However, you need to create a realistic timeframe of up to 18 weeks considering that most of the web design companies require prior booking.
How much does it cost to design a website?
It actually depends on many aspects such as the amount of work needed. However, if you prefer to base your website on an existing template, then you should expect to part ways with $300 to $1,000 to get the template customized. To get a custom website design which includes implementing a logo, mastering its location, designing a navigation bar, as well as designing its overall layout will cost $5,000 to $10,000.
Top web design companies
Want your company listed and get more qualified leads? Contact us:
LinkedIn: @janetodavchych
E-mail: jane.todavchych@thinkmobiles.com
Skype: live:234dd2d5aa141d28
Founded in 1998, the New York-based web design company is among the best in the industry. With over 2 decades of experience managing to score 99% rate of client retention, Lounge Lizard is backed by a team of devoted professionals. Their designs perceive a sense of originality, persistence, as well as creativity.
Top clients:
Duggal hired them to makeover their brand voice, image as well as design an intuitive website responsive to desktop, mobile and tablet platforms.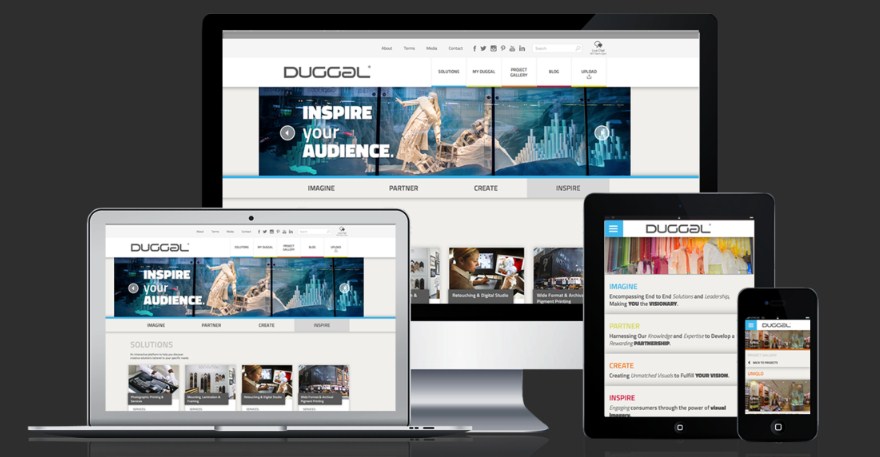 Motorola sort after Lounge Lizard to create an Innovation Space on a global scale that will be used to share innovative ideas and form a web of international company offices.
Bronchon hired them to create a beautiful and responsive website to display a delicious combination of Asian dishes. The web design company created a brand messaging strategy as well as #EatHappiness social media hashtag.
Renaissance Capital – went with Lounge Lizard's creativity to develop a brand image along with the slogan, improvement of the logo, as well as an entire web design. Upon completion, the new website could breathe freely on the desktop, mobile as well as tablet platforms thus driving in Renaissance investors.
Value for money: With a minimum project size of $25 000, Lounge Lizard is not a small fry in the web design industry. The company price rates range from $100 to $150 per hour. Their reputation, as well as the employment base of up to 250 staff members, presents an appealing image that can create anything to match their competitive prices.
Cyber-Duck is one of the leading brands in the web design industry having worked with prominent brands such as the Bank of England. The company was established in 2005 and has since become a pioneer in the digital agency industry. The company produces dynamic user-driven web designs that are accredited by ISO.
Cyber-Duck boasts of an experienced team that has had the opportunity to hold talks on global channels such as BBC Watchdog as well as The Gadget Show. Also, part of their staff has played a key role in prominent conferences such as SXSWi, UKTI and UX London.
Value for money: Cyber-Duck has completed gigantic sized projects such as the Bank of England. The company rates are competitive ranging from $100 to $150 per hour.
A relatively young company which was founded in 2016, Adchitects is a Polish-based company which caters for clients seeking innovative web designing. Adchitects focuses on web design, web development as well as branding. 50% of their projects are related to web designing.
Clients:
Ground Labs – rebranding and web design. Managed to update the company brand as well as deign their website to enable a premium presentation. Upon completing the project by implementing Adchitect's ADCW methodology, the client has managed to serve 2500 companies.
Webdesign for Hilding – a mattress manufacturer that sort after Adchitects to implement an innovative website structure that will enhance the quality of product images.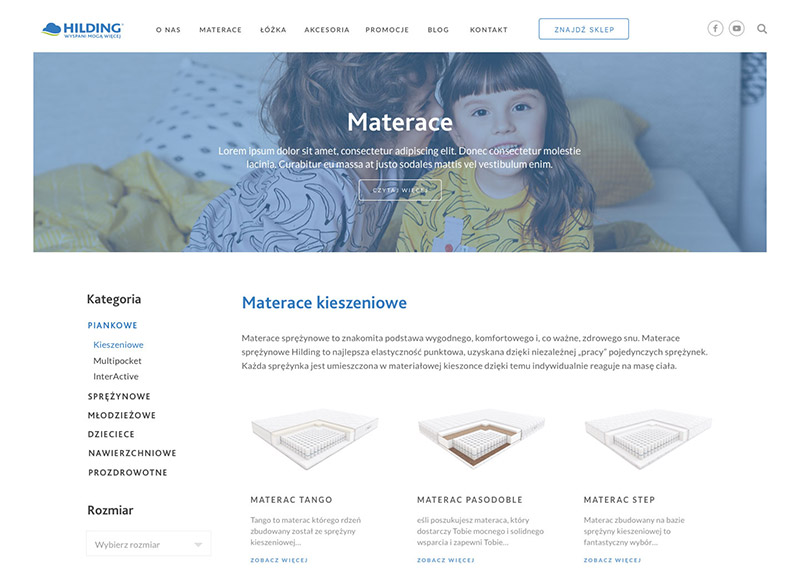 Value for money: $50 and $100 hourly depending on the scope of the project & time-frame. We recommend them if you have a small project that needs skilled experts.
With its offices in New York, Blue Fountain Media has been in the web design industry for more than a decade now. The company has proven traits in B2B as well as B2C web design. In 2018, Acquia named Blue Fountain Media as the Growth Partner of the Year.
Portfolio. Open Campus collaborated with Blue Fountain Media expertise to create, design as well as launch a website meant to keep up the respected legacy of The New School.
Engel & Völkers, a German-based company that has grown to be recognized as one of the most respected real estate advisors global-wise, Engel & Völkers collaborated with Blue Fountain Media to develop a conveying strategy that will increase client engagement on the company's digital platform.
Tricon – this Toronto based company focuses on investments and asset management on residential property. Having worked with 5 different web design companies, Tricon sought after Blue Fountain Media to update their website to have an informative digital presence that would present an intuitive interface.
Value for money: Rates are between $150 and $200 per hour with average minimum project threshold of $50 000. The prices are a little bit above the industry average; however, it does match the quality results they produce.
Newmedia is one of the veterans of web design industry. The company was founded in 1996 and has since managed to claim a significant market share in the industry. The company is led by Steve Morris and offers services in web design, website development, SEO, etc.
Top clients:
PostNet, the company joined hands with the client to develop a new, fresh experience for the customers. PostNet sought after Newmedia to deliver strategy and consulting services for their existing website. It then employed the agency to conduct web development, as well as responsive web design and get a complete redesigned website.
CBS got digital marketing services that included SEO, SEM, as well as PPC. It also assisted in the strategy development and conducted consultation to the company and then delivered complex web development.
Value for money. For a company that has been in the industry for more than 2 decades completing $50k+ on a regular basis, you would expect them to charge an arm and a leg. However, their rates are noticeably average and competitive ranging between $100 and $150 per hour.
The company has been around for more than 2 decades and has managed to complete above 1150 projects throughout the course of their career. They are well-known for developing high-performance website, applications, as well as software for finance, insurance, NGOs, as well as government agencies.
Intechnic specializes in strategy development, web design, web development, app development (mobile and web-based), and marketing, consultation, UX/UI designs, as well as SEO. The company's impressive skills are represented by a number of accolades such as you may see below.
Portfolio. Intechnic has managed to partner with one of the leading brands in the business world such as Paramount, Government of Victoria (Australia), Mortenson Construction, Bacardi, Brunswick, etc.
Value for money. Intechnic prizes are slightly above the industry's average ranging between $150 and $200. However, based on their impressive portfolio having worked with a number of leading brands, an exception can be made.
Founded in 2012, BigDropInc is a web development and design company that serves all sorts of brands and sizes. Services include: web design, web development (with focus on e-commerce, WordPress), digital marketing (SEM, SMM, content marketing, SEO, email marketing & automation), support and hosting.
Portfolio. BigDrop's positive attitude has given the company an opportunity to land some of the big projects that include working with: Group Gordon, eLoan, 3 Speed Holster, Vicarious, Palladium Group.
Value for money. With their rates ranging between $100 and $150 per hour, BigDrop delivers great results to meet the amount of money you pay them. The company provides a dedicated manager to personally handle your project which gives you, as a client, the satisfying feeling that your project is being given maximum attention.
Maxburst is a New York based web design and development agency that was founded in 2005 and began to make waves in 2007. The company is led by a team of web development enthusiasts with immaculate experience in website related services. The company excels in creating inventive as well as intuitive business models that are brand-friendly.
Maxburst top skills are: web design – a blend of style and technology to enhance business performance, web development, marketing and brand identity. The company has had the privilege of working with one of the leading brands in the business world. Maxburst portfolio includes: JetBlue, Trump Organization, Tamron, Carson Optical, Canon USA.
Value for money. Maxburst services can be obtained at a price range of $100 to $150 depending on the size and timeframe of the task. The company has 40+ employees in their offices and with over a decade of experience, your money will not go to waste.
Feel free to contact us via jane.todavchych@thinkmobiles.com if you want to place your company here.