Developer: Wondershare
Source: Official website
Platform: macOS (10.10 +) or Windows
Filmora is a simple video editor from Wondershare. The company also offers software such as UniConverter (video converter), Recoverit (data recovery tool), Dr.Fone (smartphone optimizer), PDFelement, FamiSafe (parental control app). We'd like to review Filmora9 for Mac, as video content is as vital today as ever.  
As of now, the current version of the program is 9.5, which is a big leap since the previous version 6. From an amateur app, Filmora has grown into a potent, and most importantly, simple video editing tool. For beginners, vloggers and YouTube personas it is a great option. Filmora appeared on our radar previously while compiling the list of top video editing software. Now let's take a closer look. 
How to get started with Filmora9 for Mac?
Download and install. Download the latest version of the program. On the official website click "Switch To Mac Version". Both versions, for macOS and Windows, are stable and equal. Double click the installer and click "Open in the security window". In case there is no such button, go to System Preferences – Security & Privacy – General tab – Click Allow or Open. This is the only issue you can face during the installation.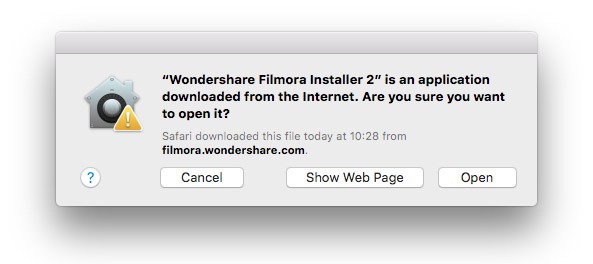 Start / Welcome Screen. A few minutes later, you'll see the Welcome / Start window. Here you can set the aspect ratio of a future project: 16:9 (Widescreen), 1:1 (Instagram), 9:16 (Portrait), 4:3 (Standart), 21:9 (Cinema). Also, you can open a previous project or create a  new one. If you don't want to see this window further on, there's a checkbox in the bottom.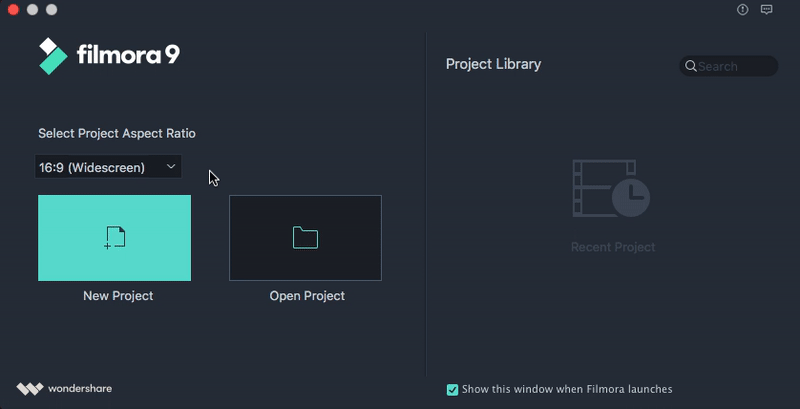 Configure Filmora preferences. Filmora is a simple video editing app, you can notice it even in Preferences. Lots of settings here, but we'd like to underscore a few exciting specific ones to pay attention to in the Performance tab.
First of all, GPU acceleration – to speed up video rendering and decoding. Since Filmora has such a great feature as Background render, tick this checkbox too. Proxy is another useful solution – the idea behind it is to create limited quality renders of files, faster response, especially for 4K footage. In the Editing tab, users can set default Transition, Photo, Effect, Freeze frame, Split screen duration time.
Import files, save, export. There are few ways to add media to Filmora:
right click on media work zone – Import

Menubar – File – Import Media – Import Media Files

CMD

⌘ + i

Icon click in the middle of media work zone

Drag and drop files to media work zone
Import Media Folder is a great option, so you could collect all necessary files in one place, and add everything for a project at once.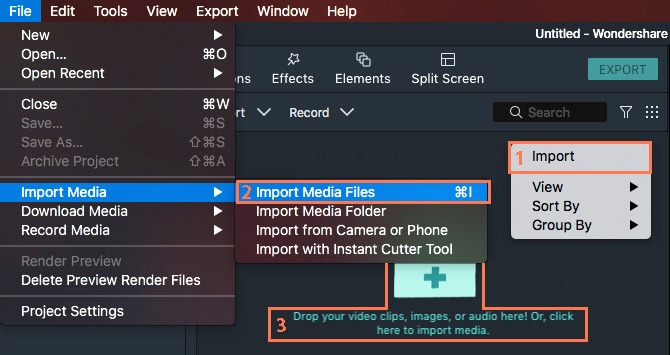 To avoid unsaved changes we recommend making constant saves a habit. Additionally, Filmora9 for Mac has the Automatic Backup to take place every X minutes (whatever you prefer). It is active by default, though to configure it go to Preferences – Save. To export a project, hit the Export button in the menu bar or above the media work zone. We will take a more in-depth look at export tools later in the article.

Acquaintance / Filmora features
To discover Filmora we will guide you through basic tools and features, and to make it clearer, we will split it into 3 sections: Timeline (1), Preview / View (2), and Media block (3).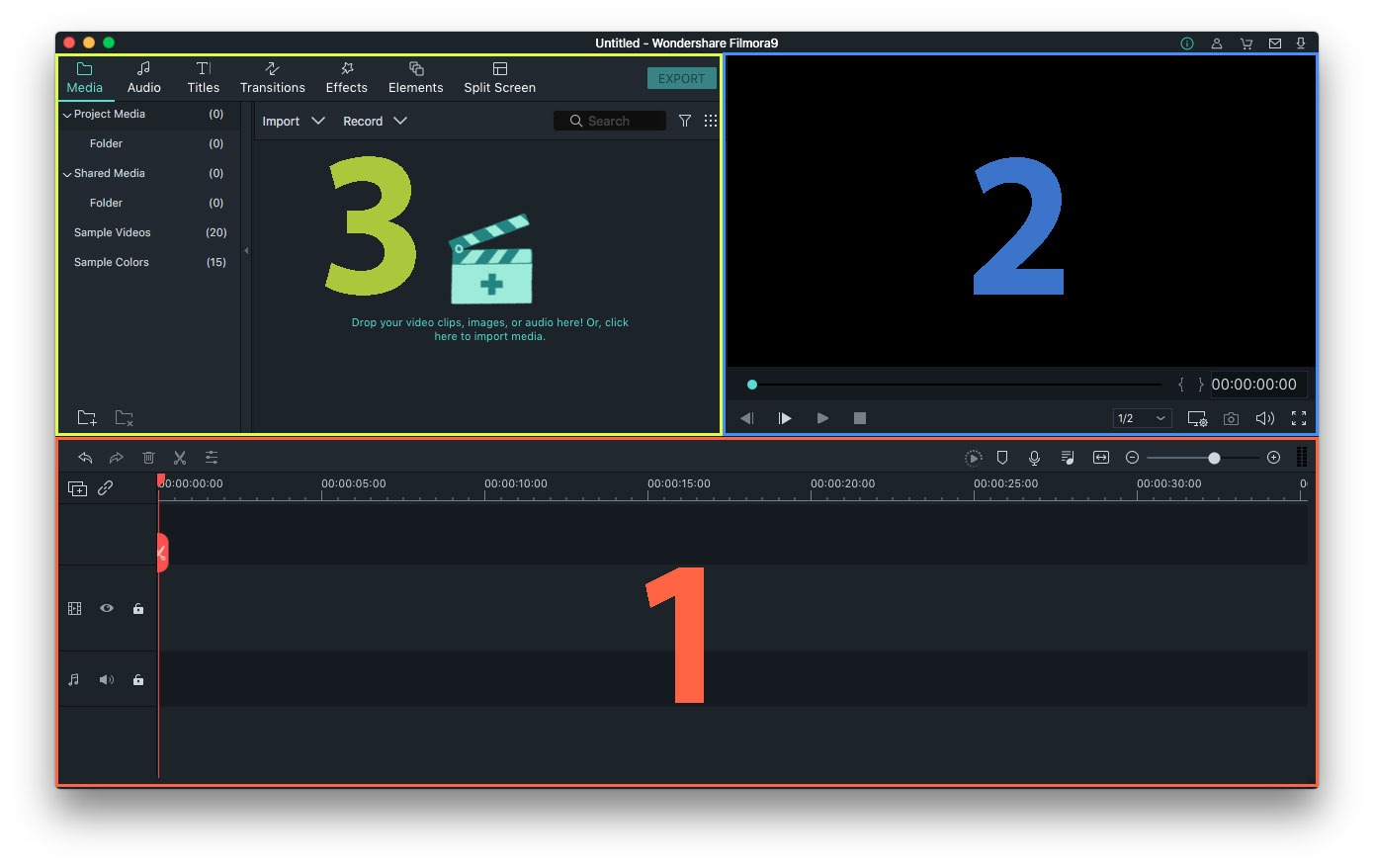 1 – Timeline. This is the main workspace in any video editing program, so it is important to know every single tool in this section.

Edit section:
Add Track

– add video and audio files, or delete empty tracks.

Undo CMD⌘ + z / Redo CMD⌘ + Shift + z

– use this to correct mistakes.

Delete DEL

– delete selected media in timeline.

Split

– split media files (or use a red line or scissors).

Crop

– crop or zoom selected video.

Speed

– change playback speed or reverse a video file.

Advanced Color Tuning

– 45 presets or manually. Click the Split View button in the right corner for a better result view. Save applied settings as a preset.

Green Screen

– Chroma Key.

Edit

– transform, stabilize, drop shadow, auto enhance, fade in/out, apply motions effects, etc.

View and display section:
Render Preview

– when processing 4K, render in lower quality for better response.

Add Marker

– leave a cue anywhere you need.

Record VoiceOver

– record audio from a connected microphone.

Audio Mixer

– controls for audio, balance and volume levels, etc.

Zoom to Fit Timeline

– click to stretch and fit all the media in timeline into screen.

Zoom In CMD⌘ + / Zoom Out CMD⌘

–

Audio Indicator

– turn on visual display of Master audio in project.

Tracks section:
Effects, Elements, Transitions, Pictures
Main video track
Audio track from a video file
Separate audio track
2 – Preview / View is a special window to preview the video to make further edits.
Challenge

– feature tutorial in interactive form, rewards and bonuses.

Account / Activate

– login or activate your copy of Filmora.

Purchase

– buy Pro version.

Message Center

– notifications and update messages.

Filmora Resource Center

– redirects to the official website for more content.

Previous Frame / Next Frame

– helps to navigate precisely.

Play

– video playback / preview.

Stop

– stop playback.

Playback Quality

– preview quality with 4 different options.

Preview quality and display settings

– aspect ratio, use original quality when paused, zoom, safe zones.

Snapshot

– take a snapshot of a frame. 

Volume

– control volume level.

Full Screen

– watch preview on a full screen.
3 – Media Block, a place where all multimedia files are stored. You can find Transitions, Effects, Title, Elements, Split Screen Options here as well.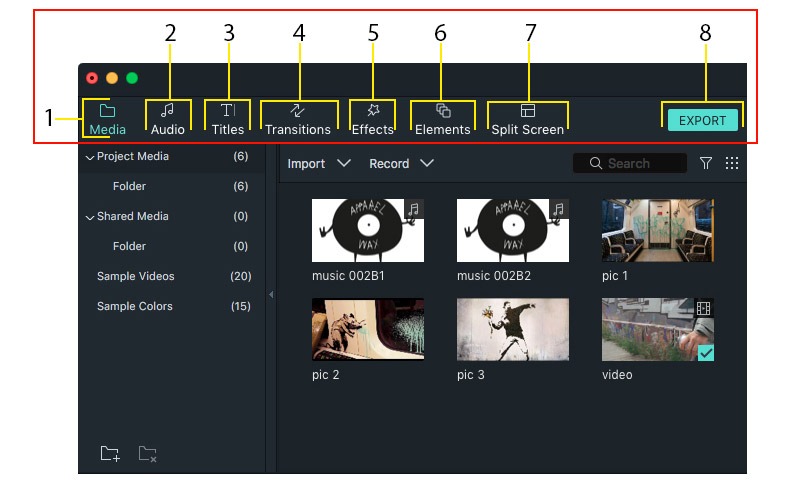 Media

– contains all imported files.

Audio

– add music from Filmora audio library, or iTunes.

Titles

– 250 static and animated titles, credits, etc.

Transitions

– 200 original HQ transitions.

Effects

– 280 effects.

Elements

– 190 random elements.

Split Screen

– 30 presets for different split screen separations.

Export

– save project.
NB: One can purchase more effects in Filmora online shop.
Hidden features
So, along with those mentioned features for video making, we've found some peculiar bonus features of Filmora9 for Mac.
Make a video clip from what you do on a screen, that's great. Click File – Record Media – Record PC Screen. The interesting thing about the Filmora screen recorder is the ability to record system sounds too, if you've got the appropriate sound driver. 

Hit the REC button to start recording. When finished, a video automatically imports to the media zone. By the way, check out top free macOS screen recorders.
Filmora also has a built-in downloader, but it works only with Facebook media, images from Flickr and Instagram. To download media files, navigate to File – Download Media – select one of three options. Once again, to find out more, we've got a Top macOS video downloaders review.
You may remember this as the Challenge tab in Preview. Click it to receive a task (split a clip, crop, add video effects, etc.) and get a reward. It could be new transitions, effects, or music that you can then use freely, even upload to YouTube with no worries. Surely, it will be fun for beginners.
Exporting video
There are 2 ways of exporting videos: click Export in the Menubar or hit the big Export button above the media zone. Filmora9 for Mac requires registering a user account, or signing in with the existing one to enable export option. Note, if you use the trial version, this is where  limitations emerge – all exported files come with a Filmora watermark.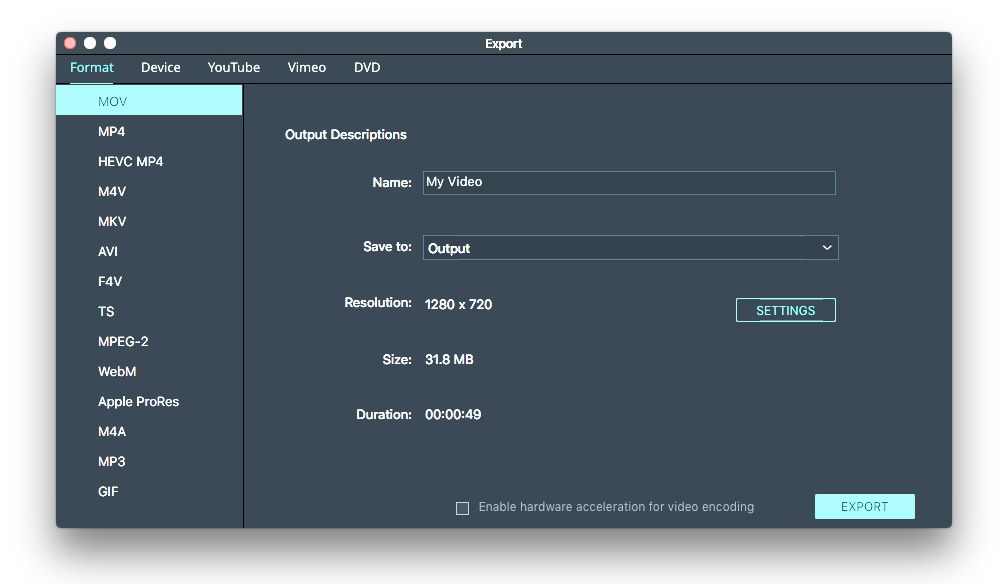 It is very easy to figure out how to save a movie, choose one of 14 formats – MP4, MOV, AVI, Apple ProRes, etc. Click Settings next to resolution for more options. Besides saving to a folder, one can upload video straight to YouTube or Vimeo, or burn a DVD. Size and duration of the output file are visible.
Summary
Overall, Filmora9 for Mac is a decent video editor for entry-level work. It has all the tools for quality content for YouTube. It provides a fully functional trial version, with a single limitation – a  watermark. In our opinion, this is the best way to familiarize with the program.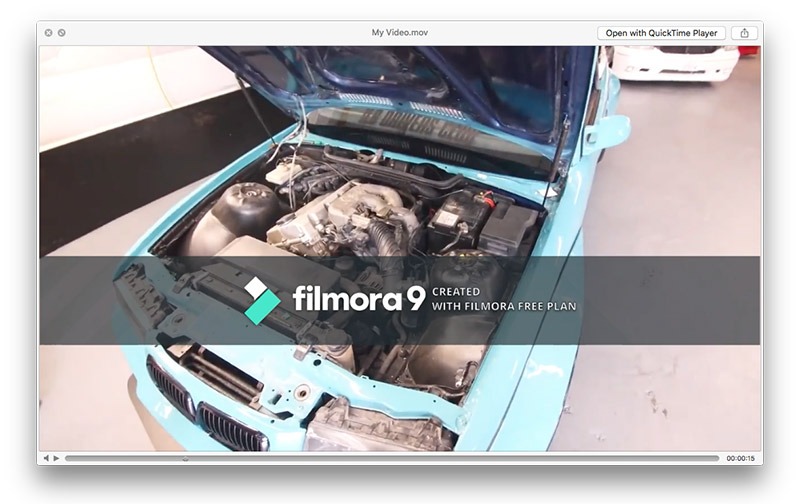 To wrap up, here are 10 reasons why we think Filmora is awesome:
User-friendly interface, welcoming for beginners

Fully functional trial

Low system requirements

Lots of effects, transitions, titles

Screen recorder

Hardware acceleration

Background rendering

Proxy preview files

Rewards for learning the basics

$60 as a one-time purchase
More at: Best video editors for Mac.