Is there an industry or social sphere that hasn't still been impacted by mobile apps and smartphones? Probably not. Social events, work events, business meetings… we generally refer to it all as Events. And there are mobile apps for events, event management apps and event planning apps. Most likely, that is not a surprise for anyone in our fast-pace age. So event app development, and how to make an event app is our topic here.
Backyard barbecue, wedding reception or corporate meetup… all kinds of social events now can utilize the power of a mobile application. And the mobile event app market is already full of hundreds of products of all imaginable kinds. That, of course, could be both good and bad news. On one hand you have fierce competition. On the other hand, as many people, cultures and workplaces, the more options are there to take and monetize.
So should you make an own app for events? 44% of marketers and communications professionals use event management to increase engagement, according to eMarketer. That's one. The forecast for the market of event management software is 10% annual growth rate 'til 2020. That's two. Not convinced yet? 85% of event planners state the use of event app betters attendee satisfaction.
80% is the median adoption rate for event apps
Development and deployment has been made much faster recently. You can even use an event app template from the Internet for free. Though, if you create a custom event app, you'll get ahead of competition by:
Making easy event guide
Building an interactive mobile event app
Facilitating social networking for real
Provide sweet user experience and interface
Improve event experiences for attendees
Promoting your brand awareness
Variety of event apps
Event management is the whole science in itself. Mobile apps for events help to distribute various tasks. Thus, making an event app as specific as possible. For planners and organizers there are these kinds of event apps:
event planning apps
event management apps
apps for conferences
event organizer apps
event scheduling apps
apps for event networking
event registration apps
event booking apps
For other users, meaning just people interested in social events, these mobile apps help to be informed. There are local event app types like Eventbrite, or as some call it "events near me app". There are also event finder apps and event recommendation apps for personal use.
Let's Build Your Event App
Provide us with your contact details and we will contact you today
To create an event app one should investigate the market and define the set of features for the app to come. What are common features of event management apps?
Event app features
Sport events, games, music festivals, conferences, community meetings… A basic event app should be applicable to any kind of such social events. The common features of event app for Android or iOS are:
A calendar of events that is available on the phone at any time. Some apps have just dates and titles, others also have images or interactive content. Integration with external calendars (by Google, Facebook, etc.) also an option.
The 100% must for event apps especially, more than any other types of applications. Alerts about upcoming events, reminders for event planners, popups, etc. Push notifications could be standard/scheduled, geo-specific, automated (linked to a subscription or feed).
For users to choose what kind of events, artists or venues to follow. In many event apps people also can add events to Favorites. This way they create a separate personal menu with events of most importance.
Automatic system suggestions for hundreds of events available in your location. It can be based on personal event history, geolocation, social media, etc. Users usually are able to set the radius for event finding, or select types of events, gigs, or places.
For venue booking and management during social events. This is obviously of most use to planners. Some specific options to event booking apps may be check-ins, event registration, live polling. Mobile payment could be quite handy as well.
With live tweeting, checking in on Facebook or posting updates to Instagram we can promote events better. So in any event app you should be able to link it to social media accounts.
So event organizers can send out invites personally via an app like RSVPify. When replies with confirmations or rejections come in, you are able to manage the guest list.
Best event app examples
Speaking of event app development, we should name some of the best event planning apps on the market. You've probably heard few of them even if you haven't been an expert in event management industry. And it rather proves the point. Similarly, do these 4 top event apps.
Eventbrite
A free event app both on iOS and Android to help people discover interesting gatherings. This is also a planning platform, as well as organizing tool to host own events. User can get recommendations from friends and buy tickets directly through the app.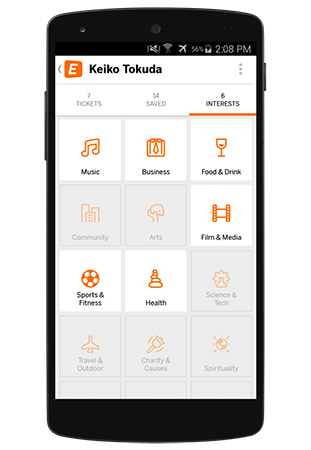 Fact: 4 million tickets weekly on average are sold via Eventbrite.
HeyLets
An event finder app and user recommendations in your area. Users select interests from 45 categories and can share event/trip advises with images and texts up to 200 characters. You can also create wishlists and set notifications that way that you'll get alerted if you happen to be nearby.
Fact: HeyLets app attracted $1.65 million as location discovery startup in 2015.
Banter!
This is most probably the coolest mobile event app for nightlife lovers. It has all basic features of an event app, like calendar/list, chat, photos, notifications. It is focused primarily on locations such as clubs, music halls, bars, pubs and parties. Users are also able to start own party and make an event feed on it for friends. No more FOMO 🙂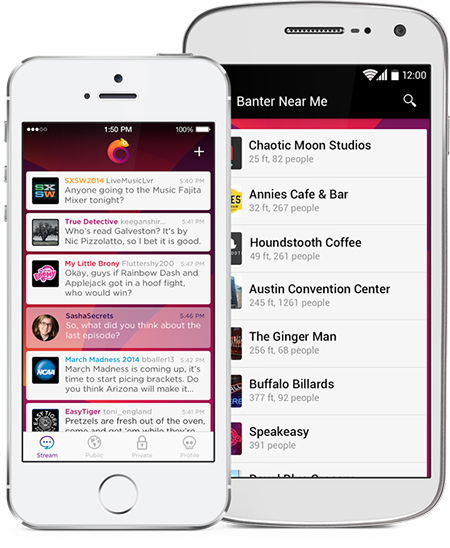 Fact: With just team of three people, the app's net value is $1.5M.
Bandsintown
An event app with focus on concerts in area around you. Similar event apps are Songkick, DoStuff, All Events in the City. The outstanding and defining feature is a phone scan. The app checks your music library, identifies artists and bands, and gives out information if any of them are performing in your area. Adjustable notifications and purchasing tickets within the app.
Fact: Bandsintown has 30M active users, and promotes 400K artists.
45% of attendees have mobile event apps
How to make an event app
Whether you want to create an event app, or iPhone event app specifically you need idea and good strategy. Really good strategy. Then you can hire a mobile app development agency (hint hint) to build your own custom event app. Or you can just use event app templates available for free if you only wish to clone Eventbrite or any other event app.
Hiring? Find top developers!
The price of event app could range from few thousand to hundreds of thousands of dollars, eventually. It all depends. Event planning apps generally have very positive adoption rate among users. Thus, your mobile app could be useful either to monetize on ads, or to promote your brand.
An event app should:
Be reliable
Cover various event-driven activities
Integrate with social media
Secure user data and privacy
Assist in brand awareness
Bring nice user experiences
Engage event attendees
Let's Build Your Event App
Provide us with your contact details and we will contact you today