Nowadays, half of retailer brands have already published their mobile apps to the community. And it is profitable because consumers become more engaged into smartphone usage for any task they face. Today over 40% of smartphone owners use two or more retail devices. And just 21% don't use any.
But, it is not easy to get profit from a retail application. While 85% of consumers prefer a Brand application to mobile websites, their expectations are high:
up to 80% of users would give the app only two chances. And, for sure, delete it if the application fails to launch for the first time.

up to 80% of users expect application would work faster than their web browser.
As a result, while some Brands, like IKEA take benefits from their apps, others, like Prada or Paul Smith have totally lost that battle. The last two give up due to the bleak situation. However, IKEA managed to generate more quality sales via application than before. Return rate has significantly decreased, while the total number of sales has grown up.
Reasons to realize your retailer app idea
So, where are any reasons to get yourself involved into all of this?
Others have already done this
Nowadays, nobody disputes about the necessity of website running for any business. It provides the owner with the internet presence, notability and gives users advanced experience. But mobile applications would soon take lead in all tasks a website plays now. So while all your competitors are looking for developing an app for themselves, you may make your moves too.
Customers like it
As researches and surveys are being published year by year, the whole retail community may notice growing trends for mobile app usage. Heavy and famous Brands, as well as mid and small retailers, are trying to engage customers to rise in-store traffic with the use of a mobile application. And it seems to be working.
30% of in-shop purchases are made via the retail app.

Customers prefer to shop in stores that support them with apps, instead of those which don't.

Consumers are happy to use features like price checker or product customization.

Many customers admit that they are likely to spend more time in the retail shop with an app.

Some of the consumers admit, that they are ready to pay more if they would have access to advanced features like augmented reality preview.
Let's Build Your App Like Walmart or ShipStation
Provide us with your contact details and we will contact you today
There is place to advance
While, sometimes application development requires a lot of features and mechanics to be competitive in the market, retail apps are exceptions. They are fully competitive with limited function kit, if UI and UX are designed well. Meantime, additional features would make an application greater and only buff user experience. But, there is no need to make enterprise app to be successful.
As a result, retailer app may start from small, and grow bigger as time passes, according to customer's requirements.
IKEA AR app

– was launched just with AR feature to support printed catalogue.

Shopular Coupons app

started just with coupons giveaway features and supported much smaller numbers of partners than now.

The Warehouse

and similar to it apps start with a smaller assortment.
Therefore, it is not necessary to start from a large application. It's better to fund in marketing for a smaller one. And then update it regularly, according to the community requirements.
Content is the king
Traditional retail marketing has never focused on content creation, limited to customers' motivation. But when we are talking about a mobile application and last trends in website's search rankings, content plays the main role. So, in measure to not make expensive mistakes it is better to give a user valid content and user experience as well as digital initiatives.
As a result, users love the application with rich content, then just with poor retailer services:
REI

(79 average scores according to over  5K reviews) – they organize consumers co-operative and offer outdoor services and courses in addition to retail functions.

LivingSocial

(67.5 average scores according to over 40K reviews) they provide a large scale of features such as a local event list or restaurant menus.
In these cases, we see the same history as for content marketing in web fields. Content helps win user loyalty in long terms conditions, while poor user experience would damage engagement after some time pass. Apps packed with the sales-driven copy would generate high abandonment rates. Meantime, the retailer app that provides beyond sales services would build an active and loyal audience.
Loyalty as the main quest
Understanding of customers' needs and requirements would be a basis to buff their experience. As a result, customers would be more likely to stay active app users and purchase app products. Therefore, they would more often check sale deals, discounts and events.
The Starbucks application

is a proper example how to use huge potential of mobile technology. While the app allows purchasing their products in the store, it also works as a powerful information resource to stay in touch with users.
Despite users daily download and install immersive number of apps, each user actually uses just few of them. So to make application development investment profitable it's better to think about related content for user attraction and loyalty.
Retailer apps features
We make our deep research of most successful ones according to user reviews. So, we manage to make a list of most frequently used retail key features.  
Key features
Deals

. Provide to your users special time-limited offers. Provide them with discounts. Give them coupons. Regular events would increase both user attraction and activity.

News

. Sync application to your website blog to provide users with the hottest relevant content. Keep users engaged with the latest news about your business.

Push Notifications

. Directly target your audience with specially personalized notifications.

Analytics

. Use a bunch of information data to get in touch with your users. Analytics will show you customer trends and mistakes in your campaigns.

Loyalty features

. Reward customers with points, achievements and discounts depending on their spendings.

Categories, filters and sorting

. All of these features would make easier and more comfortable usage of your app.

Multiplatform or web app

. There is no need to develop retailer app as native. Choosing multiplatform or one-page web application will help you save your time and money.
Other features
Item availability.

Inform app users about items that are available for purchase and their numbers. Meanwhile, if items are sold out inform customers when those will be available and in what numbers.

Price checker

. Allow your customers to check prices of your products and compare them with each other.

Additional product information

. Provide wide information about products you sale in a store. Show customers reviews, related news and any useful info to buff in store experience.

eCommerce platform integration

. In the case you have already an online shop website on any eCommerce platform, it is great to sync it with your app.

Product customization

. Customers would make a wiser decision if they checked all types of product they buy. It greatly reduces return and exchange rate of your sales.

Product preview

. Preview product via media, 3D model or augmented reality tech will significantly increase user experience. Moreover, while customers get additional info about a product it will help them ensure that they like it.

Geolocation

. Lead customers to your stores by using geolocation. Also, inform them about your deals and events if they are walking nearby. Finally, support them with an instore map.

Social share

. Provide customers with a chance to ask their friends about the purchase, or share it with them.

Payment gateway

. Integrate it or redirect users to payment pages with two options to choose from. Both are with some advantages and disadvantages.
Challenges for retailer app creation
Design your plan
It's always good to have a good plan before jumping into actions. Create detailed documentation, check market trends and find answers to different important questions like:
In what purposes I need my own retailer app?

What features my app should include?

Why would users love to use it?
You can end the list by yourself. But, why you should do it? Because, mostly developer agencies, especially freelancers, would not do it for you! They would develop what you want, but you should decide what you need.
Small goals are easier to win
Start small. Ambitious application, for sure, would cost you much and may not be so profitable as it seems from the start. Know your audience and fit what they need into the first place:
Start with most required features

that your customers would use. There is no place for useless features that would only hurt your budget.

Simple and intuitive user interface

. Try to avoid animation and media that would not make any content.

Use the latest technologies

. It may sound expensive at first. But outdated technologies would lead to poor user experience.
Brand retail app examples
Starbucks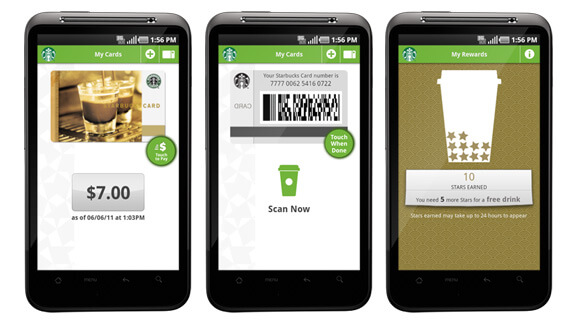 Starbucks – the best clean example of mobile retail application and how things should work. This mobile app makes 21% of the whole profit to the company, and it's equal $6 million. By simply realizing the idea of paying before you come for your coffee and avoiding lines and transactions, the company wins the bank. People start more frequently visiting Starbucks places.
Check how much does it cost to make an app like Starbucks!
SweetGreen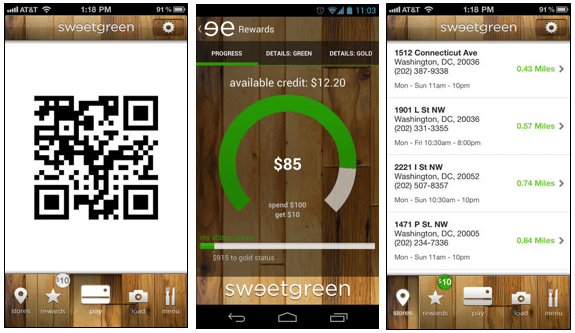 SweetGreen – Company used more comfortable visualization to buff customers experience in loyalty fields. They make diagrams to clearly show how much customers need to receive the next reward. In the end, customers love this better than printed coupons and cards, while they can directly see how much they need to receive their gifts.
Walmart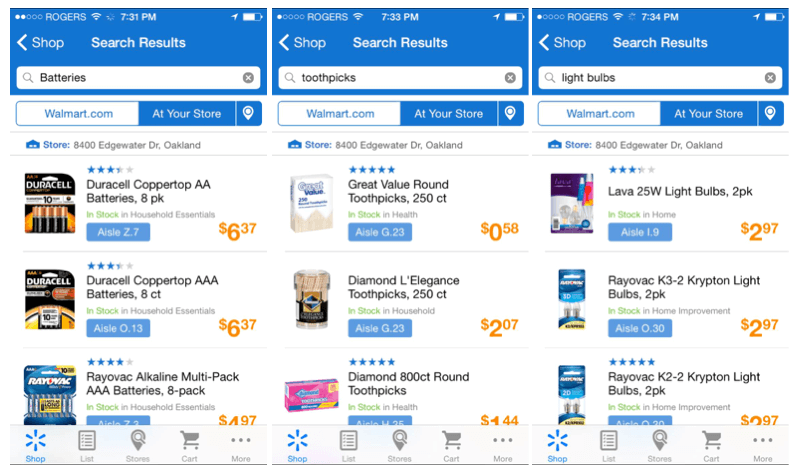 Walmart – developed the great and complex application with a lot of functions. It provides a wide range of useful features to users, from a shopping list to access to deals and loyalty points. In other words, they made all to ensure that users have relevant information in real time about their services.
How to make a retail app?
There are various ways to realize your own retailer app idea. Each choice has its own oblivious advantages and pitfalls.
Do it by yourself

– not the best way to choose from, unless you are a professional app developer. Surely, there is a possibility to use templates or app-builders. But as practice shows, the result is poor.

Find freelancers

– there are thousand of them waiting for available projects on freelancer platforms. But, be aware of hiring the first one you've found. There are many students and amateurs that try to make learn in developing and make their portfolio on your app and money.

Outsource it

– find non-Western software developer agency to build your application. While it's a serious company it really cares about the name and reputation.

Brand development company

– it is all about your budget. Be ready to pay 100+ dollars for an hour to each person in the development team.
Let's Build Your App Like Walmart or ShipStation
Provide us with your contact details and we will contact you today