You've heard it, "we are the Uber of delivery" or "a taxi app like Uber". Quite naturally, after Uber's huge success, many taxi apps and booking apps emerged. Many entrepreneurs from other industries inquire who developed Uber app. Previously we have covered the topic of how much does it cost to make a taxi app like Uber. Now we'd like to focus on a bigger picture and expose specifics of taxi app development.
Why make a taxi app?
Taxi apps and various taxi mobile solutions are disrupting markets in many countries. Conventional taxi services are gradually retreating making way to more comfortable mobile services. Though companies may also adapt and build their own taxi service applications. A taxi app, usually, has high user engagement and customer retention. How so? Because this service is indispensable for 90% of people worldwide.
Thus, sooner or later, you'll probably type into Google – 'create a taxi app'. Develop a taxi app like Uber or Lyft, and charge your rate out of ride fares. Uber takes 25%, Lyft charges 20%. These are enormous profits considering 40 million people use Uber monthly.
1M rides – the average number of daily Uber rides.
Taxi app features
Taxi app development suggests incorporating certain functionality along with neat user interface. Most prominent features of a taxi app are, of course, booking, payment and messaging. Let's give you an example of how to make a taxi app.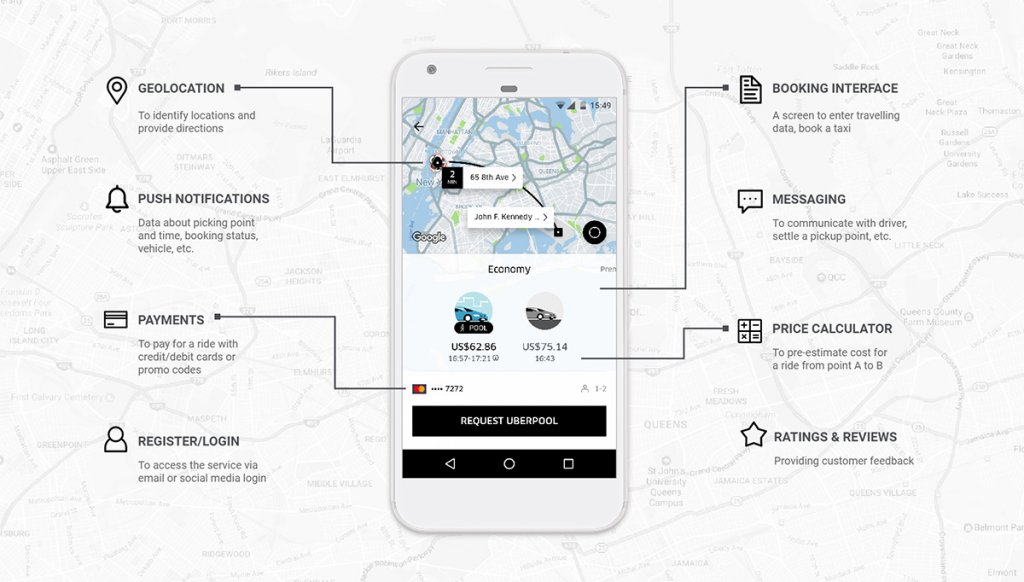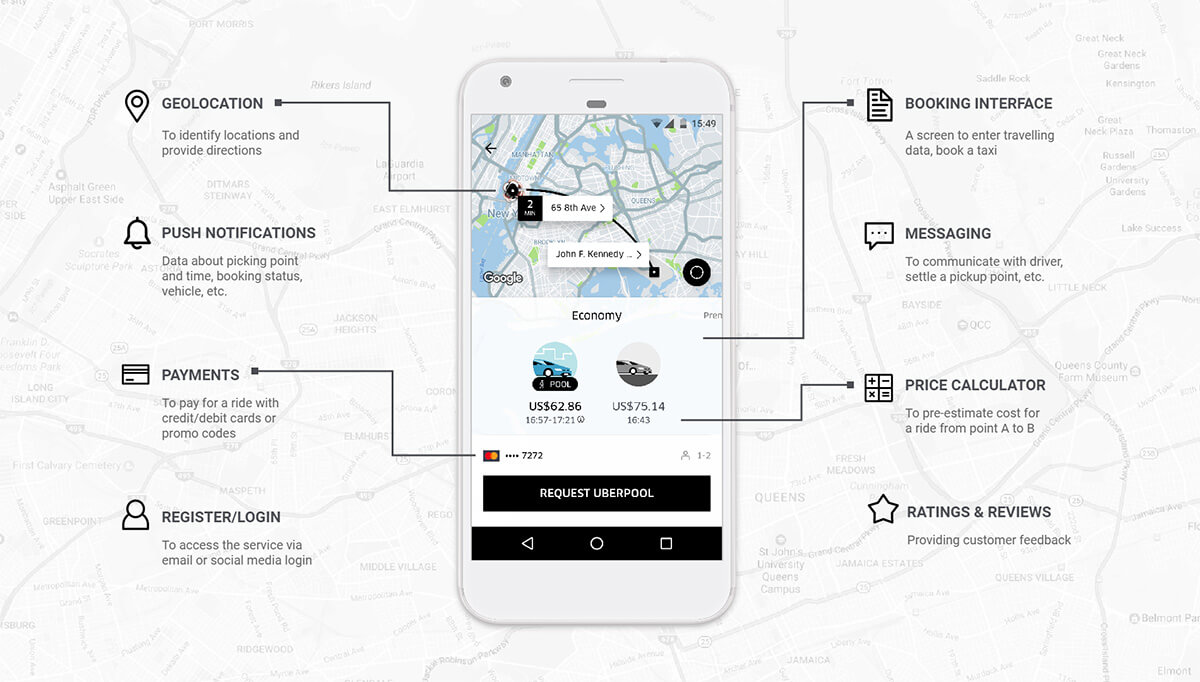 Now, to create a taxi app these features are mandatory:
A screen for app users to order a taxi cab. With taxi service app people should be able to mention the address and destination. Cool taxi apps also allow users to select a specific vehicle or a driver.
Real-time location tracking
To follow a ride on the map, see routes to destination place, check how far is your taxi yet. Some taxi apps also use geolocation to identify where the customer is automatically.
Let's Build Your Taxi App
Provide us with your contact details and we will contact you today
This feature allows users to estimate the price for a ride from point A to point B. It suggests entering a destination, a route to it on the map and tapping the button.
The ability for users to pay for a taxi ride straight from their smartphones. Various automatic payment gateway systems are already on the market. Payment should be easy, fast and secure.
Taxi service apps is the thing people use more or less regularly. Especially in big cities where such taxi companies operate. Customer satisfaction and retention is crucial to any business. And most of them reward and incentivise customers.
System alerts, in-app messages, in-app calls, booking alerts, payment notifications, real-time events. Fast response times are key to a taxi app of any kind. Thus, push notifications is a must. As to 99% of all types of mobile apps, most probably.
In-app communication and taxi app messaging. SMS-messages to get taxi booking updates and notifications. Some taxi apps even support voice-calls between users, users and drivers.
Popular taxi apps
Ridesharing started by Uber in 2012 revolutionized the taxi market since. Now it is $1 billion market, as experts estimate. Taxi apps profits and value are through the roof. Take Uber – it has 8 million active users globally, and company net value is $50 billion. So, aren't you still persuaded to make an app for taxi company?
Uber vs Lyft, or Sidecar vs Gett, we leave it for you to decide. We just wish to highlight some popular taxi apps examples. Let's start with cab booking apps for iOS devices.
Uber – the leading taxi app iPhone users can enjoy in 60 countries and 330 cities worldwide. The most advanced and innovative app for taxi so far. Constantly pushing the frontiers, even challenging logistics giants like FedEx and UPS with delivery option.
Curb – a taxi-hailing mobile app compatible with 50.000 cabs by Verifone Systems. $1.95 fee is charged from every ride, and users are able to pay with credit card from the app. Since 2014 Curb has over 500.000 app downloads.
Easy Taxi – active in 12 countries and 170 cities throughout the world. 20 million users, mostly in South and Latin America, Arab Peninsula states. This taxi app allows users to track cabs in real-time, leave driver ratings and reviews. Latest investments amounted to $77 million.
Popular taxi apps for Android
Lyft – known for cheaper rides than Uber. While Uber average ride costs around $16, average rides with Lyft taxi app are at $12. All the features, platforms and business model are basically similar to Uber. Lyft works mostly in the USA, in over 300 cities. Its net value is estimated at $7.5 billion, and the company has raised $2.5 B in funding.
Gett – a GPS-based smartphone taxi booking app, operating mostly in US and UK. Gett app claims to never apply surge pricing, that has made many Uber users look for alternatives. It charges 10% commission out of the ride cost. Volkswagen Group is investing $300 million in Gett to get to European markets.
Grab – a ridesharing, logistics and taxi app highly popular in South-East Asia. It has been downloaded over 20 million of times. It offers various options to users, from taxi booking and ridesharing to carpooling for work and shuttles buses. Average ride price is $5.
How to make a taxi app
Mobile outsourcing company, like ThinkMobiles, or skilled freelancers could become your taxi app developers. Building a plain Uber clone or an app with standalone features requires understanding how taxi app works. The core elements to make a taxi app are:
Server for operations with data
GPS/mapping/geolocation
Payments
Taxi app development may cost you from $50.000 and more and may take few months of work. You would need great intuitive taxi app design. You may use app templates, open source libraries, SDKs and APIs. Or build a whole mobile application for taxi service from the ground.
We can make you a taxi app with any of programming languages. It may be Node.js, Python, Java, PHP, Objective C, C++, Ruby on Rails, etc. We may also help evaluate your taxi app concept from initial stages. Our designers can help you with UI/UX. You can entrust us any task of taxi app development.
Let's Build Your Taxi App
Provide us with your contact details and we will contact you today