Let's face it, television as we know it is dying. Video streaming apps are the future. The cable subscription is looking less like a good offer and more like a way to show you more commercials in between old movies you have already seen several times. Let's find out why this is happening and how to make a video stream app!
Why and how to make a video stream app
A lot of users agree with us, every year a number of people that "cut the cord" is larger. Why is that happening? Well, there are several reasons. First of all the quality and value of the video content that is being streamed is significantly higher than the old fashion television. By quality we mean that you can watch 4K video through the video stream app, unfortunately, you can't achieve that quality with cable television.
The value of information should not be underestimated either. In this case, the value is how interesting the content is for a user. With the classic television user can't choose what to watch, of course, a user can choose the channel but not the show. On the other hand, using video stream app user is in control, he chooses what and when to watch. Furthermore using mobile video streaming apps user can watch favorite shows on the go, anywhere.
Let's Build Your App like Netflix or Twitch
Provide us with your contact details and we will contact you today
The second reason is that television lacks in mobility. According to the statistics, more than half of the videos is watched on a mobile device. And this trend will not stop growing, according to the Ericsson Mobility Report traffic of the mobile video streaming apps will continue to grow by more than 50% per year until 2020. In addition, a quantity of mobile devices and number of people using them is growing fast too.
So, what do we have in the result? A rapidly growing market that is global. Many new users will soon browse their App stores and Play Markets for video streaming apps. It's a great time to find out how to make a video stream app!
Video stream app features
So, let's find out why video stream apps are so popular and why people are using them so often.
To do so we will need to get to know what are the features and benefits of stream apps. Without further ado, here are the most important features and benefits that you have to learn on the road to know how to make a video stream app.
First of all, some general features that apply to almost any app, but you shouldn't overlook them:
Several ways to register – try to make your app as easy to start using as possible
Comments – provide a way to communicate and debate under a video
Different quality of video – make your app usable on the wide range of devices
Unique design – your app must be visually distinguishable from others.Develop your own design.
Multiplatform support – similar to the previous, you want to make your app usable on the widest possible range of devices.
Benefits
First one and the most important. The main purpose of this kind of apps is the ability to stream high-quality video content to your mobile device. Approximately 50% of all mobile devices have a FullHD or HD resolution display, thus there is a high demand for the high-quality videos.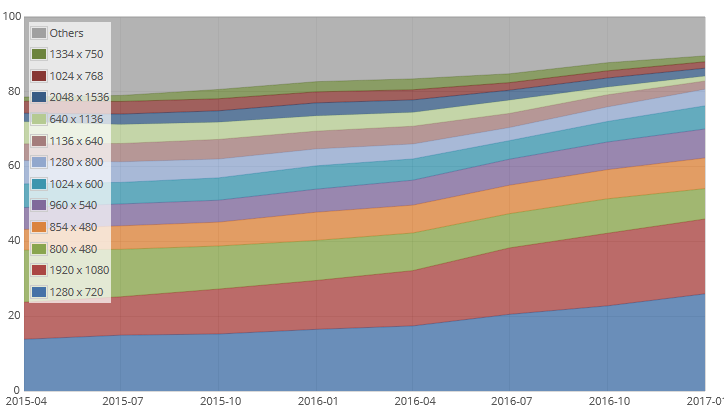 Live video sharing
Now is an era of social media. Common people create and consume content via social media. That's why the ability to stream video directly from your mobile device cannot be underestimated. There are countless possible ways where this can be useful for the users from video conferences to emergency broadcast of some event that's happening near the user.
Local storage
There are many times when user want to see a live stream or a show of some sorts but real life issues come in the way. That's why some of the video stream apps have a local storage feature. It allows users to download some of the video content to their devices local storage and watch it later. Not every app can allow having this feature though, because of the fear of copyright issues.
Subscriptions
This feature of video streaming apps is for informing your users about new videos that come up on their favorite channel or author. Not a huge or high-tech feature, we agree, but customers really on it. This is a convenience, you must agree. The additional feature is the push notifications. It is one of the best ways to inform users about some news or updates.
In-app purchase
Presenting new app to an already established market is hard. No one will argue with that. But, if you implement this feature to your video streaming app you can gain trusted users faster. It allows users to make a purchase in an app without any stress or addition taps or clicks. This way anyone who uses your video streaming app will not struggle to buy a subscription to a channel or some other sort of product through your app.
Picture in picture and background mode
Modern mobile devices have a very powerful hardware. But they lack in multitasking due to relatively small screen size. Users need to do something in between watching a favorite show or listening to a podcast.  Here's where the picture in picture mode or a background mode can be very useful in your video streaming app.
Popular video stream apps
Netflix
Netflix is the most popular app for watching online movies. So make sure to inspect it when you figuring out how to make a video stream app. Its main features are a solid selection of titles that update monthly. Also, they lure in users with their own original shows. This app is available on a variety of different platforms and costs $7.99 per month. Netflix does almost everything right, but there is always room for improvement.
Amazon Video
Amazon video streaming app is one of the most popular out there. So be sure to take it into consideration for your how to make a video stream app research. It has several different prescriptions, we believe that the best one is the $99 annually. This way you also get an Amazon Prime free shipping, access to Amazon photos, music, and the Kindle lending library. One of many great features Amazon Video is the ability to save videos for offline use. We have mentioned that this is a very handy tool and the users be grateful for it.
Hulu
Netflix and Hulu have been the "sweet couple" of video stream apps for a long time. The main focus of Hulu is television shows. The main selling point is that it gets shows quickly for streaming, faster than the other video stream apps like Netflix or Amazon. Hulu provides two types of subscription. One with commercials for $7.99 another advertisement free for $11.99. One of the main reasons why users dislike Hulu is that even in a commercial free version there are still pre and post-rolls of ads.
HBO now
The pioneer of the premium channels in the video stream apps was HBO. Introducing their HBO now app. It is accessible on different platforms, and the cool thing is that users don't need to buy a subscription for every device, it is tied to their account. However, it costs more than every other app in this list, exactly 14.99$ per month. But, it has one feature that beats any other, is that it has Game of Thrones?
Twitch
Twitch is the Netflix of gaming video streaming apps. It is the biggest and the most popular among them. With it, users can watch all of their favorite games being played by other people, or observe some competitive matches. A major feature is that users can create and stream video content yourself for free. For a profit generator, they provide a place for advertisement in each video stream, and as a counterpart a paid subscription to eliminate those ads. This business model could be one of the most efficient.
Crunchyroll
Crunchyroll is also targeting a particular group of people. This one is made for anime fans. Currently, there are 25,000 episodes and 15,000 hours of content that user can enjoy. The same way as our previous examples this one has a paid subscription which eliminates the ads. It costs $11.95. The only downside that most of the shows have only subtitles, we think that it would be better if the user could choose between dub and subtitles. However, it is the best video stream app for anime fans.
How to make a video stream app
So, you have your mind set on creating your own video streaming app. But, that raises the question how to make a video stream app? If you have some programming knowledge then you are, probably, capable of creating this kind of app on your own. However, this is a huge task for one person that will take all out of your time. And there are some underwater stones, that you should avoid. For example, a successful mobile live streaming app must have a reliable streaming workflow(video capture, encoding, transcoding, packaging, delivery, playback). If you are not confident in your skills or you don't know a bit about programming your best choice will be to choose the best app development company.
Let's Build Your App like Netflix or Twitch
Provide us with your contact details and we will contact you today