One of the biggest and most epic success stories in tech industry: Snapchat. From its very beginning, showing incredible progress, constantly growing the audience and strengthening market positions. Now, with over 300 million monthly and 178 million daily active users, the app has entered the top-5 photo/video sharing social networking apps. How to invent a product so popular? Well, we don't know the recipe. Let's try to find out the answer to another question: how much would it cost to make an app like Snapchat.
Snapchat: 3.5 billion snaps, 10 million videos every day  
The second reason, besides huge success, Snapchat attracts our attention is the implementation of Augmented Reality with the app. By launching Lenses and Bitmoji, Snap Inc. became one of the most recognizable AR apps. So how does one build a mobile app like Snapchat and what goes into it?
How does Snapchat work?
Snapchat is a free mobile app, available on App Store and Google Play. Originally, the most famous feature were self-destructing messages with pictures and videos. Since then, there were numerous updates of course. Now the focus has slightly shifted to Augmented Reality side. Recently launched "Lens Studio" software for Mac OS and Windows is yet another proof. It will allow users to create their own AR filters.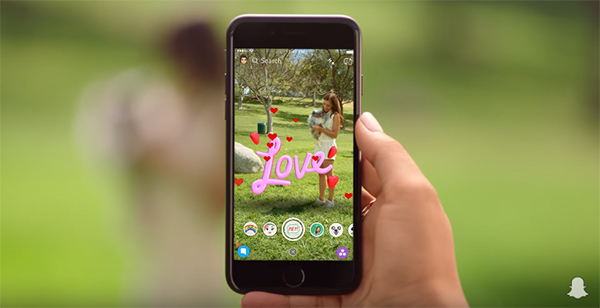 Snap Inc. positions itself primarily as "a camera company". That is why they provide advanced options for users to create/share the photo and video content. A user can take a picture, apply lenses, send it to friends or share it as a story publicly. In addition, there's live video chat, messaging, in-app calls, Bitmoji (avatars), discovering content and more.
Potential investors and others interested are more keen to know how to earn money with an app like Snapchat. This is not a secret:
Charges for sponsored lens (advertising brands and businesses)

Sponsored stories

Promo-partnerships

In-app purchases

Premium access
Following the footsteps of Snapchat, which went from a messaging app to a media giant and one of the top augmented reality apps, is not going to be easy. And the cost to make an app like Snapchat, or even a Snapchat clone, will be substantial, to say the least.
Snapchat: average daily in-app time spent per user – 30 minutes.
Snapchat features
Since the majority of Snapchat users are millennials, creators of the app are constantly upgrading it to hit a sweet spot. We can outline the most relevant features next, so you can decide for yourself which ones do you need when making an app similar to Snapchat.

Get free estimation for your mobile app
Post your project or request a dedicated team - we'll quickly match you with the right experts.
Post project
Social features –  add, block, delete friends, find and connect them from other platforms. Snapchat's social mode itself has brought innovation and new look of a social media app. The app also has the Snapcode, an advanced way to find friends, and the Snap Map (mapping users with Bitmojis).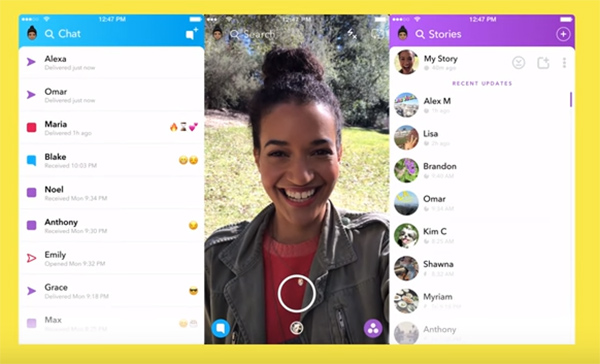 Messaging. Snapchat also acts like a regular messaging app. It doesn't ignore trends, delivering more and more new stickers with every update. Group chats with up to 32 Snapchatters are available.
Video/audio calls. The update to Chat 2.0 brought opportunity to make audio and video calls. Another interesting detail is that the users can send pictures and make calls at the same time.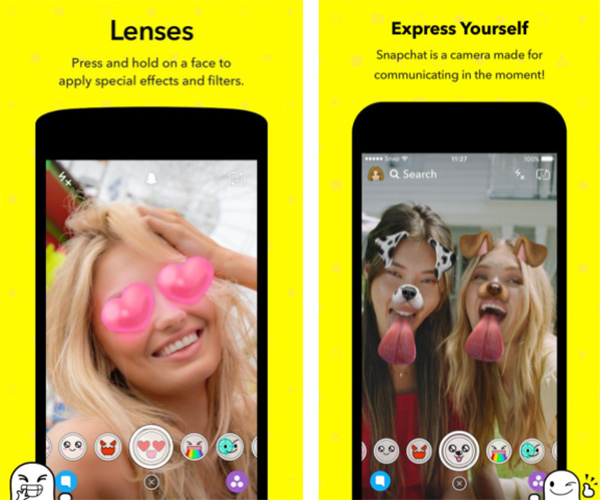 Photo/Video mode. It is a set of features for generating and sharing user content.  
Snaps

– the ability to take pictures and videos, sending to friends, apply filters or text captions.

Stories

– basically, a collection of snaps, which can be viewed during 24 hours unlimited times. 

Discover

–

a feature helping to find the newest updates, popular stories, breaking news, etc.

Search

–

filter by

tag or name.

Video/Photo filters

–

plus stickers and video captions (latest updates include colored filters, time caption, local weather, speed etc.).
Snapchat: average revenue per user – $1.17
Special features
Snapcash

– one of the recent updates, allowing users to send money to anyone from the contact list, who has a debit card linked to account. Age restriction is 18 years.

Geofilters – original overlays for photo/video editing, available only in distinct locations. Users can also create their own geolocation filters.
Bitmoji

– after launching another augmented reality feature – 3D World Lenses, app users now can put an animated Bitmoji on the snap and move it around the screen. (According to Snap Inc., 3D animation increases brand awareness through ads by roughly 20%).
Augmented Reality mode
Snapchat's AR mode uses a projection-based type of augmented reality. Lenses – the second best known Snapchat feature. This function of detailed face recognition scans the user's face and overlays various 3D objects on top of it. Each time there are seven lenses to choose from, updating daily.
To make face recognition possible, the app uses the so called "point mask". Based on data from the camera at 24 frames per second, it matches individual facial features. The algorithm creates the map and moves the animation in sync with face movements. 3D World Lenses superimpose animation onto the real-life environment when the main camera is active.
Technology to build an app
Surely enough, Snapchat tries to keep a lid on all the technologies and tools behind the app. Though, over time some of them became known, and we can only make assumptions about the rest.
We'd like to split the tech stack for an app like Snapchat into 2 aspects:
photo/video/social app

augmented reality app
Before that, we should mention the Google App Engine, which Snapchat uses to process the enormous amount of chats and content. The app was written with Java and Python programming languages (other options to make an app like Snapchat could be Ruby, Objective-C, HTML5).
Some alternative choices and ready solutions for Snapchat development include:
For messaging mode – Facebook Messenger or Telegram SDK

For location sharing – Apple MapKit or Google Location SDK

To create a Snapcode analog – code generation algorithms and recognition algorithms

Self-deleting content – Sidekiq or Resque systems

Video chats – Addlive tools
Augmented Reality app
Currently, the app is equipped with two AR options  – Lenses and Bitmoji. For a common user its not interesting what technologies are behind a 3D image of dog's nose and ears on his face. But, in fact, it is a great example of the advanced augmented reality use in a mobile app today.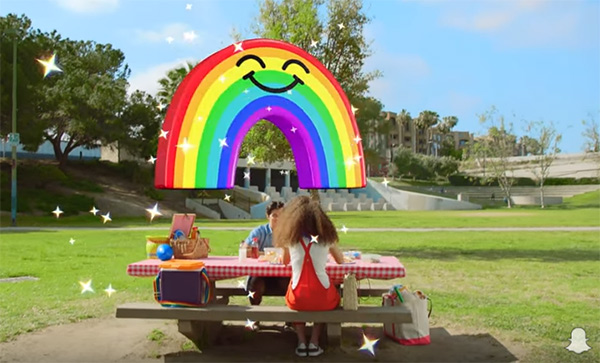 FYI: Lenses are a result of Snapchat buying out a Ukrainian company Looksery for $150 million in 2015.
For lenses, Snapchat also applies Computer Vision – creating the 3D space from image data. Specifically for app filters the company has Image processing – the transformation of every image pixel with mathematical operations. To teach the app to find and recognise faces, Snapchat developers applied Viola-Jones algorithm.
To replicate the augmented reality mode, we can use the ready-made solutions, for example, Mirror Reality SDK.  To create overlays there are two best options – Unity3D and ARKit.  A projection based AR app can also be built with the following tools:
Vuforia

– to place of 3D models in real world

Wikitude

– to build location-based, marker/markerless AR

EasyAR

– the AR platform for development, with cross-platform support, hardware decoder, screen recording, 3D object recognition
How to develop: factors, team, timeline
Our blog subscribers already know that there are many factors that impact the cost of making an app. A set of features and a platform(s) of choice would be the first aspects when dealing with the cost to make an app like Snapchat. For instance, if you target Europe and USA markets, it is more reasonable to choose iOS, for Asia and the rest world – the Android platform.
In most cases of app development, the project cost will also highly depend on whom you hire and from where. In order to create an augmented reality app, you will require a team of:
1-2 UI/UX designers

1-2 highly skilled 3D artists

2-3 backend developers

2-3 iOS and/or 2-3 Android developers

1-2 QA engineers

1 project manager (optional)  
Also, an MVP app could be a good option when developing a mobile app. The range of basic features should represent the app idea and allow to test user acceptance and feedback.
The key features of Snapchat were considered. Now you can plan more clearly what development time each of them requires. Based on our own practices at ThinkMobiles, we can help you with the following approximate estimate.
| | |
| --- | --- |
| Feature | Hours, avg |
| Authorization | 50 |
| Social mode | 100 |
| Global searching | 50 |
| Camera | 50 |
| Detailed face recognize | 300 |
| Video/Photo editor | 150 |
| Story mode | 150 |
| Bitmoji | 150 |
| Total | 1,000 |
The development process would consist of the following stages:
Back-end

– construction of the app, architecture and connections, setting up frameworks, tools and services. It takes up to 500 hours.

UI/UX design

– creating AR models (in our case, Snapchat Lenses), user interfaces, navigation, etc. The basic design takes at least 300 hours.

App development

– building up all the features and bringing all the parts together into a working app. For an app like Snapchat it would take 1,000 hours or more.

QA/PM

– testing and managing all the processes. Around 200 hours for good result. 
The cost to make an app like Snapchat: Summary
It is impossible to estimate the actual cost of an app like Snapchat precisely. We have the highly advanced app, with features like face recognition and Augmented Reality, at hand. We can only give you the approximate figure based on all the factors listed above. A custom AR mobile app with similar features as Snapchat is not going to be cheap, that's for sure.
| | |
| --- | --- |
| Stage | Cost, $ (approx.) |
| Back-end | 25,000 |
| Design | 15,000 |
| Development | 50,000 |
| QA / PM | 10,000 |
| Total | $100,000 |

Get free estimation for your mobile app
Post your project or request a dedicated team - we'll quickly match you with the right experts.
Post project