One of the biggest and most epic success stories in tech industry: Snapchat. From its very beginning, showing incredible progress, constantly growing the audience and strengthening market positions. Now, with over 300 million monthly and 178 million daily active users, the app has entered the top-5 photo/video sharing social networking apps. How to invent a product so popular? Well, we don't know the recipe. Let's try to find out the answer to another question: how much would it cost to make an app like Snapchat.
Snapchat: 3.5 billion snaps, 10 million videos every day  
The second reason, besides huge success, Snapchat attracts our attention is the implementation of Augmented Reality with the app. By launching Lenses and Bitmoji, Snap Inc. became one of the most recognizable AR apps. So how does one build a mobile app like Snapchat and what goes into it?
How does Snapchat work?
Snapchat is a free mobile app, available on App Store and Google Play. Originally, the most famous feature were self-destructing messages with pictures and videos. Since then, there were numerous updates of course. Now the focus has slightly shifted to Augmented Reality side. Recently launched "Lens Studio" software for Mac OS and Windows is yet another proof. It will allow users to create their own AR filters.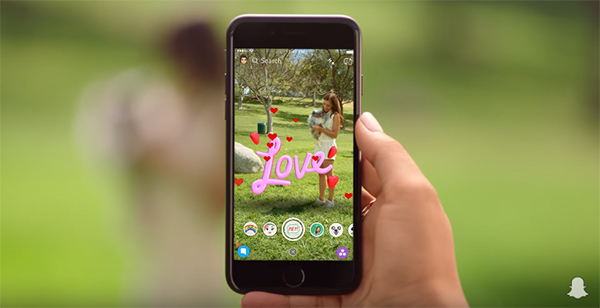 Snap Inc. positions itself primarily as "a camera company". That is why they provide advanced options for users to create/share the photo and video content. A user can take a picture, apply lenses, send it to friends or share it as a story publicly. In addition, there's live video chat, messaging, in-app calls, Bitmoji (avatars), discovering content and more.
Potential investors and others interested are more keen to know how to earn money with an app like Snapchat. This is not a secret:
Charges for sponsored lens (advertising brands and businesses)

Sponsored stories

Promo-partnerships

In-app purchases

Premium access
Following the footsteps of Snapchat, which went from a messaging app to a media giant and one of the top augmented reality apps, is not going to be easy. And the cost to make an app like Snapchat, or even a Snapchat clone, will be substantial, to say the least.
Snapchat: average daily in-app time spent per user – 30 minutes.
Snapchat features
Since the majority of Snapchat users are millennials, creators of the app are constantly upgrading it to hit a sweet spot. We can outline the most relevant features next, so you can decide for yourself which ones do you need when making an app similar to Snapchat.
Let's Build Your App like Snapchat
Provide us with your contact details and we will contact you today