One of the most popular mobile messaging app Viber, made a revolution in december 2010, in direct competition to Skype. The app gives users possibility to call each other, using voice over IP, sending pics, locations and audio records. That allowed to reach 90 million users in two years. Now, in 2017 the company has the 7th place in the rate of most popular mobile messaging apps worldwide, with 250 million monthly active users. Let's explore the reason of such a success and figure out – how much does it cost to make an app like Viber ?
How does Viber work?
When you install the Viber APK file, it suggests you to pass through a little SMS registration process. Then connects with your contacts list on a smartphone and shows you those, who are already using Viber. From this point you are in touch with all Viber users around the world without paying any dollar for roaming.
Also Viber has a feature that provides users the option to call mobile and landline numbers. Since 2014 the app has started to support video calls, and managed to reach high quality of a video frame. As a result, now Viber supports all known mobile operating systems, such as iOS, Android, Windows Mobile, Symbian.
We should warn you right away – the cost to create a messenger app like Viber is high.
Viber core features
Sending messages through the internet connection – is a basic target of the app. Here are plenty of tiny specs, including offline messaging, deleting both way, making phone and video calls, visibility options and group chat. By the way, the latter feature allows you to add 249 people in a one group chat.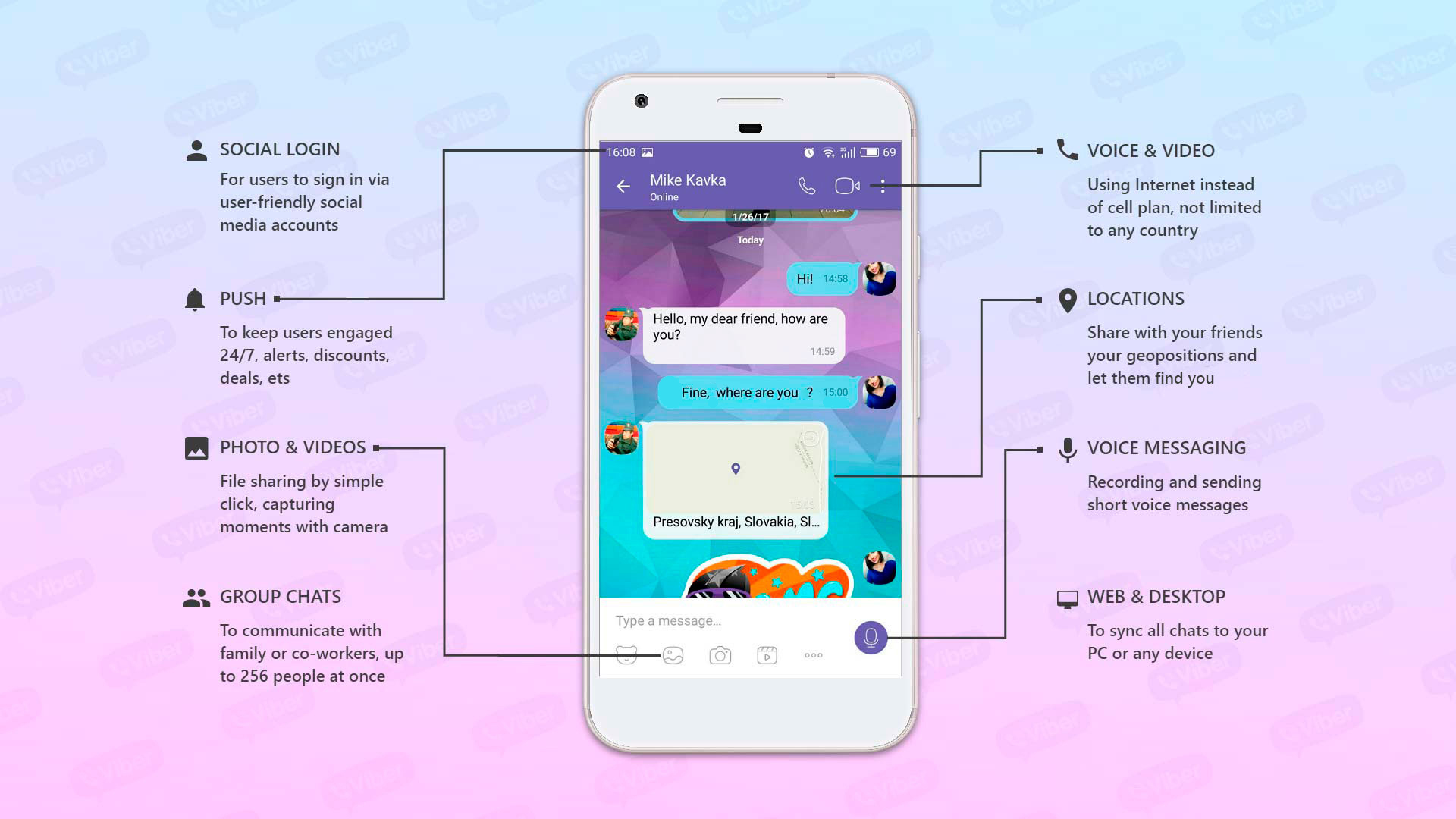 Few more important for communication options are: possibility to send variety of files, sharing locations, integration of different smiles or Giphy animations. It is something that users appreciate comparatively to different apps. As faster and easier these features would be, as in demand your Viber clone app could be.
Technology to make an app like Viber
Trying out Mongo DB and Redis, Viber Media stopped their choice on a Couchbase Servers, due to their`s high performance with billions of users. As for video calls, company uses self-modified WebRTC version. It allows to optimize ARM voice recording and capturing video for different 3g networks with low internet speed.
Let's Build Your App Like Viber
Provide us with your contact details and we will contact you today
Also technologies, supporting Viber`s high performance are:
Cost components, developer rates, tools and other aspects to make a chat app....
Bootstrap framework responsible for fronted which simplifies web development. It is the most popular HTML, CSS, and JavaScript framework for developing responsive, mobile-first web sites.
AWS, such as Load Balancing and Compute Cloud are responsible for stable flow and balancing of traffic between servers. These services supporting really high performance networking and provides up to 20 Gbps of consistent, low-latency performance.
REST & Real-time API are for "communication" between UI and server. These technologies lets server react to users requests instantly and integrate app deeper into their processes. Due to these services you can see, when your interlocutor is writing you a message, before it would be sent, for example.
SIP (Session Initiation Protocol) for making calls over voice IP using a digital telephone network and even more-to connect a user with an analogue telephones.
Cross-Platform Native Library that runs virtually unchanged on all platforms used. It is written only once and contain all business logic of your app, which is really comfortable in development.
End-to-End encryption between subscribers – the device sending the message and the device receiving has the key to spell out the code. That is what could be appropriate for your app too, cause people are bit paranoid about privacy and secret services chase.
Segment is a really useful hub to collect and analyze data. It helps to improve marketing while tracking all the functions used by a customer.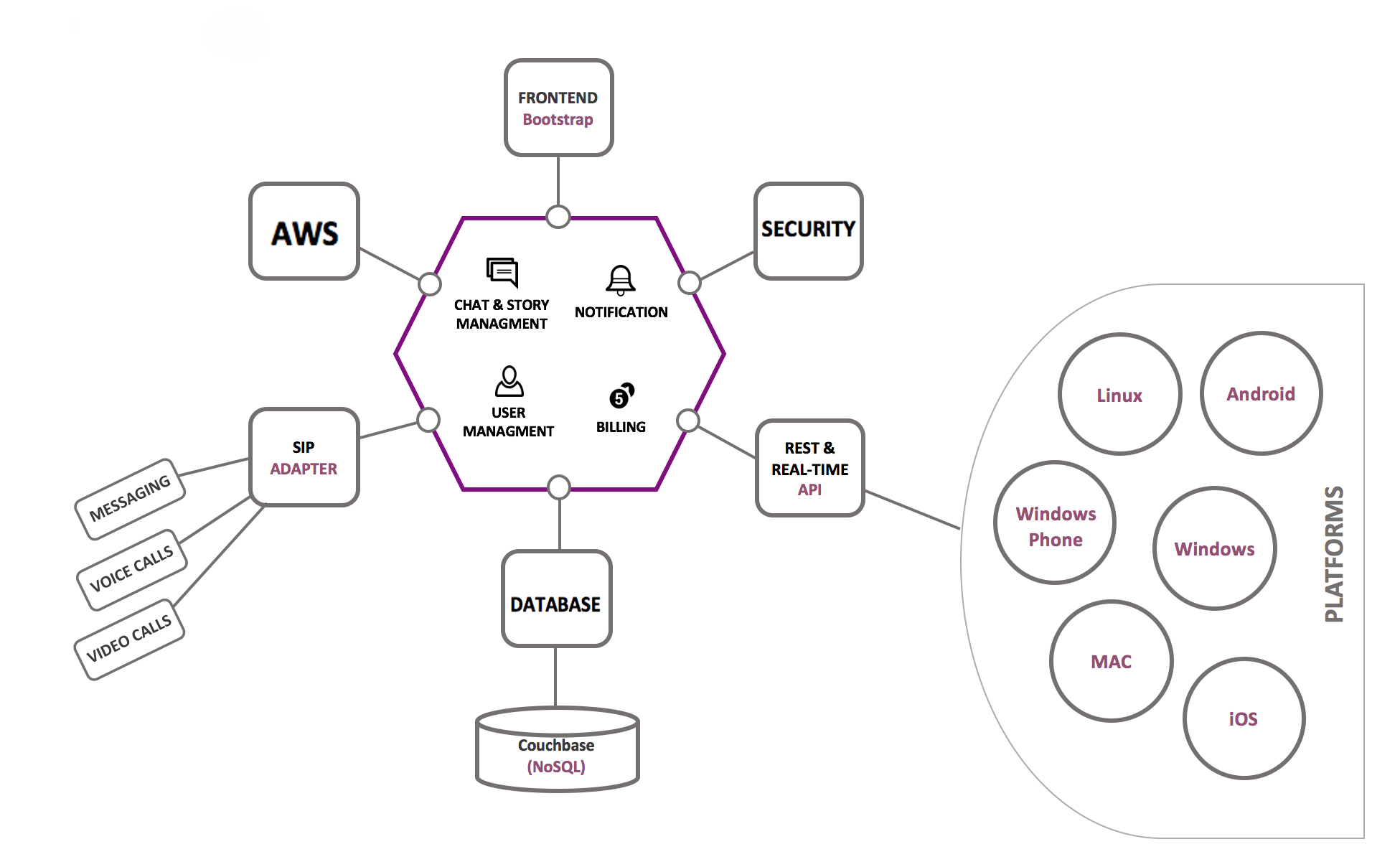 Cost components to app like Viber
In here we are facing the first expense case, involved in the process. Now you will find a short list of a regular team-requirements for Viber kind of app:
 1 project manager
 1 business analyst (optional)
 mobile developers (2 Android devs, 2 iOS devs)
 web developers (1 front-end, 2 for back-end)
 1-3 quality assurance engineers
 2-4 designers
 1-2 marketing managers (optional)
For persuasiveness of the right choice of the development team, let`s observe the process in details and count, how much does it cost to make an app like Viber?
Backend
is based on a Couchbase technology, as we described above, and requires minimum 750 developer hours.
User Module
It includes basic functions, starting from registration, login page, verification of phone number and restore of password continuing to synchronization with cloud services, contacts, settings and social platforms integration, will take in general approximate 400 development hours.
Communication Module
It's ingredients are: tet-a-tet and group chats, push notifications, voice and video calls, location share and files exchange. Also don't forget about message popups, calls to landline and mobile phones and following organisations and public accounts. This step will require to devote 650 developer hours.
Storage
Database for offline history and synchronization when go offline is not a hard working episode of a development process. In this case we predict 200 hours of work in total.
Payment
Viber uses Google InApp billing and In-App Purchase, creating a convenient and safe payment process in the same time. Approximate developing of this phase would take 40 hours, but still it depends on the payment systems you would choose.
iOS/Android
On a market there are plenty of apps represented with supporting only one mobile operating system. And it is your decision-which one to choose. Anyway, multi supporting app like Viber increase chances to became popular and find a proper users with iOS, Android, Windows Mobile or Blackberry devices. Many of the most popular apps were starting with iOS versions and later implemented Android versions. Take it as a hint.
Total estimate of Viber cost

Looking for an appropriate developer company, to create your own app like Viber, consider that development prices vary geographically. UK and USA are the most expensive-one developer our cost $100-150, European developers calculate $40-80 per developer hour, Central Asia countries are the cheapest – $20-40 per hour. For our approximate estimation of how much does it cost to make an app like Viber.
Let's assume that we would choose an average price of $50 per hour. At ThinkMobiles we have skilled app engineers for hire at $30 hourly rate.
iOS application
Android application
App for both platforms
Back-end
                               $40.000
$40.000
Development
$50.000
$44.500
$94.500
Design
$20.000
$20.000
$40.000
QA / PM
$8.000
$5.000
$13.000
Total cost (approx.)
$118.000
$109.500
$187.500
So, how much does it cost to develop an app like Viber? Summing up all the above we have a price for app like Viber around $109.500 – $118.000 for one platform,or prepare $187.500 of your budget, if you want both popular platforms iOS and Android support it.
Let's Build Your App Like Viber
Provide us with your contact details and we will contact you today