PC optimization (cleaner, repair) apps are a particular group of software that can either help by cleaning junk files, or make things even worse, like installing scam apps. And it is not so easy to find a solid tool considering that most trial versions are stripped of functionality. To assist readers seeking how to free up space on Mac we will review relevant methods and apps to get extra space, clean cache, remove duplicate files, etc. For some, macOS capabilities will do the job, for more options we'll test out several optimizer apps.
macOS native optimization tools
These methods and tools are as simple and secure as it gets, so anyone can do it without special skills. Find and clean up your device from big-size files, or files that are not in use for a long time, and you'll see the difference.
To open a tool we need, click the Apple logo in Menubar or Topbar > About This Mac > Storage tab > Manage.

Here we can see a few options macOS friendly recommends us:
iCloud

– Apple's cloud storage ($1 – 50 GB, $10 – 2 TB).

Optimize Storage

– mostly for iTunes and Mail apps, it deletes movies that have been watched and wipes out irrelevant mail attachments.

Empty Trash Automatically

– deletes all from the Trash bin every 30 days.

Reduce Clutter

– offers a list of large files to remove.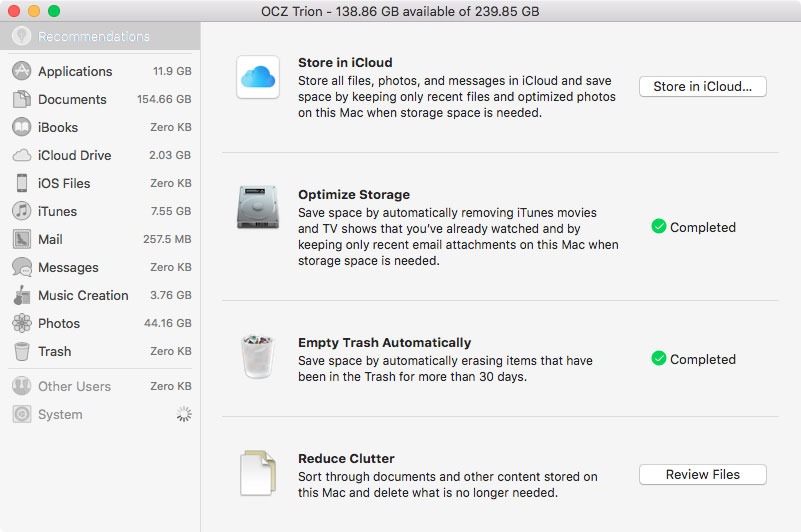 We were definitely stunned to see 2,015 files we had no idea about. And by deleting most part of it we freed 7 GB of disk space. Also, as you see, there is a menu on the left side showing file types and Mac storage situation, thus serving as a nice hint to find extra free space.
To manage iTunes, iOS backups
If you own several iOS devices, you are synchronizing all via iTunes. There are two ways iTunes is saving backups: a) To This Mac, or b) To iCloud; and if you've never changed this option, it is saving To This Mac by default. 
To find all iOS backups on a Mac open iTunes > Preferences (or press CMD⌘ + , ) > Devices tab. Why are we mentioning this? Sometimes it happens that two copies of the same device are saved, therefore you can easily delete one and free up to 5-15 GB. 
To manage iTunes media, you need to know the directory: open iTunes > click iTunes on Topbar > Preferences (or press CMD⌘ + , ) > Advanced tab > iTunes media folder location. In this folder, you will find music, podcasts, movies, and delete what you don't need anymore. So, these are 2 main ways to free up space on Mac. Typically, it could result in 10-20 GB.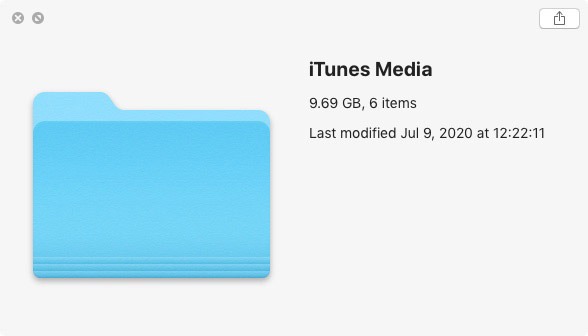 Trusted optimizer apps 
We've selected applications carefully to make sure it is not a scam or potential malware. Yet, we also encourage users to double-check everything before installing third-party software on a Mac. We've set aside 4 apps with brief descriptions and a summary at the end. The summary contains features, performance (space freed), pricing and user ratings. 
| | | | | |
| --- | --- | --- | --- | --- |
| Developer | macOS | Size | Version | License |
| Avira Holding GmbH | 10.12 or later | 52 Mb | 1.1.0 | Free  |
At the moment, this app is free. It offers such optimization tools as Clean Junk, Cache Files and Browser Trash , Delete large/duplicate/old files, OnWatch (reminder), etc. There are two ways to scan the system: complete and large/old files only. 3.93 GB is the size of files Avira found in our case. 

An informative mini-window displays current CPU, RAM, storage. Also, there is a Run at startup option, to activate it click the Settings button and check the respective box. Judging from the App Store and our own impression, the overall rating score is 4.5.
Pros
free optimization tool

trusted software vendor
Cons
currently in development, more features to come
| | | | | |
| --- | --- | --- | --- | --- |
| Developer | macOS | Size | Version | License |
| MacPaw Inc. | 10.10 or later | 105 Mb | 4.6.8 | Free / Pro ($35.95) |
CleanMyMac is a multifunctional app to optimize a device and to free up space on Mac. This app offers features to clean outdated cache, system junk, logs, large files, to scan for viruses and malware, to uninstall programs. After a full system scan, we found 4.78 GB of files, mail attachments, iTunes data and system junk.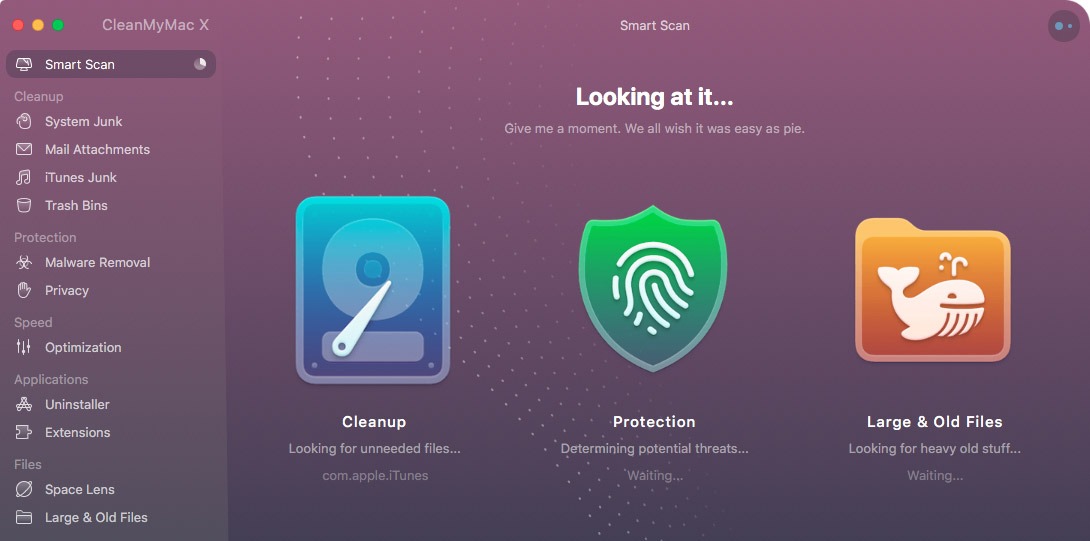 Trial version of CleanMyMac has limitations: only 500 Mb of files to clean and one app to  remove. Yet, the advantage of trial is full information about Mac storage. In terms of pricing, the app for one Mac per year costs $35.95, and there are other plans. User reviews are split, both positive and highly negative.
Pros
user-friendly interface

rich feature set in one app
| | | | | |
| --- | --- | --- | --- | --- |
| Developer | macOS | Size | Version | License |
| J. Schrier, I. Stein | 10.13 or later | 27.5 Mb | 1.8.2 | Freeware  |
This is, actually, not an application but a small and free utility. The main and the only feature is to delete all language packages you don't use on a Mac. It is a freeware, but anyone can support it by donating on this page. In our case, we saved almost 2 GB.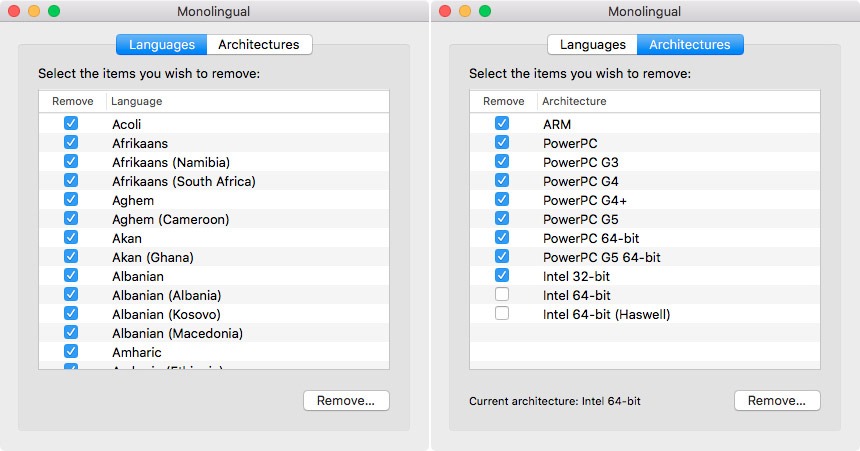 We'd like to draw attention to the fact that the algorithm automatically unchecks languages currently in use (see language panel in System Preferences > Language & Region). You also can manually uncheck any language. The app can remove both system packages and other programs' languages, i.e. Microsoft Word, PowerPoint, Excel, iMovie, etc. 
Pros
free up to 2 GB in minutes

freeware, independent development
Cons
to restore language packages you need to reinstall macOS
| | | | | |
| --- | --- | --- | --- | --- |
| Developer | macOS | Size | Version | License |
| MacPaw Inc. | 10.10 or later | 41 Mb | 2.6.4 | Free / Pro ($19.99) |
Gemini is a duplicate finder with a few search modes: custom search, pictures, music, admin folder search. When scanning, Gemini automatically opens the iTunes and Photos app to  check for duplicate pictures and music. At the same time, the app consumes a large amount of system resources. Manual file selection to clean is surely an available option. Pro version costs $19.99 per year, whereas a fully functional trial lasts 3 days and you can't delete any files through the program.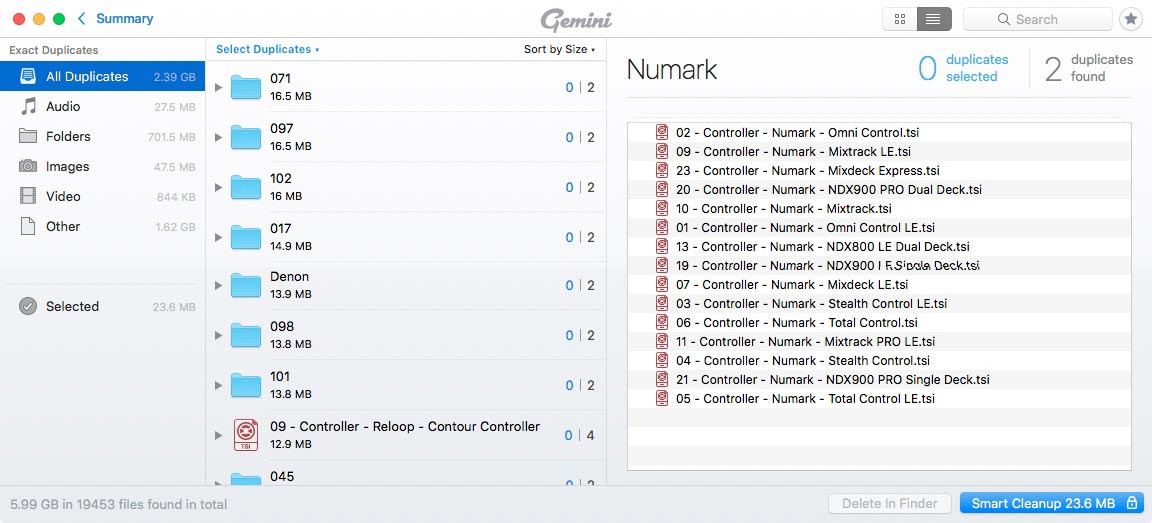 Pros
fully functional trial

pictures and music duplicates finder
Cons
negative user reviews

lengthy scanning
Summary
| | | | | |
| --- | --- | --- | --- | --- |
| Product | Tools | Freed space* | Pro / year | User ratings |
| Avira Optimizer | Clean junk, cache, delete large/duplicate/old files, alerts. | 3.9 GB | Free | 4.5 |
| CleanMyMac X | Clean cache, system junk, logs, virus/malware scanner, uninstaller, display of hardware load. | 4.8 GB | $35.95 | 4 |
| Monolingual | Delete unused language packages. | 2 GB | Free | 4.5 |
| Gemini 2 | Delete duplicate data, media, etc. | 3 GB | $19.95 | 3.5 |
* – Our own test results on a MacBook Pro that hasn't been optimized for about two months. 
Read next: Uninstaller apps for macOS.