You may have different reasons for removing Google Chrome, suppose you don't like it, or just want to reinstall it. Anyway, today's topic will be about how to properly completely uninstall Google Chrome. Removing a browser does not take much time or technical skill. Although, this process should also include wiping out residual files and registry entries left behind. Special removal tools deserve attention as they do this automatically. Let's take a closer look at both options – automatic and manual.
Option 1. Uninstall Chrome with special software
Software developers offer products that are designed to remove programs and clean the registry. Some of them are objectively better and, thus, more popular. These include IObit Uninstaller, Revo Uninstaller and CCleaner. The less popular ones include Anvi Uninstaller, BC Uninstaller and Total Uninstaller.
High acclaim does not necessarily equals quality, of course. You can read more about similar products in our 7 best uninstallers article. To go through typical steps of uninstallation, let's apply two different programs, IObit and Anvi. 
IObit Uninstaller. Launch IObit Uninstaller from the Programs tab. All you have to do is to find Google Chrome in the list of apps. For convenience, the program allows you to sort them by the installation date, size, etc. Tick the checkbox next to Google Chrome and click Uninstall.

In the next window you can choose to create a restore point and automatically delete the remaining files. We recommend that you agree to both functions and click Uninstall. No additional tools, clicks and actions are required, just wait for the process to complete. At the end, IObit Uninstaller will provide you with the information about the released disk space. If necessary, Google Chrome can be easily restored in the System Restore menu.

Anvi Uninstaller has a worse stylistic design, but we are interested in its functionality. Launch Anvi and look for Google Chrome in the list (sorting is also possible here), highlight it, click Uninstall and confirm.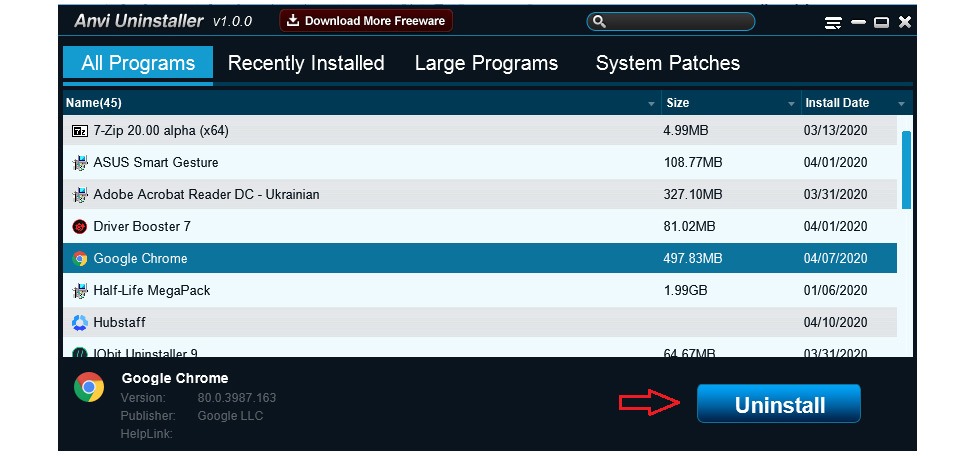 In the next window you can see the progress of the uninstallation, which consists of three steps:
System restore point creation;

Standard uninstall;

Removing the residual files and registry entries (Pro version). While scanning, you will see a list of residual files and registry entries. Select the unnecessary (or all) and delete them.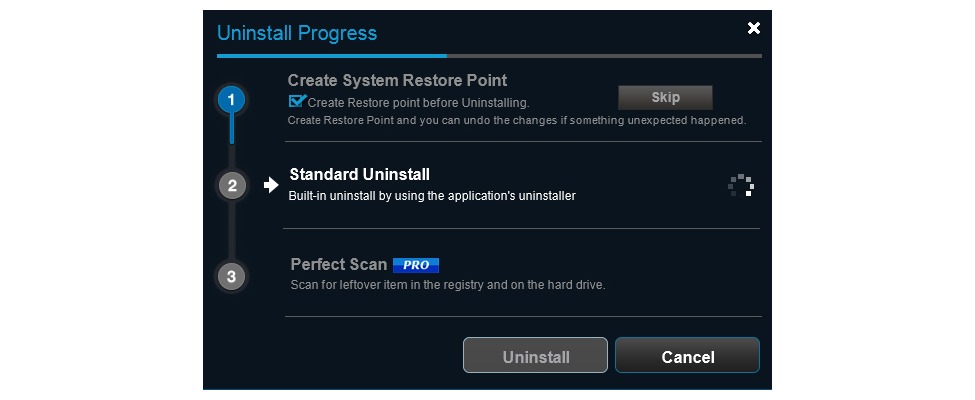 Option 2. Remove Chrome with Windows utilities
This method is for those who do not want to use third-party software or prefer to uninstall programs manually. Start the removal of the program in the standard way, through Control panel. Before all the procedures, be sure to log in to your computer administrator account. 
Step 1. Stop the processes and delete program files. Press Ctrl+Alt+Del and open the Task Manager. Next, sort the list of processes by name and end all Google Chrome processes.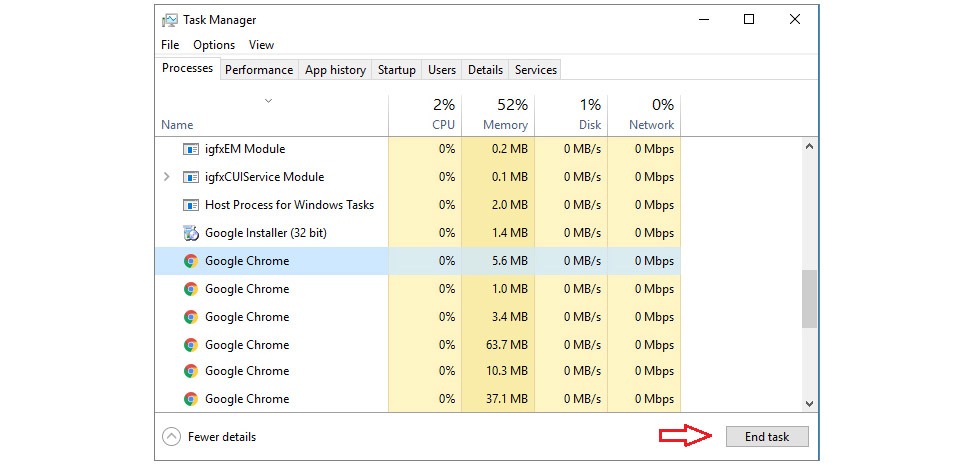 Right-click on Start and select Programs & Features in the menu. A new window will open in which you need to find Google Chrome and highlight it. Then right-click it and select Uninstall (or use the button on the top).

Next to Delete personal data it is important to tick the checkbox to completely delete Google Chrome information from your computer. If you will not do it, the user bookmarks, settings and a number of other saved data will remain on your PC.
Step 2. Delete information from the AppData folder. After uninstalling the program, you need to delete the residual files, some of which are stored in the hidden AppData folder. You can remove Google Chrome information from it as follows:
Open the Explorer. You need the View tab (above), or rather its Settings.

In the View tab, activate the Show hidden files, folders and drives option.

Then go to the location C:UsersusernameAppData and delete all existing Google folders.
Alternatively, press Win+R and enter %appdata%, which will open the needed section faster.
Step 3. Clean the registry. The last step to completely uninstall Google Chrome is to delete the registry entries as follows:
Open the registry editor. To do this, press Win+R, type

regedit

and press OK.

Save a backup copy of the registry. Choose File > Export > Entire Registry. Specify the storing location, file name and .reg format, then click Save.

Look for the necessary registry entries. Press Ctrl+F, enter

Chrome

in the search box, then enter OK.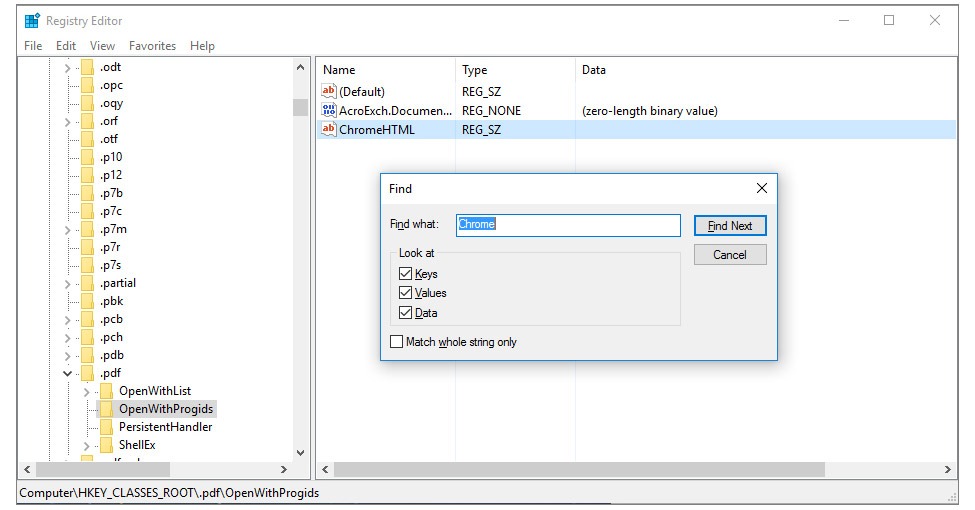 Delete all the found items. Right-click on the selected item, select Delete and confirm the selection. Then press F3 to go to the next registry entry associated with Chrome and repeat until all of them are eliminated (the Registry Search Complete message will appear).
Read more about PC optimization and malware cleaning in our best pc optimization and best antimalware software articles.
Option 3. Delete Google Chrome from mobile devices
To uninstall Google Chrome on iPhone, simply click on the app icon on the home screen and hold your finger in that position for about a second. Then in the upper left corner you need to click on the cross, confirm the action and wait for the removal to complete. That's it.
Google Chrome is a part of the Android system, so you can't just remove it easlilly. It is still possible to uninstall Google Chrome, but you will have to take actions that will break the warranty of your device and, most likely, will harm it. However, you can turn Google Chrome off, which is safe and provided for Android:
Make sure you have installed an alternative browser that will be used by default after Google Chrome is turned off.

Go to Settings > Apps and find Chrome in the apps list.

Tap on it and press Force stop, then Disable.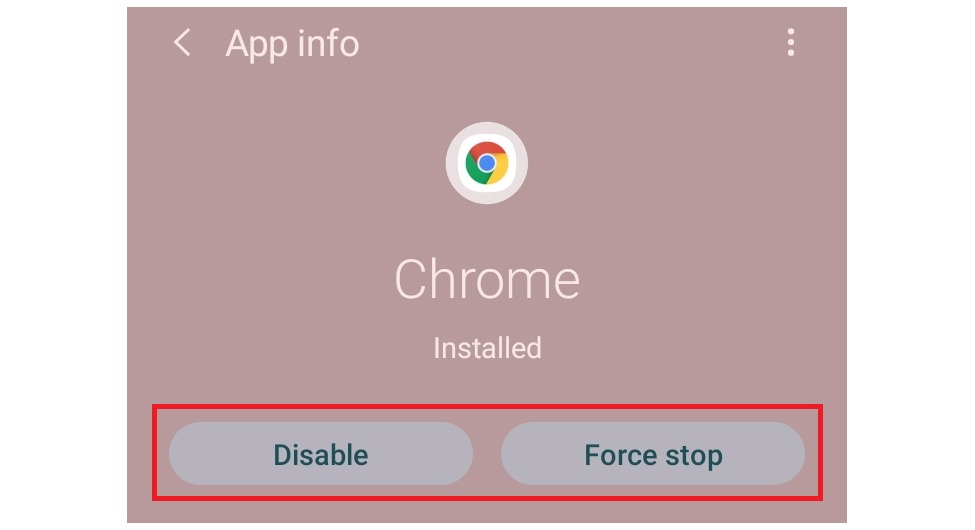 Similarly, you can return Google Chrome back to the system, but the Disable button will be replaced by Enable.