What are Nvidia drivers? These are drivers intended for PC video cards with Nvidia GPU (graphics processor unit). However, not for Nvidia cards exclusively, because many manufacturers make video cards with Nvidia GPU. So, the "Nvidia video card" expression could refer to all such cards.
The Nvidia container consists of such items as graphics driver, GeForce Experience, PhysX System Software. GeForce Experience, by the way, as paraphrased from the official vendor website, is the companion app to GeForce GTX graphics card. Its task is to update drivers and optimize gaming settings. There might be certain situations when a user needs to uninstall Nvidia drivers. They can be solved with our advices our with using software from our best uninstallers list.
Important! Don't remove the driver from the system if you are not sure about the consequences.
How to boot in safe mode
It is recommended to start in Safe Mode to remove the Nvidia driver because some files might be in use and, thus, not accessible to uninstall. Otherwise, there will be leftovers remaining or the deletion process will be erroneous. To boot into safe mode, you need to go through the following steps:
Press Win+R.

Type "

msconfig"

 and click OK.

Go to the Boot tab.

Select your current OS (when more than one OS installed).

Tick the Safe boot box and click OK.

Click on the Restart button.

A computer will be booted in safe mode.

Go to "

msconfig

" again and uncheck the Safe Boot box. 

Now you can proceed to safely uninstall Nvidia drivers.

How to uninstall Nvidia drivers
Now we can move onto the main subject. There are two main ways to remove Nvidia drivers: 1) Uninstalling drivers only, 2) Remove NVIDIA programs. In the first case, i.e. if you want to only delete the graphics driver, then perform these steps:
Open Run command (or hit Win+R button combination), type in "

devmgmt.msc" and click OK.


Go to the Display Adapters section, right-click on the Nvidia adapter and select the Uninstall Device item.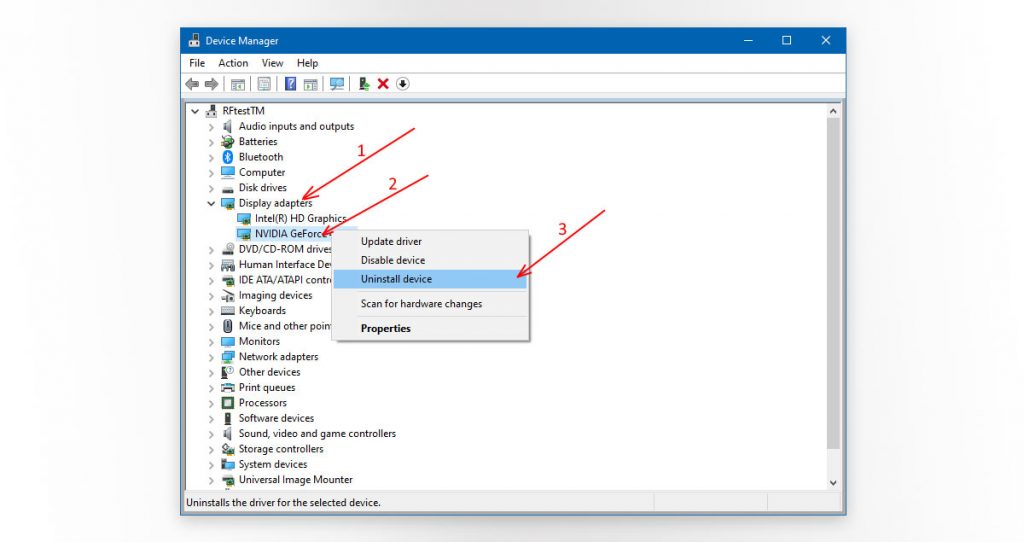 Check the box for "Delete the driver software for this device" option and then click the Uninstall button.

This way, we only delete the driver, not the entire Nvidia software suite. There are still Nvidia files on the HDD.

Uninstall using standard Windows utility
For the second case, when we really want to remove all Nvidia programs, we could do it with a standard Windows utility – Programs and Features.
Go to Control Panel (Start > Windows System > Control Panel), or type "

control

" in the command line and click OK. 

Click the

Uninstall a program

item if the view is organized by the Category option. If a view is sorted by icons, just click the Programs and Features item.

Find Nvidia entries (GeForce Experience, Graphics Driver, PhysX System Software) and remove them one-by-one. Click an entry and hit the Uninstall/Change option.

Confirm removal in the appearing Nvidia Uninstaller. 

Reboot the PC afterwards.

Uninstall using 3rd-party software
There are also 3-rd party programs that can help us remove drivers. Often referred to as "uninstallers", these are software, specifically designed to remove programs from PC in the most efficient way possible. You can find our review of 7 best uninstallers to learn more. There are also uninstallers solely to deal with drivers. Let's try out 3 examples to uninstall Nvidia drivers.
One is Display Driver Uninstaller, or DDU. It's a small (2.5 mb) portable program that can delete display drivers only, as the name suggests. We launch DDU and it displays an alert box with options on what to remove.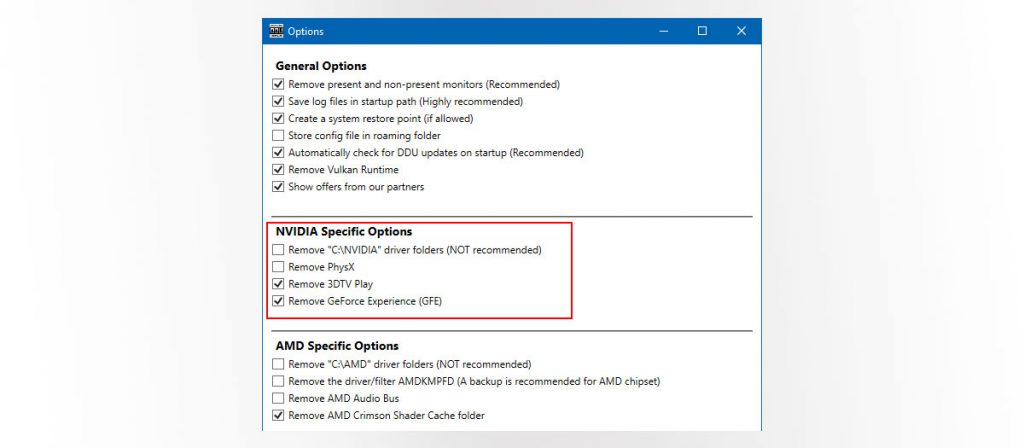 The Nvidia section, for instance, provides options to remove PhysX, GeForce, or the whole Nvidia folder, where unpacked installer files are located. Close the window if you do not wish to change the default settings. Then, select a device type (Audio or GPU) in the first dropdown list on the right, and select NVIDIA from the second dropdown list. Click the Clean and Restart button. Also, note that DDU will create a restore point too. Wait until the computer restarts.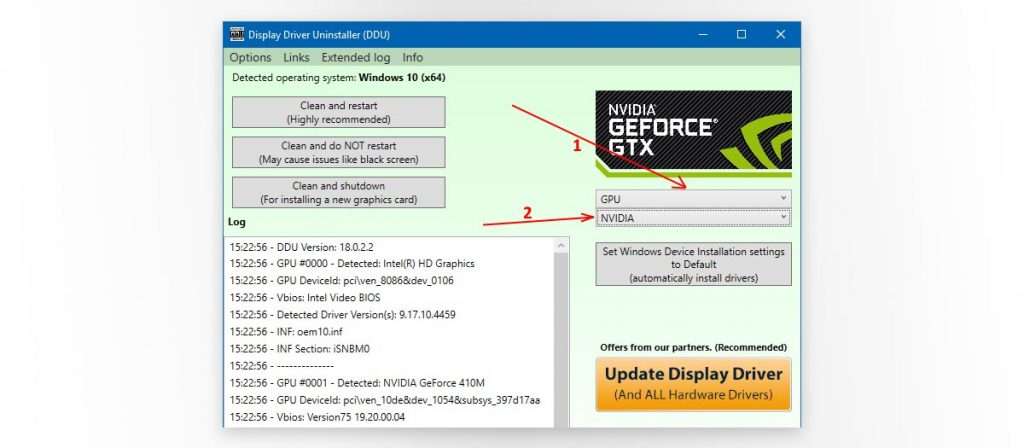 Another special utility for removing drivers is Driver Store Explorer. Although, it wipes out drivers only, not all Nvidia software. On the other hand, it is able to remove all types of drivers, along with display drivers. So, to uninstall Nvidia drivers with this app, we launch it, and in the Display Adapters section tick a box for Nvidia items. Then we hit the Delete Driver button on the right, and reboot. 

The third program we'll use, is IObit Uninstaller, which is more functional than DDU and is quite popular among users. Launch it and go to Program > All Programs, checkbox the Nvidia programs we want to get rid of.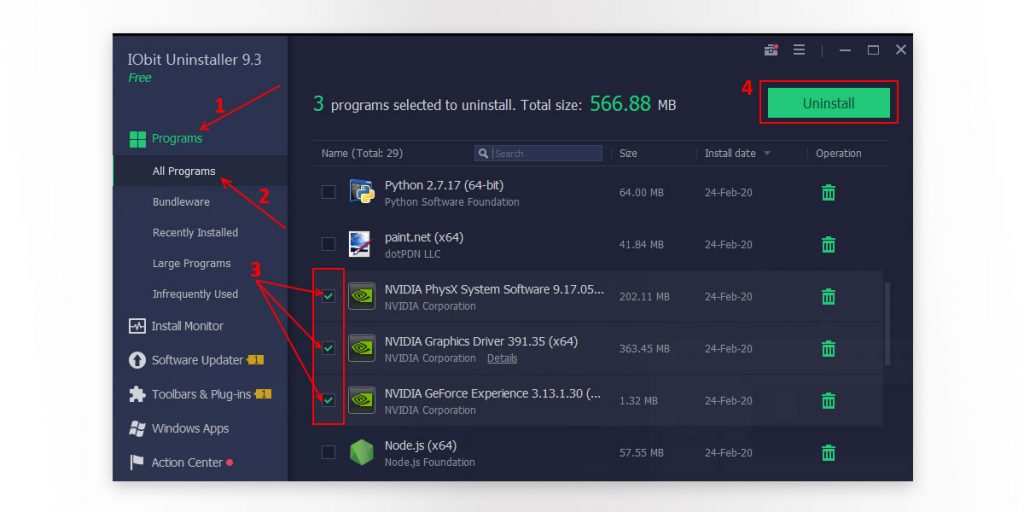 Then click the green Uninstall button and wait until the utility performs the task.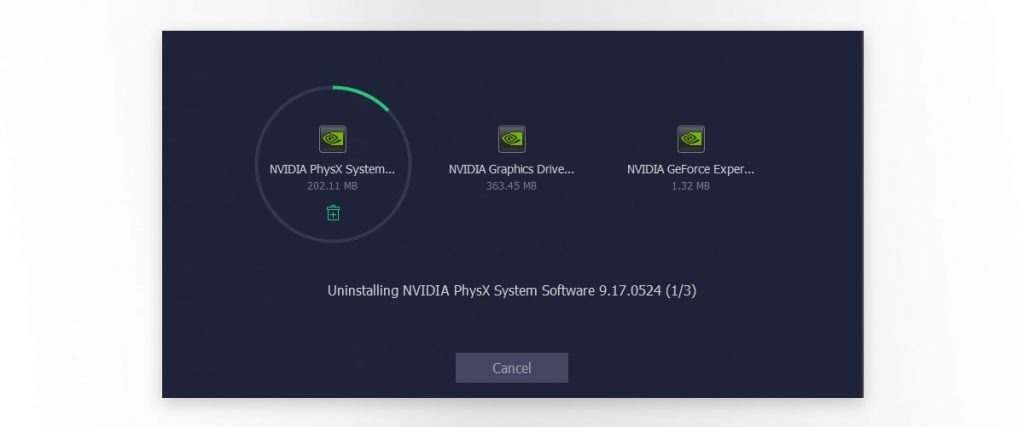 When it is over, iObit Uninstaller offers to clean the leftovers. Mark the items you wish to remove, click Delete, and then reboot the PC.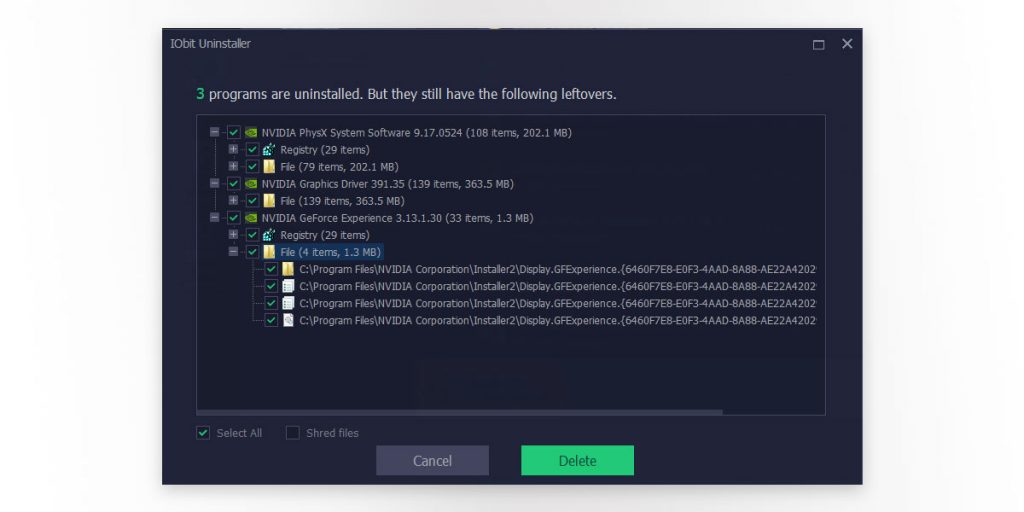 These were a few  different ways to uninstall Nvidia drivers and you can choose the one that suits you. We'd also encourage you to discover Top-10 FREE driver updater tools.