WebDiscover belongs to the group of potentially unwanted programs (POPs), which worsens the user experience significantly while browser use. It installs a customized Chromium browser and redirects your search queries through Bing search engine. As long as these programs try to promote other software, you can face phishing, tech support scam, or other dangerous sites.
It's most likely that you're reading this article, because you are looking for instructions on how to uninstall WebDiscover, which you have already accidentally installed. We have several ways out to help you, but first we would like to explain why WebDiscover is really dangerous.
WebDiscover is browser hijacker software, a type of adware. In case it is installed on your PC, you will get the following issues:
Browser settings changing

Technical data stealing

System violation and slowdown

Redirecting to unknown sites (in order to promote them)

Resistance to uninstalling (they might be restored in some time after uninstalling)
In this article we've described two main ways to uninstall WebDiscover from your PC. All you have to do is to follow the instructions.
Uninstall WebDiscover manually
Step 1. Run Windows in the Safe Mode. There are several method to do this, but we use the following one:
Press Win+R and enter

msconfig

in the command line. Press Enter.

Go to the Boot tab and tick the Safe boot checkbox choosing the Minimal parameter.

Click OK and restart your PC.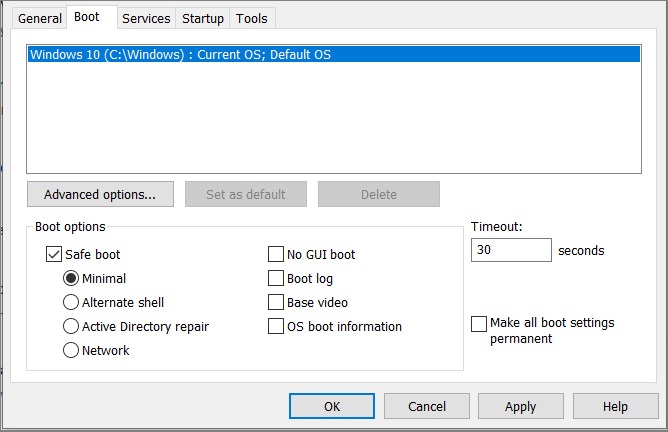 Important: Use your Microsoft account password to log into the system.
Step 2. Uninstall WebDiscover through the Control Panel.
Press Win+R

and enter

appwiz.cpl

in the command line. Press Enter.

Find the WebDiscover program and click the Uninstall button above.

Step 3. Clean the registry.
Important: be careful on this step! You could crash your system in case you remove any important files. We advise you to use the special software for these goals. For example, free registry cleaner tools that we have tested and described in this Best registry cleaners article. But if you are a proficient PC user, follow these steps: 
Press Win+R

and enter

regedit

in the Command line. Press Enter.

Click File > Find

,

enter

WebDiscover

in the search line and click Find Next.

Then press F3 to go to the next registry entry associated with

WebDiscover

and repeat until all of them are eliminated (the Registry Search Complete message will appear).
Step 4. Reset your browser settings.
In order to reset settings in Google Chrome, you should perform the following:
Open browser settings.

Go to Advanced settings.

Find Restore settings to their original defaults and click on in.

Confirm the action.

Remove WebDiscover using an uninstaller
The most simple way to uninstall WebDiscover is to use special uninstallers. There is a lot of such software available on the market. We will show you how to uninstall WebDiscover with IObit Uninstaller, one of 7 best uninstallers. 
Step 1. Launch the IObit and navigate to the All Programs tab. Find WebDiscover, tick the checkbox near it and then click the Uninstall button above.

Step 2.  In the popped up window we advise you to tick both checkboxes in order to create a restore point and remove residual files after uninstalling. Then press Uninstall.
Step 3. IObit Uninstaller automatically deletes all residual files if the program is in its database. To be sure that all the residual files were removed, clean your registry as it was described in the previous method.
Step 4. Reset your browser settings as it was described previously.
Read more about PC optimization and malware cleaning in our best pc optimization and best antimalware software articles.