WinZip is a popular archiver program that is used by millions of users. Though no matter how useful the program may be, it is often necessary to completely uninstall it, whether for proper reinstallation or simply because it is no longer needed. This article will explain how to completely uninstall WinZip from your PC safely and efficiently. Please note that removing a folder with an application isn't a proper way. Everything needs to be cleaned and eliminated once and for all. There are two options that are described in detail below. 
Note: We base these instructions on Windows 10 64-bit PC, yet other OS will be quite similar.
Uninstall WinZip in a conventional way
To uninstall WinZip from a computer running Windows 10, 8, 7, or XP, it is sufficient to use the standard program removal tool. It may not be as fast, convenient or high quality as using special uninstallers. In any case, you need to know how to do it manually.
Step 1. Deleting application files.
First, you need to quit WinZip. It is very important to exit the program before you can uninstall it.

Open Task Manager > Processes. You can do this in a variety of ways, such as via Ctrl+Alt+Del or right-clicking on the taskbar (in the bottom), in the context menu select Task Manager. Finish all the processes related to WinZip. Some of them work in the background mode, so they may prevent the program from being deleted properly.

Open the application manager using WIN+X or right-click Start > Programs and Features.

(

Alternative: Start > Settings > System > Apps & Features. This menu differs only in the interface, functionally everything is identical).


Find WinZip in the list of programs, select and use one of the Uninstall buttons. Confirm your selection and wait for the process to complete.
*Alternatives to Step 1. It is not rare that various errors occur in the process of uninstalling certain programs. WinZip is no exception, so here are two examples of alternative uninstallation. The first option is to locate the WinZip shortcut, right-click it and select Open file location. There find the Uninstall file (it may be under a different name – Unins000, Uninstall64/32, etc). Run it and wait for completion.
The second option, if the first one cannot be enacted, is for extreme cases only. Locate the WinZip shortcut, right-click it and select Open file location from the shortcut menu. You can find the desired folder manually through C:/Program Files (x86)/WinZip. Highlight a folder and delete it (or move it to Trash).
Step 2. Clean up the registry.
This step may seem difficult and not entirely safe for inexperienced users. In this case, we recommend using a special registry cleaner software (free CCleaner, paid Uninstall Tool, etc.).
Create a backup of the registry just in case. Click File > Export. Specify the file name and location to save it (this file will be a backup of the registry). Click Save. It is important to make a habit of backing up your registry every time before you make changes to it. It protects you from unforeseen consequences and wrong actions.

You need to delete the folders and.or files of the residual registry entries. Use CTRL+F to call Search and enter

WinZip

.

Right-click on the found folders or files, and press Delete. Then press F3 to move to the next folder and repeat the process until a notification that the search is complete is displayed.
Step 3. Delete the residual files.
The final step to completely uninstall WinZip is to clean up the residual files and folders, which, depending on the removal option, may be present on your PC or not, it's normal.
Check the following folders for the residual folders:
C:/Users/Name/AppData/Local

C:/Users/Name/AppData/Roaming

C:/ProgramData
If WinZip folders are found along these paths, just delete them and empty the Recycle Bin.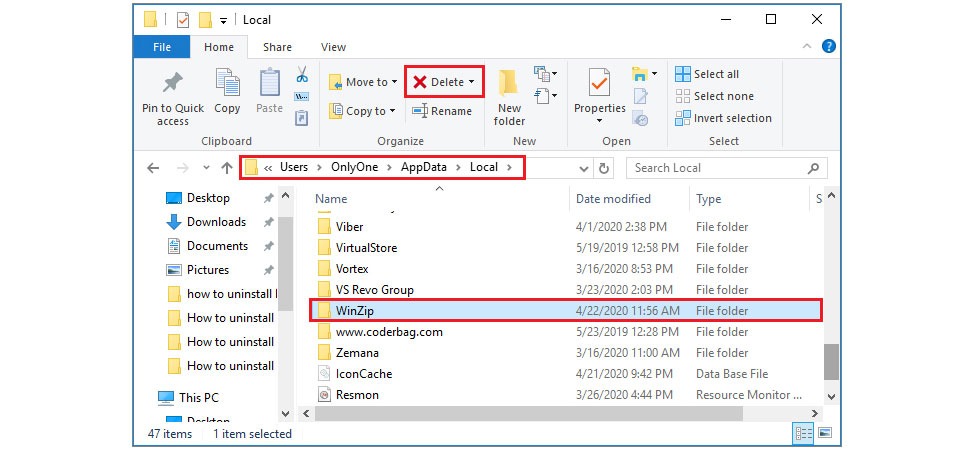 Remove WinZip using special software
We must say that the fastest and most thorough way to remove WinZip is to download a powerful software to clean your PC. If you have no idea what software is the smartest choice in this big market, then our article 7 best uninstallers may be helpful for you. We will demonstrate how to uninstall WinZip using Ashampoo Uninstaller and IObit Uninstaller. Let's start with Ashampoo Uninstaller.
Open the application. Then go to Applications, and use the sort, filter, or search to find the WinZip you want. Highlight it and click the Uninstall button at the bottom of the menu.

In the settings menu, you can touch nothing and trust the program, and you can further customize various functions to your liking.

Then the whole process may or may not be automatic. We recommend that you use the automatic settings and delete any found residual files, folders, and registry entries. In any case, follow the instructions and wait until the removal is complete.
Now the same with IObit Uninstaller. Usually, most uninstallers run the same intuitive even for the beginner script. See for yourself:
Open the application. This time in the Programs section. Find WinZip, highlight and click Uninstall.

Be sure to enable the Create a restore point before uninstall option to prevent deletion errors. In this case, you can always return everything to its place.

At the end of each deletion, you can see a report that shows how much space was freed up on the disk, how many and what files were deleted, and more.
Read more about PC optimization and malware cleaning in our best pc optimization and best antimalware software articles.
Conclusion
Remember that you can consider the WinZip removal process complete only after you restart your PC. However, for the ease of the process and a greater security, we still recommend you to use a special software created for such tasks. If it is difficult for you to choose such a program, you can find more information about it in our 7 best uninstallers article.