Kaspersky Internet Security review
As we've previously touched on security software reviews (see Malwarebytes, Avast for Android, Best anti-spyware), we could not go around and not do a Kaspersky antivirus review. Kaspersky Lab is an international company founded in 1997 by Eugene Kaspersky. The company specializes in producing security software against computer viruses, spam, hacker attacks and other cyber threats. The company operates in roughly 200 countries, with HQ in Moscow.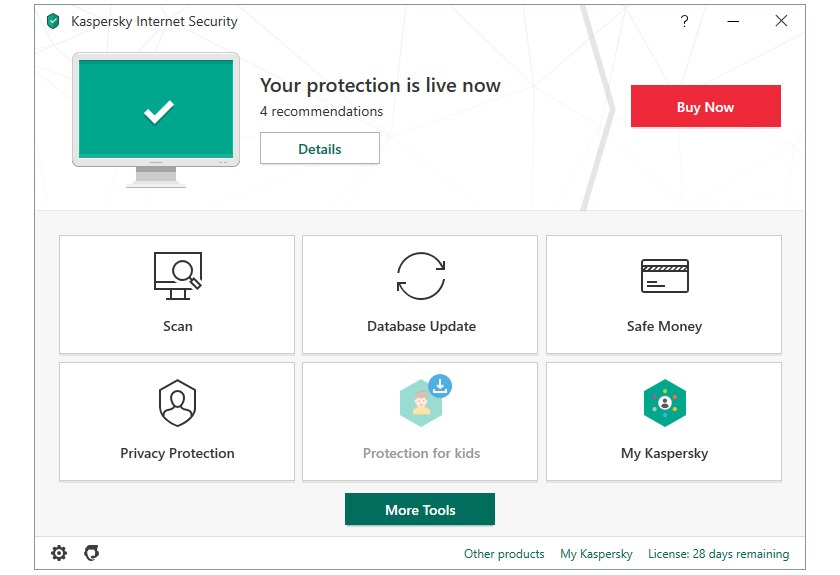 Specifications, pricing
Let's start with checking Kaspersky free antivirus basics. 
install file name: kis20.0.14.1085abcen_es_fr_19081.exe

install file size: 2.69 MB

ms5 hash install file:

1/71 at VirusTotal

version: 20.0.14.1085

size after installation: 380 MB

Internet connection required
System requirements are nothing out of the ordinary: 2 GB RAM, 1 GHz CPU, 1.5 GB disk space, OS – Windows 7/8/8.1/10.  
For this brief Kaspersky Internet Security review it would also be sound to cover its 3 packages. 
Features / Pricing

Kaspersky Antivirus
Security Cloud
Security Cloud – Personal

Core protection

✔️

✔️

✔️

Secure connection (VPN)

–

✔️

✔️

Password management

–

✔️

✔️

Personalized security alerts

–

✔️

✔️

Account check

–

✔️

✔️

Privacy protection

✔️

Safe money

✔️

Home WI-FI monitoring

✔️

Price

Free

Free

$90 (1 year, 3 devices)
Security tests
As with all ThinkMobiles software reviews, we used the following test stand (configuration):
To test the detection capabilities of Kaspersky, we ran it against several Eicar test files in different formats (com, txt, zip, zip inside another zip). All were successfully detected. 
Eicar testing for Kaspersky

real-time
eicar.com
eicar.com.txt
eicar_com.zip
eicarcom2.zip

✔️

✔️

✔️

✔️

✔️
Same goes for real-time protection mode: the app instantly alerted us and blocked the harmful download file.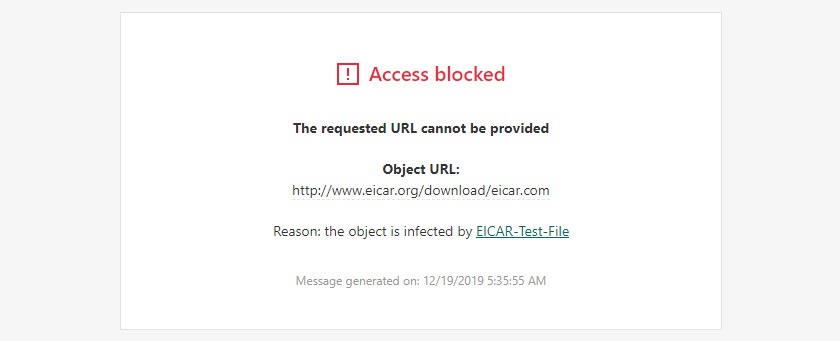 Then, to test the real efficiency (on actual viruses) we took this archive with 3,732 files, 99% of which are viruses. Download the archive, password: 111. Most of files inside are not harmful to the latest Windows OS versions, as they originate from MS-DOS times, yet are perfectly fit to test security software. So we downloaded this ZIP, unpacked it and then ran Kaspersky. We experienced the following:
3732 viruses present
1021 found (27,3%)
1 hour 11 minutes spent
The most surprising of all herein was the fact that only 1021 threats were detected, which is roughly a third of the total. The next logical step was to scan the archive itself (as is). This was pretty fast, lasting around 10 minutes. Although another two curious facts occurred: the different count of files (4172), and after finding 3676 threats the archive was deleted. Also, the program did not allow to extract files from the archive, when the protection was turned on.
3732 viruses present
4172 files detected
3676 viruses found (88,1%)
10 minutes 37 seconds spent
Performance tests
Firstly, we ran both types of scan (fast and full) via Kaspersky antivirus to see how long does it take, what it detects and how it impacts the system. See the results below.  
Scan results of Kaspersky

Scanning type
Time
Scanned files quantity
Load CPU (avg)
Fast

56 sec

2,583

~17%

Full

6 min 21 sec

234,788

~85%
Secondly, we wanted to see more closely how does the antivirus affect the system. For this, we used PCMark 10, a leading tool for PC/network performance measurement. We ran it 3 times with Kaspersky disabled, and got the average figure of 4403: 4394 (source), 4407 (source), 4409 (source).
Then we enabled the antivirus and ran PCMark, again, 3 times – to get more informative picture. The average result was 4309: 4312 (source), 4291 (source), 4324 (source).
From all of the above, we could confidently summarize that Kaspersky Internet Security antivirus impact equals to -2.13% PC overall performance drop. Whether will it be too much or not for a specific system, or user to feel the difference, we don't know, but now you have a factual figure. 
Key features
A very pleasant and even necessary addition is Manage applications. If the antivirus does not find a threat in a really dangerous application, Manager applications will not allow the dangerous object to make changes to your system without confirmation. The user is given the opportunity to change the rules for interacting with his files in the system, registry or network.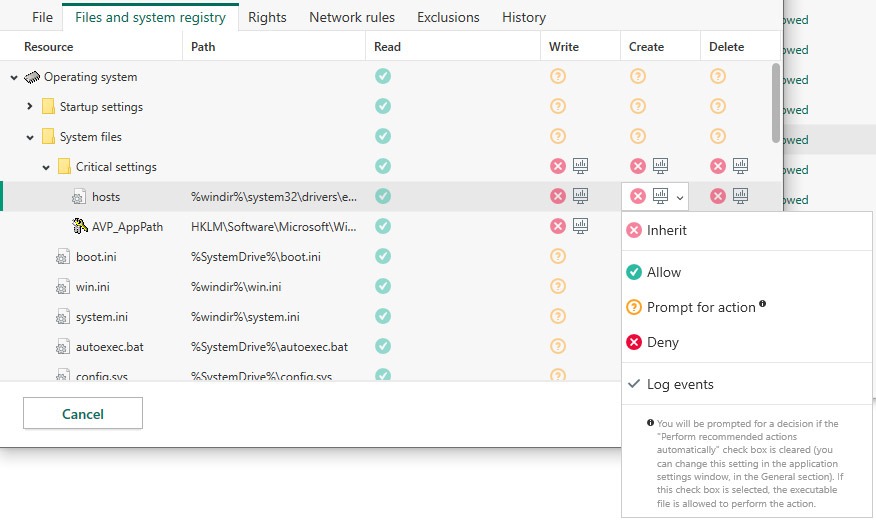 In addition, the Security Network collects data about your system and its applications and displays summary data about them if you also have this application installed. Beside Application Manager there's also Firewall and Network Monitor. The interface of both is pleasant and understandable even for a beginner.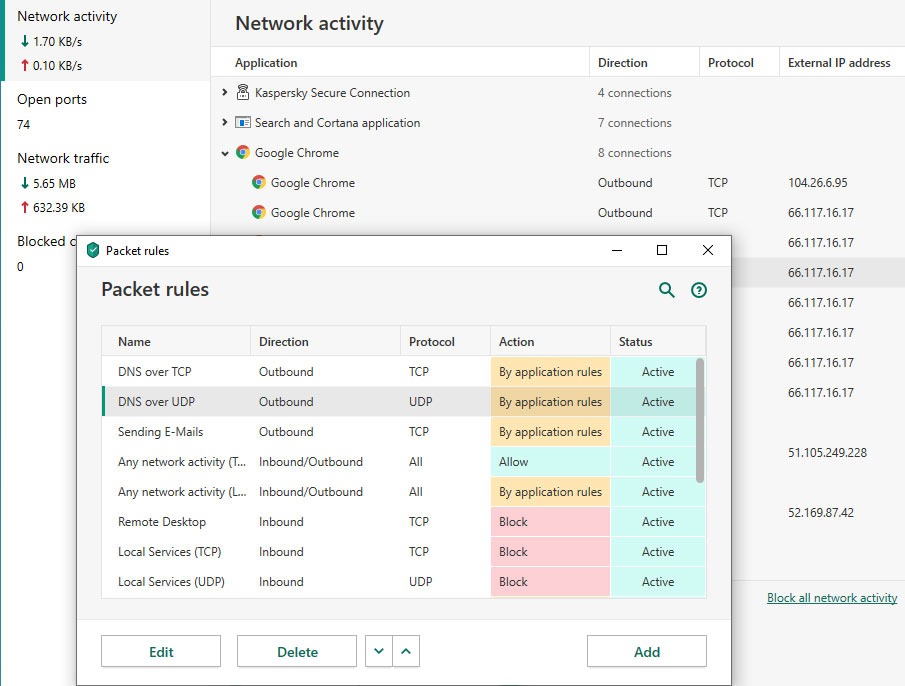 Of course this is not all, there are a number of additional useful functions from the security and reliability category. For example, backing up and restoring data, encrypting data with AES 56-bit and Shredder to delete files without the possibility of restoring. By the way, a nice bonus is that Shredder has a number of methods for deleting: Quick delete, GOST R, VSITR, DoD, NAVSO, etc.
There is a whole section, Clean and optimize, among the additional and less relevant functions for the antivirus and security of your device. 
Support
Support channels

E-mail
Phone
Web chat
Internal form
Web form

✔️

✔️

✔️

–

✔️
Support is available in 36 languages: English, Bahasa Indonesia, Čeština, Dansk, Deutsch, Eesti, Español, Français, Italiano, Latviešu, Lietuvių, Magyar, Nederlands, Norsk, Polski, Português, Română, Srpski, Suomi, Svenska, Tiếng Việt, Türkçe, Ελληνικά, Български, Қазақ, Русский, Српски, Українська, Arabic, Farsi, Hindi, Thai, 대한민국, 日本, 简体中文, 繁體中文.
Notice: Kaspersky can be called an international company, because rare antivirus program provides support in so many languages. In addition to tech support, there is also a whole community, a blog, and how-to videos. For many languages there is a 24/7 support.
An unfortunate association
Sadly, the tale of Kaspersky also has a caution, and quite a serious one. There is a well-founded allegation supported by cyber-security experts, that this popular antivirus has been (and is still) one of the tools of Russian intelligence to spy on users. Moreover, in 2017 the US government banned Kaspersky throughout the country on the grounds of national security.  
We cannot either confirm or deny this, as we haven't been permanent users and only used it for tests and review, as one of the most popular antivirus. In search of specifics on this matter, we've seen reports about KSN feature (Security Network, kind of analysis HQ of the company), VPN, virtual keyboard (keylogger?), parental control (accessing browser history). For more details, we can refer you to this article by A.Zacks. 
Kaspersky antivirus review: Summary
Kaspersky offers its users a large number of products for home use (B2C), and the number of products for business users (B2B) is even greater. In fact some of the products are a set of ready-made solutions in complex.
Initially, we were deliberating on which product to go with for this Kaspersky antivirus review: Internet Security or the new Security Cloud. As a result, we compared both and there was no difference in speed and detection of threats. Both only differ in the components included and slightly in the interface. 
For example, Security Cloud has Password Manager buttons in the main window, which you need to download anyway. And there are also Secure Connection, PC Cleaner, etc. Thus, if your choice falls on a product from Kaspersky and you only need protection, then take what is cheaper. And if you need additional options, then you will have to spend a little time to choose the package. You may as well get advice from the community and/or support team to decide.
Unfortunately, the threat detection has not impressed us. Perhaps Kaspersky does not consider threats for MS-DOS to be threats, but nevertheless they are threats, and in our subjective opinion it should have detected them. And regarding that the number of scanned files is bigger than it actually is, maybe Kaspersky parses each file component-wise and checks each individual component if there is one? But why count them and show to  users?
Kaspersky's personal account is worth special attention. It allows you to control all products on a personal, family or corporate devices. It also displays summary information on their status and security, and allows you to remotely start scanning, enable/disable protection components, etc.
Pros: Large selection of products for safety Light load on device while running in the background Convenient personal account to manage multiple devices Network monitor for Multilingual products
Cons: Weak detection of potentially dangerous software (judging from our tests) Alleged user data collection
FAQ
Q: How do I choose the right Kaspersky product?
A: There is a form on vendor page, having answered a couple of questions of which you will get the best solution for you within 30 seconds.
Q: How to disable advertising messages in Kaspersky?
A: Go to (Settings -> Additional -> Notifications), you can uncheck the following boxes: 1.Receive informational messages and advertisements from Kaspersky Lab; 2. Show information about special offers; 3. Receive special offers for social network users; 4. Receive informational messages and advertisements after the current license expires.
Q: "You exceeded the maximum number of activations..." error appears
A: Log in to My Kaspersky portal and contact the support service having described the problem and activation code.
Q: How to activate an account if the "verification link has expired"?
A: Log in to My Kaspersky system and click on "Send a link again".
Q: What is Kaspersky Safe Kids capable of?
A: Kaspersky Safe Kids monitors the safety of your children. You decide what is safe for your children: what websites they can visit, how far they can go from home and how many hours they can spend using a computer or smartphone and what applications to use, monitoring calls and SMSs, social pages networks and stuff. The application guarantees that your children will follow the rules that you set under the control of iOS, Android, Windows, MacOS.
Q: What is Kaspersky Security Cloud?
A: Kaspersky Security Cloud is a security service that goes beyond the usual protection against viruses and other computer threats. The app provides personalized recommendations and adaptive protection scenarios built around you and your family.
Q: How to exclude a folder in Kaspersky?
A: Go to (settings -> additional -> Threats and Exclusions -> Manager exclusions) Here, by clicking the "Add" button, you can select objects or entire folders with all their content that you want to ignore, and also for these folders and objects you can select the protective components that you want to exclude.
Q: How to transfer Kaspersky license from one PC to another?
A: Uninstall the Kaspersky product on the old device and then install it on the new device. In the activation window specify the subscription activation code.
Q: How to block site with Kaspersky? How to allow site?
A: To block sites you must use Parental Control.
Q: How to use Kaspersky sandbox?
A: Kaspersky Sandbox can be managed using the web interface. On any computer, on which access to the Kaspersky Sandbox server is allowed, enter the IP address of the Kaspersky Sandbox server in a browser. A window for entering the credentials of the administrator of Kaspersky Sandbox will open. Enter the username and password of the Kaspersky Sandbox administrator that you specified when installing the application.
Q: How to use Kaspersky VPN / Secure Connection?
A: Right-click the notification area of ​​the Windows taskbar and see if Kaspersky Secure Connection is running in the background mode. Click on this icon to open it, then slide the toggle switch to activate it, leaving the location for automatic selection, unless you have a reason to change it. Enjoy safe surfing with an activated VPN.
Q: How to use Kaspersky Rescue Disk?
A: Burn the image to a USB media or CD / DVD drive, boot from this media, select the language and boot type Rescue Disk. For more detailed guidance, visit the Kaspersky website in the support section.
Q: How to use Kaspersky password manager?
A: Using Kaspersky Password Manager, you can synchronize information between all your devices and the cloud database. To synchronize, use the same My Kaspersky account when installing Kaspersky Password Manager (Mac, Android, iOS, Windows). Data is stored in an encrypted password database. Access to the database is possible only if you know the master password.
Q: How often should I run Kaspersky?
A: To secure your system, Kaspersky should always be running in the background mode.
Q: How to prolong Kaspersky license?
A: Open your Kaspersky product and click the "update" button, then follow the instructions.
Q: How to turn on/off Kaspersky real-time protection?
A: Go to settings and open the "Protection" tab. Disable and enable all types of protection that you need.
Q: How to stop Kaspersky from running on startup?
A: Go to settings, the "General" tab, and disable autorun by clicking on the appropriate field (checkbox).
Q: How to remove Kaspersky?
A: Removing applications from Kaspersky lab is no different from uninstalling a common application. Go to "Uninstall or change a program" in the list, find the application you want to remove and click "Uninstall".
Q: Where is Kaspersky logs location?
A: You can save the logs anywhere, for this you need to go to the toolbar (Tools), select the "reports" tab, then select the type of report, its period, etc., as a result there will be an "export" button that allows you to export the logs to the specified place in the form of a text document.
Kaspersky Free Antivirus reviews
0