Isn't it a nicest New Year gift for every AR/VR enthusiast that Magic Leap has given us a few days back? As you've probably heard, one of the most famous tech startups has revealed a demo, a prototype of a brand new AR system called Magic Leap One. Well, not quite revealed, more like allowed a sneak peak to few. It is truly great news of innovative augmented reality hardware pushing the boundaries, and keeping the suspense at the same time.
What we know: Magic Leap is a mysterious startup from US (not even from Silicon Valley, but suburban Florida) working on a head-mounted display for augmented reality. They've been working on it for six years and collected $1.9 billion (yes, with a B) investments from giants like Google, Alibaba, Qualcomm. Magic Leap filed for 97 patients in one week in 2015.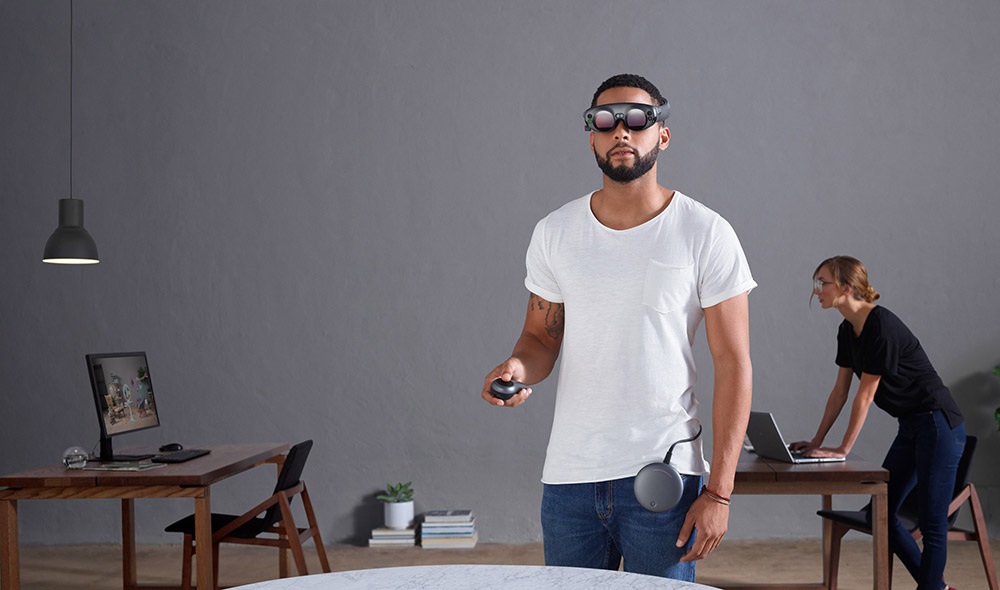 The retinal display should superimpose digital images over real objects and into the user's eye. Thus, the brain should perceive virtual objects as part of the environment. The package actually includes a portable mini-computer and a wireless controller, along with a pair of goggles to go on the head. And despite sounding odd, it looks very futuristic and stylish.
Let's Build Your AR app
Provide us with your contact details and we will contact you today
With all that and only a glimpse on their website, we still do not know much about how it will actually work or when will it appear on the market. The year 2018 will bring more announcements. Until then, a few selected media outlets (The Rolling Stone, Wired) have been welcomed to play and try Magic Leap One.  
This might be the future of computing. A new technology that stands to append the way we work, communicate and play. WIRED
And according to them, Magic Leap describe their invention as Mixed Reality, as it combines aspects of both virtual and augmented realities. A person with AR goggles on wouldn't see much of a difference between real and digital, virtual objects and data would seem just a part of our surroundings. Here, take a look at Magic Leap's earlier demo.
Stunning, but that's all we know so far. So while we'll be waiting for it, let's look closer at this AR headset demo.
3-in-1 AR system
The revealed "creator edition" AR system Magic Leap One consists of 3 parts. And while a body-worn computer and hand controller look practical, those a bit oversized goggles seem like from the Mad Max movie. Anyways, the system reportedly has multiple input modes (voice, gesture, head/eye tracking) and overlays virtual objects for a view. An SDK to develop apps for Magic Leap set for early 2018.
"Lightweight" headset. According to their website, it has a lot of functions: from site mapping, precision tracking, to sounds. Digital light projected by the headset should blend with real light smoothly, not interfering with the physical world perception.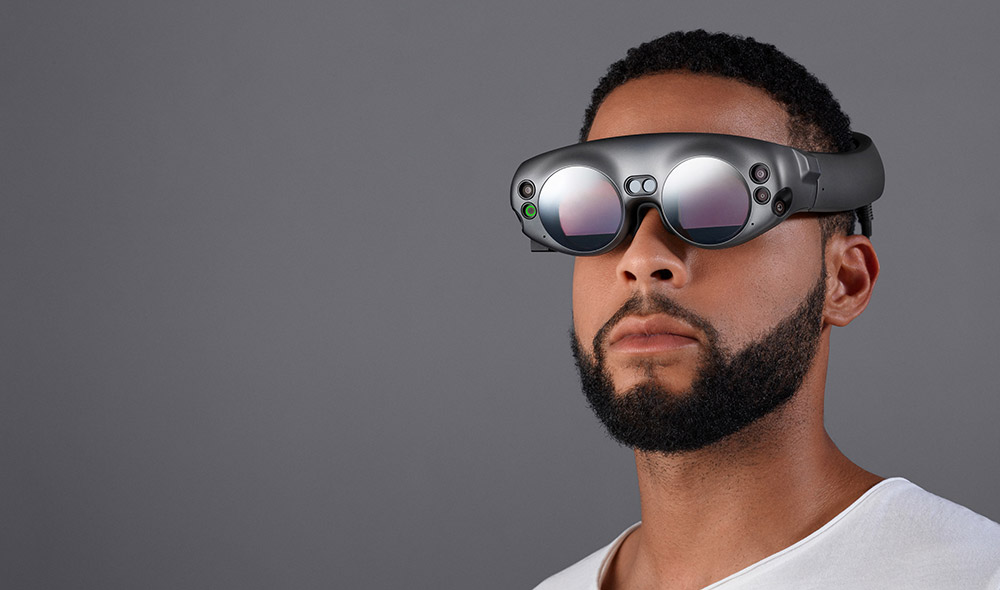 Using sensors and cameras the headset glasses project augmented reality via the lenses. And whatever you see, you can interact with it. Cool, but we'll see. The field of view, according to  Rolling Stone, "is about the size of a VHS tape held in front of you."
Lightweight has 4 built-in microphones and 6 external cameras to track position and movement.
"Lightpack" computer. A separate processing unit that powers the headset, though goggles should also do some processing (?). It is shaped like a puck and can be worn on a belt, for example. It is wired to the back of the headset, and all we know vaguely is that it is capable of  "high-powered processing and graphics."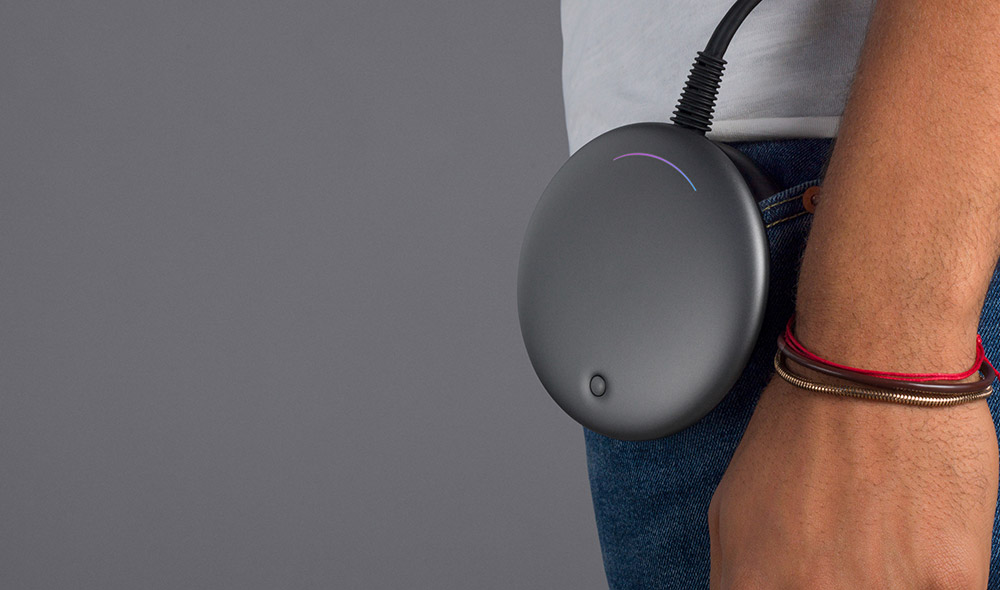 Magic Leap CEO Rony Abovitz apparently says that the Lightpack is similar in power and graphics to a MacBook Pro or an Alienware gaming PC. And supposedly there will be another computer in the headset. All in all, this sounds a lot like Microsoft HoloLens, while should have a larger field of view.
Controller. It comes with no name and is the main way of interaction with generated augmented reality. The black circular button is a haptic touchpad, providing feedback through vibration, and you may also click on it. Some say it is similar to the controller on HTC Vive. It stands out with a 6DOF (degrees of freedom) controls, while today's VR headsets offer only 3DOF.
Potential areas of use for Magic Leap One
The ability to see holographic images at various distances would be amazing. The headset should capture beams of light, the direction and the amount of light in a given space. It would allow VR/AR developers and engineers to append virtual objects with a sense of depth. Take a look:
Isn't it an exaggeration and how much better it will be than HoloLens or Google Glass? We're not sure yet. Magic Leap promises brand new experiences in areas like everyday personal routine, productivity, education, and gaming. The common theme is basically to replace the screens in our lives. Instead of watching a football game on TV, viewing it collectively on a floating jumbotron, or a projection of the solar system in 3D.
Warner Bros and Lucasfilm are partnering with Magic Leap so we can expect something fascinating on that front too. There are also "Digital Live Artists" and "Digital Music Venue" apps patented by the company, so definitely some concert or studio environments are in the works.
And the most anticipated and major thing: the Creator Portal due to open in 2018 by Magic Leap!
How much will it cost & final words
Some rumors say about $1,500 to $2,500, but no official confirmation yet. Market experts agree that Magic Leap One's prime competition will be Microsoft HoloLens, which currently costs $3,000. Judging by what Rony Abovitz told to Rolling Stone – "I would say we are more of a premium computing system" – the price can even be higher than of HoloLens. At the same time, "if there's enough interest in the first iteration, the price will eventually come down."
Right now, as we all have food for speculation, Magic Leap works tirelessly on the next move. Engineers are calibrating optics and hammering out the technology, at the core of which is a photonic light-field chip (not a lense). It has micro-structures in it, managing the photons and creating a digital signal. One way to describe it in simple words is "dreaming with your eyes open", according to the team.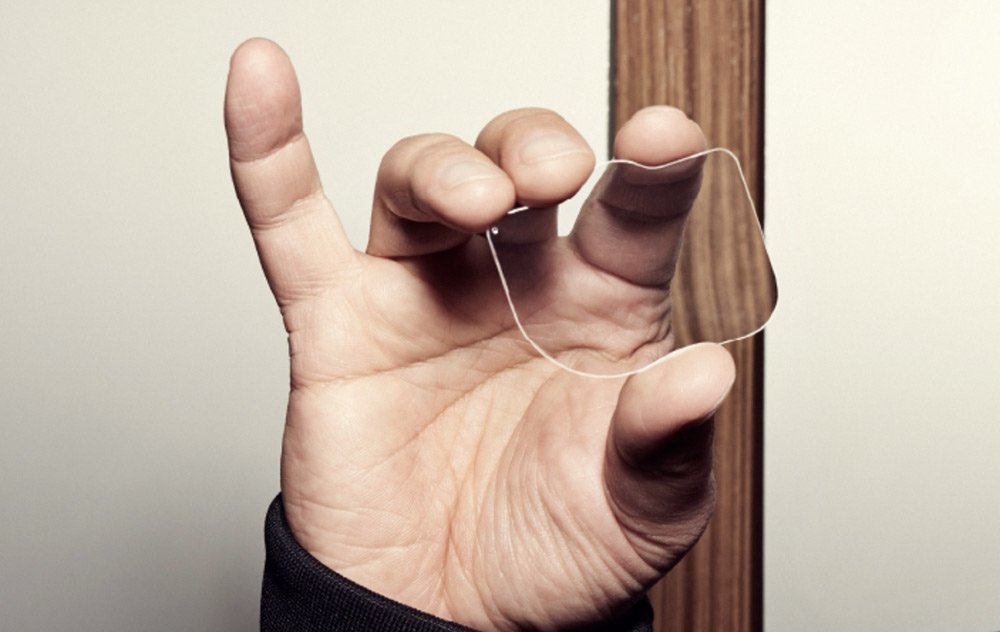 There's no commitment to a release date, the only unveiled is next year. With a new approach, breaking away from two-lens VR, and based on a light field instead, this mixed reality system could change the industry drastically.  
To learn the philosophy behind it and all the technical intricacies, read the Rolling Stone piece. Will this be the next big buzzword or bring actual innovation, we shall see. Pun intended, let's leap into 2018 with Magic Leap!
Let's Build Your AR app
Provide us with your contact details and we will contact you today