Thanks to the advanced IT software, Forex traders are able to work both on their PCs and via mobile gadgets as laptops, tablets, and smartphones. MetaQuotes Software Corporation that has been developing professional trading software since 2000 created the most popular automatic software for Forex trading – MetaTrader (MT). MT4 vs MT5 is the issue baffling the minds of many brokers.
MetaTrader is the world's most popular trading platform. It enables traders, Forex Brokers and liquidity providers with the top-notch software for the instant connection, with no lagging and automatic 24/7 schedule. The platform has two versions – MetaTrader 4 and its updated version – MetaTrader 5.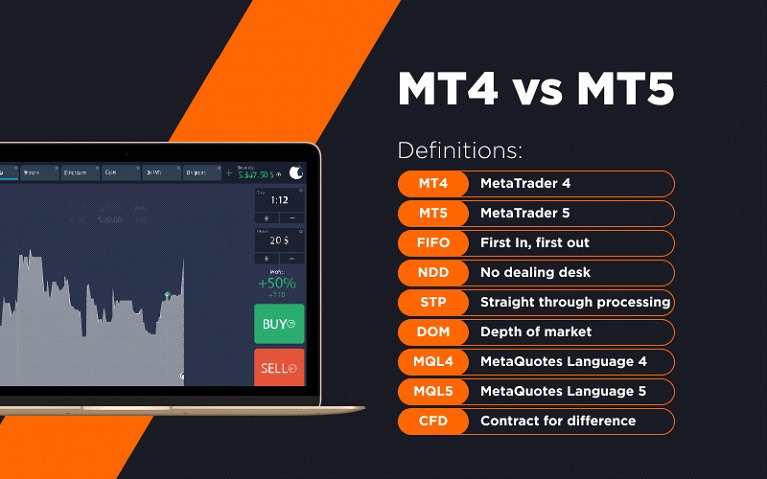 MT4 vs MT5: why two versions?
MT4 came to play in 2005, and MT5 in 2010. And within those 5 years, the trading market had changed and the community's needs evolved so much, that the development team just couldn't upgrade the MT4's programming language. Instead, they had to create a new coding language from scratch.
And programming languages are used to create trading robots (also known as "algo", "EAs" or "advisors"). These robots help traders, sifting through charts and signaling any important events (for instance, significant upward price moves).
Since MT5 got its own programming language, it became impossible to easily convert indicators from MT4 into MT5. The only way to do is to engage a diligent, qualified and willing coder in C++ whom are very hard to find and employ. Amazingly, if you've developed dozens of effective robots on MT4 and show the profits month in month out, you are better off sticking with MT4 than trying to migrate the robots to MT5.
Naturally, there are many similarities between two versions of this software. Both platforms support auto-trading systems that come with expert advisors and trading robots. These are the "new-age trading" features the Forex traders are now looking for when choosing a trading platform.
Can't decide which platform will be the best for a Forex trader in 2019-2020? Below is the list of specific features in MT4 and MT5. It's time for MetaTrader 4 vs. MetaTrader 5 software comparison.
MT4 vs. MT5: the comparison of basic features
MT4 has a very appealing user-friendly interface. It will be perfect for novice users. The users can customize the interface according to their trading needs.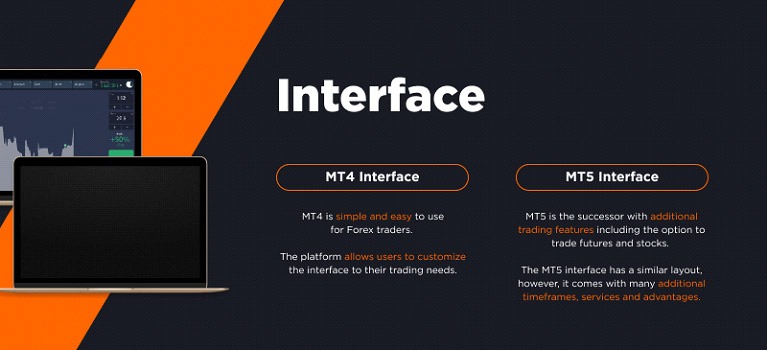 MT5 is an updated version of the platform, so it offers additional capabilities such as the option to trade stocks and futures. On top of that, compared to MT4 interface, MT5 has more features for professional trading – like additional timeframes and services.
MT5 features 21 timeframes, while MT4 has only 9 of them. For a novice trader, this might not seem like a big deal. But, whenever you pick the trading tribe, becoming a day trader or long-term swinger, you'll find this amazing 2-minute, 3-minute, 4-minute charts are a strong helper in your scalping strategy.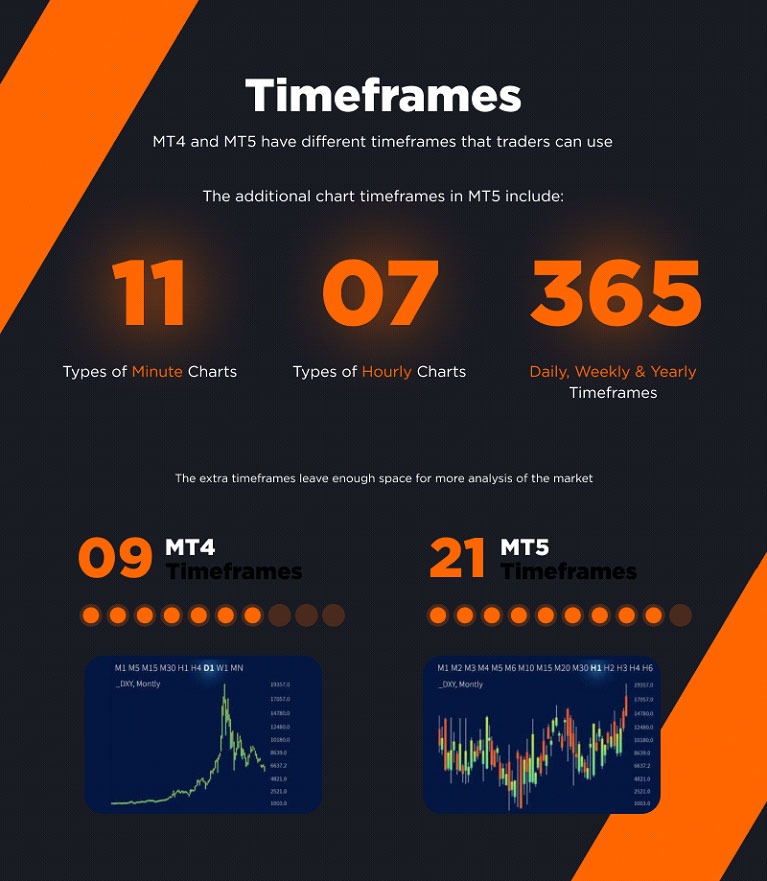 Another great feature is an expanded suite of graphic objects in MT5 and MT4 – 44 and 31 items, respectively. The development team clearly saw the urge to have more tools to mark patterns, areas and levels on the chart.
MT5 empowers you with 38 indicators. In comparison, MT4 offers only 30 indicators for technical analysis. When it comes to technical analysis, both MT4 and MT5 are quite efficient. However, the opinion of traders may vary on this point since the number of technical indicators supported by MT5 is bigger.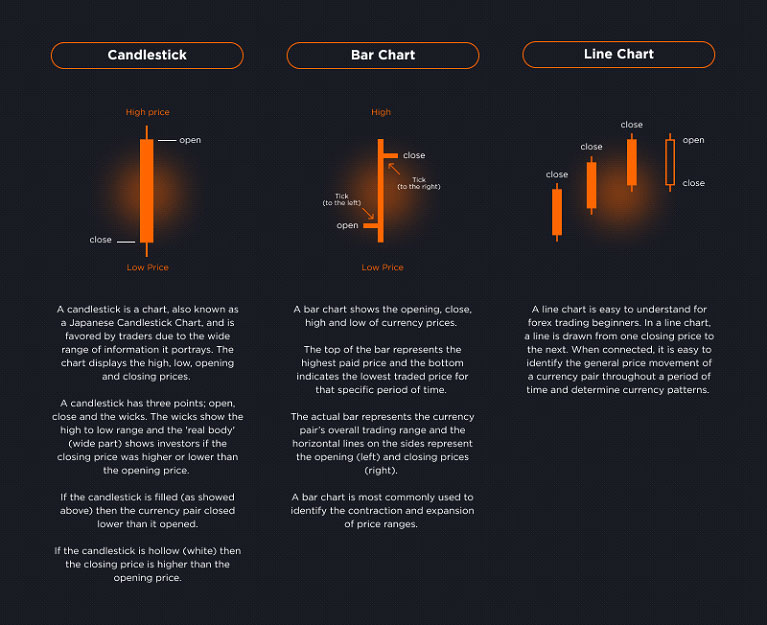 With MT5, bot dev is done much easier with performance rich MQL5 programming language, i.e. you don't have to code much. This contrasts with the constant need to write code in MT4.
After you've "cooked up" your first advisor, it's too risky to let it loose on your real account. Backtesting comes to the rescue. You command a trading robot to shift through historical data and identify when it would have activated and why.
Backtesting is available in both MT5 and MT4. However, if to compare MT4 vs MT5 backtesting, there are a few differences. But in MT4, you can backtest only through a single pair, and it takes a painfully lot of time. With MT5, you have 3 features that blow out of water the competitor:
multi-threaded feature, which means that operation are being done by a network of remote servers, cutting execution time from days and weeks to seconds and minutes;
multi-currency feature, enabling to unleash your minion on lots of currencies at once;
real-ticks feature, meaning that you work with real ticks, ensuring that your incoming data is the most trustworthy version and preventing any unintended processing mistakes.
MT4 has 4 different types of pending orders: Buy Limit, Buy Stop, Sell Stop and Sell Limit. MT5 has 6 types: Buy Stop, Buy Limit, Buy Stop-Limit/Buy Limit, Sell Stop, Sell Limit, and Sell-Limit/Sell-Stop Limit.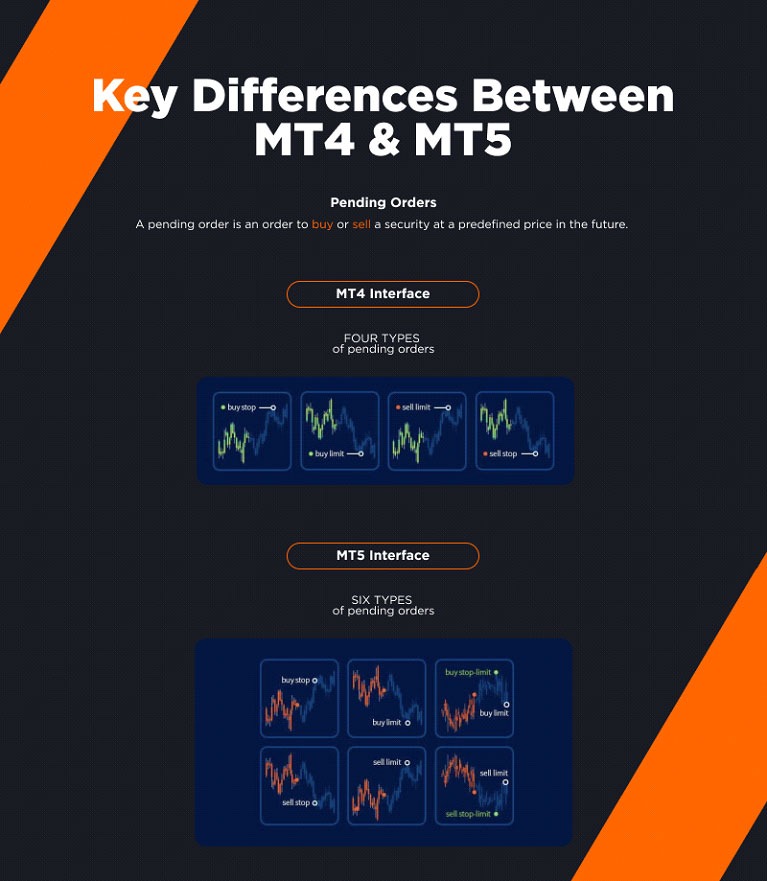 Supported programming languages
MetaTrader 4 has an integrated MQL4 programming language. It focuses on strengthening the trading programs based on the order system. Also, for each trading operation, this programming language will require multiple functions. Compared to MQL5, this language is more user-friendly – i.e. more appealing to new traders.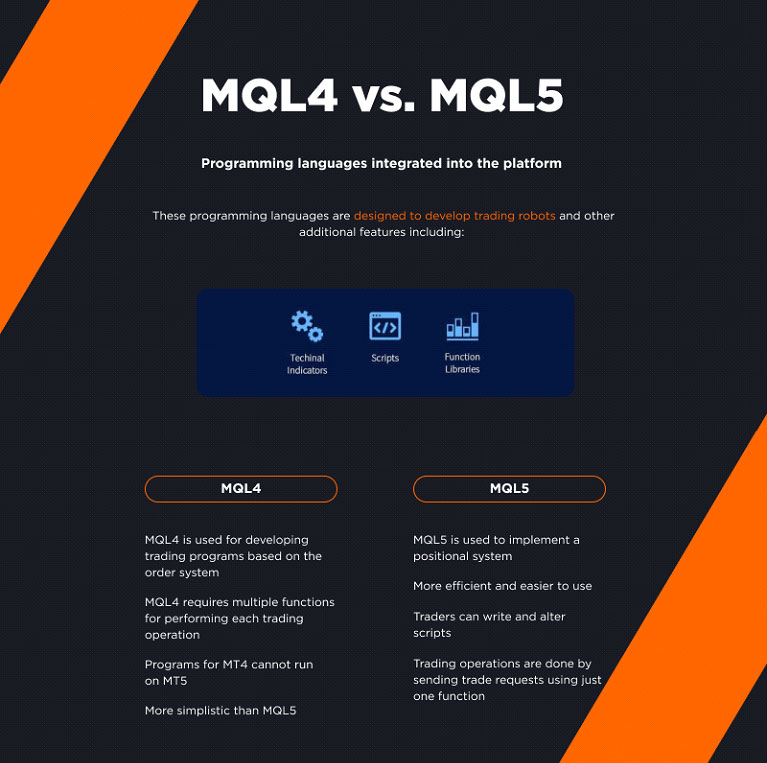 MetaTrader 5 is based on MQL5 that traders use to establish a positional system. Thanks to this programming language, traders can change and write new scripts – e.g. send their trade requests when performing trading operations.
Many popular brokers prefer working with MT4 than with MT5. However, the situation may change in a few years, because the focus of traders shifts to MT5 trading platform. AMarkets is one of a few brokers who deal with both versions of MT platform. Make sure to check its services after installing MT4 or MT5.
Sometimes, you'll need support with your trading robots in MT4 or MT5. You'll need a coder, and these days most of coders flock to MT5, making it the undisputed winner in comparison with MT4 in terms of viable developer ecosystem.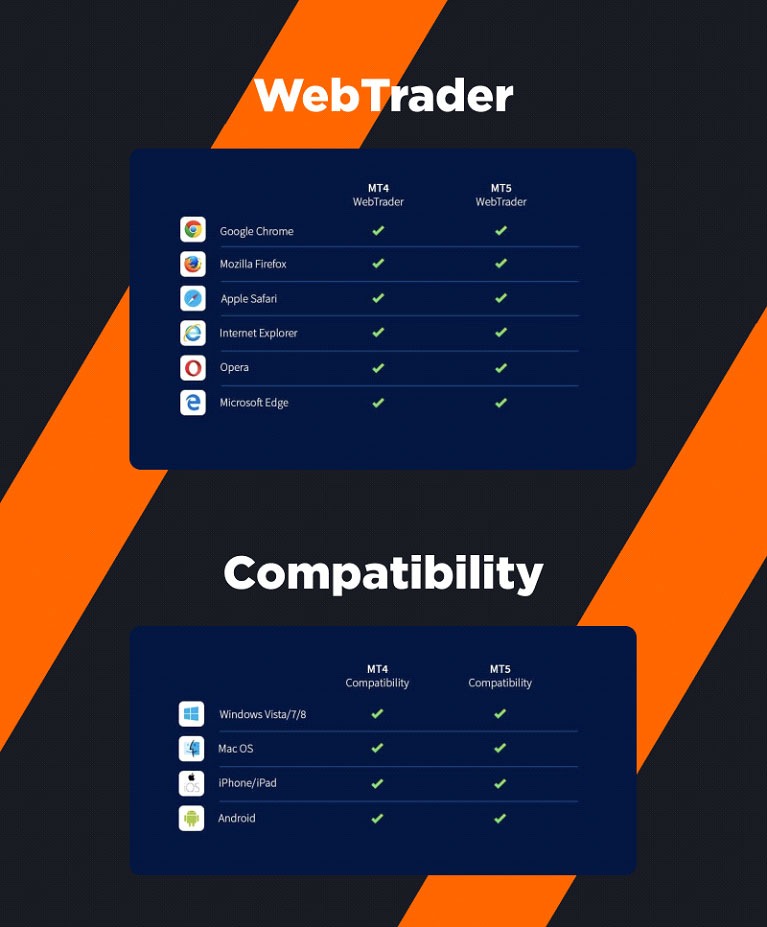 MT4 vs MT5 features comparison table
It's worth noting that MetaQuotes currently supports 2 versions of the platform, but it's gradually moving towards a smooth transfer to the universal, new-generation platform.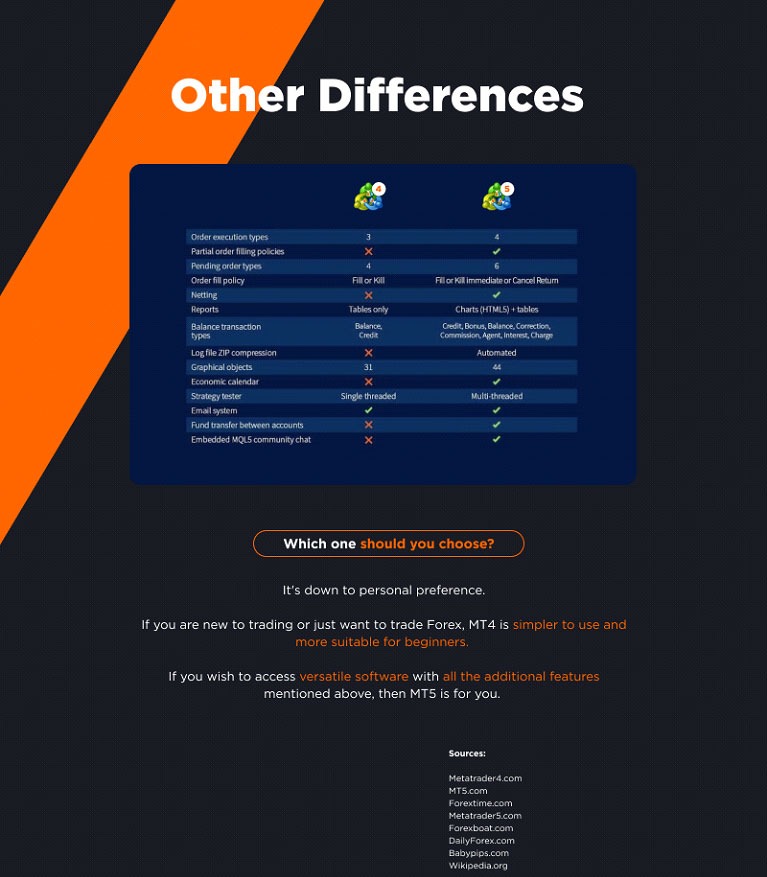 Why do brokers claim MT4 is better than MT5?
Most FX brokers have an excellent support and consulting teams who are primarily proficient in MT4. Retraining the workforce is extremely costly and time-consuming. That's why brokers give in, and don't tell the truth.
Contrast to this is AMarkets. The company has a team that is fully trained and proficient in both MT4 and MT5, always ready to help you transition from 4 to 5 or kick off your lustrous foray into forex.
AMarkets welcomes all and any inquiries, willing to help you compare MT4 and MT5 on the merits. Collaborate with the company that is not afraid to be on the cutting edge of Forex trading, as we know it.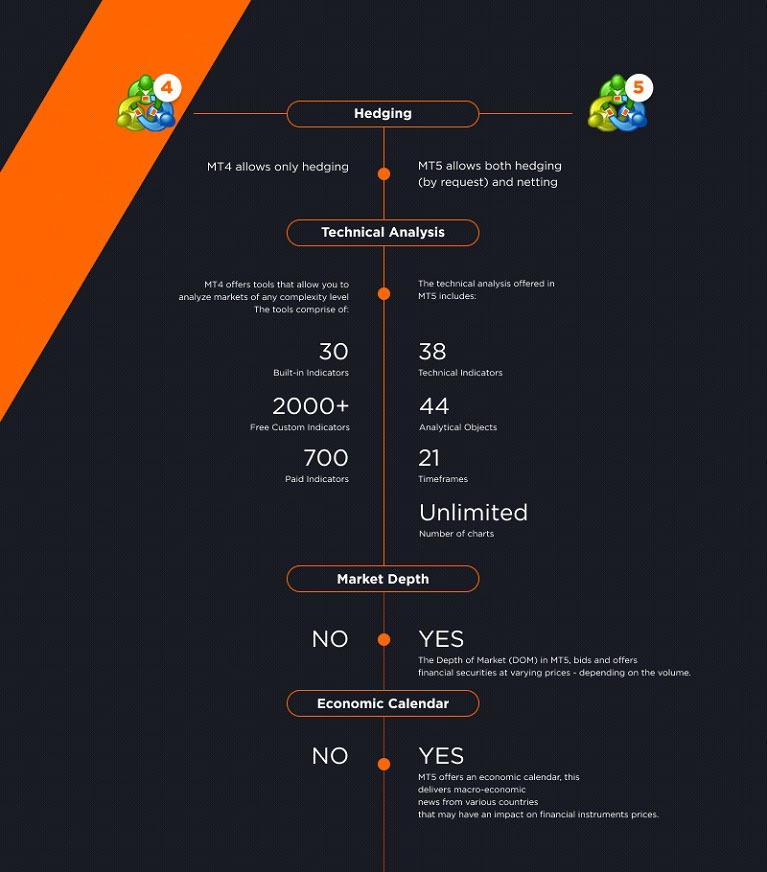 Now that we've clarified that, let's look into some of the biggest innovations MT5 brings to the table:
Both requests types are allowed: hedging orders and netting positions;
No FIFO rule (as an accounting principle in costing stock – first in, first out);
The integrated economic calendar is included in the platform for fundamental analysis;
Unique indicators, compatible only with the latest platform;
You can monitor the market depth in real-time;
Updated charts and time frames;
The platform let you trade in different financial markets.
Final thoughts
As you've clearly seen, MT5 is the upgraded version of the most popular trading platform among FX traders. Don't miss out on using all of its features to sustain your cutting edge. AMarkets offers high-quality server connections for both MT4 and MT5, NDD accounts and much more. Connect with the team and ask any questions about MT4/MT5.
Be sure to check out related articles: