Everyday we make or view hundreds of pictures. In this brief article we take a look at several free photo editors for Mac (macOS). We've selected 5 applications that are easy to use on a casual basis. Professional photo editing software like Adobe Photoshop or Lightroom will not be listed as each would require a separate article.
In order to grasp app capabilities quickly, we need verification criteria. We have decided on several basic functions that are key to the image editing process. These include crop tools, color filters, text tools (fonts, resize, etc.), no watermark, file formats, saturation, contrast, red-eye, etc. We also consider the difficulty in mastering basic tasks and a general impression.
Size: 244 MB | MacOS: 10.12 or later | RAM: ~300 MB | License: Free / $39.99
Main advantage of this photo editing tool for macOS is the unlimited free version. There's no shortage of tools to explore and apply. Photoscape interface may seem overwhelming at first sight, but in fact all the tools are logically and correctly distributed. The top line of tabs represents various options: creating animated GIFs, color adjustment, screen capturing, etc. The main workspace for editing is the Editor tab.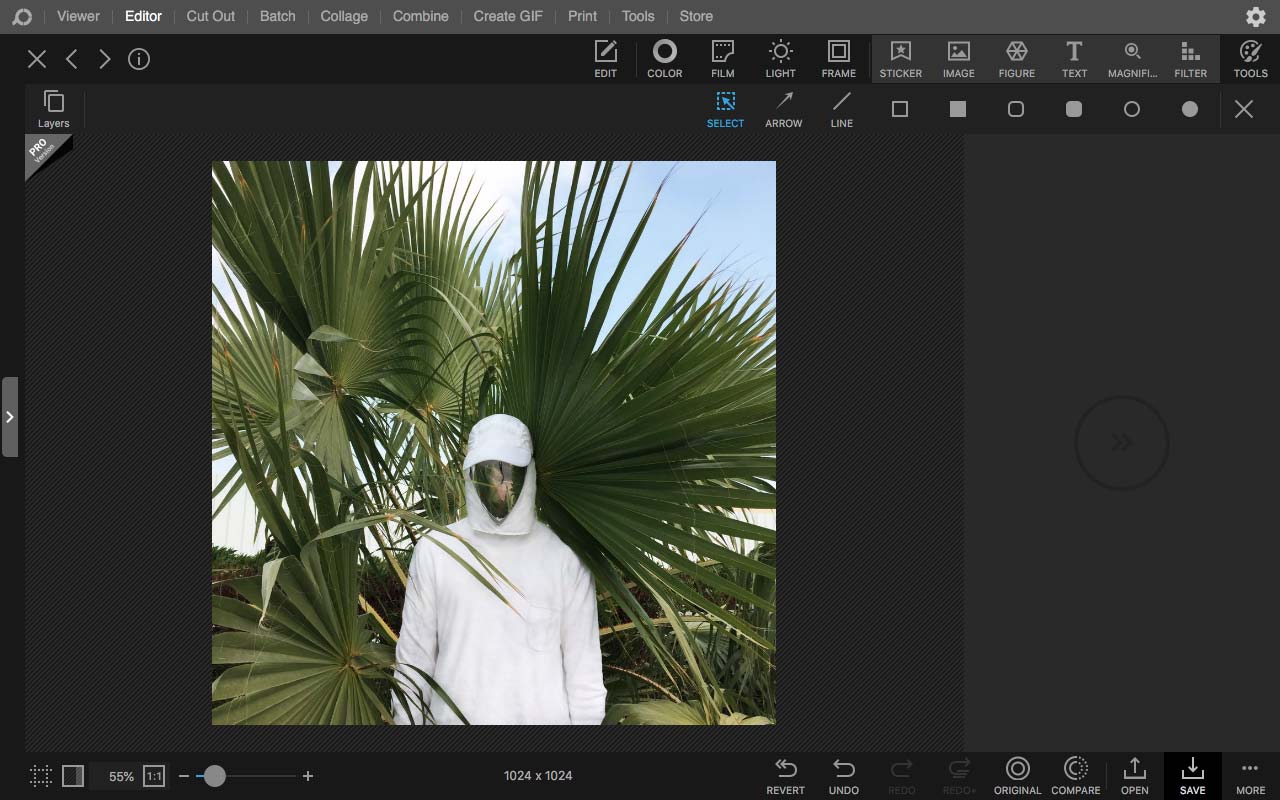 Beside the basics, the app has automatic image settings, such as auto-contrast, auto-levels, auto-color, sharpen, blur, noise, grain. Quick menu allows to configure frequently used parameters. And of course, you can insert and edit text, change font and size. Photoscape supports .jpeg, .gif, .png, .bmp, .tiff.
When saving the file, users will have to select the image quality setting – with calculation of output image size, select the format, directory. Overall, this tool could be of use to all users, from simple Facebook cover editing to quick processing of photo shoots.
Pros
Pro-level application

No time limits for free version

Modern interface, Quick menu
Cons
Quite heavy on RAM

No light theme
Size: 34 MB | MacOS: 10.9 or later | RAM: ~100 MB | License: Free
Visually Pixelstyle very much looks like Adobe Photoshop: similar location of tools, similar order of menus. Therefore, Photoshop devotees will comprehend this app right away. The interface is universal and intuitive anyway. Tools on the left: transform tool, slope, crop, brush, red-eye remover, text. Settings and processing options sit in the top menu.
In the File tab one will import, export, or save a project / image. Pixelstyle for Mac allows adjusting saturation, gamma, white point, hue, brightness, contrast and other parameters (Image tab – Adjustment). It is also convenient to work with image layers (Layers). For filters there's no templates like on Instagram, yet enough options to create your own. 
Image file formats: .png, .jpg, .raw, .gif, .bmp, .pdf, .tiff, .jpeg. Resemblance to Adobe Photoshop indicates the intention of Pixelstyle developers to place it among professional photo editors for Mac. The great advantage is a free basis, without ads and obligations. We have noticed that throughout the program use the load on working memory (RAM) did not exceed 100-110 Mb.
Pros
Familiar interface

Light on RAM

Totally free editor
Cons
No color filter templates

No light theme
Size: 56 MB | MacOS: 10.13 or later | RAM: ~100 MB | License: Free / $19.99
Welcoming users with a brief video tutorial, which is handy, Polarr has a fashionable minimalist interface. It fits into the whole macOS design nicely. Despite the fact that there is no display of tool names, it's not a problem – iIcons in one common style.
Polarr application has special tools for processing human faces in pictures. First of all – automatic detection, then also resizing of different facial parts and other options, clearly made with social networks in mind. Certain settings are not available unless you buy a subscription, e.g. spot color change, selective blur, partial lightening.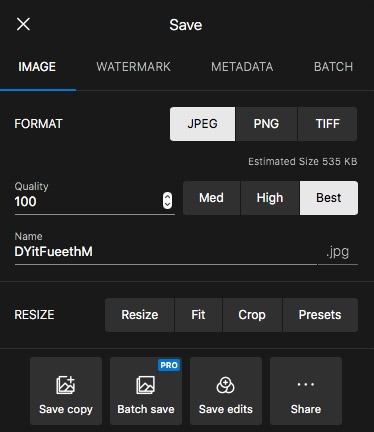 At the moment, work is underway to provide support for .raw files, for an ability to convert to .jpg then. A file saving window contains a set of functions: file format, quality, watermark (which, by the way, is probably the smartest placement of this feature among photo editors for Mac, namely at the post-production stage). You can save the exact user settings as a template for further use.
Pros
User-friendly interface

Extensive saving options

Batch image processing
Cons
Free version has limited features
Read also: 5 free screen capture apps for Mac.
Size: 227 MB | MacOS: 10.13 or later | RAM: ~150 MB | License: Free / $19.99
When you start Fotor, the program immediately prompts to choose 1 of 5 actions. This proves to be a convenient way to quickly determine the direction of editing. Users can create collages, edit selfies, as well as work with HDR files, and perform batch photo processing. The latter is quite convenient –  choose a folder with files (Source), select format, quality, watermark, filters, etc., and apply it all to  multiple images simultaneously.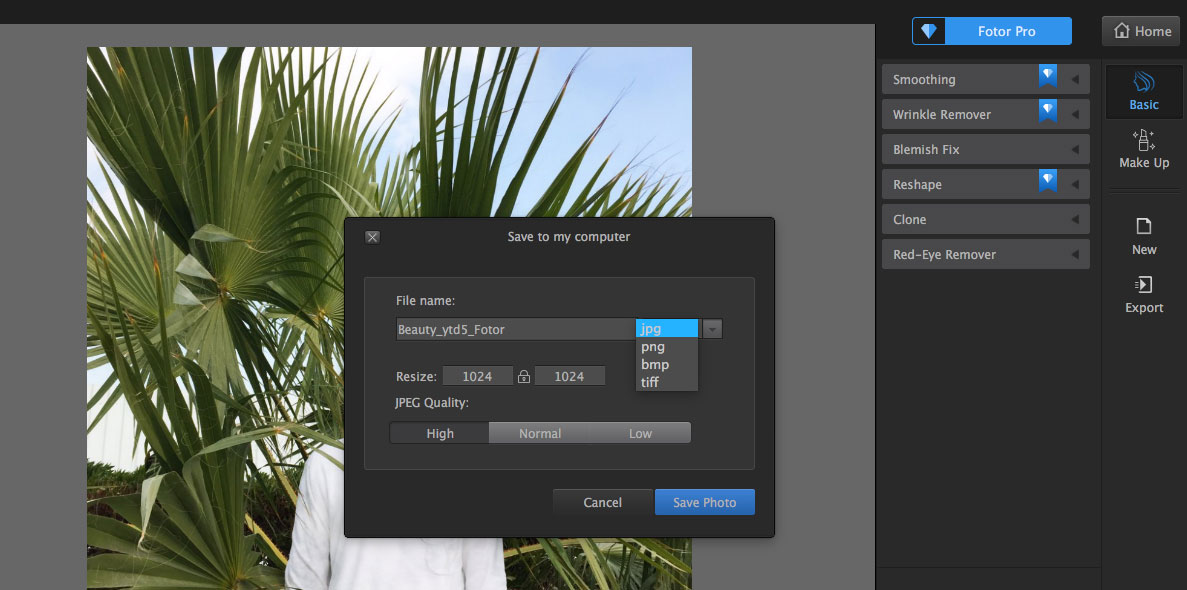 As for a free photo editing software for Mac, Fotor offers enough features for basic tasks (roughly ⅓ of full functionality). Touch Up feature is designed to edit selfies – use the assistant to delete black dots, brush for smoothing, or copy certain areas. Different brushes for makeup effects are available in the Make Up tab.
To save the image, click on the Export button and select one of the options, or also immediately share the image on Facebook, Twitter, Flickr. Overall impression of Fotor is positive, it has a user-friendly interface, and most functions are available. Popular file formats are surely supported: .tiff, .jpeg, .png, .raw, .gif.
Pros
Touch Up tool for selfies

Batch photo processing

HRD files editing
Cons
Limited free version

In-app ads
Size: 473 MB | MacOS: 10.9 or later | RAM: ~200 MB | License: Free
GIMP is a default image editor of GNU – a free Unix-type operating system. GIMP is available for Linux, macOS, Windows as well. This is a free open-source software, meaning users can modify the  code and distribute their versions. File formats: .bmp, .gif, .jpeg, .mng, .pcx, .pdf, .png, .svg, .tiff, .tga, .xpm, and more.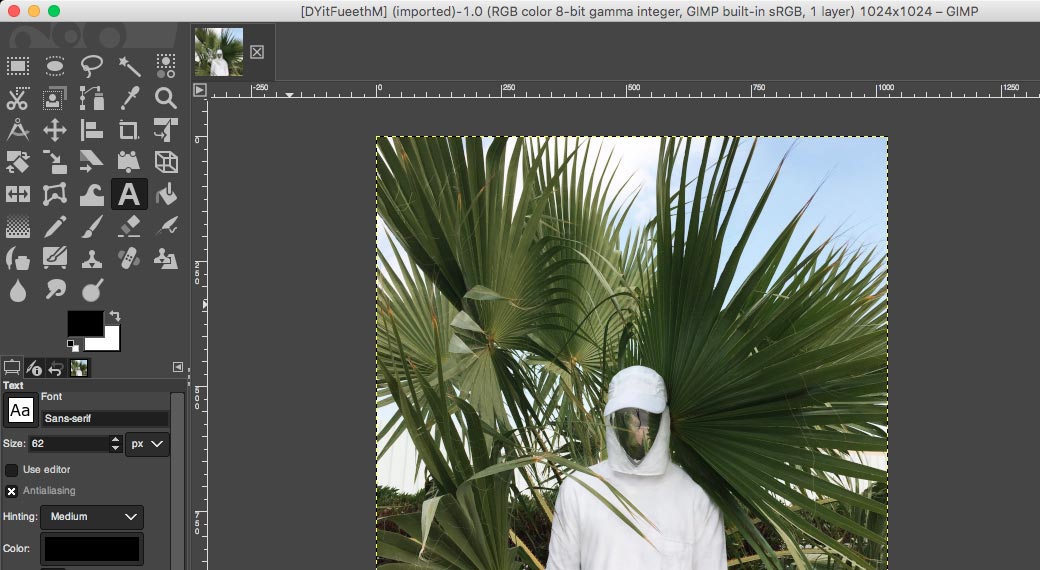 The interface is pretty stuffed, and somehow it resembles Adobe Photoshop. The program has a huge number of color settings, filter adjustments, tools, layers – everything you might need, and keeping our initial criteria for photo editors for Mac in mind.
GIMP goes beyond basics, with it we can create graphic elements, icons, interfaces, design projects. It is a fully professional tool for image processing, in other words. Full potential is time-consuming, GIMP is not a tool you'd use to crop or saturate an image once.
Pros
Free and open-source software

Professional editor with numerous tools

A variety of supported file formats
Cons
Too complex for casual users

No light theme
Photos & Preview
Size: 56 MB | MacOS: all | RAM: ~250 MB | License: Free
Perhaps not many people know that the default Photos application on macOS which is ment to view pictures, is also capable of configuring image parameters. In order to open it as the editor, click the Edit button in the upper right corner. It will switch from view to edit mode.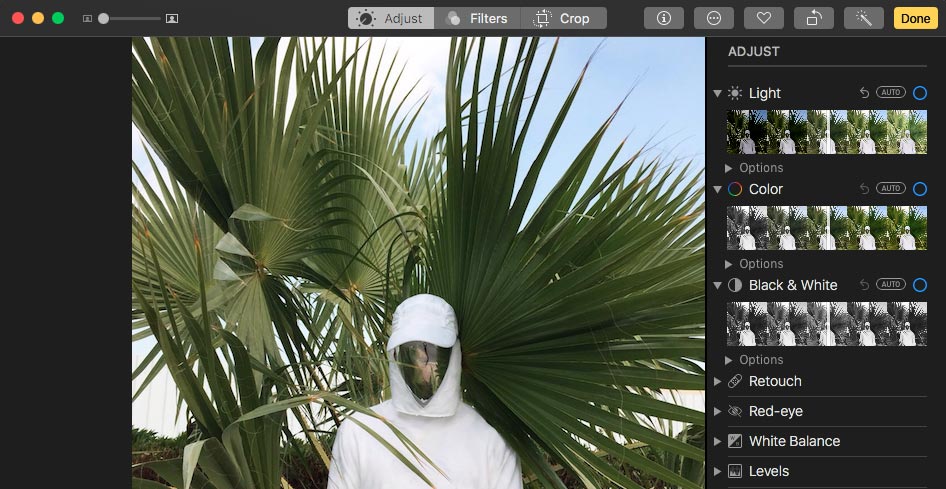 In this mode, adjusting many parameters is possible: saturation, amount of light, brightness levels, sharpness, noise, red-eye, vignette. Or alternatively, the automatic mode to save time. There are 10 color filters and a huge number of other settings. The Crop tab is responsible for image alignment, cropping, display, etc.
Unfortunately, in this application, there is no way to add elements or text, although another default Mac application – Preview, may help. Basically, Photos and Preview is a complementary option, or a simple alternative to mentioned photo editors for Mac. The most user-friendly interface with clear settings and no need to install new programs will be a dealbreaker for many.
Pros
Default maOS application

Basic editing options, filter templates
Cons
Not enough tools for frequent use
Summary
As a brief summary to these photo editor Mac apps, we will create a table with the key values of each of them.
| | | | | | | |
| --- | --- | --- | --- | --- | --- | --- |
| Product | Size (Mb) | RAM (Mb) | Languages | Formats | Licence | Compatibility |
| Photoscape X | 244 | 300 | 10 | jpeg, gif, png, bmp, tiff | Free /  $40 | 10.12 or later |
| Pixelstyle | 34 | 100 | 4 | png, jpg, raw, gif, bmp, pdf, tiff, jpeg | Free | 10.9 or later |
| Polarr | 556 | 100 | 1 | jpeg, png, cr2, raf, nef, raw | Free / $20 | 10.13 or later |
| Fotor | 227 | 150 | 1 | tiff, jpeg, png, raw, gif | Free / $20 | 10.13 or later |
| GIMP | 473 | 215 | 55 | bmp, gif, jpeg, mng, pcx, pdf, png, ps, psd, svg, tiff, tga, xpm | Free | 10.9 or later |
| Photos & Preview | 56.5 | 250 | – | jpeg, tiff, png | Free | macOS |
Read next: Best video editing software.