There are 3 types of apps:
1. Native apps
iOS on Objective-C or Swift
Android on Java
Windows Phone on Net
2. Hybrid apps for all platforms altogether with Xamarin, React Native, Ionic, Angular Mobile Sencha Touch etc.
3. Web apps as responsive versions of website to work on any mobile device.
Types of apps
Native apps
Such apps are developed for a single mobile operating system exclusively, therefore they are "native" for a particular platform or device. App built for systems like iOS, Android, Windows phone, Symbian, Blackberry can not be used on a platform other than their own. In other words, you won't be able to use Android app on iPhone.
Main advantage of native apps is high performance and ensuring good user experience as developers use native device UI. Moreover, an access to wide range of APIs that puts no limitation on app usage. Native applications are distinctly accessible from app stores of their kind and have the clear tendency to reach target customers.
Some cons to native apps are higher cost compared to other types of apps – due to the need of creating app duplicates for other platforms, separate support and maintenance for different types of apps resulting in bigger product price.
Hybrid apps
They are built using multi-platform web technologies (for example HTML5, CSS and Javascript). So-called hybrid apps are mainly website applications disguised in a native wrapper. Apps possess usual pros and cons of both native and web mobile applications.
Hybrid multi-platform apps are fast and relatively easy to develop – a clear advantage. Single code base for all platforms ensures low-cost maintenance and smooth updates.  Widely used APIs, like gyroscope, accelerometer, geolocation are available.
On the other hand, hybrid applications lack in performance, speed and overall optimization in comparison to native apps for instance. Also, there are certain design issues due to app inability to look in exactly same way on two or more platforms.
Web apps
These are software applications that behave in a fashion similar to native applications. Web apps use a browser to run and are usually written in HTML5, JavaScript or CSS. These apps redirect a user to URL and offer "install" option by simply creating a bookmark to their page.
Web applications require minimum of device memory, as a rule. As all personal databases are saved on a server, users can get access from any device whenever there is internet connection. That is why the use of web apps with poor connection would result in bad user experience. The drawback is access to not that many APIs for developers, with exception of geolocation and few others.
Apps content is only a wrapper on the used device while most of data should be loaded from a server.Performance is inextricably linked due to browser work and network connection. Only up to 14% of time users spend on mobile websites. And just some of device APIs may be used (such as geolocation)
NATIVE

HYBRID

WEB

Usually higher than hybrid or web, if apps are developed for multiple platforms

Commonly low cost, but require high skills for hybrid tools

The lowest cost due to single code base

PERFORMANCE

Native code has wide access to device functionality, while content, structure and visual elements are also stored in device memory ready for instant use.

Apps content is only a wrapper on the used device while most of data should be loaded from a server.

Performance is inextricably linked due to browser work and network connection

DISTRIBUTION

App stores allow some of marketing benefits (such as rankings and feature placements) while they have their own requirements and restrictions

There are no store restriction to launch, but there is also no app store benefits

Both apps may content in-app purchases, ads, and app purchase itself. However, app stores take fee (around 30%) from all purchase actions, also there is initial fee to deploy an app in the app store

Monetization may be mostly provided via advertisements or subscriptions.

TRENDS

According to Flurry analysis, users spend up to 86% of their mobile time using native or hybrid apps (still 54% if exceed games from rating)

Only up to 14% of time users spend on mobile websites

DEVICE FEATURES

Native platform code has wide access to any device APIs

Some APIs benefits are close to hybrid apps, however there are still some that can be used of low level features (such as gyroscope or accelerometer)

Only some of device APIs may be used (such as geolocation)

USER INTERFACE

Apps developed with highly familiar and original UI to native OS

Even best apps can't give to a user fully native experience due to cross-platform UI and UX design, but meanwhile they can achieve a fair native look

CODE PORTABILITY

Commonly code for one platform can't be used for another

Most of hybrid codebase tools can be ported to major platforms

Browser and performance is only a case

MAINTENANCE / UPDATE

Maintenance of app will be as much higher, as much platforms it is developed for

As far as there is only one codebase to be maintained or updated all actions are much more easy and fast

RECOMMENDED FOR

Applictions that will be developed for single platforms

Applications that need to be distributed as multi-platform

Appplications with limited funds, resources or terms

Apps with wide requirements due to capabilities of hybrid or web

Those apps that will be developed for App Stores

Apps that do not require App Stores

Anything that require highly optimization level for stable work

Developed with HTML, CSS, Javascript etc

Apps that need best native UI or best graphic animation
Categories of apps
There are 33 categories of apps in Google Play and 24 categories in Apple's App Store. And there are just 7 app categories that have managed to reach more than 3% of users, according to Statistica research. See for yourself: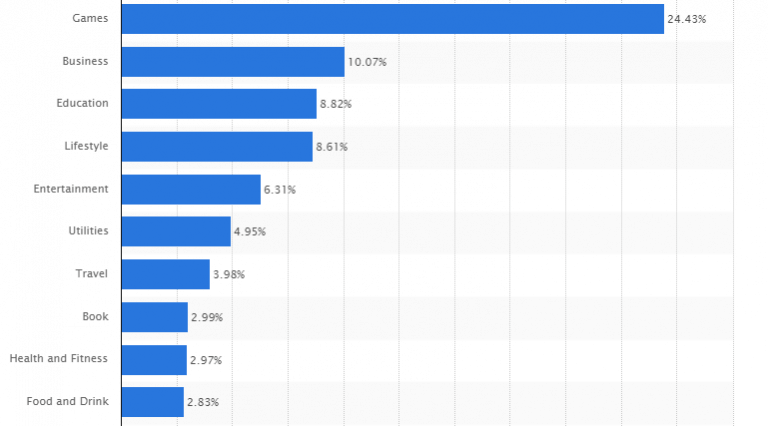 This clearly indicates what purposes are people using mobile apps for. They tend to do business, communicate, entertain and play games, educate themselves, and relax, of course.
Gaming apps
By far the most popular category among types of apps, as more than 24% of all mobile applications, available in the App Store, fall into this section. Nothing surprising surely, and the average personal time spent on games would only increase, according to the same research.
Mobile gaming has always been thriving, prompting app developers to invest more time and resources into creating new games and mobile versions of well-known stationary games. From user perspective gaming apps offer the sense of achievement and high engagement in the process – an average gaming session is about 8 minutes long. For developers game apps category is the most profitable one.
Examples of game apps:
Business apps
Also referred to as productivity apps, they holds the second place with the considerable 10% share. Modern-day smartphones are capable of performing many complex tasks on the run.
Billing, buying, booking, sending emails, tracking working progress – you name it. Business apps vary from B2B applications to office and personal apps to boost productivity and minimize expense: imagine that you can find Android app developers for hire, recruit a new sales-manager or buy new cartridges for your office printers just with one tap.
Examples of business apps:
This category is somewhat blurry in its content, as it may encompass a vast field of mobile apps. In other words, an app can be educational to some extent and still do not fit in this category. Or otherwise. However, it's good to know that we as society care about self-education, which brings this category to the top 3 of our list.
Kids can learn while playing educational game apps. Students may learn out of the class and adjust individual learning pace. Moreover, according to recent reviews many educational apps are useful for teachers as well – organizing a teaching process better, educating themselves, etc.
Examples of educational apps:
Lifestyle apps
Probably, the widest category in 'types of apps' topic, as it covers plenty of common human activities and interests. From shopping, fitness and workout tracker to fashion, virtual fitting room and even weight loss. Such applications for personal lifestyle often are the ones that push technical innovations the most and developers constantly get requests to create a solution for personal or working tasks, or leisure and fun.
Examples of lifestyle apps:
Entertainment apps
We are talking about streaming, chatting, searching events, watching videos online, posting photos to Instagram and so on. Applications for entertainment are often closely related to gaming due to same goal – to agitate your mind.
These are the apps that have a tendency to invoke a kind of dependency, they keep us engaged, logged in, always checking for updates. On the bright side, imagination and talent of app creators bring lots of fresh and fun things to our lives, so we will never be bored again, that's for sure.
Examples of entertainment apps:
Utility apps
Utility software is used on a daily basis by literally everyone of us, we don't even realize it. Though unlike others types of apps, utility apps display the shortest user session times. People use these to just get things done and move on. Falling into top categories of mobile apps can be explained by sheer amount of practical individuals leveraging their gadgets to full potential. For example taxi apps. However, most popular types of applications here are scanners, trackers, healthcare, first aid manuals, etc.
Examples of utility apps:
Travel apps' purpose is 100% crisp and clear, as the title suggests – to make your traveling easier, more comfortable, fun and informative. Some of them turn your smartphone into universal travel diary, some can literally guide you through the unknown sites abroad using maps, some provide translation assistance. That's why most of today's tourists seem to be digitally-savvy all-knowing travelers.
Examples of travel apps:
Summing up

There are obviously more app categories and types of apps. But we just touch on most general categories mentioned above. Hundreds of sport, health and fitness apps fitting the Lifestyle section, digital books are just one among thousand faces of education and entertainment.
The golden rule for app developer is one: no matter what type of application, it has to make life easier. Either for everyone or certain group of people, either in business or pure senseless fun. And all types of apps, be it native, hybrid or web apps, always cater to needs of the end user. Each type of apps has it's strong and weak points, thus business requirements purely dictate the choice of one or another.
Feel free to contact us via  jane.todavchych@thinkmobiles.com if you want to place your app here.