Despite instant messengers' high popularity, email is still a communication channel quite in use. Reliability, on the one side, that's is important for business, and on the other side, dialog windows lacking a fresh design in all top email providers. Recently, a new solution, uniting both email and messenger (and more), caught our attention. 
Spike is an application that offers a new angle on email conversations and allows to use it both for personal and business purposes. It merges conventional emailing with messengers, collaboration and productivity tools. It's a peculiar mix, sort of a virtual office, keeping remote contact with employees and optimizing communication. Let's explore. 
Installation and interface
Spike interface looks almost the same across all devices. Only tiny details differ here and there, such as the ability to swipe menus on mobile phones or requesting access to notifications in a browser. For our review, we've used Spike Windows desktop app. Surely enough, the app is available on all platforms: Windows, Mac, iOS, Android, web browser. 
Installer is fully automated, users who would like to configure the installation may be disappointed by this fact. Spike is lightweight and undemanding to system resources, so installation will take about 15-20 seconds. When finished, the app starts automatically.
To start using it, a user must log in into his email account. Direct authorization for Gmail, Outlook, iCloud, Yahoo is in place. Spike needs these credentials to get access tokens for mailbox content syncing. For other email providers Spike uses the IMAP protocol for synchronization.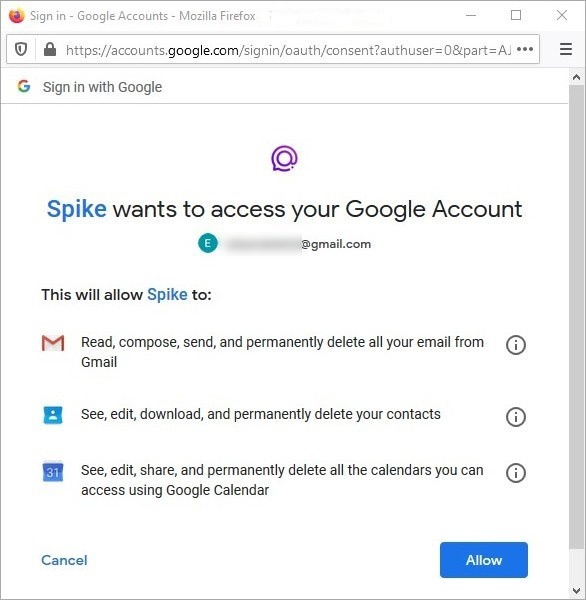 Tip. Spike can work with several mailboxes at the same time. To connect additional email accounts, go to the Settings and log into them.
When authorized, Spike loads the main menu. Left part is allocated for contacts and conversations. Click on your account avatar in the upper left corner and load classic email folders (Inbox, Drafts, etc.). Settings include profile management, appearance, email sorting, etc. Also, three additional toolbars. The first one is under the emails list and it helps to navigate between other parts of Spike (Messages, Notes, Contacts etc). Most of the area on the right displays chats, schedule, notes.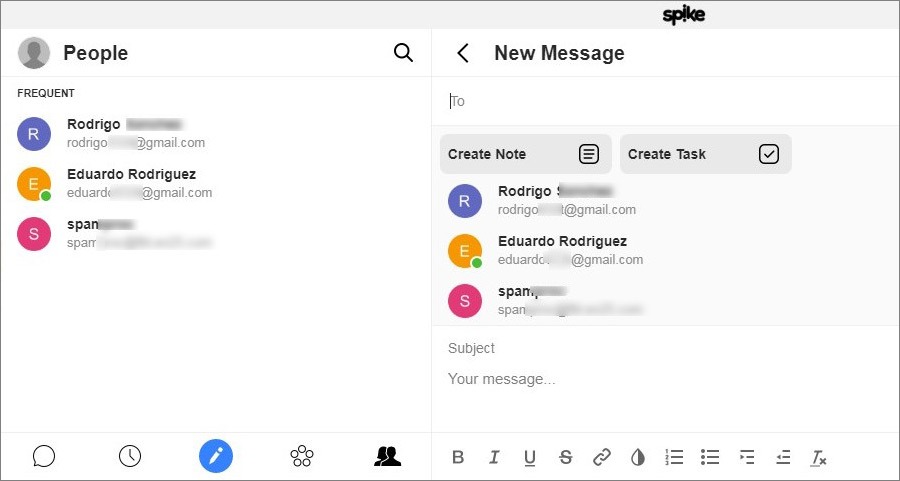 Tip. To remove an account from Spike application, click on your profile picture in the upper left corner. Then go to Account settings, click the dotted icon and select Remove Account.
Email messages
Spike displays emails as chat messages and opens the contents by click. It's definitely easier to view the whole email chain in comparison with conventional layout by email providers. Also, Spike automatically generates previews for long messages, which means less scrolling for old messages. Let's compare how conversations look in Gmail and Spike.
A conversation in Gmail web version: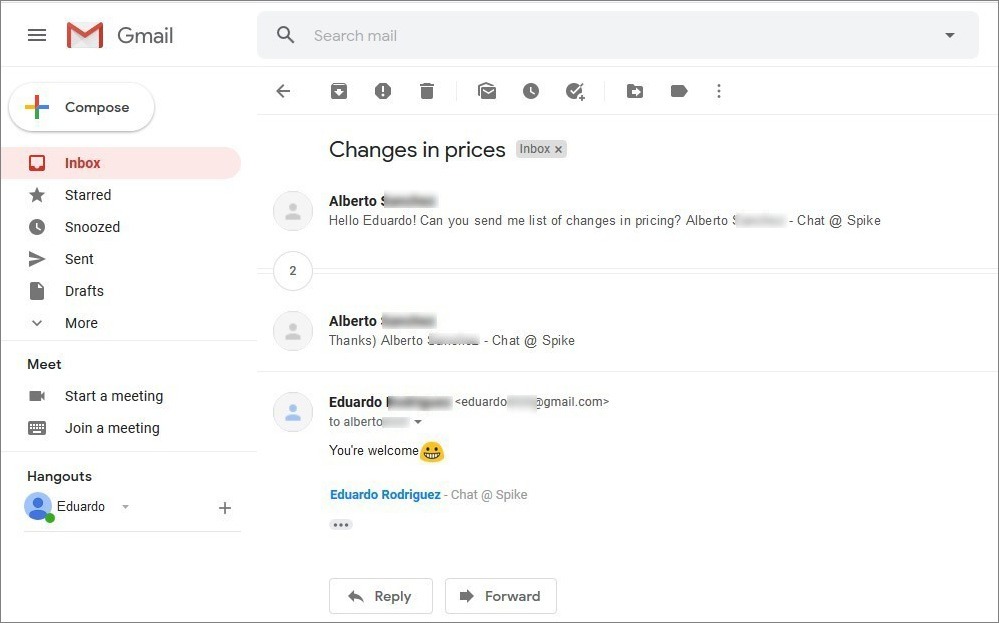 Same conversation in Spike: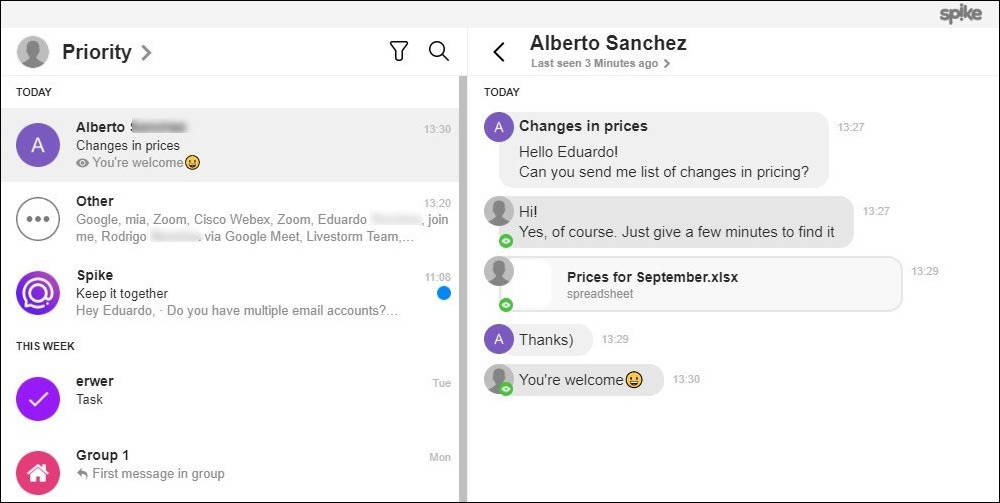 Through special sync APIs Spike also checks message status. Thus, you can see message delivery status (an eye sign when it is read), which isn't available in most email providers. A toolbar only present in a conversation, when clicking the dotted icon, grants instruments to manage messages: delete, block, add calendar events, pin, archive. Most actions can be applied to individual messages as well.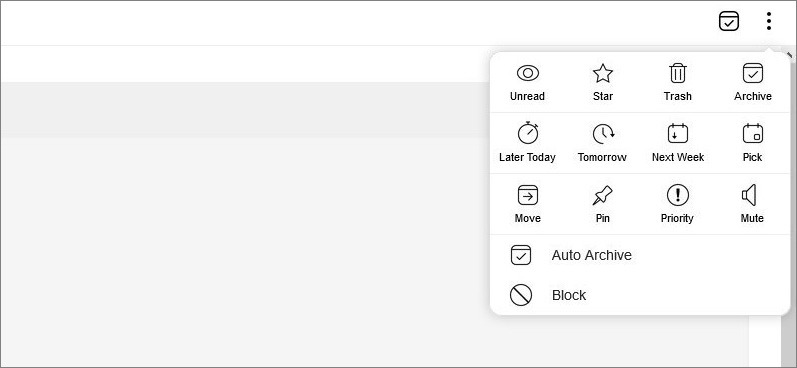 Tip. Click the lock icon in the lower right corner to enable 256-bit end-to-end encryption for messages in conversation.
Notes
Notes in Spike are also linked to a user account, like in Google Docs, accessible from any device. This module in Spike has a powerful built-in text editor which can create and export documents in PDF format. More tools are available: text formatting, adding images, numbered lists, checklists, hyperlinks, tables.
Documents/notes can be edited and commented on anytime. Notes can be attached to events in the scheduler. Moreover, in Spike a collaborative editing of notes is possible. Without leaving the interface, users can generate a sharing link and send it out. Add checklists, and we have Spike as a collaborative task management app.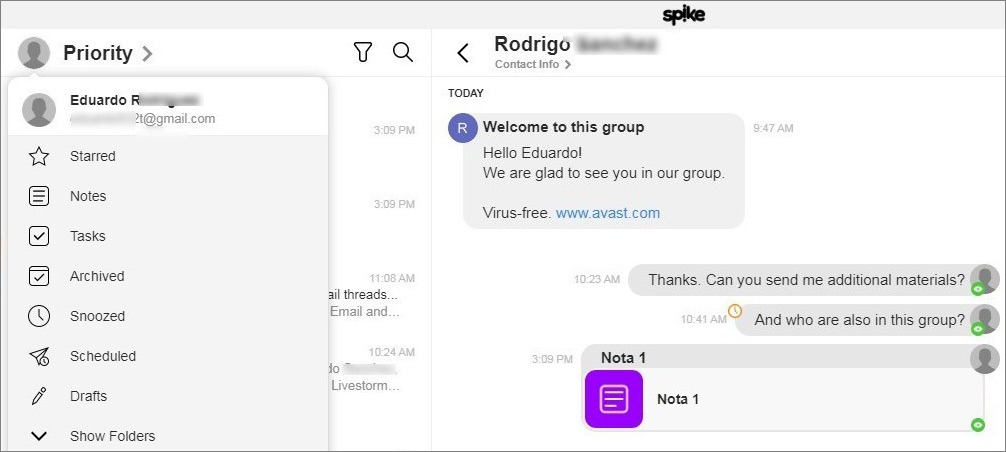 Tip. A recipient doesn't need a Spike account to edit a shared document – it can be opened in a web browser.
Scheduler
Spike supports creating standard reminders about events. These can be single or regular – repeating over a set period of time. On mobile platforms, the scheduler must be associated with the default calendar app.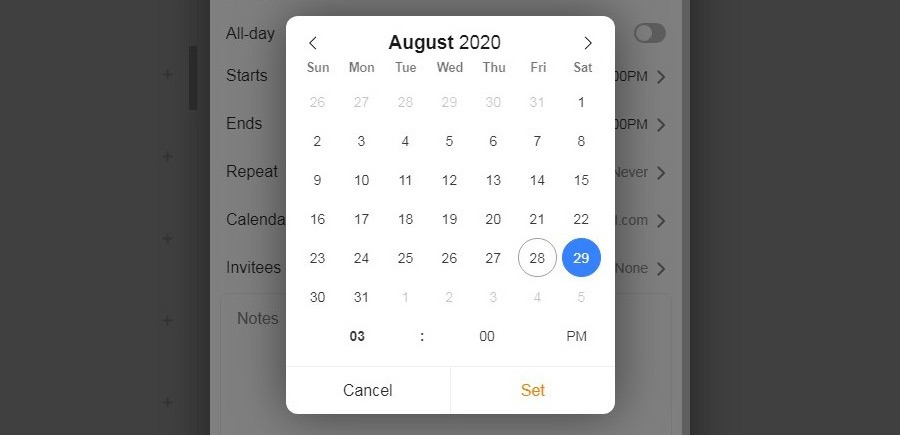 The main trait in the scheduler is the ability to create events with reference to a  message, chat or file. So it's possible to build a to-do list using important data from conversations without searching for details in future. Similar to Notes, users can share events from the scheduler via link, view history of changes and set access rights.
Audio and video calls
In addition to emails, Spike users can conduct calls from any version, including a web app. Direct audio and video calls, or by invitation. The desktop broadcasting mode is there to share a full work screen, separate program window or a browser tab, while calling.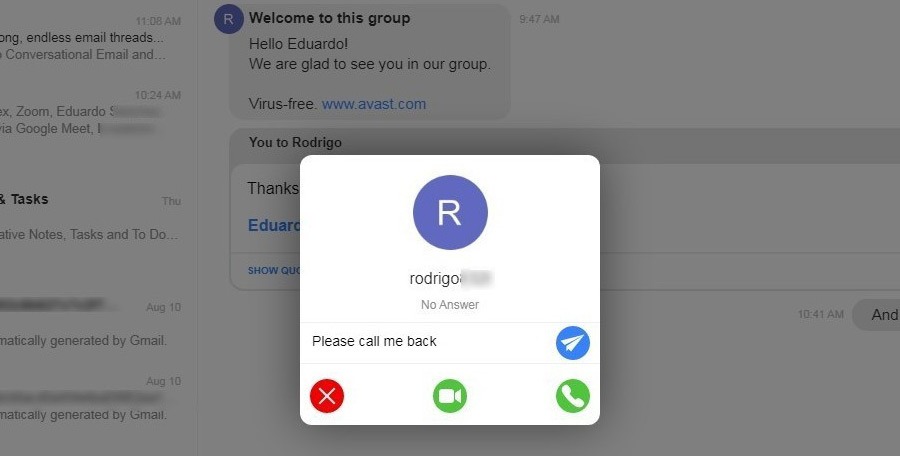 As extra, there are options to disable calls temporarily and show "Who is online" status. We should mention that Spike only supports calls between two persons. To make free video calls with multiple participants, you can use a similar cloud service from Spike or select from best webinar platforms.
Extra features
Let's go through other things briefly.
Archive

– removes a conversation from the list of dialogs, contents will be available in user history.

Selection (Star, Tags)

– for important messages, users can add a bookmark (star), or group conversations via custom tags.

Search

– by files, by contacts and by bookmarks.

Notifications

– a notification system about new messages.

Priority sorting

– automatically sorts messages into Important and Other, users can change it manually.

Messaging options

– adding smilies and GIFs (by Giphy service), quoting, copying, etc. 

Attachments

– similar to emails, users can add files from a local device or cloud (Google Drive, Dropbox, Spike cloud storage).

Groups and group chats

– collaborative instant chats with multiple participants within the Spike app. There can be a chat administrator.

Snooze

– temporarily hide a message or a dialogue, and it gets marked as unread. This is handy for "I'll answer later" situations.

Translator

– any message can be translated using Google Translator directly in the conversation window.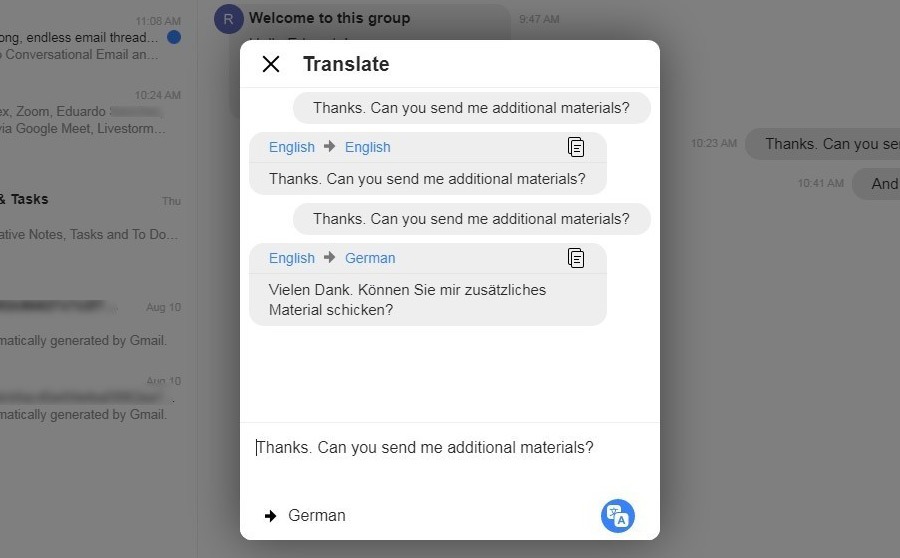 Pricing
According to Spike's Privacy policy, they don't share user data with third parties and don't use it for personalized ads. Having that in mind, their pricing policy looks more than loyal. In total, there are 4 pricing plans: 2 for personal and 2 for business use.
Free

– unlike many other platforms, Free plan from Spike contains all features with some limitations. For example, it saves 15,000 recent messages and users can create 20 tasks or notes only. 10 groups with up to 20 members and 5GB file storage.

Pro

($4 per month / per user) – removes limitations from the free plan and group feature limits. Additional bonuses: 50GB file storage, no Spike branding elements in messages, priority support.

Business

($6 month / per user) – with all the features of Pro version, and groups can have up to 80 members, the number of groups is unlimited. The file storage has been doubled to 100 GB. For businesses and private entrepreneurs with several mailboxes this will be a decent option. A 14-day trial certainly comes handy.

Enterprise

– an opportunity for business clients to get a special custom plan for  large teams. For details contact Spike sales department.
Conclusion
Spike offers a brand new approach to combining email, messenger, notes and task management all in one app. Inbox, group chats, tasks, personal notes, real-time collaboration on documents – all implemented in a user-friendly chat-like format. Essentially, it is a single place to work in a fun, unstressful way. No need to switch apps. Voice and video calls are helpful for remote team work, which is especially of benefit lately. Lastly, Spike works on iPhones, Android phones, Mac, Windows and web browsers.
Pros
Multiple email accounts in one app

Group chats with up to 80 participants

Fully-functional free version

Available for desktop, mobile and web
Cons
Occasional issues with sound and camera in Firefox

No installation settings

Business accounts require payment

Contacts are not editable
Read next: 20+ best email service providers.