Spybot Search & Destroy review

If you were to look into several lists of best anti-malware software 2018/2019 appearing in Google top results, you would see Spybot Search & Destroy in almost all of them. Spybot has been widely popular since 2000 as a tool to protect operating systems from adware, spyware, suspicious files. Even though the free version does not defend against viruses, which are only one of the types of malicious software. Let's discover more in this Spybot review.
First thing to note is that Spybot free version only provides scanning option, real-time live protection against malware/spyware is accessible within paid version only. On the other hand, the program has fine additional features, including repair disk procedures, analyzing OS/hardware/boot sector, rootkit scan, etc. – for corporate users and experts with access to advanced versions.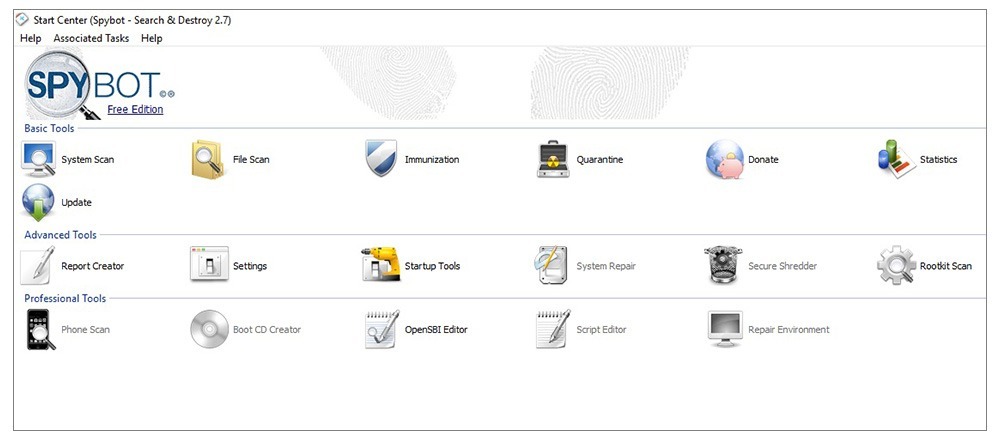 The version we are reviewing and testing herein is Spybot Search & Destroy 2.7.64.0. It supports Windows XP, Vista, 2003, 2008 Server, Win 7 and 8, while versions for another operating systems are on the way, according to the vendor – Safer-Networking Ltd., Ireland. For proper functioning of Spybot anti-malware tool, there should be 300 MB of free space at least on a hard drive.
Specifications
Vendor
Safer-Networking Ltd. (website)
Newest version (for Windows)
Spybot v.2.7.64 out September 2019
Operating systems
Windows 7/8/8.1/10
Installer file size
66.7 MB
Menu languages
7
Key features
Real time protection, Anti-Beacon, Startup manager
Extra features
Antivirus, Boot CD, Registry repair
License
Free / Subscription
Pricing
€11.99 Spybot Home (1 Year, 1 PC)
€49.99 Spybot Technician`s (1 Year, 1 PC)

Feature overview
The free version of Spybot provides security tools that protect an operating system from different types of malware. Besides malware removal capabilities, there's real-time antivirus protection, though only available in paid versions. First thing to take notice of is Live Protection feature, devised to speed up the actual scanning process detecting malware and viruses. We should say, that it takes almost a full 1 hour to scan the whole PC.
To block access to websites that could be potential threats, Spybot offers immunization for the following browsers: Internet Explorer (and clones like Avant etc.), Firefox and other Mozilla-based browsers, Opera, Apple Safari, Chrome and Amaya.
If you start deep scanning, that's down to detecting rootkit level infections, it is advised not to open any other external applications – for no interruptions. It takes almost 30 minutes to scan the whole file system and Windows registry.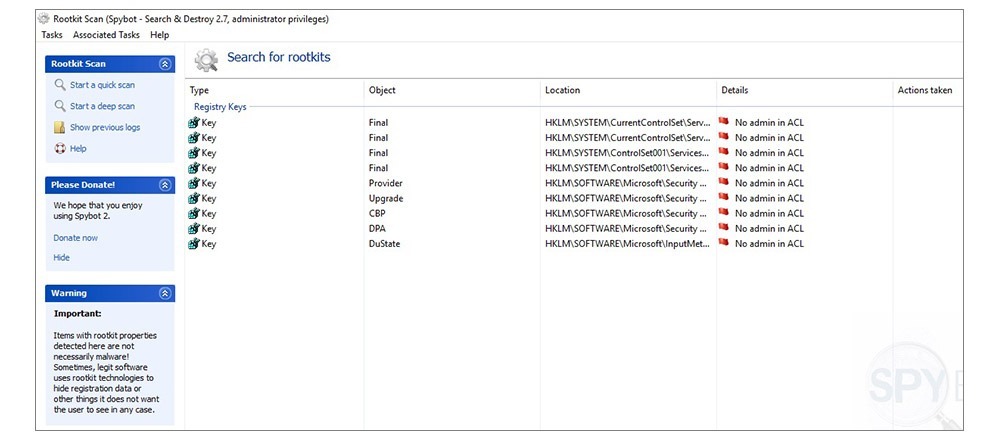 In contrast, the quick rootkit scan runs in a matter of seconds and provides superficial data analysis. Although, it can detect both real malware and mark certain files as "suspicious" that aren't harmful actually. To set automatically scheduled system scans, you have to upgrade to Home Edition. There's also the Boot CD Creator, designed to create a bootable disk on PC, which is not available for Windows 10 as of now, we should add.
Interface and user experience
Spybot 2.7 opens as a new separate window on the desktop. Your anti-malware quest starts with three core modules: last system scan, immunization, last update. If any of those is marked red, it is recommended to scan, initiate protection or check for program updates. Green color indicates proper functioning.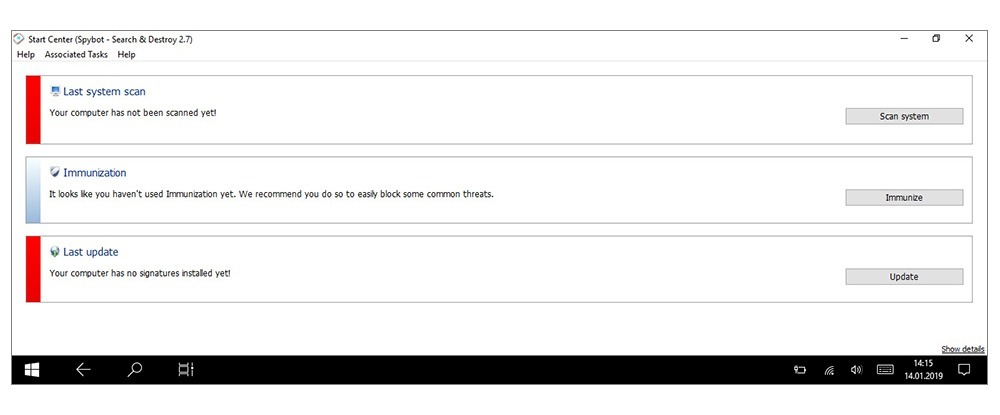 Start Center is a user-friendly communicable interface that shows paths to various functions and modules. In the advanced version Start Center there's also the file scan. Moreover, there are 2 ways to obtain a more functional interface: upgrading to Home Edition or donating any amount of money.
All log files are saved on a C drive of a computer. It is worth noting, that not only last scan reports are saved, but all previous logs – literally, which one could find in ProgramData folder. Files are saved in .xml format.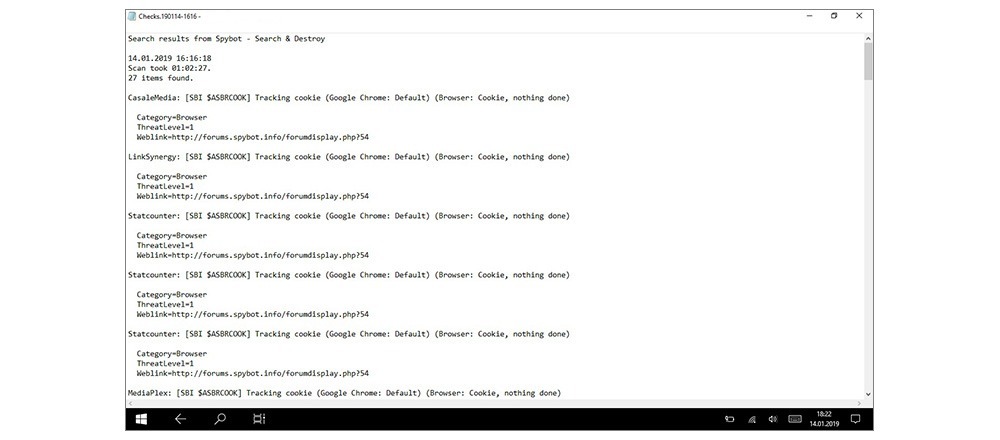 Trial and limitations
The free version of Spybot is available to download and install on a desktop PC only. For mobile phones,  iPhone, iPad, iPod Touch users must use Spybot Home Edition or other paid package. In terms of fencing off malware, Spybot detects it in browser cache, system services and file system – that's the limitations of scanning process. One way to work around it is to to add particular files/folders/directories via File Scan module or Settings.
Spybot Home Edition version for private use is available for €12. Spybot Search & Destroy Professional Edition costs €22 with the expanded set of features. For businesses there is Spybot Corporate Edition, that costs €29. Advanced users and tech experts may use Technical Edition for €50. You should also know, that Spybot does not have money-back guarantee policy.
How to use SpyBot, user tips
Easy-to-use modules are activated by clicking one of the buttons – Apply, Start, Scan. If you want to scan other external sources (USB, memory card, etc.), just use File scan. Also, it is highly recommended to delete all third-party cookies and check the system for malware weekly.
Using Spybot is straightforward – scan the whole PC anytime, or scan separate files. Infected or suspicious files are sent to quarantine module. From there a user can delete malware or restore selected files before they are permanently removed. If no action is taken to files in quarantine during 90 days, suspicious items are being removed forever and irrevocably.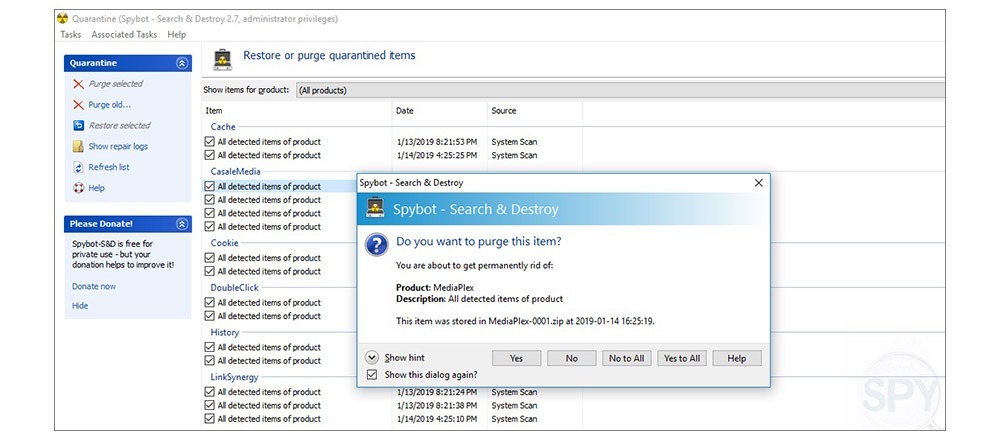 To run the program with administrator privileges just right-click on Spybot icon and choose the option – same as with any other programs.
Performance test on PC
We applied Spybot app on a typical PC, 8GB RAM running on Windows 10. Quick Scan went through 3108 system files, 113 Windows files, 159 processes and found no threats.
Deep Scan, meanwhile, showed another picture. It took 58 minutes to scan the whole C drive of 70 GB in size.  38 suspicious items were detected with 1 or 2 threat level and were moved to quarantine. To scan other drives or folders, go to Settings module in the advanced user mode.
After immunization was finished with 192,001 entries analyzed, Spybot told us there still were 4 unprotected items. Spybot immunized Internet Explorer, Mozilla, Firefox and Opera browsers that are installed on the PC, but unfortunately, 193 items in the browser cache were still left unprocessed.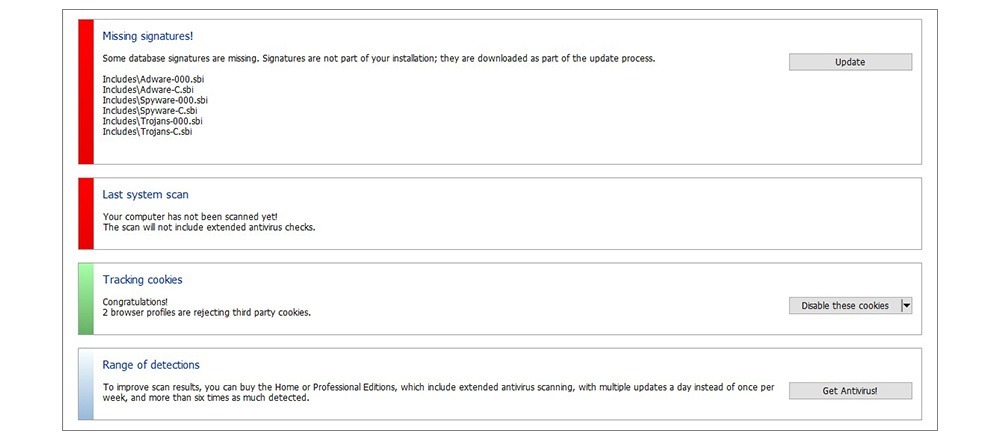 Spybot review: verdict
Spybot is simple to use, it detects malware, it scans relatively faster comparing to traditional antivirus software. Free version is limited in certain parts, and to get a fully functional Spybot you'd have to sign up for the Home Edition or other plan, but that's a common practice.
Pros: User-friendly interface, log files backtrack, donation system, protection from rootkits, twenty-year history of security software products.
Cons: No anti-virus protection in free version, no free version for iPhone users, no Android versions, lack of information about donations, possible false alarms about "suspicious" files.
Pros: User-friendly Log files Price as donation
Cons: False alarms No antivirus in Free No Android version
Overall, while Spybot Search & Destroy might not be the most popular product in its category of anti-malware, it is effective in detecting malicious files. Paid versions also provide anti-virus protection.
P.S. We also recommend checking out Malwarebytes, Malware Fighter, Kaspersky.

FAQ
Q: What is Spybot?
A: Spybot Search & Destroy is a security software to prevent and remove infections, such as spyware, trojans, porno dialers, malware, browser add-ons, etc.
Q: How to use Spybot?
A: Find information on the product page at: https://www.safer-networking.org/support/first-steps-tutorial/
Q: What is Spybot Immunization?
A: Immunize function blocks tracking cookies. It works on Firefox, IE, Opera, and to initiate it, one has to click Spybot Immunize in the left menu.
Q: What do I do when Spybot freezes?
A: You may contact support, describe the issue, attach log files.
Q: What is Spybot Anti-beacon?
A: It is a small utility targeting various tracking (telemetry) objects in Windows OS.
Q: What is "no Admin in ACL
A: It means certain items are locked and can not be changed even with administrator rights. Spybot just found and reported such instance.
Q: How to uninstall Spybot?
A: Usual program removal on Windows, via start panel or command with Win+R key combination Win + R. Then find Spybot and remove it.
Q: What is SDONACCESS.exe?
A: It is the file related to Spybot's Live Protection. It is the process that scans all programs before they start.
Q: How to view Spybot Help?
A: To view Help, open Spybot's Start Center and click on Help in the top left corner.
Spybot - Search & Destroy reviews
13
"Highly recommend"
I would recommend Spybot to anyone, since I use it myself and I can say that it is worth the money paid for it. It does an excellent job of searching for a threat and, unlike Windows Defender, shows with a virus what it does, it doesn`t see the point of viewing the "threat details" after removing the program, as Windows Defender does. Spybot is well performing its duties of searching and destroying malware, I am pleased with its work.
Pros:
Simple and transparent to use
Jeff Learns Linux,
2019-06-22 04:39:25
"The most trusted tool"
I use Spybot and I can say with confidence that I trust it more than any other tool that promises to efficiently search and remove existing threats. I sincerely recommend Spybot to anyone who`s looking for a worn and effective tool. The main plus of it is that Spybot is easy to use, and it is updated quite often, which ensures its relevance and preparedness for new types of threats. I have not used it with Win 10 yet, but I'm sure it will still be effective and indispensable.
Pros:
Easy to use, often updates
Anonymous,
2019-06-21 06:25:07
"Excellent tool to remove sneaky viruses"
I highly recommend Spybot as it is a great tool to efficiently deal with threats, malware and trojans. Personally, I use it on all my devices and I`m more than happy with its functionality. I like that unlike other similar antivirus, Spybot does not interfere with the functioning of other security programs on my PC. It is also worth mentioning that this tool is able to warn about fake URLs which is quite useful feature. It also offers a Spybot News if you are interested in monitoring the development of the program, but if you`re not, then it is useless.
G. E. Spohn,
2019-06-18 14:33:21
"DO NOT buy this product"
In no case do I recommend buying this product, as I have seen from my own experience that it does not work properly. By installing version 2.4, I was hoping to get a fully functional, efficient tool, but in the end I got technical problems. I was advised to remove and reinstall it, suggesting workarounds for technical problems. I do not recommend it.
Cons:
A lot of technical problems
Charles J,
2019-05-16 01:37:05
"Fully-featured security application"
Spybot is a reliable application that can ensure the safe functioning of my computer. I use it with existing software and I can say that it has many advantages. I would like to note some useful features that I have not seen in other anti-molars, the ability to manage systems, protect host files, protect your browser, protect against spyware and malware in real time, and perform a deep system scan. The only drawback is that it may take a little longer to scan and delete than with other search and delete programs, probably due to the fact that Spybot consumes a lot of system resources. If you are ready to give in, then Spybot is an excellent tool for maintaining the frequency and safety of systems. I use the paid version, but I can say that even the free version is quite functional.
Anonymous,
2019-05-14 10:07:02
"Slow but effective"
Scanning with Spybot can easily take several long hours, which is not surprising given that in new versions of Windows there are already a lot of files even before downloading anything for your own needs. I believe that for such a case, the background scanning mode was invented, which allows to do something else while the tool performs the functions assigned to it. I don`t think long scanning is a big problem, especially if it is effective.
trog,
2019-04-07 06:05:49
"Scan took centuries, never fixed the issue"
I have used the paid version of Spybot and was not satisfied. I scanned my PC for 2 days, as Spybot found and removed a variety of new threats, but not carefully enough so they did not returned. In addition, it is worth noting that even in the paid version of the program, there is no such important thing as customer support. My experience with Spybot ended up with removing it.
Gfmcculloch232,
2019-03-19 22:40:29
"Effective when others are not!"
Spybot turned out to be a salvation for my PC after 5 different free tools which were promised to neutralize the annoying adware file failed their mission. I no longer hoped to somehow cope with the annoying file that continued to try to break through my avv antivirus, but after using Spybot I was more than happy to finally get rid of the problem! Spybot has a simple user interface and even a free version search and destroy perfectly!
Anonymous,
2019-03-11 10:06:29
"It is essential in our computer"
If you are looking for an effective tool that would cope with the task of detecting and removing malware, corrupted files, or spyware robots, then Spybot is what you need. I can recommend it because I use it myself and I can note that it really does its job efficiently and plus you can download and install its free version, which is also effective. Plus, there is an excellent ability to customize the language. I can note the negative aspect, which relates to the relatively high consumption of RAM, but otherwise the tool is efficient and easy.
Anonymous,
2019-02-05 17:15:46
"Great freeware"
Even the free version of Spybot Search and Destroy is a good tool for detecting and removing a huge amount of malware and adware. It can equally accurately detect Trojans, Keyloggers, Dialers, Rootkits, PUPs, Adware files as well as many other files that threaten the PC. In addition, Spybot is able to fix Windows Registry inconsistencies, which is associated with installed malware and adware.
Pros:
Detect and removes a lot of threatening files and programs
FossHub,
2019-01-25 21:50:53
"Catches malwares which others tools can`t"
I must say that this anti-malware is really more effective than its counterparts and finds malware that other tools like Malwarebytes or Avast simply don`t notice. I recommend using Spybot on a case-by-case basis, and not in the full deployment settings. I can separately note the excellent malware library and the availability of Spybot. The company also offers Premium solutions, but they are only useful if you need to maintain the functionality of the tool.
AnthonyToni,
2018-12-14 12:00:27
"One of the best search and destroy tool"
I equate the functionality of Spybot Search and Destroy with the glorious Ad-Aware, which is a key player in the field of anti-spyware. Over the years, Spybot has successfully fought against malicious programs and threats, protecting my computer from all kinds of threats. Also, I cannot but mention its free version, thanks to which I paid exactly $ 0 and I got an excellent tool that satisfies my protection needs.
Anonymous,
2018-12-03 23:28:27
"Good tool! Thumbs up!"
Spybot Search and Destroy is really capable of detecting and destroying malware and viruses, thereby protecting the PC's robustness. In most cases, my scan ends with the discovery of some viruses and their speedy removal. In addition, I recommend Spybot also because it is updated quite often, and accordingly have a large library of viruses, which is constantly updated and makes the tool more aware of the latest online spyware and malware threats and effective.
Topdog123,
2018-11-18 13:01:05