Considering drastic changes in everyday life and remote that are happening, remote work management software becomes ever more vital. Luckily, there's no shortage, from simple to-do type lists for personal use to professional project management applications. Top spots on the market are known, yet many users still try to find alternatives that would suit them better. One of those is a fresh and ambitious service called Taskade, launched in 2017. So why not take a closer look? 
What is Taskade?
Taskade is the cross-platform SaaS for remote planning and cooperation of teamwork, developed by a few enthusiasts and headquartered in NY, USA. When we say that it is cross-platform, we mean one can use it as a desktop app (Windows, macOS, Linux), a web service (Google Chrome, Mozilla Firefox) or a mobile app (iOS, Android).
As a primary version, developers offer the web app, which is naturally the most accessible for most users around the globe. In regards to the Windows desktop app, it comes in 12 interface languages, and requires 324 Mb of disk space.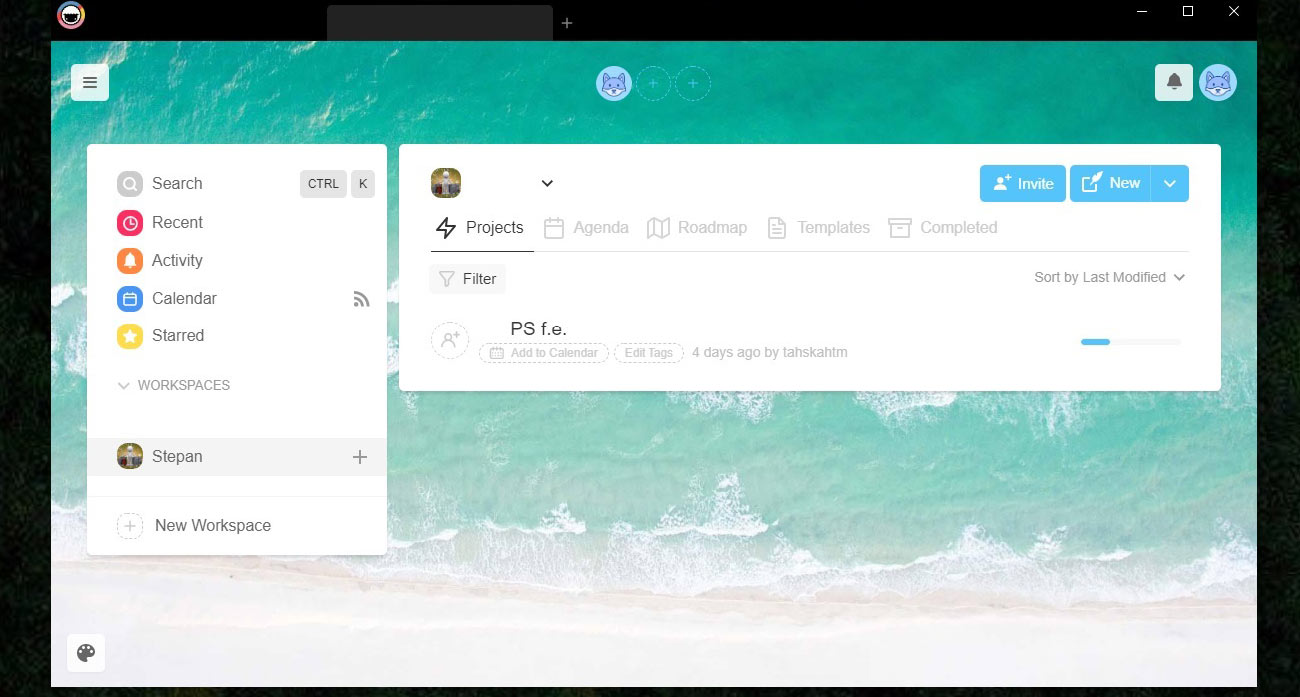 Key areas of use: task management, project management, collaboration, remote work.
The difference in terms of functionality between desktop and web is not significant, so that to minimize the hassle if there's a need to switch. Note that all versions of Taskade require stable Internet access to work correctly, which is not strange, given the collaborative nature of the service. Here's a brief visual introduction by the Taskade team:
Feature overview
Let's start with the fact that Taskade is initially free to use, which means full functionality, no limits on users and tasks. About 100 templates are available for meetings, agendas, projects, etc., as well as for specific industries like gaming, engineering, education, startups.  
Like most project management software, Taskade has all the basic tools like a calendar, planning boards, workspace, role assigning, user profile, tasks, chat, invites via link, task tracking by day or team member, history, task splitting, roadmaps, deadlines, etc. And of course, everything is being updated in real-time mode. 
We should underscore that all versions of the app support voice and video calls. Moreover, all the participants of the same workspace can join a video conference call. Quality of video and sound is not inferior to special apps such as Skype. On the other hand, there is no time tracking system and no budget control tools, but that would probably be asking too much of a free task management tool. 
Here's how Taskade stands out from competition:
A good visualization and interaction with goals set. Track the progress point-by-point and with informative statistics.

Calendar synchronization with Google Calendar and Yahoo Calendar.

Workspace format choice: task list, board, action, mindmap.

24/7 active technical support team.
User experience
In any version of the service, first of all, you need to log in. Register a new account via email and a password or sign up via Google account. If you get an invitation link from a person you know, most likely, you will get access to a specific workspace. Taskade looks fresh and really nice. Simplicity and sufficiency are in balance.
The application provides plenty of opportunities for customizing, even background images of a certain project or icon color. The default theme is light, and there's obviously a dark one, plus more options in the settings.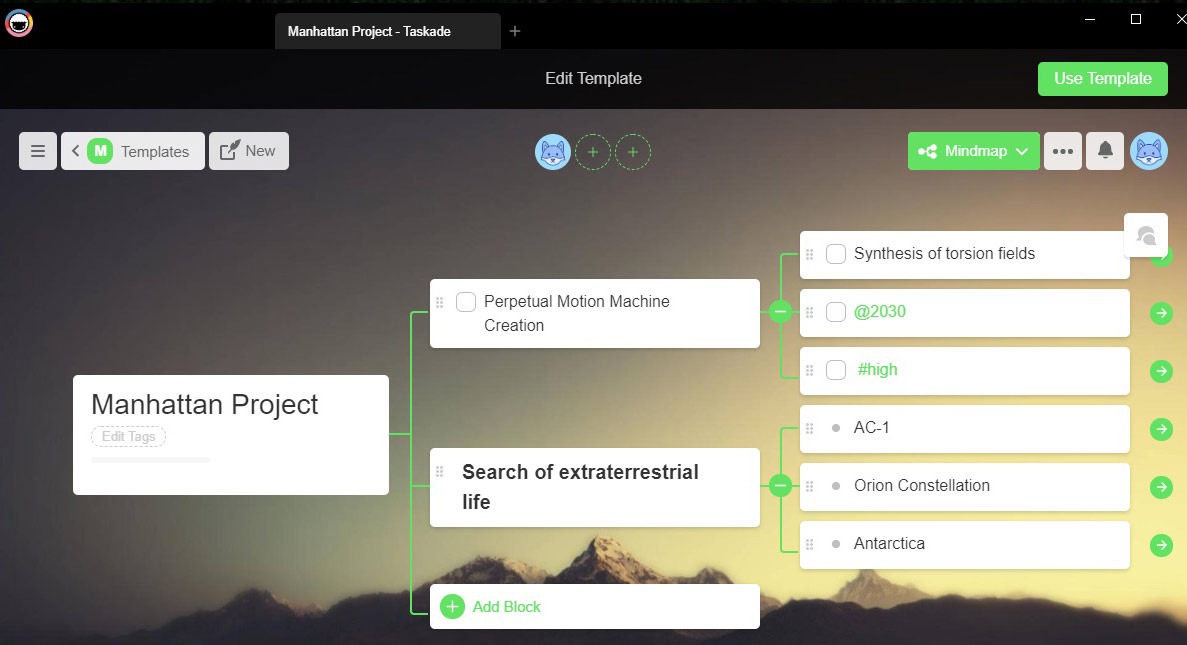 In regards to the everlasting "list vs board" debate, Taskade is one step ahead, offering switching between those any time, yet adding Action and Mindmap modes as well.
Interaction between team mates
Like similar services, Taskade allows you to expand a project and invite new users. There are two ways of invitation: by sending an email message with a link, or just sharing a project link directly.
Also, to facilitate interaction between users, it has a built-in chat – both for messaging and voice/video calls. Calls, however, work more properly and reliably on a desktop app than online. Additional options are notes, comments, replies, file attachments.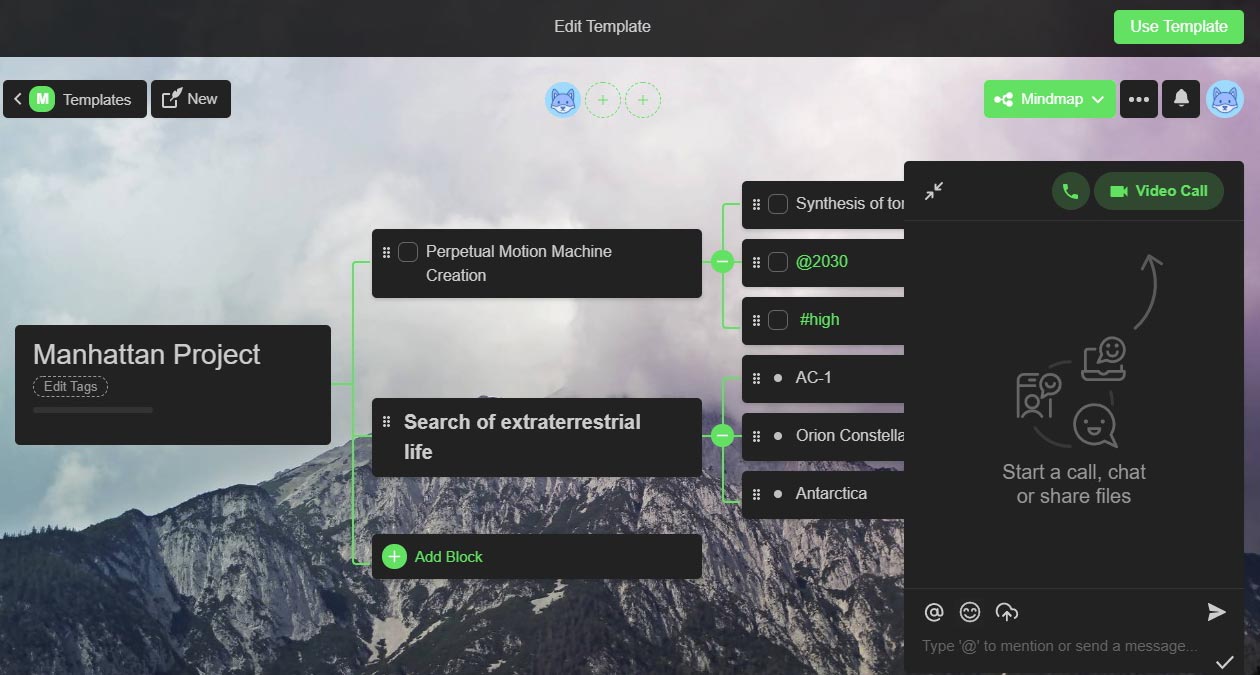 As one logs into account, he is taken to the main page. A project page with all that is happening in it is called workspace. In short, the left side contains options for general planning (search, recent, calendar, projects), while the workspace sits in the center and contains view and management tools.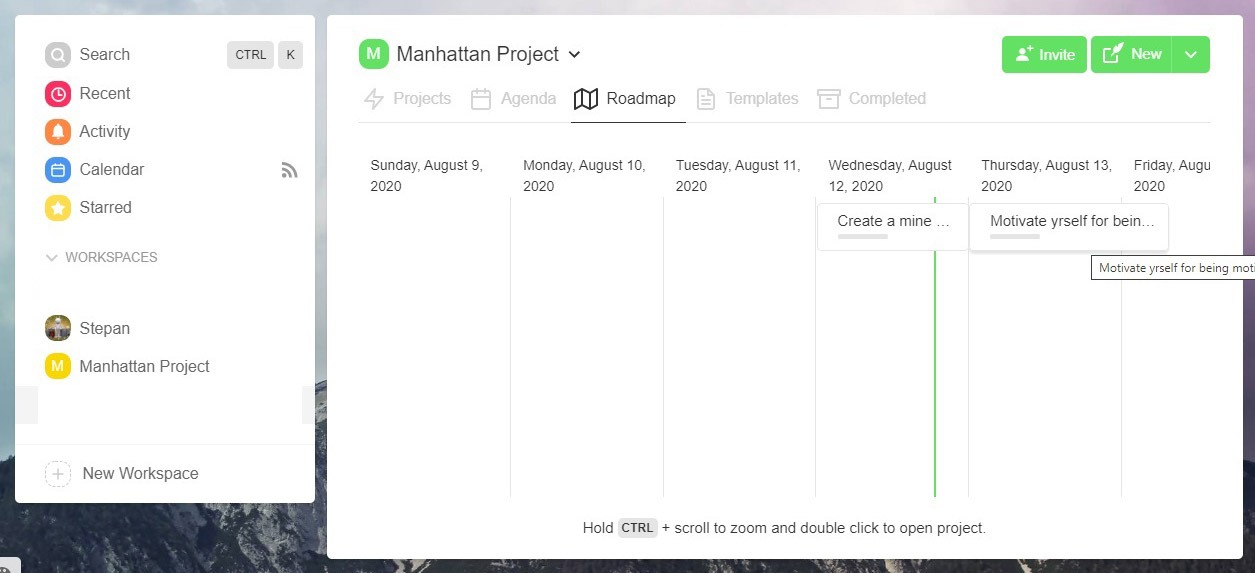 You can switch the format instantly – see the options below the title. So, Projects, for example, to see what projects are ongoing. Agenda allows you to control the timing of individual tasks. Roadmap visually represents a structure of things planned ahead, and Tasks displays a list of completed tasks. Templates deserve more attention, let's outline it separately. 
This is one of Taskade's crown achievements, we'd say. Users can choose one of five options to display projects and tasks: list, board, action, mindmap and chart. All it takes to switch is a single click. We all know that everybody is different, and personal preference in project structure and looks may affect the outcome. Also, there is a search option for easy navigation within large projects, as well as a Check All option. You can share, move, and complete a project.
Settings and support
First, the opportunity to select one of 15 interface languages. Second, profile settings as a separate window. In it, you can change name, email, connect social networks, allow browser pop-up notifications, change time zone, etc. We can see what plan is used by each member (billing). There are also password settings, integrations (generate the API token), notifications settings.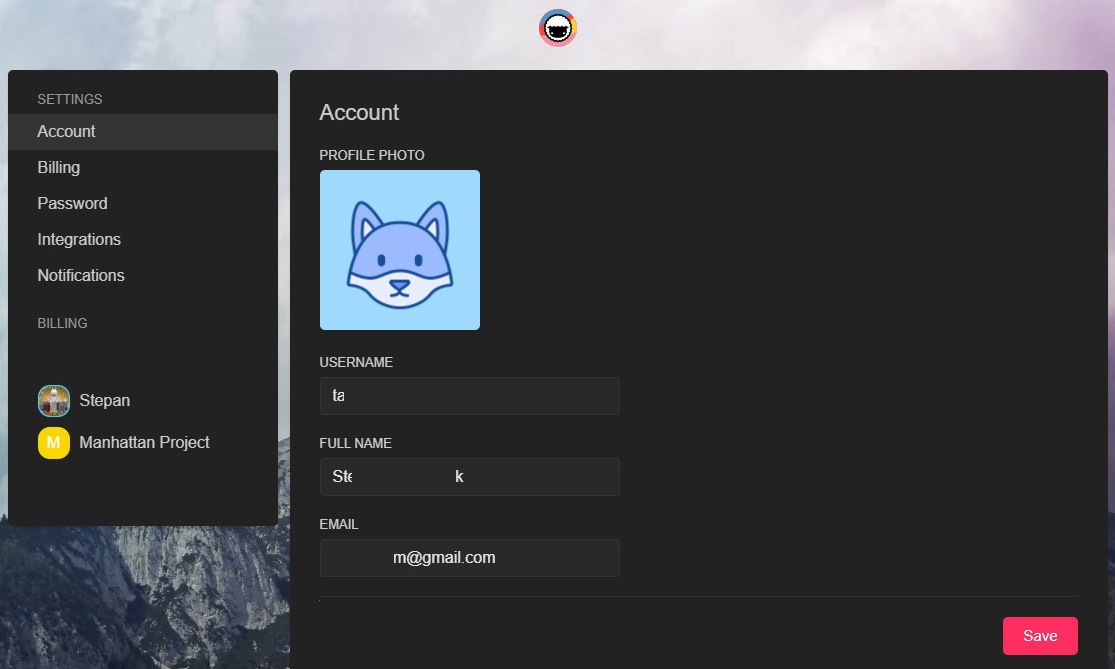 In terms of support, the website contains many guides and video tutorials to help inexperienced users to grasp all the details. The online tech support is active 24/7, though there may be delays in reply during night hours. Users with a Premium subscription have a priority.
Pricing
Taskade is primarily a free application. For individual users with a few tasks and participants it will be more than enough – up to 10 projects and 100 Mb storage. However, there is a quantitative limitation, which businesses can quickly reach. For this, Taskade developers offer 2 paid plans: Unlimited yearly – $5 per user per month, and Unlimited monthly – $9 per user per month. Benefits in both are as follows:
unlimited number of projects and file storage 

priority support and personal training

integration with DropBox, G-Drive, OneDrive

history and data recovery
Conclusion
Taskade proposes a well-designed and user-friendly solution for remote work organization. Developers managed to strike a middle ground between minimalism and practicality, without overwhelming users. All the crucial features are available both in free and paid versions, and the pricing for unlimited capabilities is competitive.
Pros
Outstanding design and UX

Switch between list, board, mindmap

Web, desktop and mobile

Affordable pricing

API for integrations
Cons
Basic task/project management functionality only

Performance issues (closing tabs, sign-in, high resource consumption)
Read next: 15 project management apps, Top task management tools.