Nowadays, it has become very handy to wear your cash within your smartphone rather than in a leather wallet. Currently, cash is gradually losing its grounds and it gives a way to non-cash, virtual money. Digital wallets is a new generation of electronic, secure payments and cashless future. The facts, they are beneficial are beyond any doubt, the only question that arises – how to call this non-cash phenomenon: electronic, virtual, or digital wallets, which all work the same way.
The benefits of digital wallets
Safety system. Electronic payment systems use a variety of modern methods of protection and security of the payment of funds for electronic purses. Excluded all possible offences that may be related to the handling of cash, lead to a mobile wallet security.
Speed. With digital wallet, any operation is performed in 2-3 seconds. For a normal bank, money transfer requires from several hours to several days.
High portability. Electronic money, regardless of the sum, does not have dimensions, unlike traditional banknotes and coins.
In 2016, the amount of money in digital wallets, available from mobile phones will be about $ 500 million.
Paytm considers, that the use of mobile wallet service will become a mainstream. Moreover, many retailers are interested in making their products more accessible. Shopping with m-payment, uniquely facilitates the process of selection and purchase of goods or services.
The vast majority of users consider main digital wallet's advantage to be simplicity, intuitive interface, the speed of calculation and reliability. Most frequently, smartphones assist in buying mobile wearable electronics, gadgets, clothes, accessories, appliances into the house, as well as books and magazines. Women use mobile applications through the m-payment for online shopping more often than men.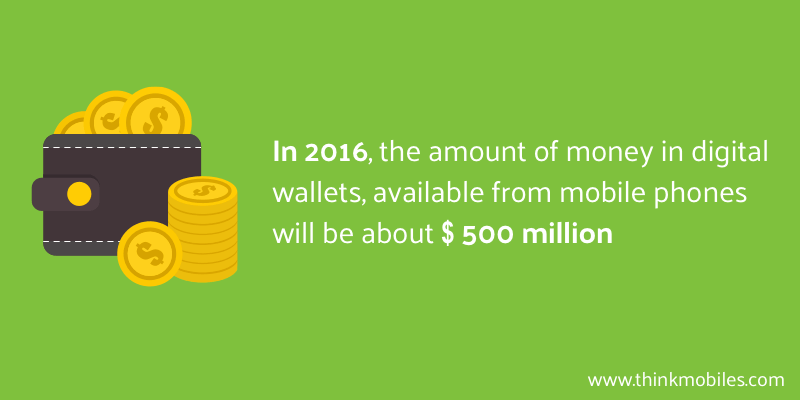 Being engaged in online business, even though small, sooner or later you come to the necessity of selecting m-payment system to work with. Virtual money has firmly taken its place in our life, and operations on them, the so-called transactions are inherent to many systems. Each, has its features and benefits.
Let us discuss 11 digital wallets that will justify its best practices, and of course, your expectations
Google Wallet