Digiarty is a Chinese software developer founded in 2006 in Chengdu. One of the company's flagship products is WinX HD Video Converter Deluxe, which is basically a video converter. Its first version was released in 2010 and since then there has been a lot of upgrades and improvements made. In light of our recent best video converters, we'd like to make a humble yet informative WinX video converter review.
Today, according to the official site, WinX converter has over 400 conversion presets, support for HD and UHD formats, several tools to speed up conversion. For a program of such impressive toolbox, it has extremely small technical requirements. In this review, we will take a look at all the capabilities and functionality of WinX. Let's start from minimal system requirements:
| | |
| --- | --- |
| Windows OS version | Windows 2000, Windows Vista, Windows XP, Windows 7, Windows 8, Windows 10 |
| MacOS version | Mac OS X 10.6 or newest |
| Processor | 1 GHz Intel/AMD processor |
| RAM | 256 MB |
| Video card | 256 MB |
| Installer size | 53 MB |
| Hard disk space | 125 MB |
Interface
Six interface languages are available: English, German, Spanish, French, Chinese and Japanese. This is rather a drawback for a modern software. From a visual point of view, translucent panels and round-edge buttons are predominant. The main skin colors are gray and blue. Unfortunately, there is no ability to switch to another color scheme.

In general, everything is well-fit, all key buttons are traditionally located in the upper horizontal panel. The central area supports drag-and-drop for incoming files and at the same time allows to work with previously added files. In the bottom right corner, a large Run button visibly stands out, occupying a large chunk of horizontal area.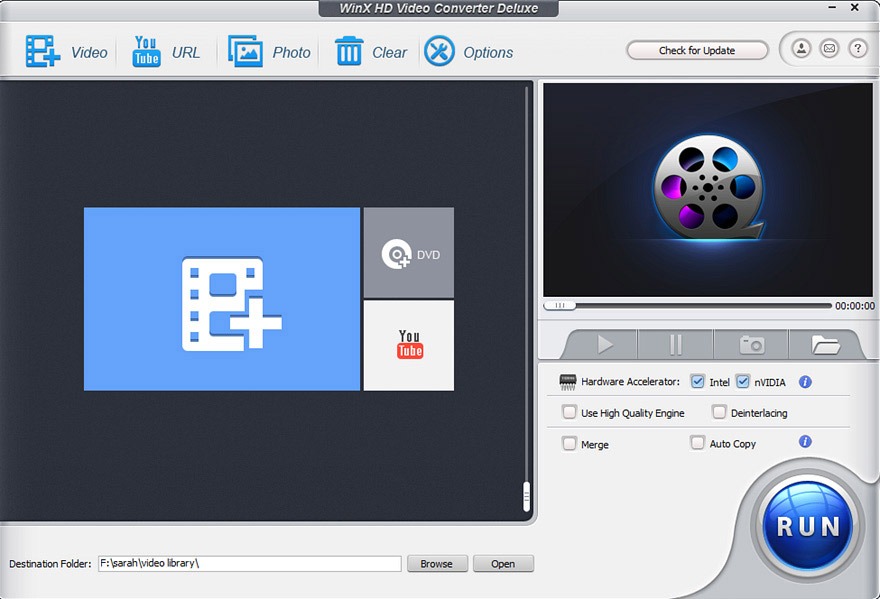 After adding a file to the list, the output format preset window automatically appears. All presets are divided into 17 categories, some of which also contain additional subcategories. One cool thing is that all recently used presets will be saved in Recently Used Profiles – the category that displayed first by default.
Tip: For all files added into the list, a preset set for a first file will be applied.
On the other hand, there are few complications. First, there is no general list of all formats, and one has to browse through the categories to find a wanted one. Second, navigation through multi-level lists could be much easier with keyboard buttons.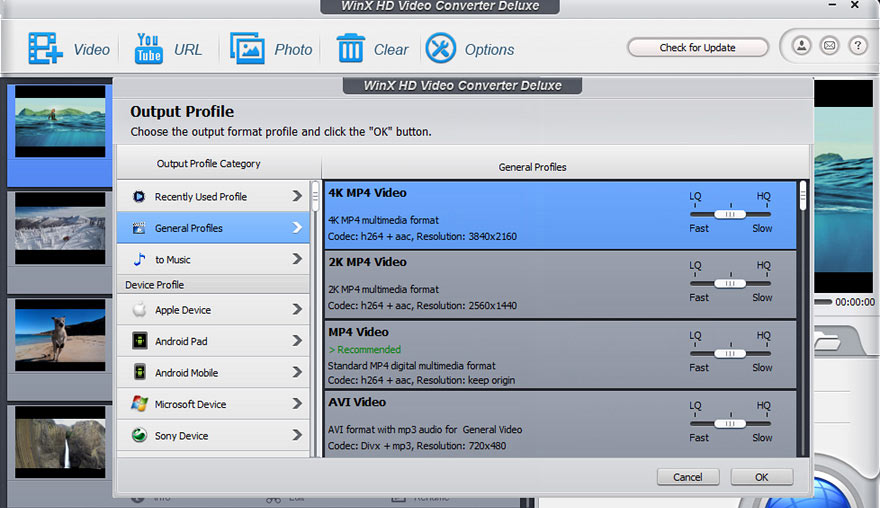 Supported formats
At the heart of any media converter is the number of supported formats. WinX HD Video Converter Deluxe works with video, audio and pictures. The most popular video and audio formats, e.g. MP4, AVI, 3GP, MOV, MP3, WAV, FLAC, are surely available.
SWF and FLV formats are available to create optimized videos for web pages. WinX can also work with rare formats like ASF, MTS, 3G2. In general, you have a choice of 24 different output video formats.
Tip: Video-to-image conversion is not available. This is due to the fact that when converting HD videos or videos with high frame rate, it becomes impossible to calculate the required system resources.
There are quite a few traditional formats for audio, all more or less significant formats are supported. The program functionality also allows to extract audio tracks from a video file, and the audio-to-audio conversion of 14 different formats.

WinX video converter works with 9 HD video formats and supports conversion to files with 2K and 4K resolution. It also works with NTSC and PAL DVDs formats. Let's summarize all formats in a table.
| | |
| --- | --- |
| Category | Supported formats |
| Video | 3G2, 3GP, ASF, AVC, AVI, DIVX, DV, FLV, H264, HEVC, M4V, MKV, MOV, MP4, MPEG-2, MPEG-4, MTS, NTSC DVD, PAL DVD, SWF, WEBM, WMV, WMV2, XVID |
| Audio | MP3, AAC, M4R, AC3, WMA, AIFF, CAF, DTS, OGG, AU, RA, WAV, FLAC, ALAC |
| HD | TS HD, MTS HD, MOV HD, AVC HD, MKV HD, MPEG-2 HD, AVI HD, WMV HD, 2K MP4, 4K MP4 |
Conversion presets
WinX HD Video Converter Deluxe supports 45 multimedia formats. And based on that, there are 480 different conversion presets. By "preset" here we mean a set of settings for a specific format or device. The benefits of presets include avoiding errors on devices with non-standard parameters, and optimal bitrate/codecs settings.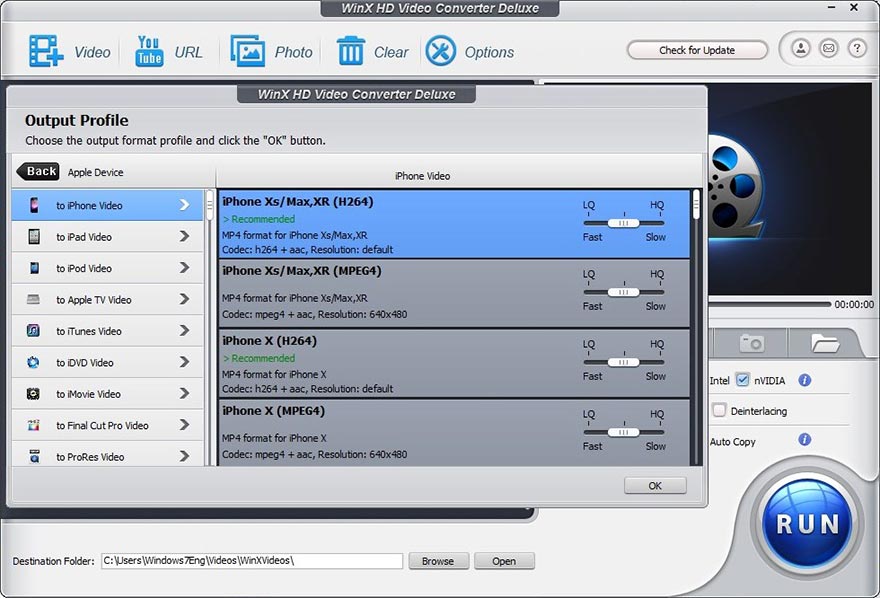 Presets can be divided into several groups. One example is mobile devices – formats for iOS, Android, WP8, etc. However, the majority of presets are configured to work properly on mobile devices anyway. Unlike other video converters, not all of which offer mobile devices presets, WinX even provides extra subcategories for this.
| | |
| --- | --- |
| Category group | Devices |
| Apple Device | iPhone, iPad, iPod, AppleTV, iTunes, iDVD, iMovie, Final Cut Pro, ProRes, Air Playit |
| Android Pad | HTC, Samsung, Amazon, Google, Huawei, Lenovo, Acer, Asus, Other |
| Android Mobile | HTC, Samsung, Google, Huawei, Acer, Amazon, Other |
| Microsoft Device | WP8 Pad, WP8 Mobile, Xbox, Zune, Surface |
| BlackBerry & Nokia | BlackBerry, Nokia, PDA, ZEN |
| Web Video | YouTube, Facebook, Vimeo, Other |
| Basic profiles | Mac, DVD, HD, Other |
Tip: If you don't find a specific preset, select the closest one and then tweak the conversion settings of a preset.
WinX video converter review: Features
First off, WinX Video Converter does not have a free version, yet there is a trial. The only limitations in a trial is that it only works for files not longer than 5 minutes and forcibly shows pauses between operations. Now, the essential feature list both for PC and Mac.
| | | |
| --- | --- | --- |
| Feature | Windows | MacOS |
| Convert video | ✔️ | ✔️ |
| Convert audio | ✔️ | ✔️ |
| Conversion presets | ✔️ | ✔️ |
| Media player | ✔️ | ✔️ |
| Video trimming | ✔️ | ✔️ |
| Video merging | ✔️ | ✔️ |
| Video improvement | ✔️ | ✔️ |
| Customizing output settings | ✔️ | ✔️ |
Before we do what we want the most – give it a full-steam test ride, let's look into WinX set of features. As a result, we've also did several mini-tests (or pre-tests) for each feature.
When enabled, the automatic image enhancement technology will be applied during conversion. And although the results are hardly visible to the eye, meticulous users will find certain improvements in the bottom of an image.
Before: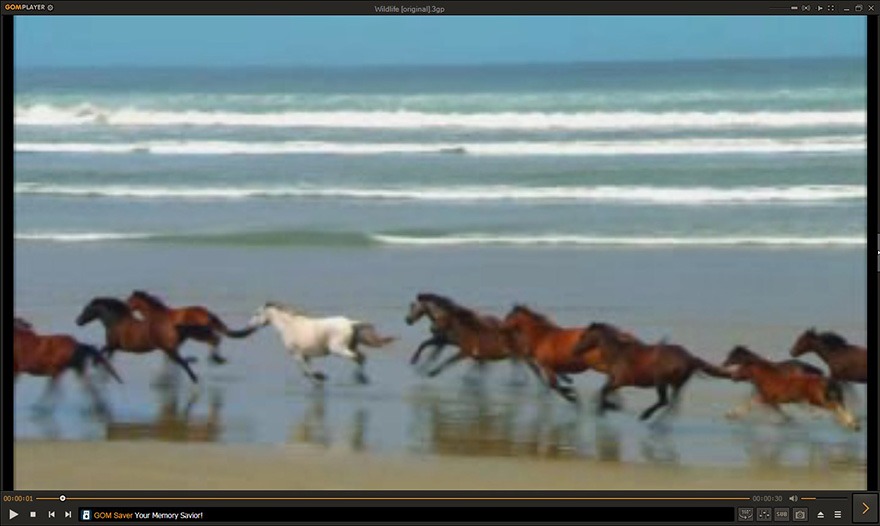 After: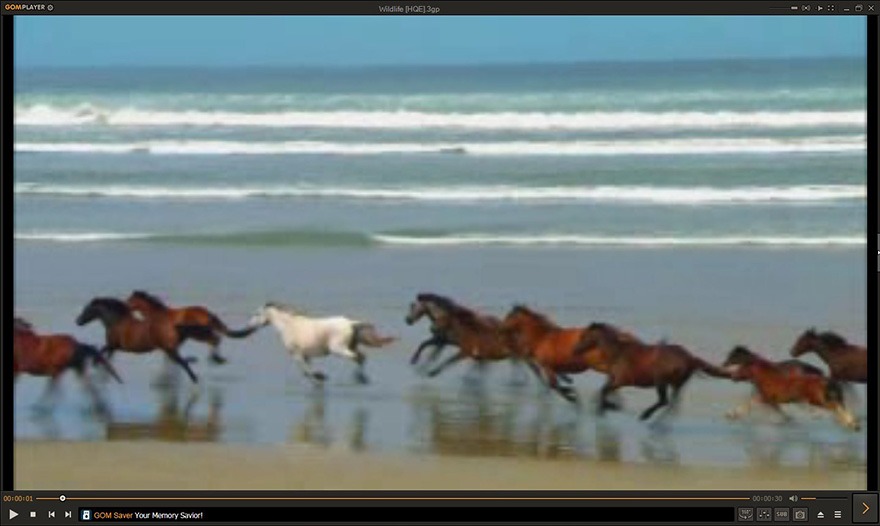 Eliminates pixel lines which might have appeared in the original video by interlacing (encoding). The result, as we applied it, was alright – it smoothed out some baselines, some parts became more blurry, but the holistic perception of the picture improved.

Note, that browser images you see won't transfer all the minute nuances of original images. To test deinterlacing tool we used a 3GP file converted to 3GP as well, to avoid possible distortion.
A rather atypical tool for a media converter. Despite the extremely basic functionality it allows a user to drop as many pictures and sounds as he/she wants. The sorting order of files and the duration of slides can be adjusted by default values only, no customization, sorry guys.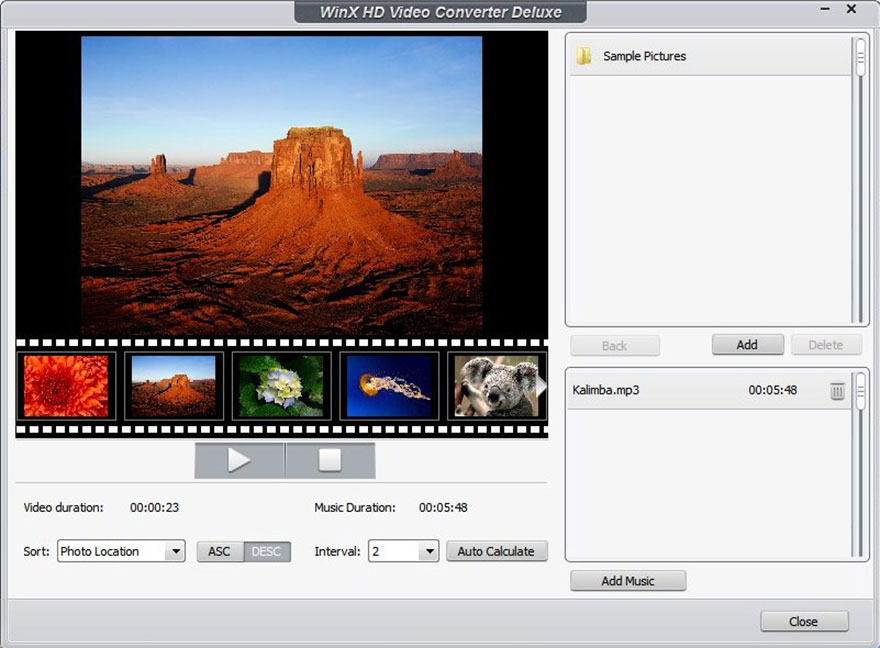 This feature allows to reduce the time WinX takes to convert a file to another format. It is achieved by skipping source file codecs conversion if they match the codecs for the output format. To test this, we took an MP4 source file with AAC audio codec and H264 video codec, and did the conversion to a MOV target file with the same codes.
With standard conversion (no Auto copy):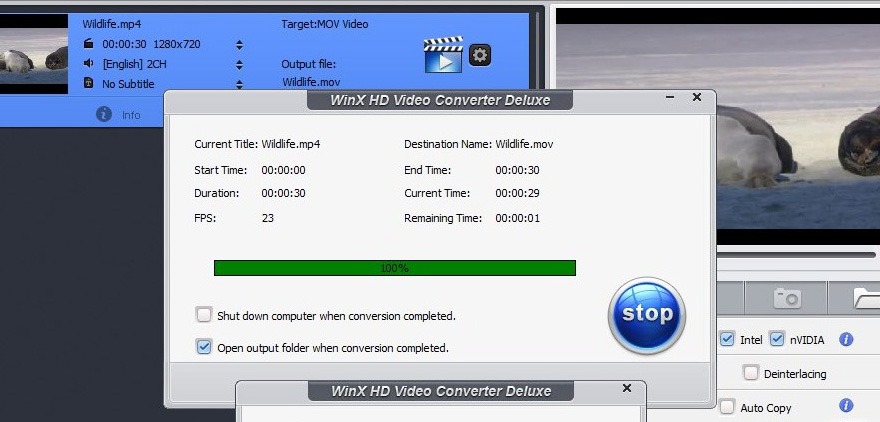 With Auto copy enabled: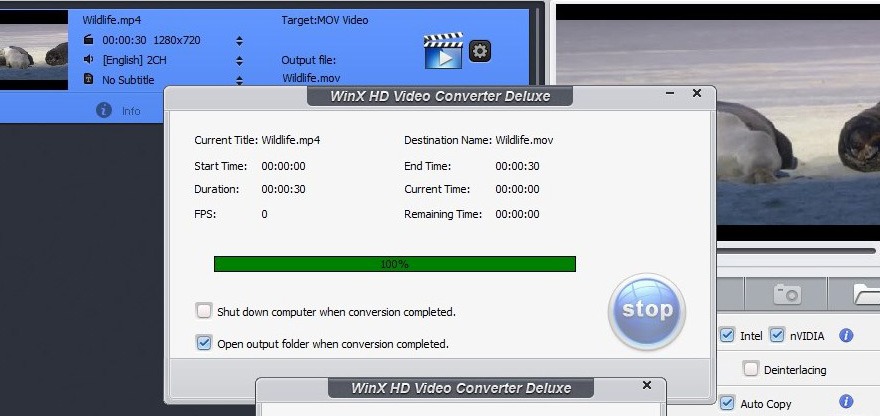 The difference in time made up 28 seconds, so it really works. But don't forget this was a scenario unlikely to repeat in real life, as audio/video codecs will rarely coincide in your input/output formats.
Tip: Codec – an algorithm for file content compression aimed at size reduction.
A media player with usual functions, which is handy for a preview before actual conversion. Each file in the list can be viewed in the player, although you cannot scroll the file – you have to search for the desired time period manually instead. But there's a screenshot tool.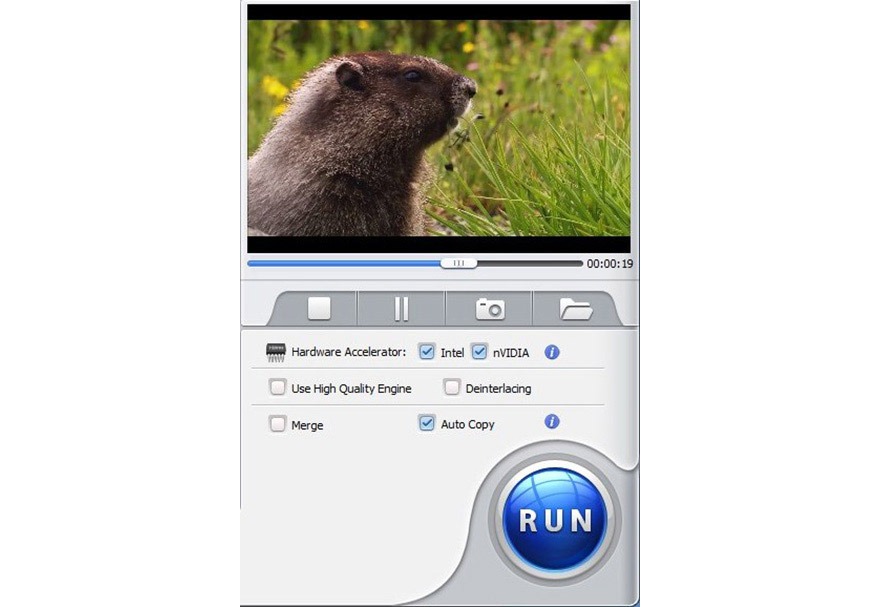 In addition to player, there are certain advanced functions (activate by clicking Edit after adding files to the list). A number of editing options for an output file are there:
Enhance sound
Add subtitles from a file
Crop (removes unnecessary parts)
Trim the duration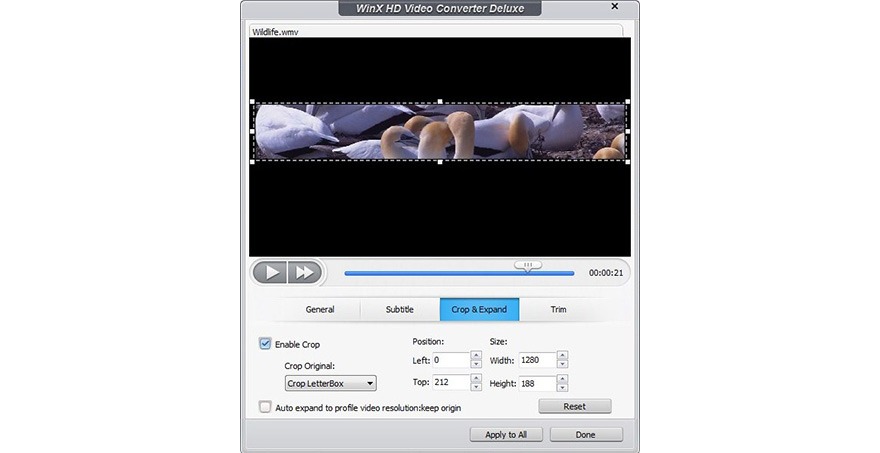 Tip: Use "Merge files" feature to combine several files, no matter the format, into a single file.
Download videos embedded in web pages and video hosting services. The list of supported sites is constantly growing and has reached 476 sources, as of September 2019. The extra advantage is that WinX algorithm identifies all available video formats on a webpage and allows a user to select one of them.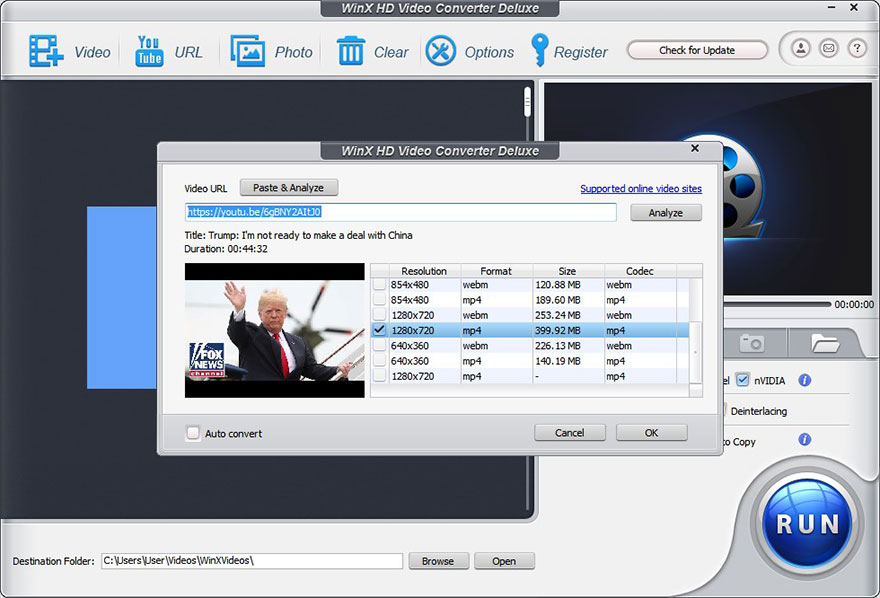 Tip: WinX does not encourage downloading copyrighted content.
In WinX video converter you can independently adjust the settings for outgoing files. To be precise, depending on input file characteristics, you can choose 1 of 12 codecs for video, as well as adjust video resolution for a non-standard screen. For audio tracks, there are bit rate and number of channels, which affect the ratio and size/quality.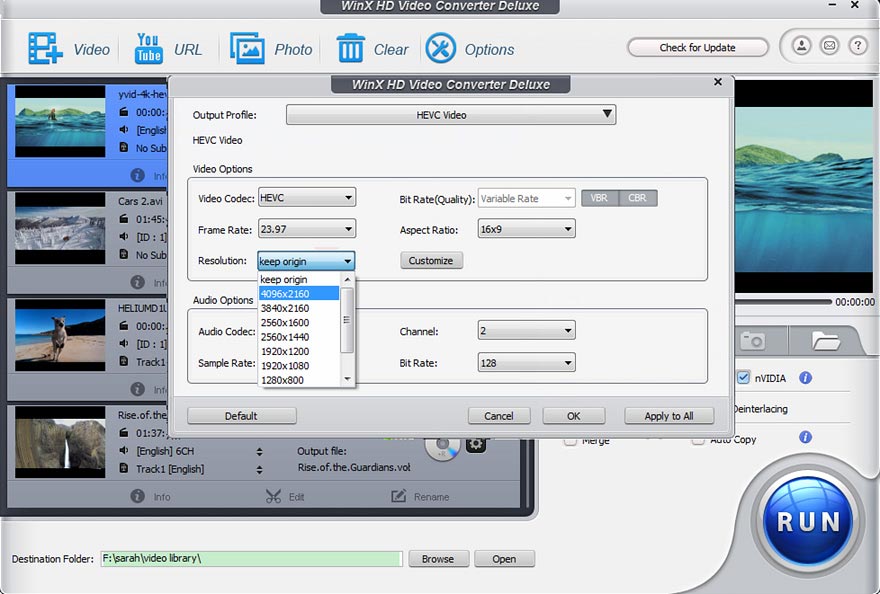 Video conversion options:
| | | |
| --- | --- | --- |
| | Available | Total |
| Video codec | h264, xvid, mpeg4, Divx, hevc, wmv2, vp8, rv20, h263, flv1, dv, mpeg2 | 12 |
| Frame rate | 15; 23.97; 25, 29.97; 30; 50; 59.94; 60 | 8 |
| Resolution | 4096×2160, 3840×2160, 2560×1600, 2560×1440, 1920×1200, 1920×1080, 1280×800, 1280×720, 960×640, 720×480, 640×480, 480×320, 320×240, custom | Unlimited |
| Aspect ratio | 3×2, 4×3, 16×9 | 3 |
| Bit rate | 800, 1500, 1600, 1700, 1800, 2000, 2200, 2400, 2700, custom | Unlimited |
Audio conversion options:
| | | |
| --- | --- | --- |
| | Available | Total |
| Audio codec | mp3, aac, Wmav2, libvorbis, pcm, ima 4:1, dts, ogg, ac3, flac, alac, mp2 | 12 |
| Sample rate | 16000, 22050, 32000, 44100, 48000 | 5 |
| Channels | 2, 4, 5, 6 | 4 |
| Bit rate | 32, 40, 48, 56, 64, 80, 96, 128, 160, 192, 224, 256, 320, 348, 448 | 15 |
Testing
For testing we used 2 sample files with the following parameters (and several variations of both):
Test file 1: "Wildlife", format WMV, 30 seconds duration, size 25 Mb
Test file 2: "Mix", format MP4, 3 minutes duration, size 48 Mb.
The test scenarios included the most common operations for video converters: video conversion, video compression, extracting audio, merging 2 video files. So, here are the results:
| | |
| --- | --- |
| Speed, 30s MP4 to AVI | 00:47 |
| Compression, 3m MP4 to FLV | 13,9 Mb |
| Extract audio, 3m MP4 to MP3 | 00:06 |
| Merging, AVI+WMV to MP4 | 01:57 |
During the tests we also noted that the built-in stopwatch behaves erratically, so we used a 3-rd party tool for experiment purity. Unfortunately, there's no AVI to GIF conversion possibility, which is in high demand by users. But overall, WinX proved to be quick and effective.

Support
Detailed step-by-step help materials are available on the official website, but no print-out / downloadable / offline files. The Help button in program menu leads to the web page, and to use the Support form one has to have a client version installed. To check on technical support team, we sent a simple question: "Why hardware accelerator does not work with video cards from AMD?"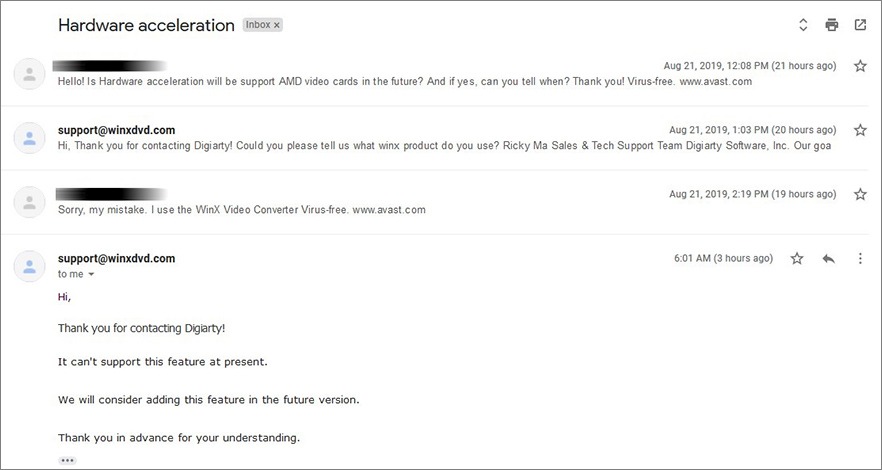 1 hour later, we got a response asking to clarify which Digiarty product exactly were we talking about. The following response came in 14 hours later. So it's hard for us to say something determinate about the support. One thing is for sure – round-the-clock technical support would be much better. As for the question, support for AMD graphics cards is considered for future product versions.
WinX converter alternatives
If we take a few more products in video converter software category (Xilisoft, Wondershare, Any, Wise) and compare prices, we see the following:
WinX HD Video Converter Deluxe – $29.95
Xilisoft Converter Smart – $29.95
Wondershare Video Converter – $39.95
Any Video Converter – $49.95
Wise Video Converter – $19.95
As we see, WinX has a fair advantage, with only Wise converter being the cheapest one, but it is only natural as Wise has less features. The second aspect to video converters is the number of supported formats. If you want WinX alternative, take a look at Format Factory (free, all popular file formats), Any Video Converter (convert+edit, trial with 3 minute limitation), or Wondershare.

Now, let's compare them in action.
Format Factory
Any Video Converter
Wondershare
WinX HD converter
License
Free
Limited trial
Limited trial
Limited trial
Speed,
30s MP4 to AVI
01:09
01:23
1/3 file length limit
00:47
Compression,
3m MP4 to FLV
8.9 Mb
12.6 Mb
N/A
13,9 Mb
GIF,
1m AVI to GIF
00:50
00:29
1/3 file length limit
N/A
Extract audio,
3m MP4 to MP3
00:06
00:14
1/3 file length limit
00:06
Merging,
AVI+WMV to MP4
00:22
02:43
1/3 file length limit
01:57
Conclusion
WinX HD Video Converter Deluxe provides plenty of options for multiple devices, offers 480+ presets. For those who work professionally with media files, it provides the ability to edit output file parameters – to achieve the best optimal quality or size.
Media player inside allows video cropping, adjusting audio, addition of subtitles. One of the key WinX features is HD support – presets for 2K and 4K resolutions. We should add DVD burning function to the list as well.
Few issues here and there, e.g. frame duration control in slideshow, stopwatch performance, however they do not affect the core operation – conversion. But overall this is a decent video converter, offering good functionality and speed, so we definitely recommend trying it out.

FAQ
Q: Is Winx HD Video Converter Deluxe free?
A: No, but you can use WinX converter for free. Notice that some key features (like download by URL) are unavailable in free edition.
Q: How to merge files?
A: 1. Add files into the list. 2. Select the preset and source file settings. 3. Use the arrows to arrange the files in the required order. 4. Turn on the Merge function on the right side of the screen and start the conversion.
Q: How to manage settings for output files?
A: 1. Add a file to the list and select the preset that suits you best. 2. Click on the gear icon that appears next to a file. 3. Adjust the settings and start the conversion.
Q: What is hardware accelerator for?
A: In enabled state it allows WinX HD Video Converter Deluxe to use GPU power to increase conversion speed.
Q: What is bitrate?
A: Information transfer rate (in bits) over a channel per unit of time (1 second). For media files, this value characterizes the level of video compression. Low bitrate values reduce file size but degrade image quality.
Q: What is codec?
A: This is a video compression algorithm. When using different codecs, you can get a few copies of the same video with different quality and size.
Q: How to change sound if a file has several audio tracks?
A: Users can select the right audio track. To do so, find the sound file, click on parameters (left window ares).