The most probable case when you wish to develop your mobile app for another platform is to convert Android app to iOS app. Android is a dominant force on the market with 80% of all smartphones (iPhones about 16-17%). Though Apple iOS generates much more revenue – by 85% than Android. iPhone owners are also more loyal and tend not to switch to different devices.
Here, with help of our in-house expert iOS developers, we'll be talking about how to port Android app to iPhone app. This means building a brand new iOS version of the app based on your existing mobile app. This process implies 6 key aspects, we'll explain one by one below:
Navigation
Design
Device support
Frameworks
Testing
App Store submission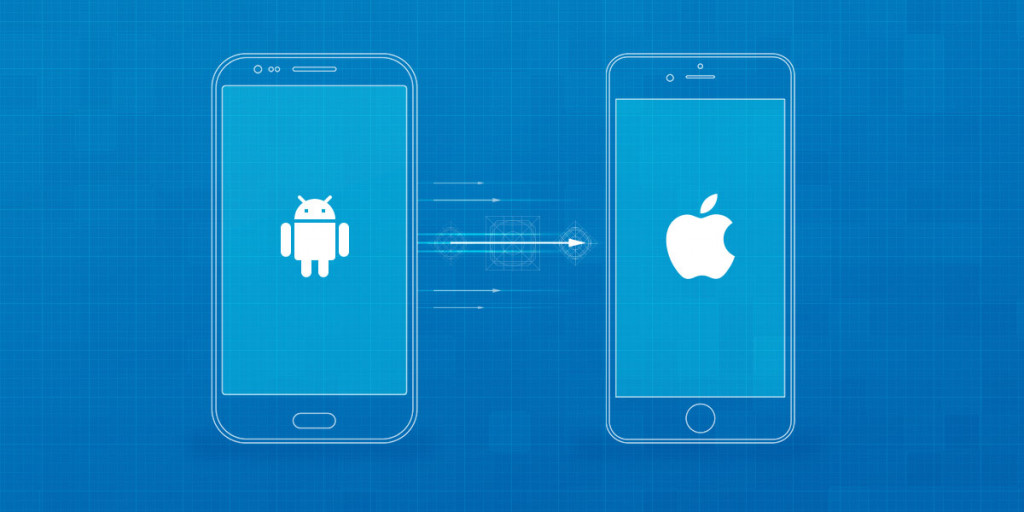 But first, why should you convert Android app to iOS app if you think about it? What are the benefits? Here is a short summary of reasons to port Android to iPhone app:
Wider audience outreach
A cross-platform app
Better revenue/ROI options
Cost-effective development
Navigation
The single biggest difference between users' behavior on iOS and Android devices is the main button, or Home button. iPhones have one main button, while Android phones has at least 3 of them (Home, Back, Multitasking). So how does this impact Android to iOS porting, one may ask?
People on Android phones may tap a back button to return to previous screens in the app. For iPhone users another way to do this has to be implemented because there's no back button. Generally, iOS applications have a mix of horizontal and vertical elements, and Android apps, on the contrast, are more vertical. Also, if you want your iOS app look alike to Android version, place in-app tabs at bottom.
Design – a crucial factor to convert Android app to iOS
Google Android and Apple's iOS interfaces are two different universes. This means you cannot reuse the interface of your Android app to port it to iOS app – a bitter pill #1. This is due different approaches of design – Apple works in flat design and Android works in material design.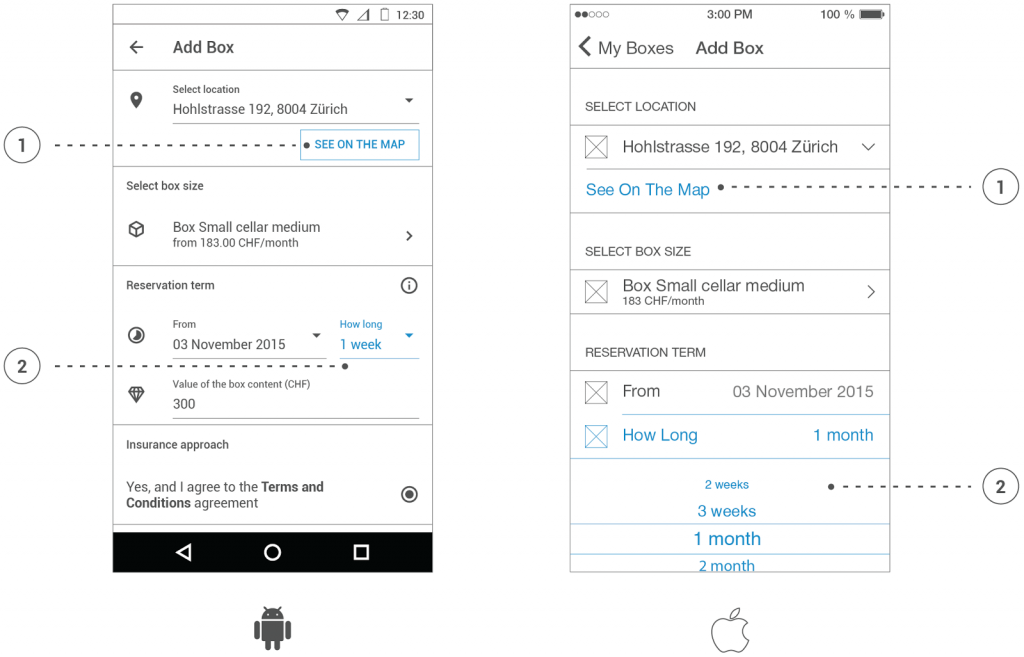 Let's gather all main design differences of Android and iOS platforms:
| | | |
| --- | --- | --- |
| Design elements | Android | iOS |
| Object placement | Hierarchical arrangement | Flat arrangement |
| Text alignment | Left | Centered |
| Navigation bar | Drawer menu placed left | Tab bar menu, centered |
| Font family | Roboto | San Francisco and Helvetica Neue |
| Button styles | Floating action buttons with text in all caps | Flat with shadows |
| Action sheets | Solid color | Slight transparency |
| Controls | Simple underline | 3 tabs / buttons |
| Icons | Thick stroke icons | Thin line icons |
| Alerts | Flat buttons, actions right placed | Actions centered and separated |
Note, that both Android and iOS have exclusive controls, like menu component, dropdown picker, etc. One should also pay close attention to the typography – San Francisco is a default font on iPhone, while Roboto is Android one. And if you do not take it into account and leave the font as it is, you risk ending up with design flaws.
Device support & screen resolutions
Firstly, check the operating system versions and make sure to convert Android app to iOS with relevant versions. Of course, phone users tend not to update their devices to the latest OS, though good news is that about 90% of iPhone owners have switched to the latest iOS version. It means making the app support iOS 10 is the way to go.
As you build an iOS mobile app keep screens of different sizes in mind. Apple has a lesser number of devices than Android, and consequently less sizes and screen resolutions. Though it also means less trouble for iOS developers you've hired, and thus – less risks.
Contrary to Android, Apple limits access to the components, so when porting apps you have to consider component compatibility with another OS. For instance, NFC module from Android will only be  possible to integrate with iOS 11.0.
Libraries/frameworks
If the Android application is utilizing certain 3-rd party tools/frameworks/libraries/services, you also have to study compatibility of those with iOS app. If not compatible, you'll have to find the  equivalent framework for iOS – that's the bitter pill #2 when converting Android to iOS app. Luckily, vendors mainly are releasing libraries supporting both operating systems. So, the functionality of services like Facebook or Mixpanel can be replicated in both platforms with no pain.
Testing & App Store submission
For successful Android to iOS app porting you'll have to perform serious quality assurance. Mobile app testing after and during development includes:
Integration testing: a combined testing of software modules separately and as a group;
Validation testing: whether final software product meets business requirements;
User acceptance: iOS app testing for user scenarios similar to Android app;
Beta testing: real time data collection by real users and/or a client before the release.
Some tips for efficient app testing include using real mobile devices, apply latest and unconventional methods and use console log. Also, if you report bugs via screenshot command, developers will understand it better.
Finally, as your iOS app is ready and you wish to go live make sure to follow Apple's App Store Guidelines. You need to have a developer account to submit the app, which also grants access to features like in-app purchases, TestFlight, app analytics, and more.
You have to provide the following:
App name, subtitle and description;
App icon;
Screens or promo video (to show the user experience);
Keywords;
Updates;
Ratings / reviews;
A practical advice to make it work nicely would be:
If that's too much sweat, you can delegate this task to your iOS developers as well. A contract to develop an iOS application, to convert Android app to iOS app, to update an app can easily be expanded with App Store submission task.
Summary: How to port Android app to iOS
With all aforementioned aspects in mind, and as you've made up your mind to convert Android app to iOS, the process should include the following stages:
Analysis and plan
Technical assessment
Implementation
Quality assurance
Going live
Few extra tips for iOS porting are:
Seek optimization options
Analyze business logic and transfer it carefully
Study 3-rd party frameworks involved
Testing user acceptance is highly advised
Create iOS-specific design and UX
Check tech stack and skills required for iOS development in the table below.
| | |
| --- | --- |
| Technologies |  Objective-C, Swift, PhoneGap, JSON, XML, JavaScript, HTML5, CSS. |
| Tools |  Xcode, SQLite, Git, SVN, Jira, JustinMind, CocoaPods, Crashlytics, ScreenFlick. |
| Frameworks | Paypal, Flurry, Crashlytics, social networks (Facebook, Twitter, Linkedin, Pinterest, Instagram), etc. |
| App types | Lifestyle apps, social networking apps, entertainment apps, educational apps, retail apps,  fitness apps, business apps, dating apps, etc. |
| Skills | In-app purchases, payment gateways, notifications, extensions, touch authentication, geofencing and location tracking, caching, social integration, memory management, audio/video/camera tasks, etc. |
Feel free to contact us at ThinkMobiles with any questions or orders about app porting.
Read more about Mobile Apps