Having an iOS mobile app for business or brand is great. As you've decided to develop an app using Apple's mobile operating system first, the next logical step is to build the same app for Android. After all, it currently has the 80% share of mobile OS market. So what are the requirements to convert iOS app to Android app? How big of a change ahead? How to find Android developers that will show you a really great result? With help of our in-house development team we'll talk you through in detail.
Android app architecture
One of the first steps in Android app development is defining the minimum Android version supported by your app. For instance, setting it at 4.4 KitKat (and newer) will ensure 90.5% coverage of mobile devices. Though, for specific cases and in regards to app features as well as targeted audience, we recommend making an analysis to set a proper version limit.
Next step is the review of app architecture and features, considering peculiarities and differences of both iOS and Android platforms. Certain platform properties may amend or add new functions of an app, for example:
Touch 3D on iOS / AppShortcuts on Android for launcher
Push notifications specifics
Order and specifics of content switching
Interaction with other apps installed on a mobile device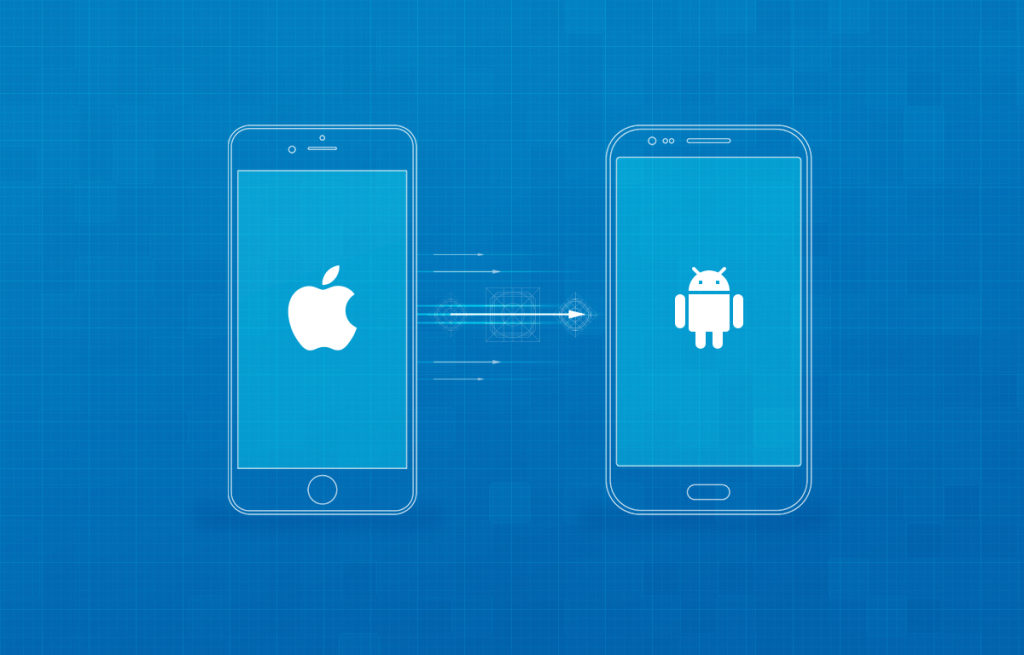 Design considerations to convert iOS app to Android
There's a lot of discussions regarding pros and cons of both iOS design and Android design. The main distinction here is that those are 2 different environments and act differently. Therefore, avoid copying design element when porting iOS app to Android. Android app with iPhone design, and vice versa, will not do you good.
These are elements and aspects that require special attention:
Also, you have to remember and apprehend metric differences. Things like different Android screen resolutions, various icon sizes, 48DP rule dominance in UI design, etc.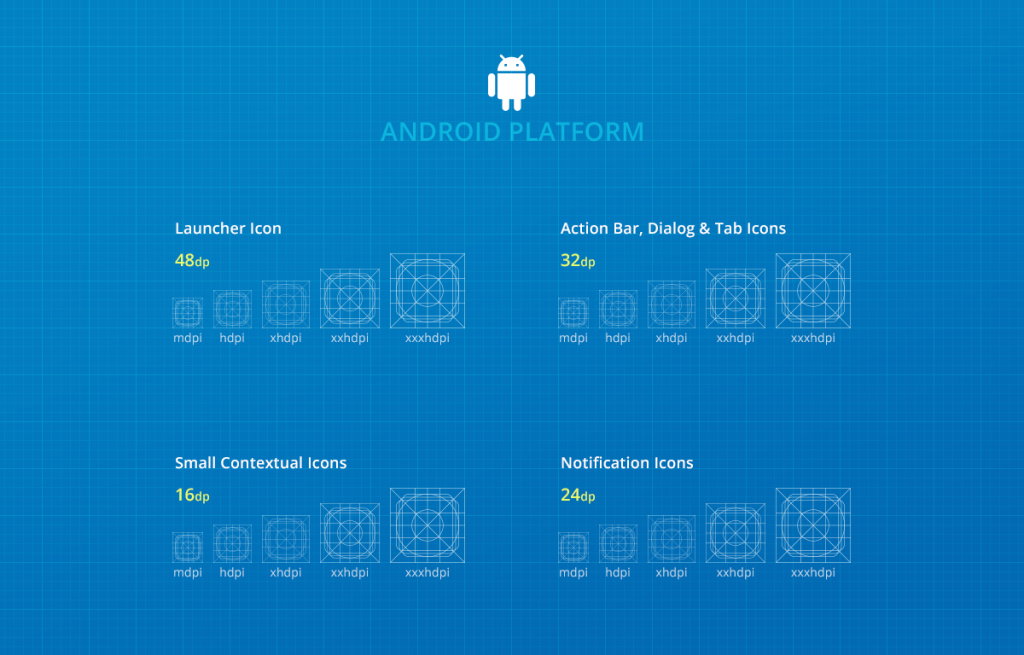 And compare to iOS icon and font sizes, which are measured in points (pt), instead of pixels on Apple platform. The ratio of points to pixels is about 0.75. See iOS resources grid below.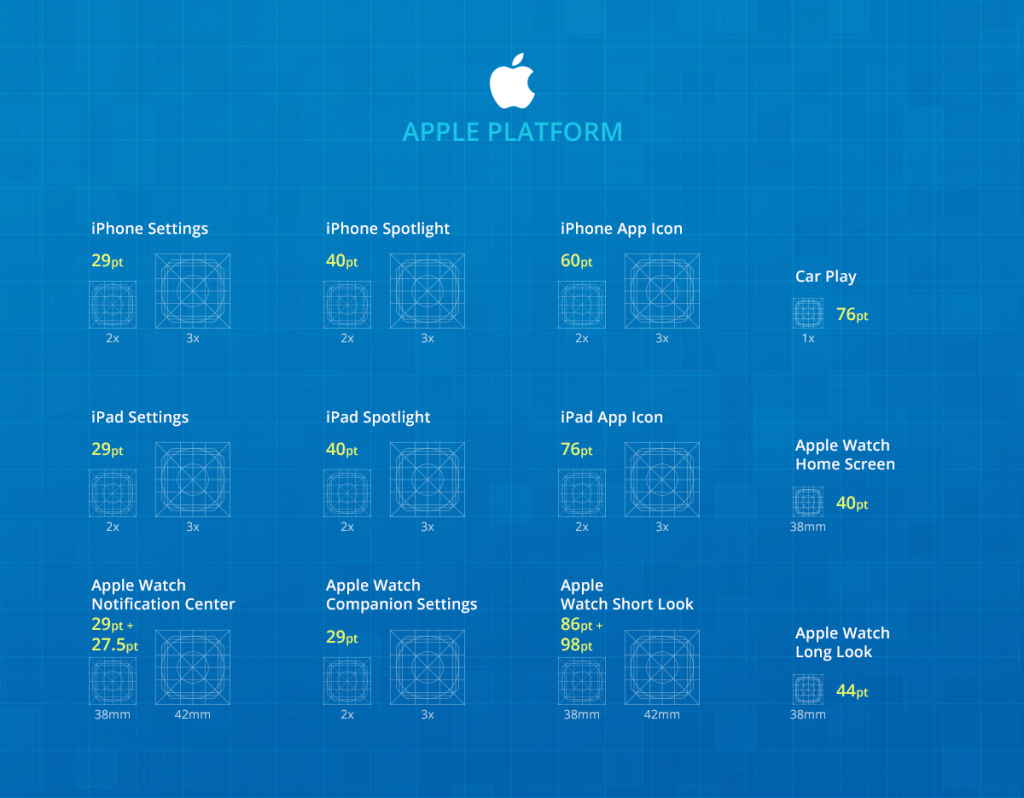 Libraries, frameworks, code porting
App developers always use certain external tools and libraries when building a mobile app. To convert iOS app to Android app, surely, one has to check for compatibility of those tools in Android. In case they are not compatible, it's necessary to find a proper alternative frameworks.
Concerning code porting for iOS/Android conversion, dissemblance is huge. Today's iPhone apps are being mostly developed with Swift language, while Android apps use Java and/or Kotlin. You can not just recompile the first code into the latter.
On the other hand, both iOS and Android platforms are capable of working in C code, which one can port in certain scenarios. In practice, for iOS to Android conversion, the app is rewritten on another programming language entirely. Duration of such task depends on app complexity, architecture, libraries and so on.
Testing
Obviously, testing the Android app is a nuanced process, same like iOS applications. The advice is to use common Android-specific emulators, quality assurance systems and other tools for software testing.
Publish to Google Play Store
After iOS to Android app conversion is complete, it is time to release the app to Google Play. The process is quite similar to the one with App Store – you need to add title and description, screens, icon, etc. You also have to specify regions of distribution and undergo app evaluation to set the age rating. More info in Android publishing guidelines.
Conclusion
iOS to Android porting is a complex task requiring technical skills in both mobile platforms. Developers have to be capable of platform adaptation, analyzing business logic behind an app, programming and testing. No "just make it look the same" approach is the rule.
Other recommendations include:
Check for optimization/improvement options
Analyze business logic and transfer it
Study 3-rd party frameworks involved
Test user acceptance (if possible)
Create Android-specific design and navigations
And finally, a short FAQ.
How long does it take to convert iOS app to Android app?
It can take from 1 to 6 months, or beyond that. It depends on app complexity, features, frameworks, design and other factors.
How much iPhone to Android porting cost?
$3,000 is the very minimum price for a small project. Consider $5,000 to $20,000 cost range for average feature app. Price depends on all the factors enlisted above in the article.
How many developers/resources are required?
One app developer and one designer at least. Sure, y Though, you should not expect "the more developers the faster delivery" effect. The best option would be to hire same team for Android app as for initial iPhone app.
Read more about Mobile Apps