15 Best Email Finder Software Solutions Available Online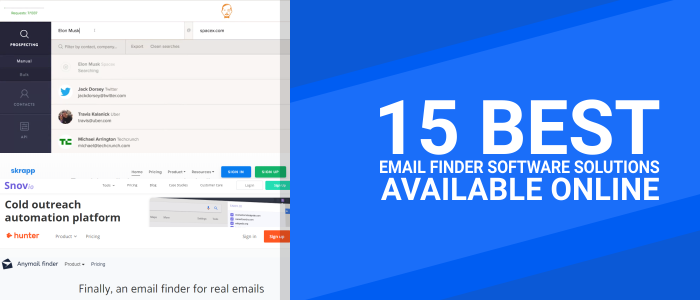 Prospecting for emails online is tedious and time-consuming, yet it's important. You use cold outreach for guest post prospecting, sales, and marketing. An email finder is important when you want to contact more people who have decision-making powers in their companies. 
There are dozens of email finding solutions available online. However, not all of them return accurate results and some of them have fewer features than others. We've done our research and reviewed the 15 best email finders available today so you can find the best solution for your needs. 
1. Voila Norbert
Voila Norbert is a web-based app, and the software also has a Chrome extension. You can use Voila Norbert to find email addresses. It also has an email verification feature that you can use to clean your email list. Pricing starts at 1000 contacts for $49/month. There is also a pay as you go option. New users get 50 credits for free that they can use to find email addresses.
Key Features
Chrome extension

Search using name and email domain

Bulk and search

Lead enrichment

Exports result to CSV

Verifies result with mail host
Voila Norbert promises a very high degree of accuracy for its search results. The web app is useful for both bulk and individual search as it returns not just email addresses but also social media accounts, while the Chrome extension automatically shows the email addresses of key people whenever you visit a company website. 
Pros
Results show social media data for prospects

Intuitive and easy to use

Direct integration with Zapier

Simple interface
Cons
Boolean or location searches not available

Only 50 free credits per month
2. Skrapp
Skrapp is an out-of-the-box email finder. It is easy to use, thanks to its simple yet feature-rich interface. Pricing starts at 1000 contacts for $39/month.
Key Features
Domain search

Social network search

Bulk domain search

Lead enrichment

Chrome extension

Duplicate removal

Export to CSV or XLSX
Skrapp users have a number of options: the single email finder tool on the website, the bulk email finder (also on the website), and the Chrome extension that provides verified email addresses of LinkedIn users. The plugin can also give you the contact details of key people and decision makers of any company's website. 
Pros
Can pull leads from LinkedIn in bulk

Quick installation process

Easy-to-navigate interface

Decent success rate (80%)

Results include name, job title, email address
Cons
Issues with separating "@careers" or "@jobs" email addresses from primary work addresses

Competitors have higher accuracy rates
3. Hunter.io
Hunter is a web-based email finder and verification tool that promises to make finding emails simple. Because it is web-based, you don't have to install anything on your device. Pricing starts at 1000 contacts for $49/month.
Key Features
CRM integration

Domain search

Chrome extension

Bulk search

Exports result to email marketing software

Built-in CRM
Most Hunter users say that the software's integration options are its biggest selling point. It can be integrated into Salesforce and Zapier, among others. While the tool is web-based, a Chrome extension is also available. The subscription can be shared with multiple users, making it handy for large email marketing teams. The proprietary CRM that comes with the subscription is good enough for small businesses. 
Pros
Built-in CRM can help businesses save money

Provides sources for search results

Shows confidence score for results

Easy to navigate
Cons
No longer works with LinkedIn

Only 100 free searches per month
4. RocketReach
With over 3 million users, RocketReach is an established player in the email verification market. It claims to have profiled 10 million companies with a database of 300+ million profiles. Pricing starts at 170 contacts for $49/month.
Key Features
Bulk search

Salesforce integration

Google apps integration

Web-based

Social links

Exports result to CSV

Full API access
RocketReach is easily integrated with a lot of other software solutions, even for the free version, as the publishers have made the API available to everyone. It can be used either as a Chrome extension or as a G Suite add-on. You can use it to find email addresses, phone numbers, and social media account information. 
Pros
Advanced search functions

Extensive data set (300 million individuals)

Can filter for professional or personal email addresses

Paid plans can be used on multiple devices
Cons
Job titles drop down filter needs to be expanded

Reliability issues with Chrome plugin

Phone number finder could be improved
5. Anymail Finder
Anymail Finder allows users to type in the name of a prospect and their domain and produces results in just a couple of minutes. It can process both individual and bulk email requests and is available as a web app and as a Chrome plugin. Pricing starts at $49 for 1,000 verified contacts.
Key Features
Bulk search

API

Chrome extension

Website has an extensive company index

Exports to CSV

Can search within the same domain after finding one verified email
One of Anymail Finder's biggest advantages is its speed. Processing a CSV file, with thousands of names and domains in it, takes just a few minutes. It also groups contacts into verified, scraped, and guessed emails, but charges only for the verified ones. The Chrome extension will help you build an email list even while you're visiting prospects' websites.
Pros
Credits roll over to the following month

Responsive customer support

Pay only for 100% verified addresses

Multiple users per account
Cons
App panel lacks filters

Export options can be improved
6. Clearbit Connect
Clearbit Connect claims to let you "know everything" about your contacts, including their websites, social media, location, and financial details. It's a powerful tool that many tech companies have been using for a few years. The Gmail and Outlook extensions are free for up to 100 lookups/month per user. 
Key Features
Gmail and Outlook extensions

Find email addresses from your inbox

Individual search

Domain search
As a free tool, Clearbit Connect can handle individual searches. It's easy and useful when you're trying to get in touch with one person at a time. The results come with accurate personal details, including the prospect's social media and location. But when you have a mailing list that needs to be verified, Clearbit Connect won't be able to do bulk verification. 
Pros
Free tool

Easy to use

Shows other data for prospects
Cons
No bulk search

Only 100 free searches per month
7. Atomic Email Hunter
As part of the best-selling Atomic Email Studio, Atomic Email Hunter was built to help you get email addresses from different sources. The Windows-based app is available for a one-time fee of $89.90.
Key Features
Desktop app

Keyword search

Mailbox extraction

Bulk domain search

Social media plugins
Atomic Email Hunter was built to crawl websites to collect email addresses using either keywords or domain names. You can manually configure the extraction speed to keep your IP address from being blocked by websites, which is a common complaint among those who use website crawlers. The email finder has no built-in verification service. Instead, you can sign up for Atomic's online email verifier, which is free.
Pros
Configurable crawl speed

Integrated with Atomic email marketing software

Keyword-based search

Multiple search sources, including social media
Cons
No web or MacOS version

Verification service is not included
8. FindEmails
FindEmails (formerly Toofr) is an email finder and verification tool that is marketed towards small businesses. It is available on their website and as a Chrome extension. Among the email finders listed in this article, FindEmails has the lowest monthly fee at $19/month for 550 credits, with 5 cents per credit over the allowance.
Key Features
Email validation

Chrome extension

Contact scoring

Crawls websites to find email addresses

Option to buy curated lists from other users
Unlike other email finders that use LinkedIn or an internal database when searching for an email address, FindEmails crawls websites using its own algorithm and verifies the addresses it finds right away. The Chrome extension, on the other hand, lets you identify key people within a company's website and provides you their contact details within just a few seconds. You can also buy and sell curated email lists on the FindEmail marketplace.
Pros
Cheapest option in the list

Users can buy and sell contact lists in the marketplace

Two-in-one finder and verification tool
Cons
No Google integrations available

No free trial
9. Lusha
Lusha helps you get the contact details you need at a reasonable price. Available as a Chrome, Firefox, or Edge extension, Lusha will show you the personal and contact information of an individual whose profile you visit on LinkedIn. Paid plans start at $39/month for 50 credits (verified results).
Key Features
Browser extension

LinkedIn and Salesforce support

Exports contacts to CSV (for higher plans)

Saves contacts to CRM (for higher plans)

Zapier integration
The Lush plugin works with three of the most popular browsers. It enriches business profiles using data gathered from different sources and is able to find personal contacts, helping you bypass corporate gatekeepers and contact prospects directly. At higher plans, you can save your contacts directly to your CRM.  
Pros
Can find personal contact details

Unused credits roll over to the following month

Account can be shared with other users 

Easy to navigate
Cons
Limited functionality outside of LinkedIn and Salesforce

No bulk domain search feature
10. FindThatLead
FindThatLead is an all-around lead generation tool that prospects for emails, verifies them, and organizes them into segments. All you need to do is input the name of your prospect and their company domain. Pricing starts at $49/month.
Key Features
Domain search

Chrome extension

Bulk search

Lead manager

Exports results to CSV

Social search
FindThatLead users say the web app is easy to use, with a clean, well-designed layout. The email search is accurate and matches up well with some of the better-known players in the niche. The verification feature helps ensure that the search results are accurate. However, unlike its competitors, it does not include the source of the email in the results. 
Pros
Easy to use 

Provides accuracy scores

Up-to-date contact data

Excellent customer service
Cons
No open API

Issues with site performance

Does not show sources

Limited filters
11. SellHack
SellHack promises you'll prospect like a boss, and with its 12-step email verification engine, you can get verified addresses that won't bounce emails back at you. It is used in marketing, sales, and recruitment. Pricing starts at $3/month (that's not a typo) for 100 credits with the option to purchase extra search credits.
Key Features
CRM integration

Bulk email verification

Chrome extension

Web app

Exports result to CSV

Lead generation

Reporting dashboard
SellHack boasts an impressive database of companies that is updated regularly. Users like its dashboard feature that allows them to view the number of prospects they've added and the percentage of prospects who have opened, closed, or replied to their emails. The bulk verification feature is also a user favorite.
Pros
Users can earn extra credits for referrals

Dashboard provides performance insight at a glance

Builds verified prospect lists automatically

Concurrent searches
Cons
Provides only business email addresses, not phone numbers

Salesforce integration only at the highest plan
12. Snov.io
Snov.io bills itself as a "cold outreach automation platform", and it does exactly that. It helps users find and validate email prospects to ensure higher conversion rates. It offers different options for prospecting and verifying contact details. Rates start at $39/month which could be used for 500 bulk searches or 1,000 single domain searches.
Key Features
Domain existence check

Freemail check

Individual and bulk search

Chrome extension

Exports to CSV, XLSX, Google Sheets

Visual funnel builder

Campaign analytics
Snov.io is useful for sales and marketing teams. The application is available on the web and also has a Chrome extension for on-site prospecting. One feature Snov.io has that most of competitors doesn't have is its campaign and funnel builders which complement CRMs very well. However, some users have an issue with its UI and limited email features. 
Pros
All-in-one prospecting and marketing tool, includes visual funnel builder

Boolean search

Multiple filters for company profile search

Results are color-coded according to verification status
Cons
Limited email capabilities -- cannot attach images to emails

Cannot share account with other users
13. Aeroleads
Aeroleads allows users to find email addresses and phone numbers from LinkedIn or through bulk search. It offers as much as 15 data points, including job titles, location, and full name. Pricing starts at 1000 contacts for $49/month.
Key Features
Bulk search

Domain search

Chrome extension

Bulk search

Exports results to Hubspot, Salesforce, Zoho CRM, Zapier
Aeroleads is very useful for users prospecting for leads on LinkedIn. It stores leads in the dashboard and makes them accessible for future sessions. It highlights prospect names on websites, making them easier to find visually. The search happens in real time and can be filtered according to different fields, such as the date and location.
Pros
High degree of accuracy

Improved UI

Stores prospect data in one place

Can export to CSV
Cons
Basic search only works with LinkedIn

Plugin could cause lags on websites

Only returns business emails and phone number, not personal contact data
14. Vocus.io
If you're a Gmail user, Vocus.io is a useful tool for email prospecting, among other things. It supports targeted search, even while you're composing an email. Pricing starts at $5/month for 20 prospecting credits and 100 email validations a day.
Key Features
CRM integration via BCC

Domain search

Chrome extension

Email tracking
For an application with such a low monthly subscription fee, Vocus.io does a lot of things well. It allows users to prospect and verify individual email addresses without leaving their inbox. All you need is the name of the prospect and the company domain. It also does email tracking. However, it does not support bulk prospecting and verification, which could be an issue for businesses with large mailing lists.
Pros
Generous number of credits for the price

Integrates well with Gmail

Customizable to some extent

Can be used to

automate other tasks

, like reminder emails
Cons
No bulk search

UX seems outdated
15. LeadGibbon
LeadGibbon is a web-based email finder tool that lets you discover leads based on a number of criteria. It is also available as a Chrome extension that offers email verification and Google Sheets integration. Pricing starts at $49/month for 1,000 credits.
Key Features
Chrome extension

Lead database

Contact enrichment

Bulk search

Domain search

Email verification and scoring
Most LeadGibbon users point to the application's lead database as its most outstanding feature. It integrates well into a lot of CRMs and email marketing tools, such as Reply.io. However, it is with LinkedIn that LeadGibbon does its best work, as it allows users to send emails to prospects directly from LinkedIn and save their contact details to Google Sheets. 
Pros
Good integration with Google Sheets

Email format checker

Provides revenue numbers and office locations

Easy to navigate
Cons
Some prospecting steps have to be done manually

Accuracy isn't comparable to other solutions
Scaling your lead generation with email finder solutions
With so many lead finders available, you might get confused about which ones to use. The best one for your business depends on your needs and budget. If you're a small business looking for a tool that can find individual email addresses quickly, SellHack might be the best option. At just $3/month, it won't burn a hole in your pocket and help you grow your business rapidly.
If you're a larger business that needs more features, Voila Norbert, Hunter.io, or RocketReach are some of the tools you could consider. All of them are web-based and are available as Chrome extensions. You can upload large files of prospects and get their verified email addresses and other contact information easily. 
Have you ever used these tools? If so, let us know about your experience with them in the comments below