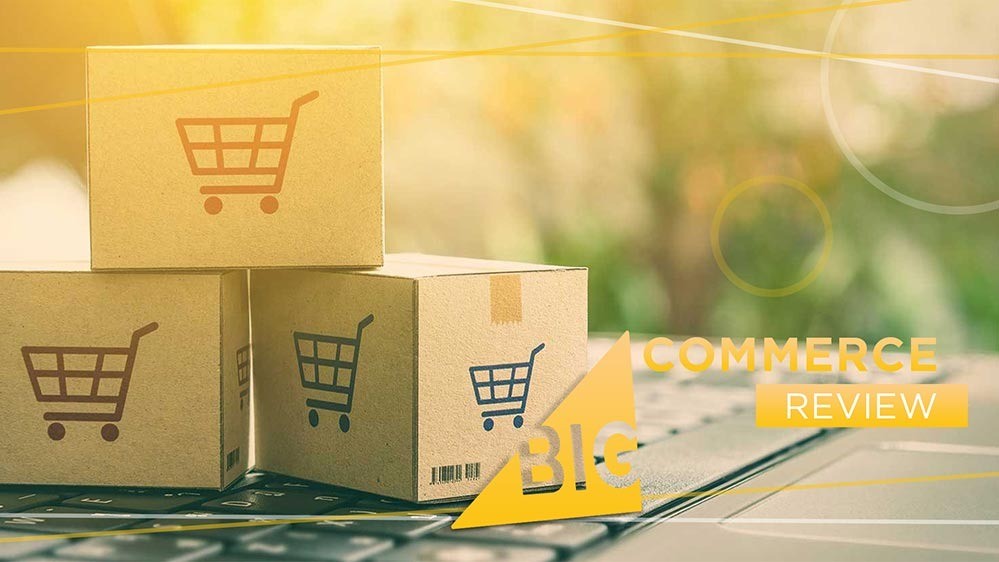 BigCommerce is a Saas e-commerce platform, founded in 2009 in Texas, USA. Over ten year history, the company has attracted hundreds of millions of investments and grew its staff to 500+ employees. With headquarters in Texas, it has offices in San Francisco and Sydney as well. Their customer count is in thousands, including "Fortune 500" enterprises like Procter & Gamble, PayPal, Fujitsu, Toyota Motors, General Electric. "Shut up and take my money" meme applies.
Getting started
3-step signup to start things off. Just enter email as a login, store name, password and provide personal data such as name, phone number, postal code. This will be later used for payments processing as well as will be publicly available for customers, abiding by US and EU laws. Then a few basic questions about the intended retail store, that one can skip.
As an account is created, setup and design come next - more on how to set up a BigCommerce store in the third chapter below. The platform surely grants plenty of features, tools and settings, as well as ready-made templates. 35 themes are available for $150-235 price range, while 7 themes are free to try. All of them are adapted to look properly on modern devices, be it computers, phones, tablets or whatever.
Specifications:
| | |
| --- | --- |
| Vendor | BigCommerce Pty. Ltd. (website) |
| Operating systems | SaaS |
| Menu languages | 1 |
| Target | E-commerce, blogging |
| Extra features | No transaction fees, SEO tools, social media integration |
| License | Trial / Subscription |
| Pricing | $29.95 Standard (1 Month)$249.95 Pro (1 Month) |
Interface
The first noticeable aspect in BigCommerce is convenience. Menu and all the elements are compact and of the same style, even with multiple sections, subsections and options. All the options/features are concentrated in the left menu panel.
At initial configuration stage, you will mainly work with two sections: Orders and Catalog. As users will spend much time managing orders, BigCommerce developers tried to make it as user-friendly as possible. There's sorting by categories and Advanced Search function with a dozen different search conditions, e.g. by date, by sum, by ID. Export order list option available too.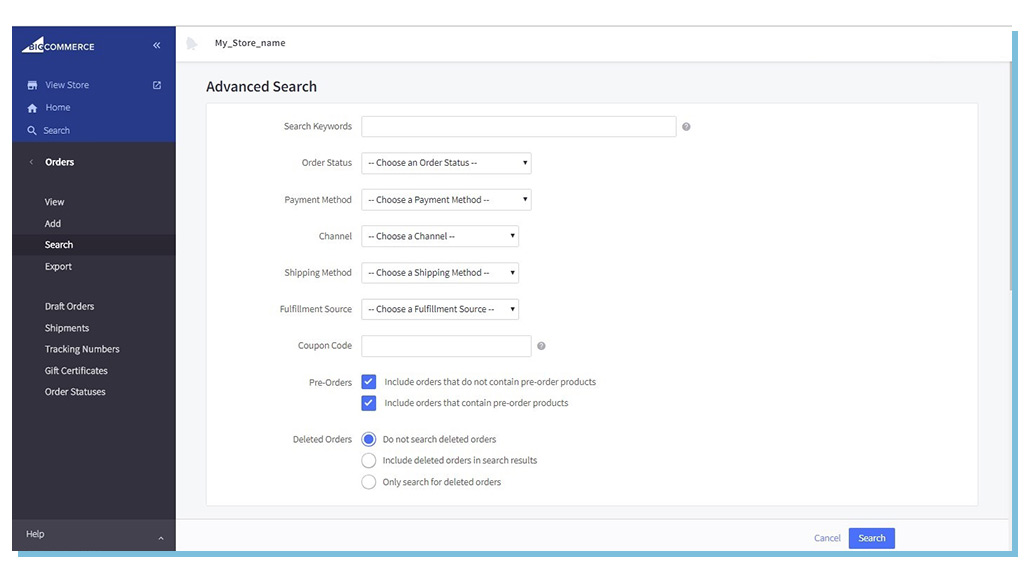 Also, let's not forget that orders are a consequence of product pages. Nothing complicated here as well. First, you will create product categories and subcategories, although subcategories are not obligatory for smaller product lists. Product pages include standard input fields - name, price, image, variations. With BigCommerce you can get more: product parameters (weight, width, height, length) and stock quantity (number of items left).
How to launch a store on BigCommerce
Here is a short step-by-step guide on how to set up a web store on BigCommerce:
Step 1: Signup. Fill in the essential data, e.g. email, store name, password, name, address, type of products. Please note that this will be the official information for payments. When ready you'll see a Bigcommerce dashboard.
Step 2: Design. Go to Storefront -> My Themes -> Browse Themes. Choose one, free or paid, install it and then also customize it according to available options. Add your brand logo, image or multiple images (carousel) for a homepage.
Step 3: Team. Add more team members who will be managing a store, in Account Settings -> Users. Just create profiles and set their access level.
Step 4: Products. Products Categories tab is self-explanatory, add categories and subcategories for your products. Then go to Products -> View and add products to sell. Product info will contain a name, number/SKU, image, description, variations, etc.
Step 5: Payment and shipping. Set up payment options (credit cards, PayPal, etc.), shipping methods (Fedex, DHL, etc.), shipping rates and other store settings. Navigate to Store Setup -> Shipping.
Step 6: Taxes. In Store Setup -> Tax tab, create a tax grid that is relevant for your country. BigCommerce offers a "Calculate automatically" option for easy setup, nonetheless we recommend investigating the whole tax aspect beforehand, or even consulting a financial expert in your area.
Step 7: Store pages. Add information pages to communicate with customers upfront - About us, Contact us, Shipping, Return policy, etc. For this, go to Storefront -> Web Pages.
Step 8: Domain and SSL. If you have your own domain or SSL certificate, you may link it to a BigCommerce store (Server Settings -> Domain Name and Server Settings -> SSL Certificates).
Step 9: Test order and preview. When everything seems in order, you may place a test order to check if a system works. Click "Review your store", add finalising corrections if needed.
Step 10: Launch. Return to Store Setup -> Store Status and click "Launch Storer" to go online.
Here are some more tips and further adjustments you can make, in a brief video tutorial: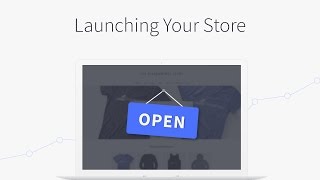 BigCommerce features
Now let's look into real practical benefits that BigCommerce has to offer. Overall, the value for customer's money lies in things like proper SEO tools, mobile-responsive templates, image optimization tool, PayPal and other integrations, guest checkout, discount/sale tools, inventory management, and more. It is a comprehensive all-encompassing platform designed to have all that is needed for a retail online store in one place.
Advanced SEO
In terms of SEO, BigCommerce seems to have gained a lead over competitors like Shopify, Wix or SquareSpace. It starts with the basics such as headers and meta tags. Due to large amount, let's divide their SEO tools in two groups. The first group pertains to content crawling and product page URLs. For example, you can replace example.com/all/product1 with example.com/product_name.
The second set of tools refers to mobile responsiveness, and we all know that the use of mobile devices is on the rise. For starters, BigCommerce has special templates with AMP - "accelerated mobile pages" technology for best loading speeds. Then there's an image compression tool Akamai built-in, and a bunch of other options to help improve SERP, check the list below.
SEO tools

Summary

Page headers

One of the key factors to determine page content

Product headers

Titles that could closely match the search queries

Keyword meta tags for products

Keywords and combinations that describe product

Page descriptions

Page details tailored for search algorithms

Product URLs

Ability to edit product URLs

AMP support

Improve site loading speed

Optimization for mobile devices

Gain advantage in search results

Image optimization

Optimal sizes and resolutions for various platforms

Template optimization

SEO-friendly structure

SSL for all pages

Encrypt traffic to secure customer and commercial data

Google Customer reviews

Integrate customer reviews into search results

Sitemap generation

Sitemap as a guide for search algorithms

301 redirects

Helps to avoid 404 errors

Headers in blogs

Blog title indexation according to headers

SEO apps

Third-party applications to assist with SEO
Templates / Image editing
As said, themes for stores are automatically adaptable depending on the screen size and mobile-responsive. AMP option (find it in Advanced Settings) is available in all plans too. Preview feature in page editor allows to see your site's looks on PC, tablet, smartphone, but in local environment beforehand. For collections of ready-to-go themes, grouped by type and industry, check BigCommerce theme store.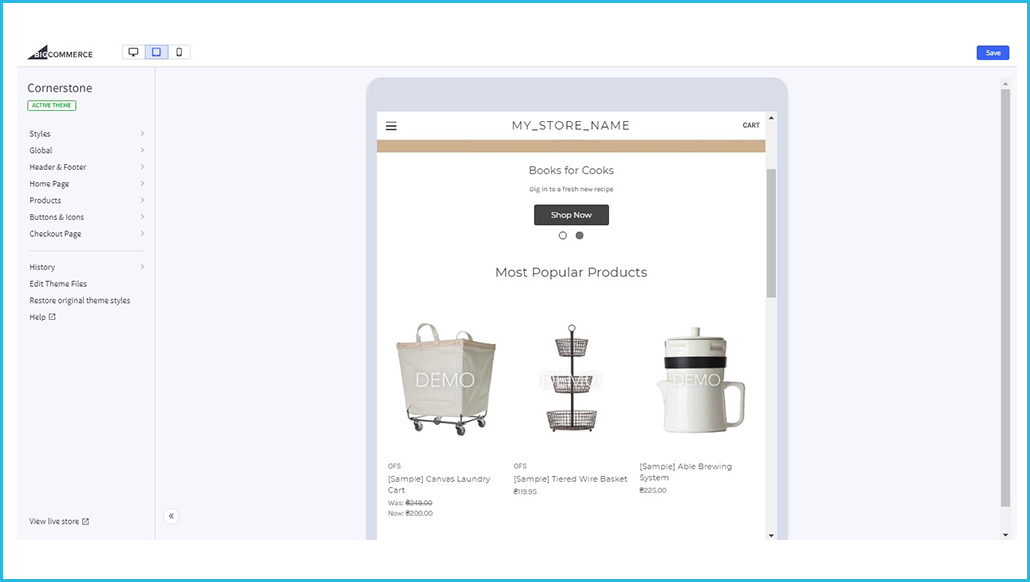 The issue of slow page loading speed, as it is often the case, might be related to large image sizes and/or resolutions. To tackle this, BigCommerce provides a special built-in tool - Akamai Image Manager. So what does it actually do? It automatically converts images into formats relevant for specific user devices, and it basically resizes large images.
For example, if we take an HD image of 1920x1080 resolution and 1.33 Mb size, upload it as a product image, we end up with 753 Kb image in 1280x720. So around 55% compression, which is pretty good. On the other hand, this Akamai tool just is there by default and does not grant users any settings or options to tweak.
Reportedly, since Akamai was integrated into BigCommerce in the beginning of 2018, it helped increase website load times by 70% on average, based on over 55,000 stores data. In addition, it could save you extra $5 to $30 per month if using third-party services for image optimization (WP Compress, Kraken, ShortPixel, etc.).
Marketing tools
Now, let's turn to crucial marketing instruments, that will help attract and retain customers, as well as facilitate repeat purchases and brand loyalty.
Abandoned cart reminder
Abandoned cart saver has the potential to win back up to 25% shoppers who did not complete the checkout. To activate this function, set the time, from 1 hour to 10 days, after which a customer will receive an email with a subtle reminder. You may also edit email templates, insert promo-codes, offers, etc. to be efficient. Abandoned car saver is only available in Plus and higher plans.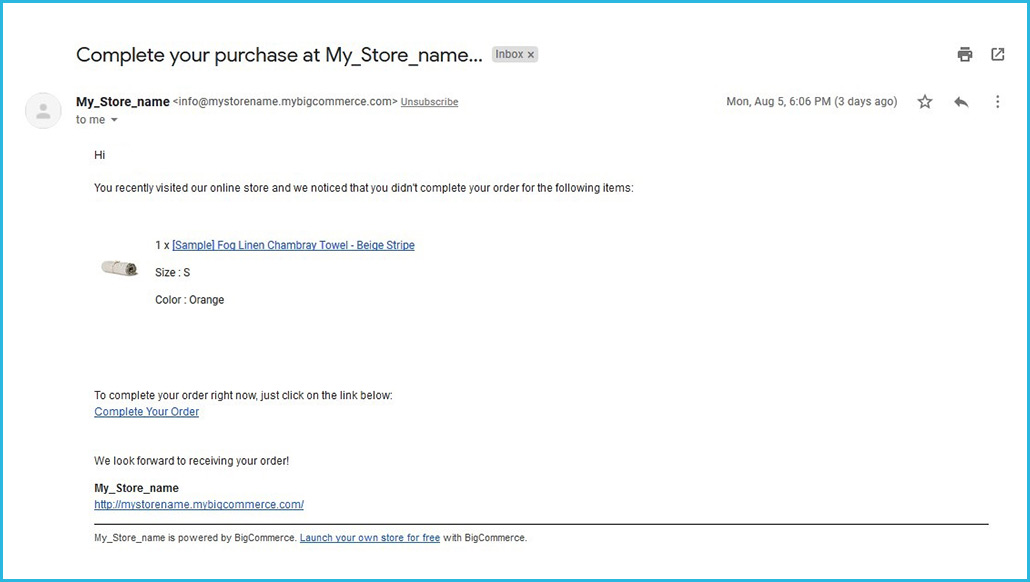 Banners
Time-specific banners with ads of seasonal sales or promotions, for example. In the editor we can work with pictures, videos, links to external resources, however banner placement options aren't many - only page top or bottom parts.
Coupon codes
Everyone likes discounts. Generally, coupon system is not that hard to program, but its management and monitoring is often chaotic. BigCommerce will assist store owners to organize this process properly: there are 5 different types of discounts (in regards to shipping, product, brand, category, customer + other), duration (start and end dates), and few more settings.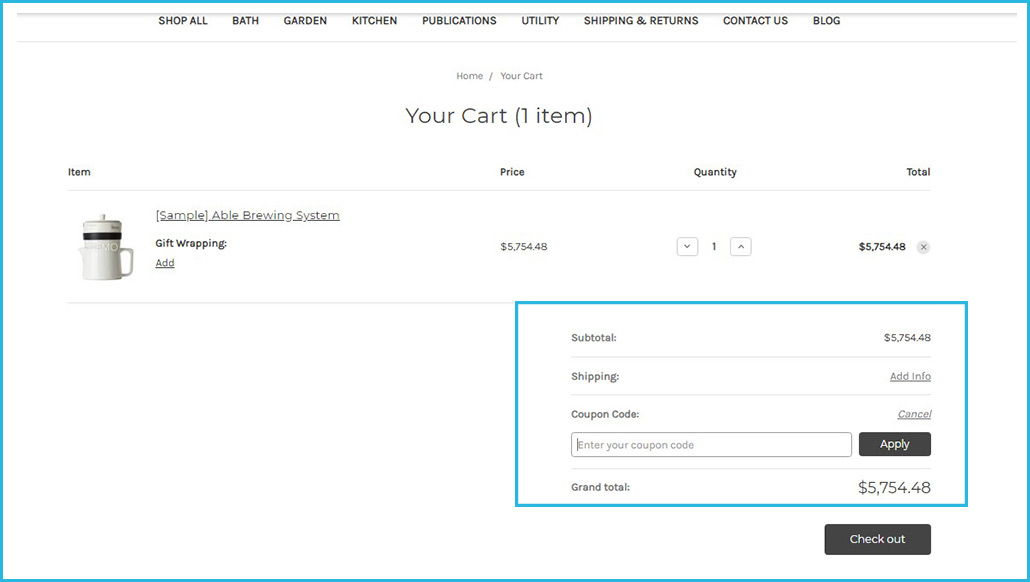 Cart-level discount
Another tool to encourage shoppers to buy more items. Conditions may apply for specific groups of users (regular, new, etc.), time periods, product categories or specific products. In total, there are 15 discount conditions available within BigCommerce.
Of course, there are more options for promotion and marketing by BigCommerce, including gift certificates, product wrapping, multichannel sales manager, Google user reviews. We'll leave it for another time or for you to point out in user feedback section below.
Payments and taxes
BigCommerce comes with payment gateways integration. Payment gateway is a virtual intermediary between your store and a customer who pays. As a rule, payment systems charge a percentage from transactions, though it isn't the only competitive factor between them.
For example, PayPal OneTouch technology is exclusively available at BigCommerce. It enables purchases in one click, as they claim. Once a user is signed up for it, he just clicks the Buy button to complete the action. Surely, the platform offers dozens of other gateways to utilize (go to Payments tab to configure online payments, connect a bank account, connect POS terminals).
| | |
| --- | --- |
| Offline payments | Bank deposit |
| Money order | Check |
| Online payments | 2Checkout |
| Adyen | Payment Express Pay |
| Amazon Pay | Paymetric |
| Authorize.net | PayPal Express Checkout |
| BeanStream | PayPal OneTouch |
| BlueSnap Payments | PayPal Payflow Pro |
| CyberSource | PayPal Website Payments Pro |
| eSELECTplus DirectPost | Pin Payments |
| First Data Payeezy Gateway | Sage Pay |
| Global Payments | SecureNet |
| Heartland Payment Systems | SecurePay |
| Klarna Payments | ShopKeep Payments |
| MyVirtualMerchant | Simplify Commerce |
| Online payments | Skrill |
| USAePay | |
| Digital wallets | Apple Pay |
| POS software | Square |
| Shopkeep | Vend |
| Springboard Retail | Clover |
User tip: BigCommerce allows to make test payments in order to verify that the settings are correct. To do this, in Payments -> "Enable test credit card payments" option. Afterwards, place a test order using 16-digit credit card number.User tip #2: In Store Settings -> Tax, check and select a taxing grid that matches tax rates for your country.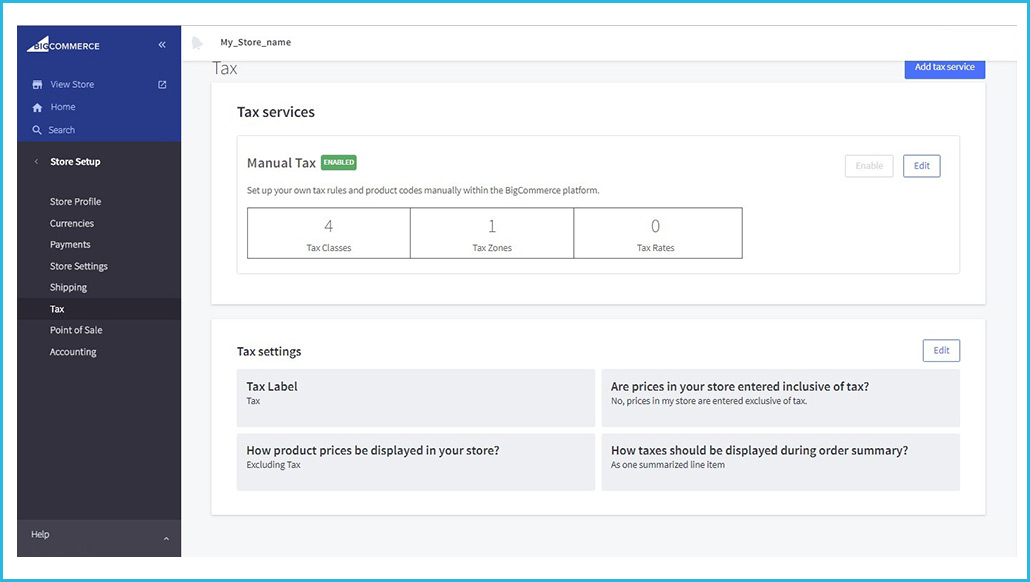 Shipping
In Bigcommerce Shipping Manager tool the key field is "Shipping origin". It is a physical address that is going to be used as the default starting points to calculate shipping costs for end customers.
There are 5 shipping modes available to set:
Free shipping - just pay attention to set it up properly for areas where it could actually happen.
Flat rate - with 2 ways to configure: a fixed rate for each item or for each order.
Ship by - with many variables, e.g. package weight, price range, final price.
Pickup in store - for instances when a business has a physical store.
Real-time shipping quotes - when partnering with FedEx, UPS, USPS.
User tip: If you got several physical stores, you can create "warehouses" to calculate shipping costs more accurately. Find warehouse management at Users -> Warehouses.
Apps and integrations
BigCommerce has a shortcut to find apps for business, productivity, marketing, delivery tracking, etc. Its app store contains around 600 different mobile apps. Also, BigCommerce offers numerous 3-rd party software integrations (though fully-functional when subscription purchased). For example, the 5 most popular applications are:
ShipStation - for shipping management
Mailchimp - for marketing and email automation
QuickBooks Online - for accounting automation
Google Shopping - for integration with Google Merchant Center
Yotpo Reviews - for reviews management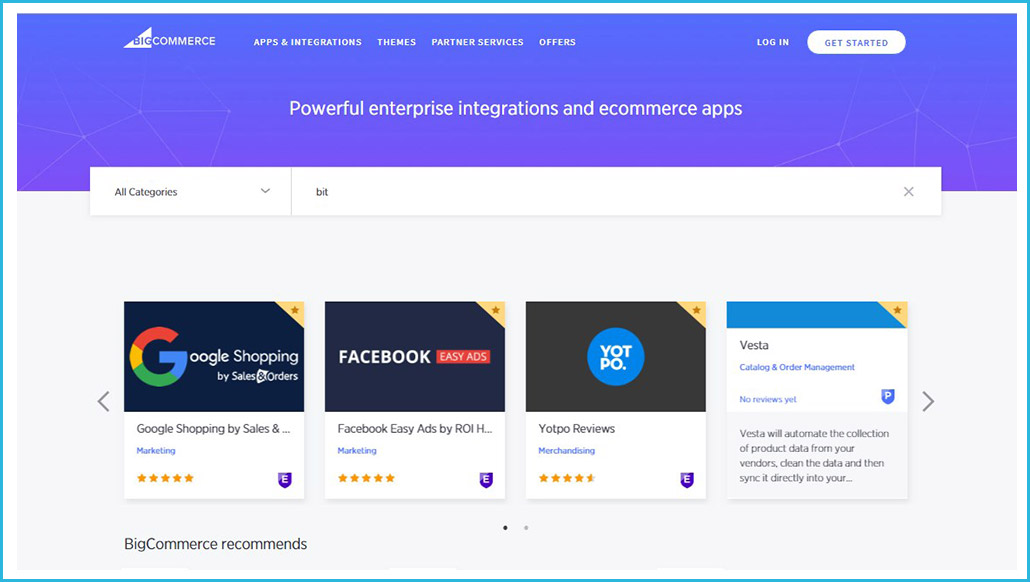 Mobile apps
BigCommerce has no official mobile apps, although judging by their technical support forum, they had once. Some enthusiasts have created few apps based on BigCommerce API though. For example, Store Manager for Bigcommerce for iOS and BigCommerce Mobile Dashboard for Android. For store owners BigCommerce offers various special plugins to develop unique brand store apps for their customers, e.g. AppMixture, Unbound Commerce, Apptuse.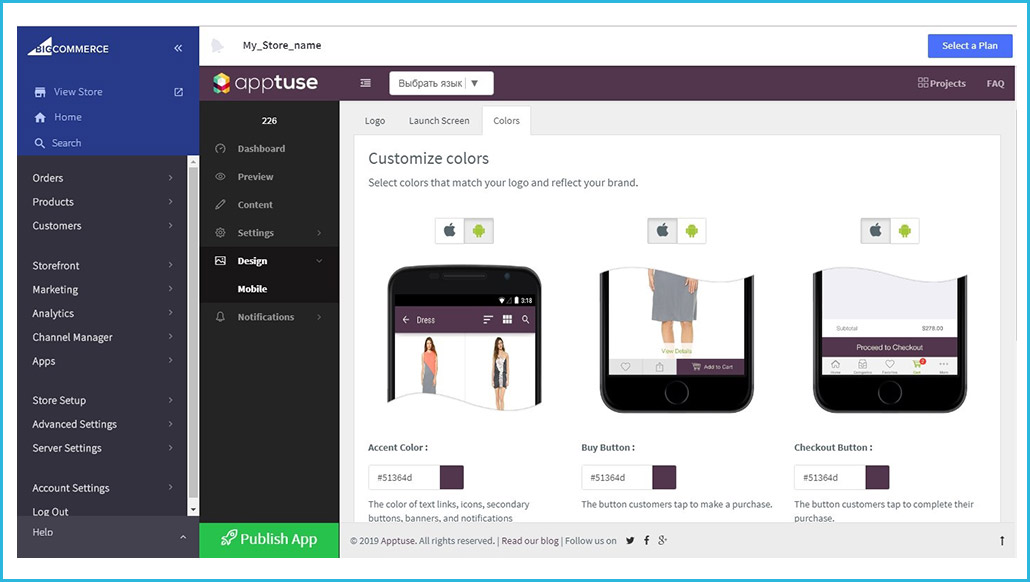 Pricing
The biggest advantage that sets BigCommerce apart from the competition is that it does not charge any fees from sales. You only pay for templates+functionality, payment gateway commission, or extra features.
For flexibility, BigCommerce proposes 4 plans with variations in options and cost. Also, thanks to partnership with Braintree they get lower commissions on PayPal payments. On the other hand, the catch is that there is a cap for total annual income in each plan. If you exceed it, you have to switch to a higher one - otherwise store functionality will be blocked.
Standard is a first-level plan, with 2.9% PayPal + $0.3 commissions. The limit is $50,000 per year. Plus is the most popular plan, with 2.5% + $0.3 fees and $150,000 annual limit. In Pro we get 2.2% + $0.3 fee and the annual limit of $400,000. The 4th one is Enterprise, details of which are discussed with customers directly and are undisclosed. And don't forget there's always an option of 15-day free trial, when unsure.
Support
The significance of technical support for web store owners and managers cannot be overlooked. BigCommerce works with all modern communication. As soon as you log into account, there's a Help button in the bottom left corner and Help Materials in the top panel.
As we've seen multiple negative comments about BigCommerce support team, we decided to check on our own. We sent a question about banners at 3:29 PM and got the answer via email in 8 hours - basically the next working day. Not perfect, but not terrible as well, we should say.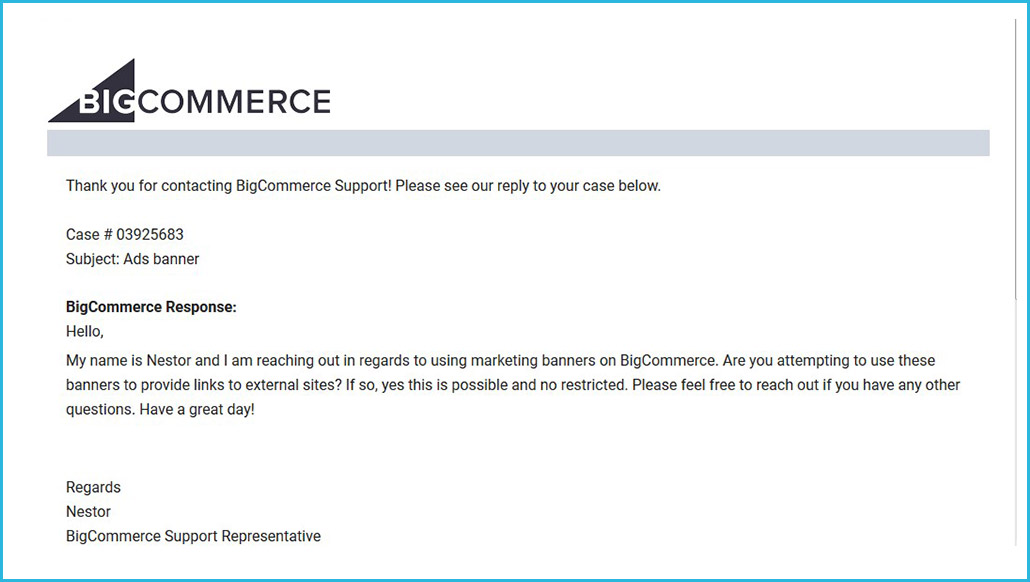 Conclusion
A big BigCommerce upper hand is SEO and marketing. Almost any modern tools to increase sales are in place, e.g. discounts, coupons, promo-codes, abandoned cart reminders. Unlike many other web building platforms with excessive amount of toolbars, BigCommerce went a different way. The menu is in essence a single panel, and everything is kept in one style.
Pricing is also peculiar. It might seem quite expensive, when the basic plan costs $29.5 per month and a nice design theme costs about $170. However, we can point out two aspects in this regard. First, a template is a one-time purchase and you may use it forever. Second, similar hosting platforms might charge lower prices for monthly/yearly plans due to placing extra commissions for sales transactions when a store is working. So you might end up paying more actually as you reach more sales.
If we'd like to summarise the key BigCommerce benefits, it would be the following:
Conversion boosting features: mobile responsiveness, fast/guest checkout;
SEO on page and for URL customization;
SSL sitewide;
Image optimization tool built-in;
Abandoned cart saver and more marketing tools;
PayPal OneTouch integration;
Store search (filtering), product reviews;
Multi-channel sales capability - Amazon, eBay, Facebook, Instagram, Pinterest, Google Shopping;
Inventory management system;
Theme store with modern eye-catching designs.
BigCommerce alternatives
A few suggestions of website builder software similar to BigCommerce. Shopify, one of the largest e-commerce platforms, has almost the same functions as BigCommerce. Wix, ​​a popular web hosting service is centered rather around ​​design and drag-n-drop editing. Woocomerce, although not a hosting platform is open source and quite powerful.
You may also want to check 15 best ecommerce platforms, where BigCommerce is compared to Magento, WooCommerce, Squarespace, Volusion, OpenCart and others.