Photolemur 3 is a photo editing program, developed by Skylum. The thing about is that it basically does the job for you. It improves photos, uses algorithms and AI (artificial intelligence, which at some point will select a proper style for certain types of photos on itself), and overall save time. In paid version there's also batch photo processing. How does it save time? Drag the photo, select filter or effect and get the updated photo. More details below in this Photolemur review.The program is aimed at full automation, so a user doesn't have to do anything, except upload a photo. It is simple so do not worry about photo editing skills. This also means it isn't a professional high-quality solution for experts. Yet it has a lot in store. Photolemur offers paid and free versions, one-person license costs $35, and there is a family subscription for 5 people which costs $ 35 too due to current discount, as of March 2019. Free version is not limited in time, though it adds a watermark, the maximum size for images is 1200px. This photo editing app is available in 21 languages.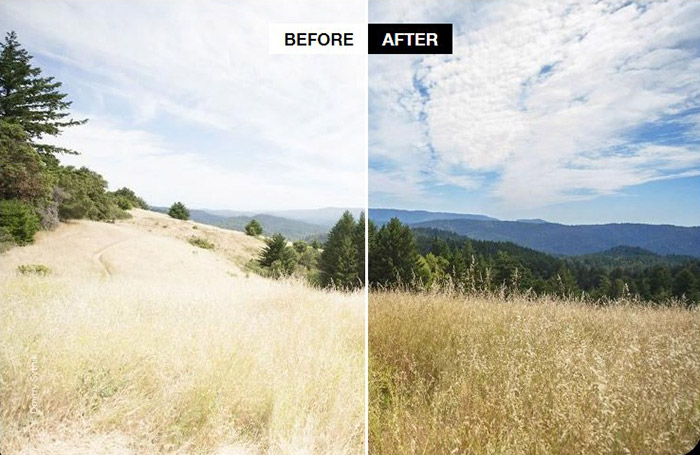 Technical parameters
Photolemur image enhancing app works on Windows and MacOS platforms, and unfortunately there are no mobile version yet. For Windows, you will need no less than 64-bit Windows 7 version, 2 GHz (and higher) processor, 4GB RAM, a minimum screen resolution of 1024x768, 4GB of free disk space. Mac users will need at least 10.11 (EI Capitan) version, 2010 Mac device or newer, 64-bit Intel Core 2 Duo processor or better, at least 2 GB of RAM, 1024 x 768 resolution, 4 GB of free disk space (SSD is the best option too), 1 GB of video memory.
Specifications:
| | |
| --- | --- |
| Vendor | Skylum (website) |
| Newest version (for Windows) | Photolemur 3 v.1.1.0.2443 out September 2019 |
| Operating systems | Windows, Mac |
| Installer file size | 343 MB |
| Menu languages | 18 |
| Key features/modes | Filters, face corrections, batch processing |
| Extra features | AI enhancement, distortion fixes |
| License | Free / One-time license |
| Pricing | $35.00 (1 Year Subscription, 1 Device)$55.00 (2 Years Subscription , 5 Devices ) |
Photolemur supports about 1,000 cameras by different developers, e.g. Apple, Canon, Epson, FujiFilm, Imacon, Leica, Olympus, Panasonic, GoPro, OnePlus, RaspberryPi, Pentax, Nikon, Samsung, Sony, Seitz, Minolta among others. A complete list can be viewed here.
| | | | | | | | |
| --- | --- | --- | --- | --- | --- | --- | --- |
| | Price (1 person) | Supported cameras | Automatic editing | Watermark | Batch processing | Max.size for exported photos | Face retouching |
| Free | 0 | 1000+ | | | No | 1200px | |
| Paid | $35 (discount) | 1000+ | | No | | Unlimited | |
Overview
Due to AI and other image enhancement technologies, Photolemur is great to edit low-resolution images, for example old, vintage or badly scanned images. The editor analyzes a file and applies most fitting filters. Take "Face Finish" technology as example - it smoothes the skin, eliminates flaws, enlarges eyes and whitens teeth. There are also filters such as Apollo, Fall, Noble, Spirited, Mono, Evolve, Sky Enhancement, etc.
It also takes time of the day into account: for daylight editing the app adjusts color, exposure, contrast, saturation. With Denoise technology, photo editor removes unwanted chromatic, bright, and other types of noise, often caused by wrong ISO settings. Using JPEG Fix, Photolemur identifies and corrects errors, sharpness, etc., while clearing out noise at the same time. Color temperature is automatically adjusted for all images too.
Installation + activation
Download Photolemur 3 from the website - find Free download button in the upper right corner - then enter your name and email, or login via Facebook. The download file is 348 MB. Run the .exe file, specify folder, wait few minutes, and it will be ready - clicking Finish.
To purchase, click 'Buy Photolemur 3' to open purchasing page, select license type (family for 5 devices or single for 1 person), go to payments, choose method (Visa/MasterCard, PayPal, bank transfer, WebMoney, UnionPay, Skrill Wallet). Afterwards, the order number will be sent by email to activate photo editor app. Return to initial window, select Activate and enter the order number, that's it.
How to use Photolemur: basic actions and filters
To start off, open any image, select the appropriate style from main 6 options and let the program do the adjustment. Turn on/off face retouching and eye enlargement as you like. Let's try out main presets of Photolemur.1.Apollo. Great for travel photos with cities, buildings, streets, etc.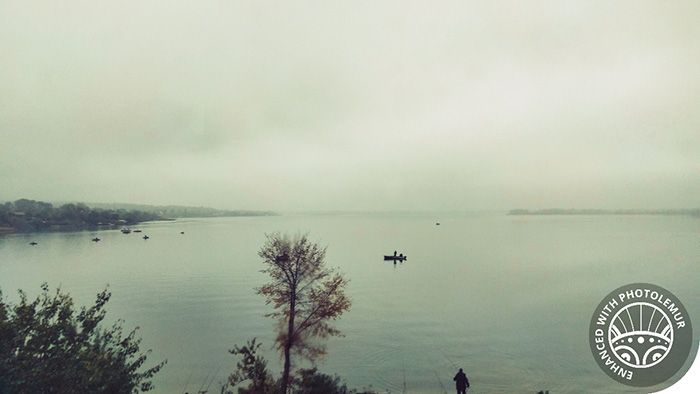 2.Fall. Convey the beauty of nature, autumn, leaves, trees, landscapes.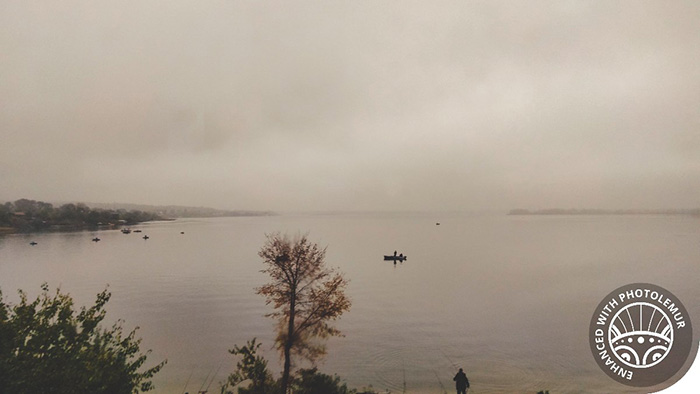 3.Noble. Suitable for photos of sculptures, fashionable places, architecture, etc.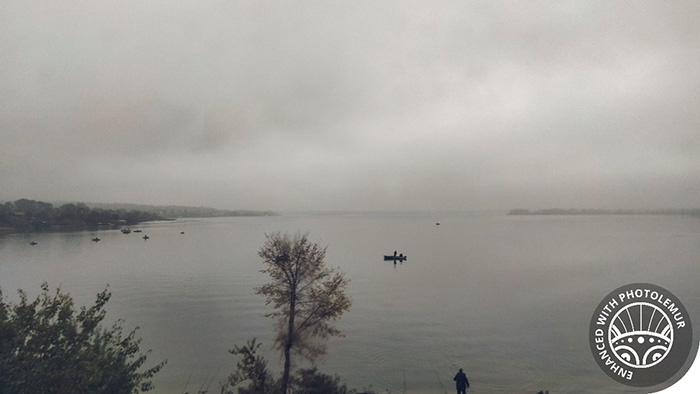 4.Spirited. For warm, fuzzy and sensitive images, that possibly contain people, places or objects with photographer's twist.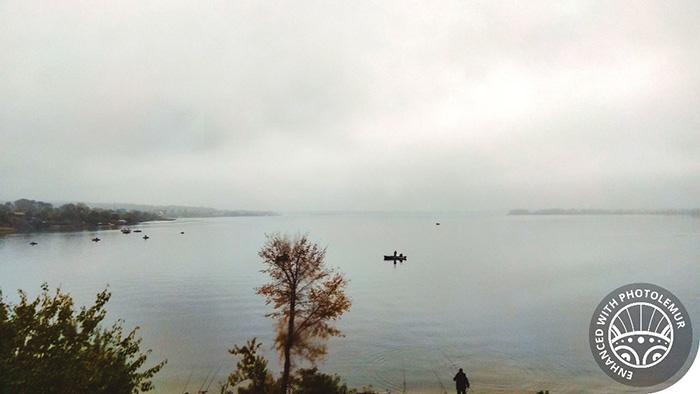 5.Mono. Black and white photos - a classic that will always be in fashion.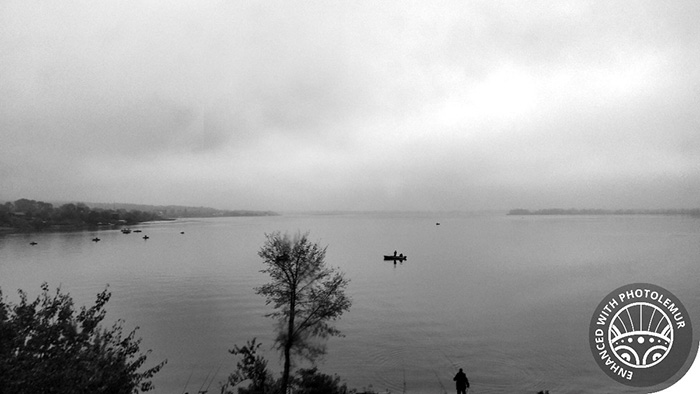 6.Evolve. Gives more shades and accents to photos, good for wildlife or marine imagery.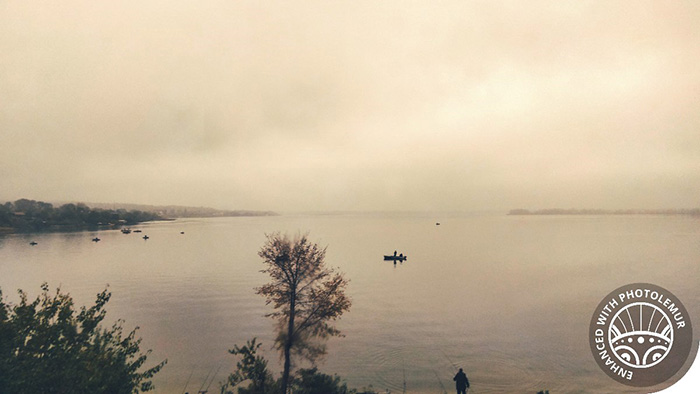 A slider at the bottom can be used to adjust filter strongness in percents - so 0 (left) means no effect at all, and 100 (on the right) means maximum force of editing, respectively.For batch processing (if you want to edit multiple photos with the same filter), click 'Open more' in the top left corner of the program - you will be able to select the necessary number of photos. Click Export to go to settings - specify folder to to save images, format, etc., or select 'Web JPEG' and 'For email' settings.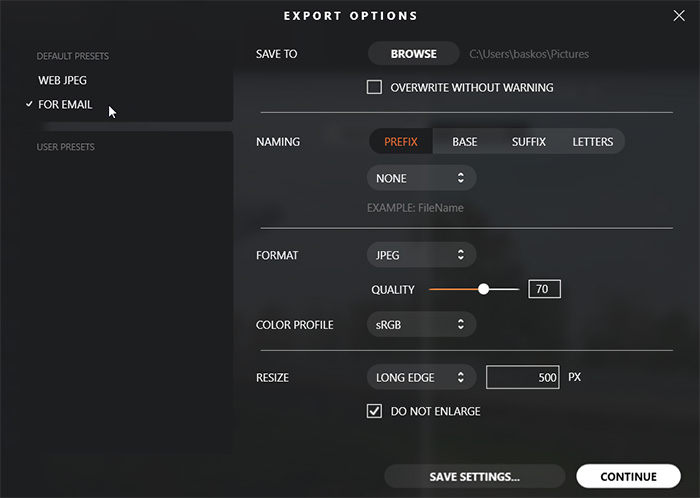 Then hit Continue to start the process of export. Edited images then can be viewed by clicking 'Reveal in Explorer'. In our experience, the average time to process and export 1 photo is 5-6 seconds, 5 photos - 35 seconds, 10 photos - 2 minutes. You can always view photo 'Before' and 'After' side by side, which is nice and handy.
Photolemur as Photoshop plug-in
The paid Photolemur version can be installed as plug-in for Adobe Photoshop. For this, when the editor is open, click on the main center button and select 'Install Plugins' in drop-down menu. The software will recognize Photoshop on user's device. Same goes with Lightroom, by the way. After plug-in is installed, use it by clicking 'Filter' in Photoshop and select Photolemur 3. A photo processing window will open and everything there is identical to working in the editor.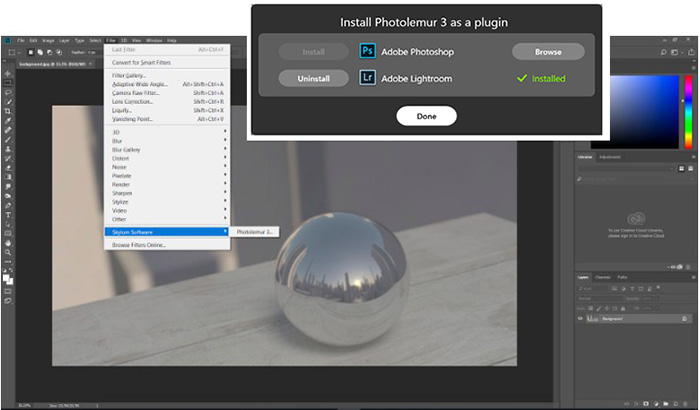 Conclusion
Photolemur is a simple little photo editing and enhancing software. It supports many formats, works quickly and overall saves much time. On the downside, free version is almost impossible to work with, as it is more intended as demo, not the actual use (watermark, no batch processing, no full screen mode). Yet, the paid version reduces work for the user considerably, it is convenient and suitable as an entry-level photo editing software.
Name of product Pros
Simplicity

Number of supported cameras

Translated into many languages

Processing speed

No subscriptions, one-time payment
Name of product Cons
The program is not free ($ 35), and free version is very limited

Sometimes incorrect editing or glitches occur

Only few settings and all 6 available styles do not differ that much

Annoying sounds (you can disable them in the settings)