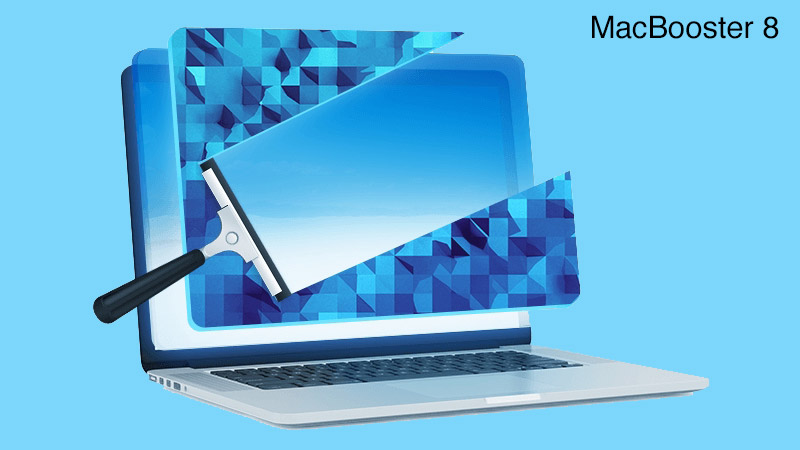 Are you worried about your Mac getting overheated and making weird noises? Are you constantly deleting photos, music, and films to get more storage space? Consider a program for hard drive optimization - MacBooster. It combines many functions, i.e. antivirus, junk cleaning, privacy control, memory cleaning, etc. It is developed by IObit and is available in 15 languages. Let's have a closer look on how it performs in this MacBooster review.
So, for the record, we have an all-time clogged 120GB hard drive that gets overheated constantly, and free storage is hardly ever more than 6GB. Before applying MacBooster it was just 3GB.
System Junk
From the start, MacBooster invites you to check the system status by clicking the Scan button. Full scan of a 120Gb hard drive takes about 2 minutes. When over, MacBooster evaluates the system and, in our case, system status has changed from Unknown to Dangerous.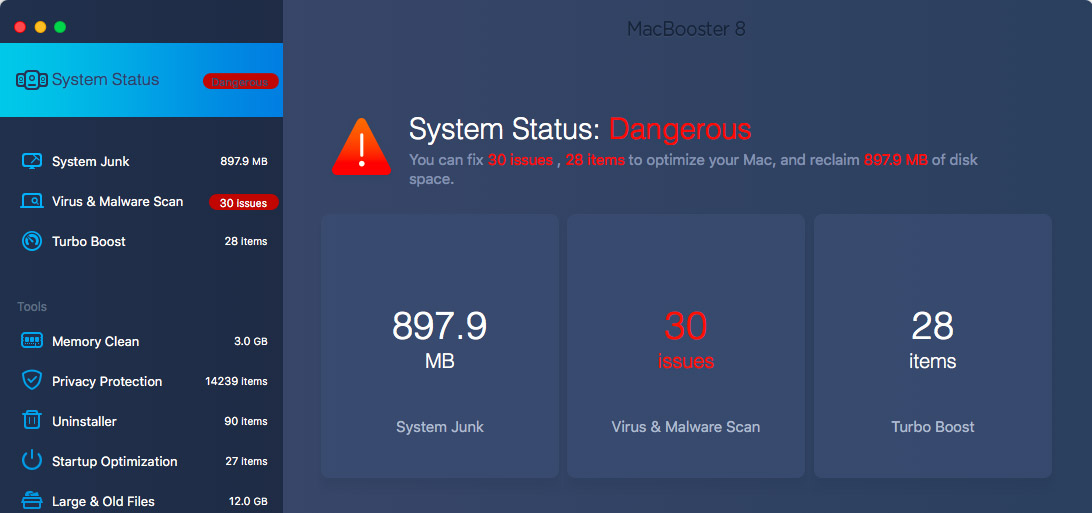 Scanning is telling us how much storage space is filled with junk files, potential malware elements in files and applications. Apart from that, it shows the opportunities of Turbo boost - tools to improve disk performance, including disk optimization, permission optimization, storage optimization.
It is also possible to scan disk for junk files, viruses, malware, and optimization options separately. When entering each of these tabs, you can see in detail files/apps/areas to fix, or just clean it all with one click. For our test Mac it has revealed 15% more junk files than CleanMyMac has found.
Viruses & Malware Scan
This tool appears to be a never-ending source for improvement. 30 minutes after finding and fixing numerous malware threats for the first time, repeated scanning has detected 9 more malicious cookies (however, initially the amount was much bigger). On the right side you can see a complete list of threats, sorted by name, kind or quantity. If you look through the list, it might help to understand the sources of those malware elements and try to prevent their appearance in future (not all cookies are malicious though).

Extra features
Apart from general system status and basic cleanup, as described above, the program includes a number of tools that help to boost performance of your Mac:
Turbo Boost
Memory Clean
Privacy Protection
Uninstaller
Startup Optimization
Large and Old files
Duplicate Finder
Photo Sweeper
Turbo boost is a feature to optimize hard drive, disk permissions, and disk storage. This includes finding non-compliant cache files, index files, fixing the disk permission issues caused by third-party apps, fixing cache settings, etc.
Memory clean feature helps to rearrange operational memory. It shows the amount of memory used currently (in Gbs and percentage), and suggests ways to enhance it. This option is promising, yet typically it won't do much - around 20% of memory might be released at best, and most likely it will get back to what it was beforehand in a few minutes. The most useful thing here is the Details button: click it and view the memory share of all currently running applications, both in Mbs and percentage.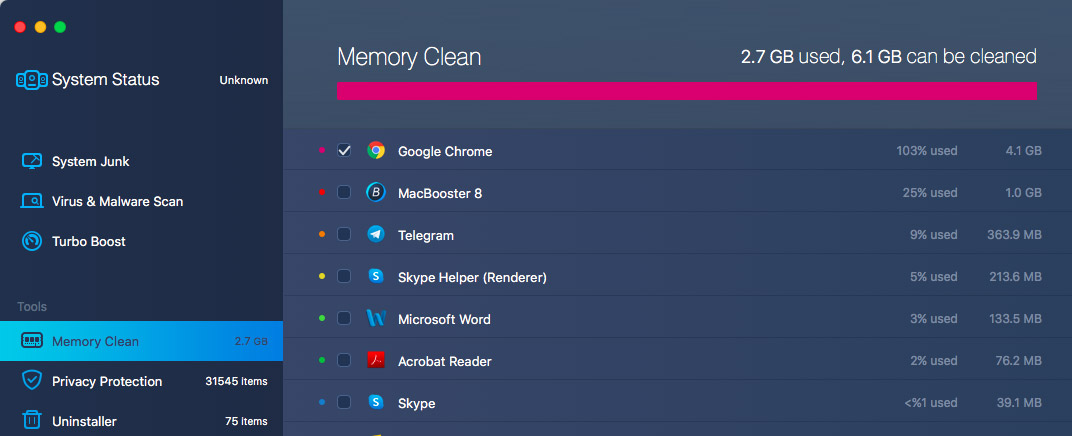 Privacy protection takes care of all potential threats to user privacy. It cleans up cookies, browsing and downloading history, HTML5 local storage, tabs, saved passwords, etc. MacBooster reminds you that even opened applications and documents can be exploited by hackers. Note: if you've got a Google account open, make sure you remember the password before starting a clean-up, as you might be logged out afterwards.
MacBooster presents a list of all cookies and browsing records, resulting in over 10,000 items. If you are new to cleaning apps, you might be tempted to remove thousands of "unnecessary" files from your Mac, but think twice. Cleaning browsing history might be useful for privacy matters, but at some point you realise it was there for a reason.
Uninstaller section shows a list of all applications which can be sorted by name, size or date (last use). There are two options: Complete remove and Application reset. While first will erase the application completely from your hard drive, second will just delete all the configuration files and reset the application to its initial state.
Startup optimization. You probably have already changed the settings of those annoying programs that start running automatically. But what about those little apps that do not even show in the tray but still occupy memory? MacBooster gives you a list of startup items, including the ones you may not have noticed before. However, the list could be incomplete - some apps were not displayed, though running, such as Messenger.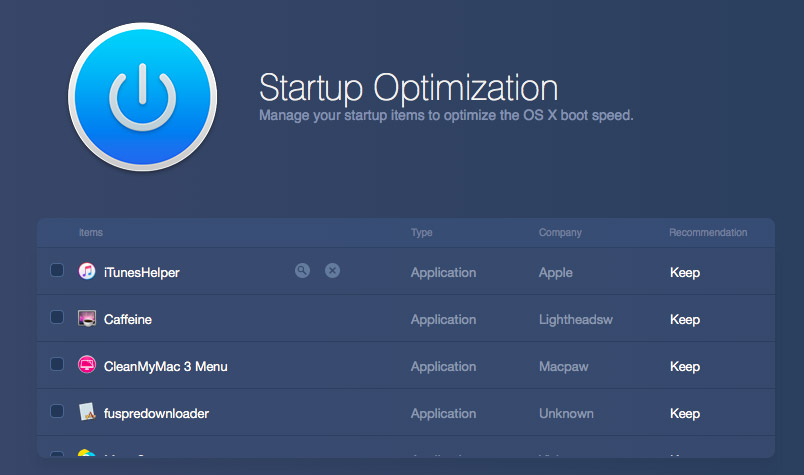 Large & Old files. In most cases, the cause of thin storage are old files that we keep for some reason. Scan to find out - in our case we uncovered 10Gb+ files from years back. In Preview we may see pictures, music, videos (available for files under 1GB only).
Duplicate finder tool locates and removes duplicate files on Mac. As always in MacBooster, scanning is really fast. All the detected files are shown in a list, near each file it shows the number of copies found. Identical files with different names are going to be detected as duplicates. To delete all in one click, you have to select Smart Check and then press the Smart Clean button. This way, MacBooster decides on itself which file remains and which one gets deleted.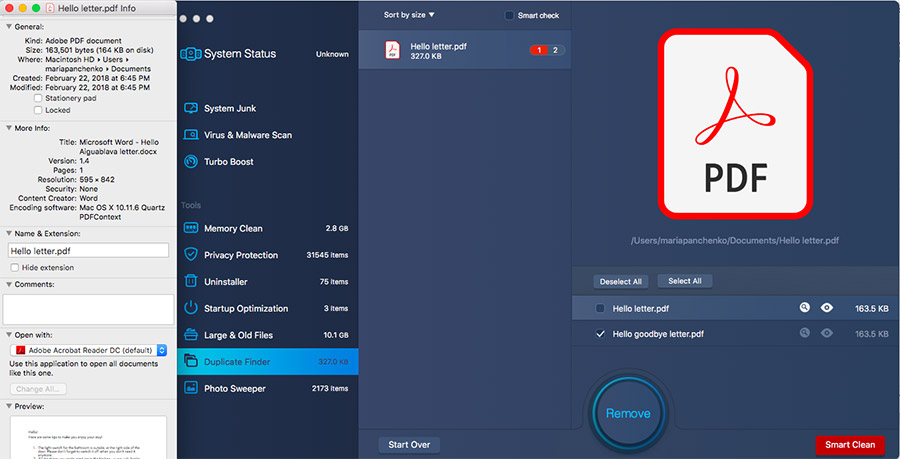 Photo sweeper - for duplicate pictures. Press Scan and after a few seconds the pairs of pictures start appearing on the screen. You can start scrolling and deleting duplicates while the scanning is still in process. Complete scan of almost 10GB of pictures took us no 15 minutes. However, full scan of an external hard drive with over 90Gb of photos took almost 2 hours (2173 groups of similar pictures were detected).
In addition to finding identical pictures it also finds following types of pictures:
Series of pictures taken at the same moment, therefore differing slightly;
Originals and pictures that were edited (light, contrast, tone, etc.);
Same images in horizontal and vertical orientation;
Same images in different sizes.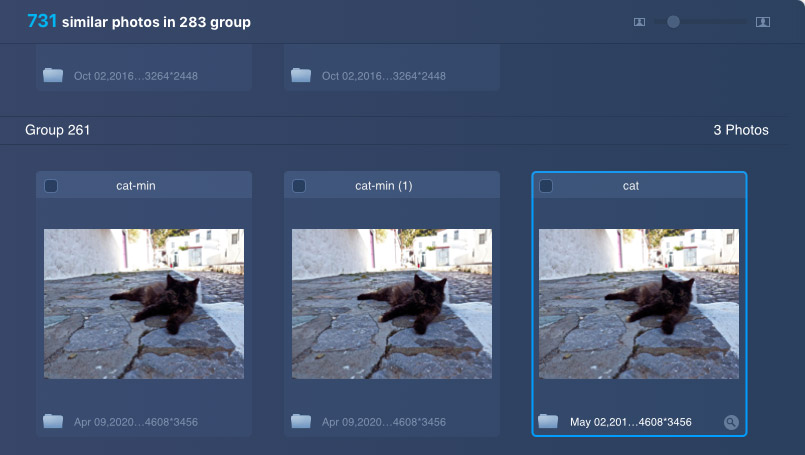 Consider these nuances and be careful when using this tool - it requires a lot of control. Here, MacBooster does not offer a Smart Clean option, so you will have to check all the duplicates manually. There are also additional limitations: not all file formats are supported (.raw, .xcf, .tiff were not scanned), files in iPhoto library are not scanned, and, finally, this tool does not work with all external devices (SD memory card, for example).
When downloading MacBooster, it also installs a little window called MacBooster Mini. It has a little icon on the menu bar. When clicked on, it presents a short overview of the amount of storage on your Mac and suggests a quick clean or a deep clean. Also, by clicking on a slider you can activate the Firewall and Lightning Booster.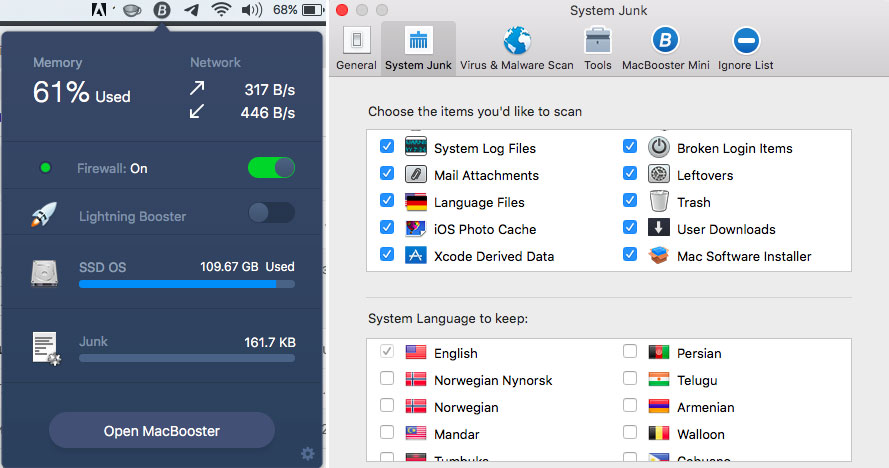 MacBooster review: Summary
MacBooster does not tell you the exact amount of junk that was cleaned, like other apps. Still, the results are impressive. After automatic cleaning of junk files, duplicates, and some of old files, we've ended up having over 10GB free on a hard drive in about 10 minutes. Our test Mac became less hot and emitted less noise. Thus, casual non-savvy users willing to keep their Macs clean, will benefit from MacBooster.
Resolution: recommended!