If you were to look into several lists of best anti-malware software 2018/2019 appearing in Google top results, you would see Spybot Search & Destroy in almost all of them. Spybot has been widely popular since 2000 as a tool to protect operating systems from adware, spyware, suspicious files. Even though the free version of Spybot does not defend against viruses, which are only one of the types of malicious software.
Firstthing to note is that Spybot free version only provides scanning option, real-time live protection against malware/spyware is accessible withinpaidversion only. On the other hand, the program has fine additional features, including repair disk procedures, analyzing OS/hardware/boot sector, rootkit scan, etc. - for corporate users and experts with access to advanced versions.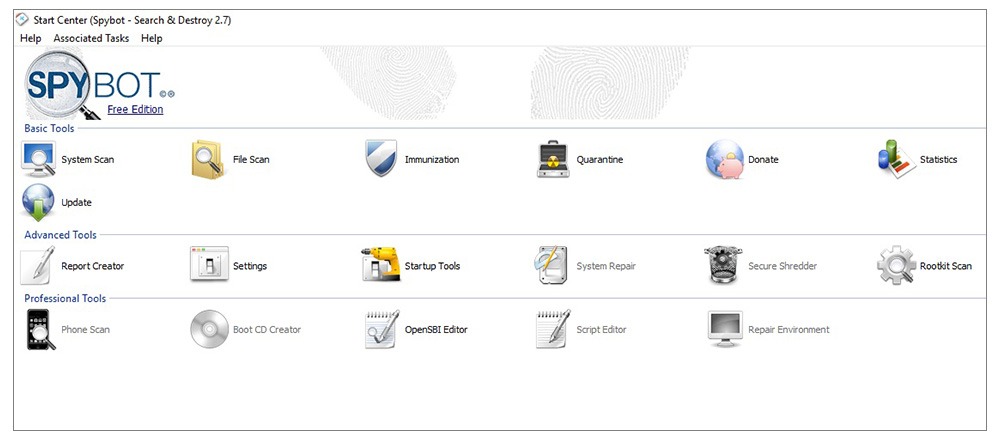 The version we are reviewing and testing herein is Spybot Search & Destroy 2.7.64.0. It supports Windows XP, Vista, 2003, 2008 Server, Win 7 and 8, while versions foranother operating systemsare on the way, according to the vendor - Safer-Networking Ltd., Ireland. For proper functioning of Spybot anti-malware tool, there should be 300 MB of free space at least on a hard drive.
Specifications
| | |
| --- | --- |
| Vendor | Safer-Networking Ltd. (website) |
| Newest version (for Windows) | Spybot v.2.7.64 out September 2019 |
| Operating systems | Windows 7/8/8.1/10 |
| Installer file size | 66.7 MB |
| Menu languages | 7 |
| Key features | Real time protection, Anti-Beacon, Startup manager |
| Extra features | Antivirus, Boot CD, Registry repair |
| License | Free / Subscription |
| Pricing | €11.99 Spybot Home (1 Year, 1 PC)€49.99 Spybot Technician`s (1 Year, 1 PC) |
Feature overview
The free version of Spybot provides security tools that protect an operating system from different types of malware. Besides malware removal capabilities, there's real-time antivirus protection, though only available in paid versions.Firstthing to take notice of is Live Protection feature, devised to speed up the actual scanning process detecting malware and viruses. We should say, that it takes almost a full 1 hour to scan the whole PC. 
To block access to websites that could be potential threats, Spybot offers immunization for the following browsers: Internet Explorer (and clones likeAvant etc.), Firefox and other Mozilla-based browsers, Opera, Apple Safari, ChromeandAmaya. 
If you start deep scanning, that's down to detecting rootkit level infections, it is advised not to open any other external applications - for no interruptions. It takes almost 30 minutes to scan the whole file system and Windows registry.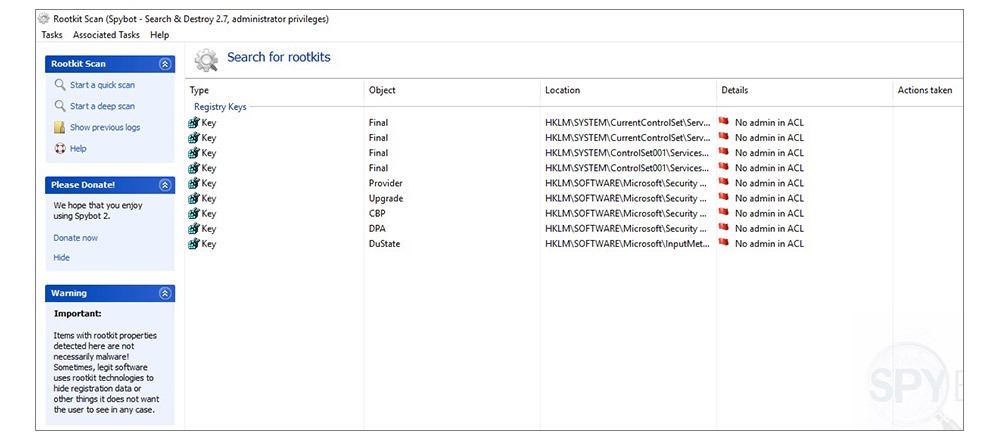 In contrast, the quick rootkit scan runs in a matter of seconds and provides superficial data analysis. Although, it can detect both real malware and mark certain files as "suspicious" that aren't harmful actually. To set automatically scheduled system scans, you have to upgrade to Home Edition. There's also the Boot CD Creator, designed to create a bootable disk on PC, which is not available for Windows 10 as of now, we should add. 
Interface and user experience
Spybot 2.7 opens as a new separate window on the desktop. Your anti-malware quest starts with three core modules: last system scan, immunization, last update. If any of those is marked red, it is recommended to scan, initiate protection or check for program updates. Green color indicates proper functioning.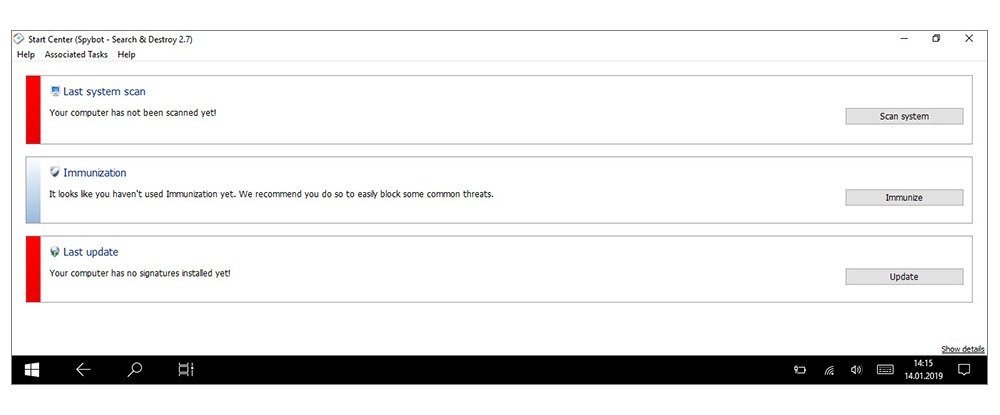 Start Center is a user-friendly communicable interface that shows paths to various functions and modules. In the advanced version StartCenterthere's also the file scan. Moreover, there are 2 ways to obtain a more functional interface: upgrading to Home Edition or donating any amount of money.
All log files are saved on a C drive of a computer. It is worth noting, that not only last scan reports are saved, but all previous logs - literally, which one could find in ProgramData folder. Files are saved in .xml format.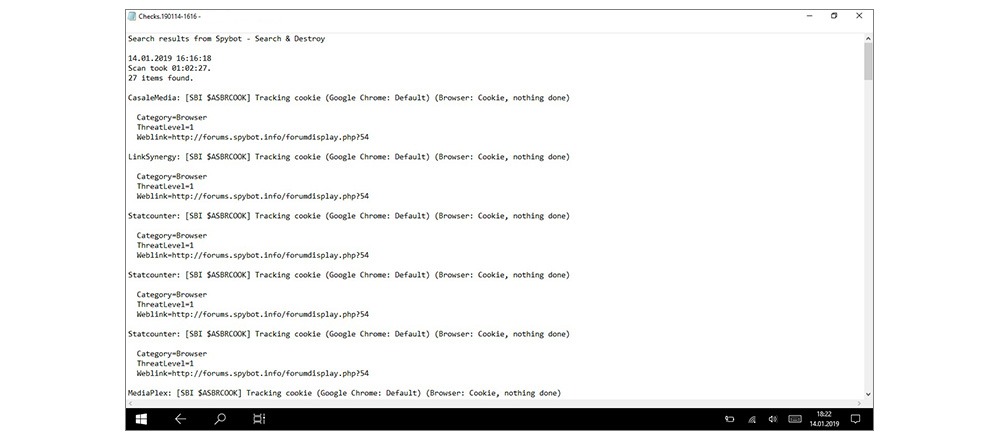 Trial and limitations
The free version of Spybot is available to download and install on a desktop PC only. For mobile phones,  iPhone, iPad, iPod Touch users must use Spybot Home Edition or other paid package. In terms offencingoff malware, Spybot detects it inbrowsercache, system servicesandfile system - that's the limitations ofscanningprocess. One way to work around it isto toadd particular files/folders/directories via File Scan module or Settings. 
Spybot Home Edition version for private use is available for €12. Spybot Search & Destroy Professional Edition costs €22 with the expanded set of features. Forbusinessesthere is Spybot Corporate Edition, that costs €29. Advanced users and tech experts may use Technical Edition for €50. You should also know, that Spybot does not have money-back guarantee policy.
How to use SpyBot, user tips
Easy-to-use modules are activated by clicking one of the buttons - Apply, Start, Scan. If you want to scan other external sources (USB, memory card, etc.), just use Filescan. Also, it is highly recommended to delete all third-party cookies and check the system for malware weekly.
Using Spybot is straightforward - scan the whole PC anytime, or scan separate files. Infected or suspicious files are sent toquarantinemodule. From there a user can delete malware or restore selected files before they are permanently removed. If no action is taken to files in quarantine during 90 days, suspicious items are being removed forever and irrevocably.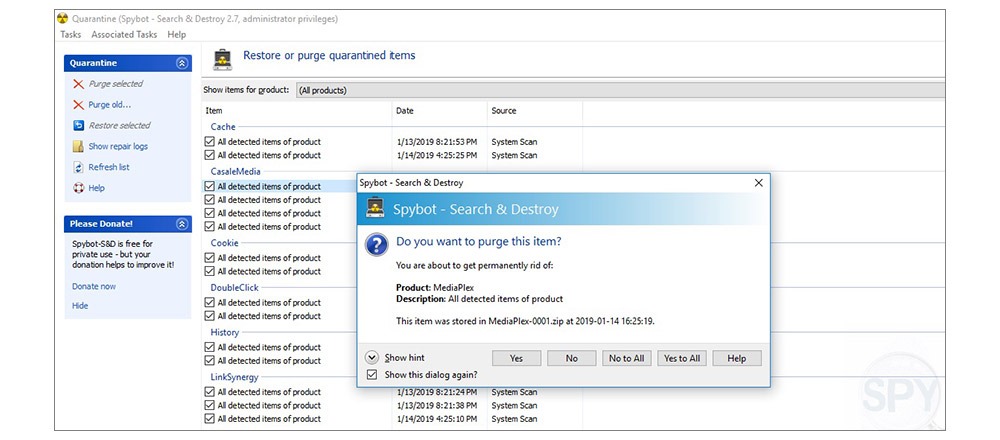 To run the program with administrator privileges just right-click on Spybot icon and choose the option - same as with any other programs. 
Performance test on PC
We appliedSpybotapp on a typical PC, 8GB RAM running on Windows 10. Quick Scan went through 3108 system files, 113 Windows files, 159 processes and found no threats. 
Deep Scan, meanwhile, showed another picture. It took 58 minutes to scan the whole C drive of 70 GB in size.  38 suspicious items were detected with 1 or 2 threat level and were moved to quarantine. To scan other drives or folders, go toSettingsmodule in the advanced user mode. 
After immunization was finished with 192,001 entries analyzed, Spybot told us there still were 4 unprotected items. Spybot immunized Internet Explorer, Mozilla, Firefox and Opera browsers that are installed on the PC, but unfortunately, 193 items in the browser cache were still left unprocessed.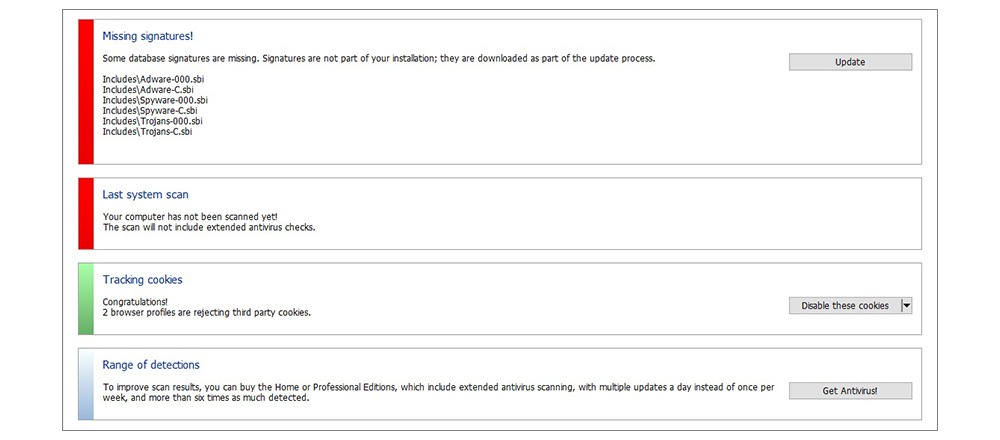 Verdict
Spybot is simple to use, it detects malware, it scans relatively fastercomparingto traditional antivirus software.Freeversion is limited in certain parts, and to get a fully functional Spybot you'd have to sign up for the Home Edition orother plan, but that's a common practice. 
Pros: User-friendly interface, log files backtrack, donation system, protection from rootkits, twenty-year history of security software products.
Cons: No anti-virus protection infreeversion, no free version for iPhone users, no Android versions, lack of information about donations, possible false alarms about "suspicious" files.
Name of product Pros
user-friendly

log files

price as donation
Name of product Cons
false alarms

no antivirus in Free

no Android version
Overall, while Spybot Search & Destroy might not be the most popular product in its category of anti-malware, it is effective in detecting malicious files. Paid versions also provide anti-virus protection.