MalwareFox is an anti-malware software that provides fast, simple and effective detection and elimination of cyberthreats. Antivirus programs identify threats through their signatures and only catch viruses if the signature of a potential threat matches the signature in the database. MalwareFox not only does match the signatures, but also real-time checks the behavior of potential zero day threats.
MalwareFox main functions include:
Detection and elimination of malicious software: viruses, trojans, ransomware, malware, spyware, rootkits, etc.
Protection against browser hijackers and unwanted advertising, pop-ups, etc.
Anti-ransomware PC protection.
Cloud sandbox technology against zero-day attackers.
24/7 technical support.
The last three features are only available for the paid version of the program, you will only be able to get the first two features for free. Let's now closely examine MalwareFox performance and effectiveness. To start off, here's a brief helpful installation guide (clickable):
First of all, we would like to point out that we are reviewing the latest version of MalwareFox AntiMalware 2.74.206.150, which is also a 14-days free trial. With the built-in step-by-step wizard, the process of downloading and installing the program on your PC will be quick and easy. After launching the program, you see a fairly simple, concise interface.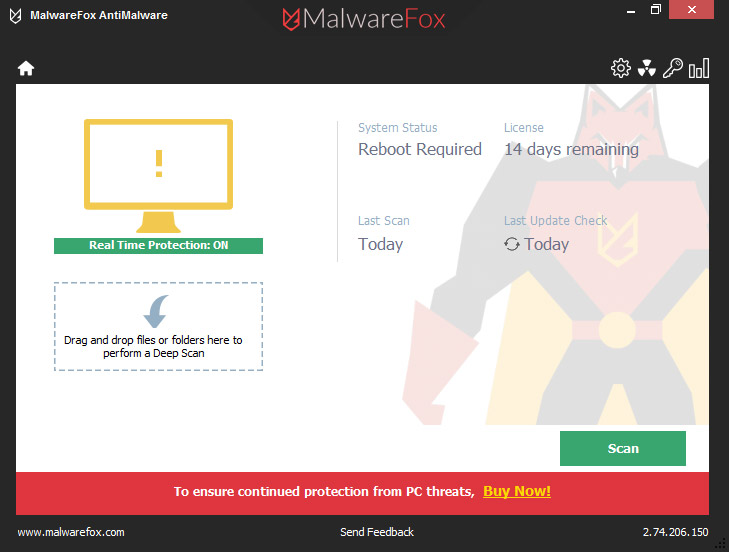 The program's homepage can be divided into several sections: overall system status and program license information, real-time protection mode, manual and full scan, feedback. From settings we can: a) set general aspects such as language, notifications, scanning; b) update the program; c) make further changes.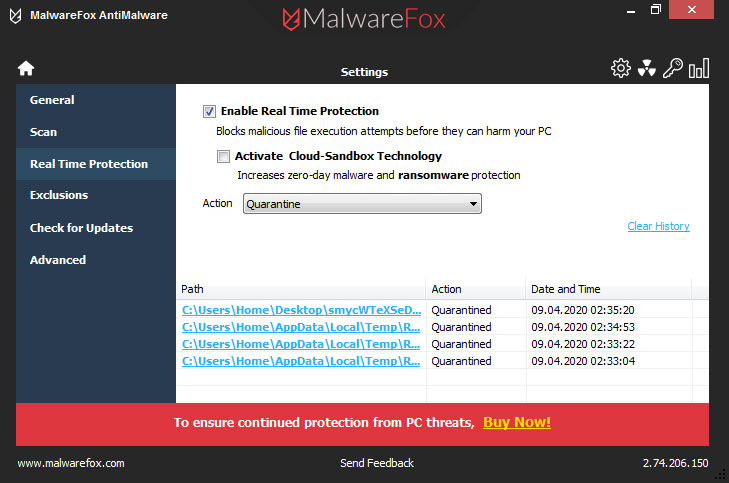 The Quarantine button displays neutralized malware and offers to fix it or delete it. The following License key button enables us to purchase a licensed paid software version. And the last is the Reports menu item, which provides information on when and what malware scan was performed and also displays the result of such a scan.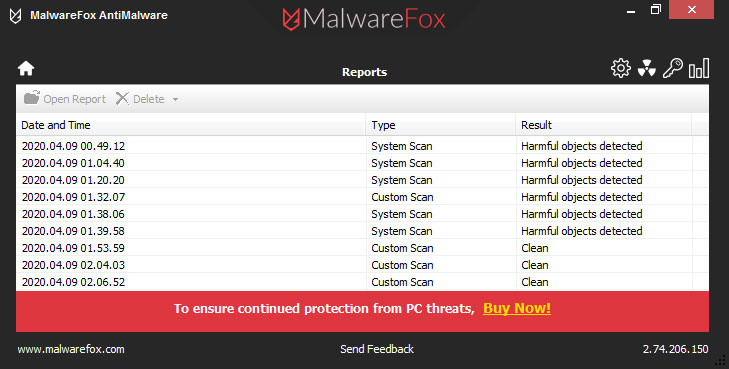 MalwareFox can be divided into three modes of operation.
Mode 1. Full scan
This mode involves scanning the system and is called up by clicking the Scan button, which is displayed in the lower right corner. In this window you can see how long the scanning process lasts and the percentage of scanning progress, which is positive and gives you an idea of ​​how long the process takes. It also provides information on how many files have been processed and how many threats have been identified.

After completion, the program shows all the threats it has identified as well as the suggestions for their removal. In our case the program identified 2 threats that it offered to quarantine. Click the Next button to get the computer to clean up. It should be noted that the scanning process often ends with a restart of the computer, so you should close all running programs beforehand.
Scanning is quite fast and not energy-intensive, so you can safely do other work while scanning, and your computer's productivity will remain high. The positive thing is that even if you forgot to restart your PC after scanning, or couldn't do it at the right time, the program will not let you forget about it, because when you start it, you will see a message saying that you need a restart.
Mode 2. Manual scan
This type of scan saves time when you only need to check certain files or folders, not the whole system. This scan is to be started in two ways. The first is to drag the corresponding object of study to the window. Alternatively, select Scan with MalwareFox AntiMalware from the context menu of the file. Next, perform all the steps similar to the previous scanning mode.
Mode 3. Scheduled (automatic) scan
This mode allows you to schedule in advance each subsequent scan of the system. You can do this by selecting the Settings menu item and the Scan item. To do this, check the Scheduled Scan position and select the scan time. Then the program will do everything instead of you at the stated time.
Also, in the Real Time Protection tab you can activate the mode of permanent protection and also activate the technology of cloud sandbox, which will help to catch zero-day attackers. The only drawback that we have identified when using MalwareFox is that it is not always able to detect threats when scanning archives. Therefore, we conducted a little experiment: we have placed a virus into a ZIP archive and launched a scan. Sadly, MalwareFox did not detect the virus. However, when we opened the archive, it detected and blocked it, as it should.

Summary
Name of product Pros
Quick and effective detection

Does not affect PC performance

Coexists with antivirus software

Real-time protection

Custom and scheduled scans
Read next: Best anti-malware apps review.