Eventually all PC users face system slowdowns. Many software developers offer programs and utilities to clean, speed up and optimize PCs, antivirus programs, etc. Following this initiative, and to save customers' time, money and effort, iolo Technologies has created a single utility that combines key features for maintaining PC in good condition. It is System Mechanic Ultimate Defense, which we're reviewing in this article.
System Mechanic Ultimate Defense v.20.0.0.4, an enhanced version of standard System Mechanic, is a comprehensive suite of security, privacy, and performance features in one convenient interface. The program includes all products that are developed by Iolo and distributed separately.
In addition to standard PC cleanup from junk files, users can clean the registry, optimize disk and RAM, speed up OS startup, use firewall, confidentially browse the Internet, manage passwords, etc. That is why this build also includes other software, namely: Privacy Shield, ByePass, Malware Killer, System Shield, Drive Scrubber, and more. In other words, it's an all-in-one optimizer.
Technical requirements 
| | |
| --- | --- |
| Vendor | Iolo technologies (www.iolo.com) |
| Latest version (Windows) | 20.0.0.4 (March 2020) |
| Operating systems | Microsoft Windows 10/8.1/8/7 |
| Disk space | Not less than 270 MB |
| RAM | Not less than 512 MB (2 GB recommended) |
| Menu languages | 10 |
| Price | $64 (discount) |
Interestingly, the purchase of all the functionality of System Mechanic Ultimate Defense separately will cost $240, while the subscription per year costs $79.95 (at the time of writing this article $63.96).
Features
| | | | |
| --- | --- | --- | --- |
| Feature | Rating (0-5) | Pros | Cons |
| Clean & Optimize | 5 | Scan by category, PC cleanup, files deletion | None |
| Speed up | 4 | 3 modes and settings, faster Internet | No driver updates |
| Protection | 5 | Antivirus and 6 extra modules, Privacy Shield, credit card protection | None |
| Scanning progress | 4 | Scanning by sections, automation | Cancels scan when switching to another menu |
| Quarantine | 5 | No special permissions required, does not delete files automatically | None |
| Reports | 3 | Device status report in every menu | No system-wide status report, inability to export |
| Support | 2 | Average | 24/7 support costs $200/year, one-time troubleshooting for $100 |
| TOTAL | 3.7 | | |
Also, System Mechanic Ultimate Defense is a reissue of Iolo Phoenix 360 - a previous version of the same program, but with significant additions to design and protection features. All 3 versions do not vary much in price, which is positive: Ultimate Defense for $79.95, Pro for $69.95, basic for $49.95.
How does it work?
When you first launch the application, you are greeted by a homepage that prompts to start a PC analysis process. Two options are available: quick or deep cleaning. In addition, the first icon in the header is to select a color theme, and so we immediately switch to a more pleasant one - light.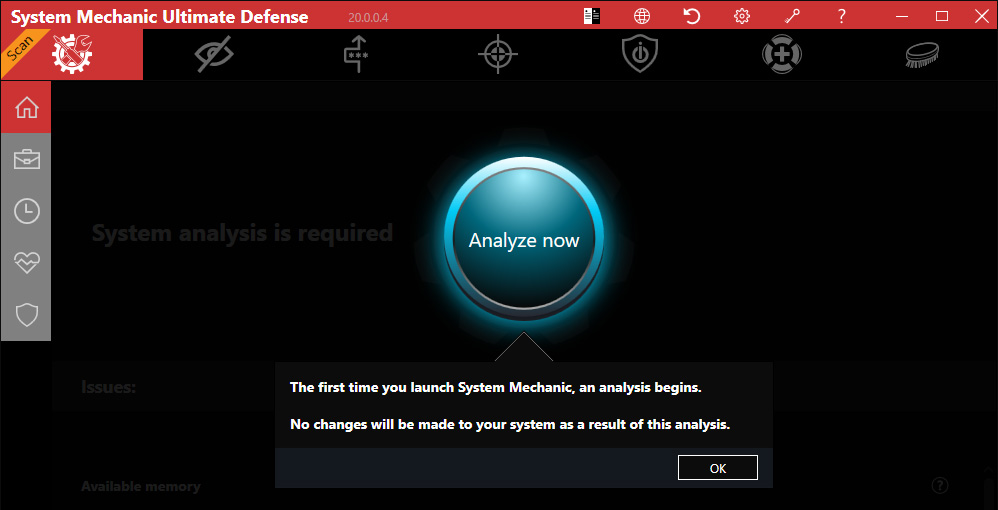 Fast cleaning takes about 10 seconds, allowing a user to detect corrupted and unnecessary files, optimize available memory, and get recommendations. Deep cleaning differs by that it further analyzes the PC for the contents of malicious and junk files, registry problems and Windows settings, unimportant startup processes. It takes longer, obviously, yet only about 1 minute.
In total, the first deep cleanup has found over 3,000 junk files of 3GB total volume, as well as has optimized RAM and provided 4 optimization recommendations. We've instantly noticed more free memory and faster access to applications.
The ability to scan and clean by category deserves more attention. Each submenu allows users to choose specific areas. At the end of scanning statistics are displayed (amount of files, disk space, actions to undertake). One drawback is that switching to another menu cancels actions that are in process.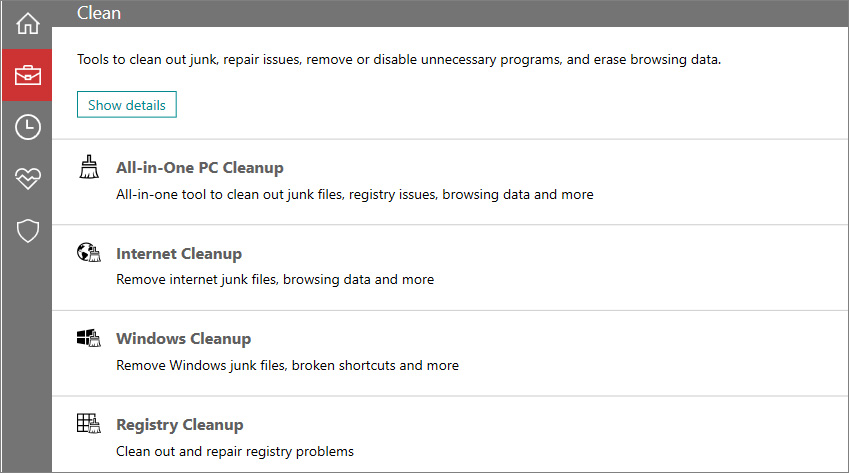 Privacy/Confidentiality
Privacy Shield is another voluminous tool that aims to ensure user/data privacy when using the Internet. The dashboard of this section, like in most menus, will automatically determine the level of privacy, provide a brief description of features, count the number of issues, and show the status of modules (shield, schedule, whitelist).

A flexible system of settings and tips will help adjust the features according to user needs. If we apply the settings as recommended by the program, we will see that Privacy Shield has started functioning and the level of computer security has increased. 

Another feature of the Dashboard menu is Automatic Privacy Cleaning, which scans browsers for areas that could potentially be utilized by hackers, and helps to clean it up. Cleaning can also be automatic, just activate the corresponding button. 
Security
It should be noted that when you use the program, the antivirus is updated daily, sometimes twice. This indicates that the antivirus database is up-to-date and provides maximum protection for the device. This section prompts us to scan the entire computer for viruses and suspicious files. It will also display the date of the last scan and will remind you that the scan is necessary if the latter happened a long time ago.

Following the recommendations, we scan the entire system. In the analysis, we can track the process: how many objects have already been scanned, what archives are being scanned and how many dangerous files have been detected. Scanning is quite lengthy because the program has to analyze every file of each disk, yet no slowdowns have been noticed. One minus is that scan time estimation is missing.
The whole process took about 40 minutes, without any virus or other malware being detected, which is natural because our system is clean. In this case, we will run tests to check the validity of the antivirus software.
Simple. EICAR test file created by Kaspersky Lab specifically for such cases. Download it and System Mechanic instantly removes it. Pass.
Advanced. With the help of a special service, we upload a folder with the 18 most popular viruses together. On first inspection, the program detected 17 viruses and quarantined them. Re-scanning the folder also revealed the 18th virus. Pass.
Extra features
Unwanted Programs remover: scans the system for deceptive and unnecessary programs such as fake trialware, browser hijackers and spammers.
Drive Scrubber: safely removes all traces of data from a hard drive.
Security Optimizer: finds and fixes Windows security vulnerabilities.
Incinerator: allows to completely and permanently delete files.
Firewall: information and management of Internet connection.
ByePass: a web browser extension that securely manages all passwords and credit cards.
Malware Killer: finds and eradicates malware.
Setup/Support
SM Ultimate Defense does not have a very flexible interface. It comes with only two color themes (dark and light) and supports 10 languages: English, German, Spanish, French, Italian, Japanese, Chinese, Korean, Dutch, Portugese. Animated icons, sometimes, frantically jump from side to side.
The setup could be complex for beginners, however, for other users submenu structure will be of benefit. All elements and tools can be adjusted. Yet we could not find the support button or link. Help icon sends you to the online guide on the vendor website. There, we also find a Support section, sorting customers by 2 categories: standard and premium (which costs about $200 a year). Online reviews are also critical: many people turn for support and do not get help or money back, there are issues with upgrading from Pro to Ultimate, etc.
Summary
System Mechanic Ultimate Defense as an all-in-one program leaves ambivalent impressions. On one hand, the cost is higher than competitors (Norton, AVG, CCleaner, etc.), interface bugs, poor support, no ability to update drivers. On the other hand, all the essentials are present, and even more: real-time optimization, analysis and cleaning, antivirus and firewall, password and card manager. 
It could be of interest to users trying to improve on speed and performance, who appreciate an extensive toolkit in a single software. The program does provide everything to keep a PC in a good working condition. And finally, let's hope that Iolo will fix errors and bring proper upgrades.