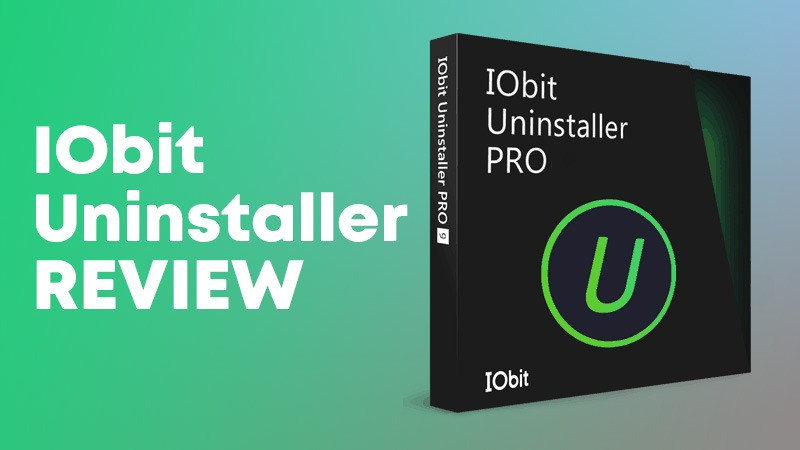 Uninstallers have become indispensable for any PC users today. However, there are so many software developers and vendors, that people are often overwhelmed when it comes to choosing the right program for themselves. In any case, leaders in popular demand have emerged over the years, and one of the best uninstaller software appears to be IObit. Therefore, we'd like to examine it more closely in this IObit Uninstaller review.


General information
IObit Uninstaller v.9.4.0.12 PRO is a program for removing unwanted programs, Windows applications and browser plug-ins, which is additionally equipped with tools to optimize, speed up, and monitor PC status.
IObit Uninstaller not only removes the programs, but also cleans the residual files of those programs. As soon as the program detects unnecessary residual files, folders and registers, to remind you to clean them on time, you will be notified at the top of the application list. In addition, it reminds you of the available updates for all programs to ensure the security of your programs from intruders looking for the weaknesses of your PC.
Specifications
| | |
| --- | --- |
| Vendor  | IObit (China) website |
| Latest version (Windows) | 9.4.0.12 (2020-03-24) |
| Operating systems | Microsoft Windows 10/8.1/8/7/Vista/XP |
| Disk space | Not less than 65 MB |
| Menu languages | 38 |
| Cost | $19.99 / year |
Installation
There are two installation scenarios: you either download the Free version and upgrade it to Pro, or install the paid version initially. A small life hack: if you first choose Free, then IObit will offer you to buy Pro at a -35% discount.
The second recommendation, even if you are an inexperienced user, is to select Custom Install when installing the application. If you choose the automatic way, the installer will also install third-party software from its affiliate programs or additional IObit utilities on your computer without your knowledge.
Upon the download completion, you will also be prompted to subscribe to the newsletters from IObit (enter email), for which you will receive a Windows Tweak ebook (a Windows guide for $10, according to the developers). Decide for yourself, but we think that this approach to guides is already outdated (book).
Installation time:
PC: 35 seconds
Laptop: 1 minute 25 seconds
Activation. At the bottom of the program, you will see a large Activate Now button, where you can enter or activate the activation key. Everything is standard. Later on the license management will be located at the same place. Additionally, IObit themselves have created an unsurpassed guide to help users upgrade from Free to Pro: Guide.
The downside is that during the download and installation, there is really a lot of advertising, both on the site and in the program. Even after activating the program, a special offer for users who have purchased the program will be present in the bottom of each menu.


Interface
The program is presented in classic IObit product colors, it looks modern, stylish and restrained. In general, the menu is not full of buttons, easy to use and intuitive for the beginners.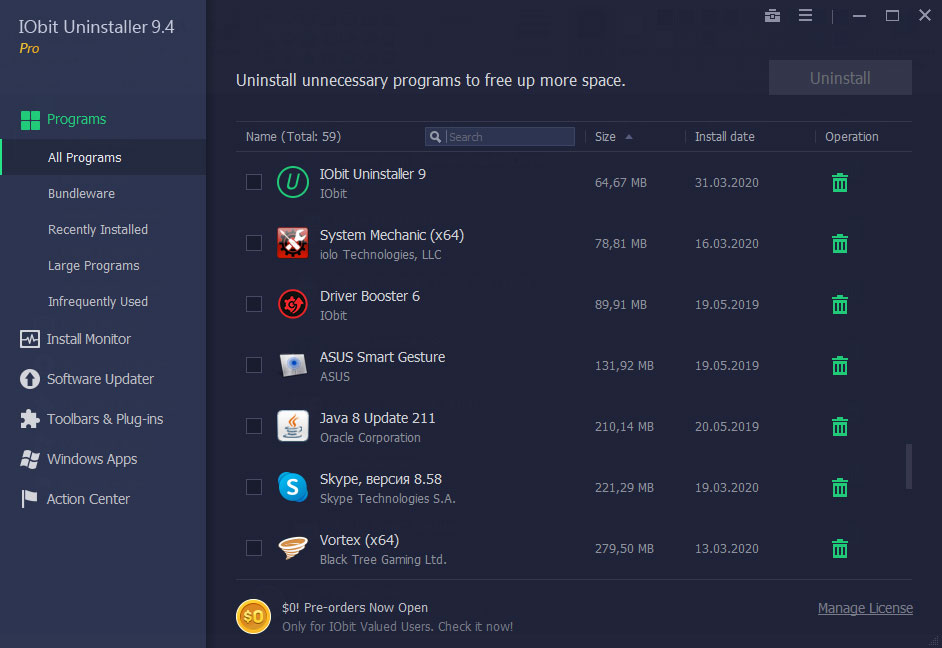 There are two color themes available in the settings: light and dark. Any changes to the settings take effect immediately and do not require the program to restart. The interface is equipped with 38 available languages ​​and three text sizes: Normal, Large, Larger. Customization is minimal, but only useful features are added.

Summary: 
Convenience: 9/10
Advertising: yes
Customization: 8/10
Bugs: not noticed
Localization: 10/10
Structure: clear


Key features
The main uninstaller tools are compiled in the Programs menu, which has everything you need to track, select and uninstall programs and bundleware:
 Preview of all/recently installed/rarely used/largest installed programs on a PC;
 Sort by size or date of installation, search by name;
 Open the application installation folder, registry editor, search in the Internet;
 Preview, information and removing bundleware;
 Select one or more programs and start uninstalling.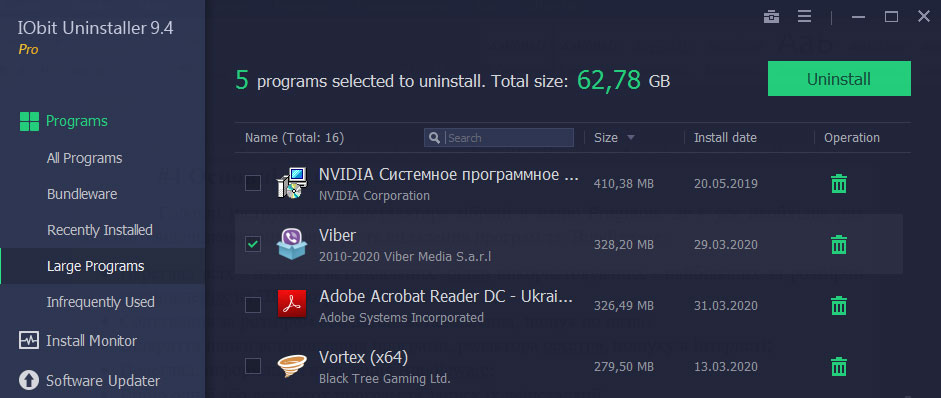 The Windows Apps menu is similar to Programs, but it contains standard Windows applications: Calendar, Calculator, Camera, and more. When you press the Uninstall button, you can additionally select two functions: 1) Create a Restore Point (1.5 - 2 minutes); 2) Automatically delete residual files (10 - 15 seconds). We would also like to note that the removal is not very fast: uninstalling the application and residual files ~2 minutes on PC, and ~3 minutes on laptop.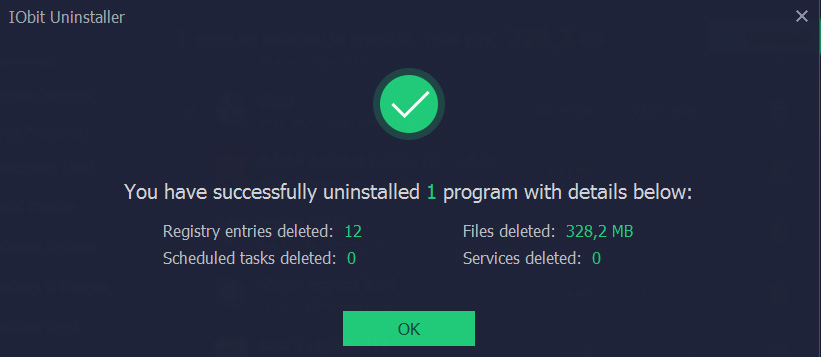 Install Monitor is another feature that keeps track of files and registry entries when installing new programs to remove them in the most thorough way in the future. To install an application with IObit Uninstaller, simply click on Plus in the corresponding application menu and select the location of the installer. Perform a standard installation, after which IObit outputs the scoreboard. Also installed programs can be tracked below in the same menu with the Logged Installations button.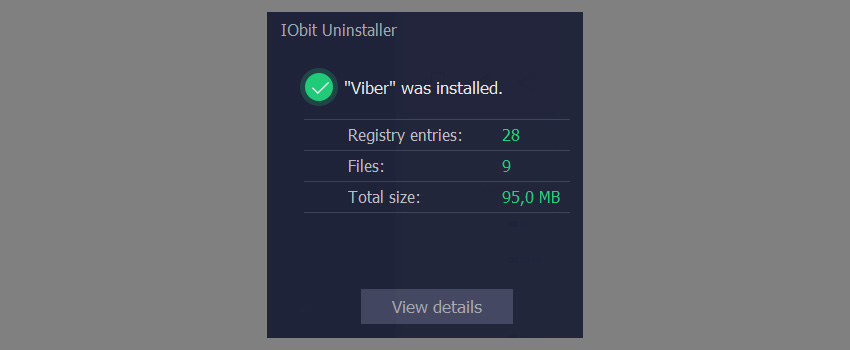 In general, the automation of this section is a default option in the Pro version of IObit Uninstaller, so you don't have to do anything manually. All installed programs will be automatically tracked. Also, the Install Monitor does not slow down the installation, so we strongly recommend that you use it to better clean your PC.
Toolbars & Plug-ins. Standard tracking and deletion of browser extensions. In general, it is no different from competitors, except for the added User Rating, according to which we can conclude whether to use a particular plugin or not. It is also possible to show all the plugins, or sort them by browser. 
As in the previous menus, you can select one or more extensions here and use the Remove button to start the uninstallation process. Keep in mind that the program will ask you to close your browser if it works, otherwise removal will not be possible. The removal speed is impressive. No matter whether we removed one or ten extensions, the uninstall process completed in one second. 
Summary:
Removal speed: 7/10
Removal quality: 9/10
User experience: 10/10
Process automation: 9/10
Additional features: Install Monitor, Toolbars & Plug-ins, Windows Apps.


Additional features
In the Pro version of the program IObit provides many extra features, including the ability to manage updates.
Software Updater scans all existing applications on your PC and keeps track of the latest updates that you can install right from here. For convenience, a single Update All button has been added to make it even easier for the users. The update time is standard, different for each program.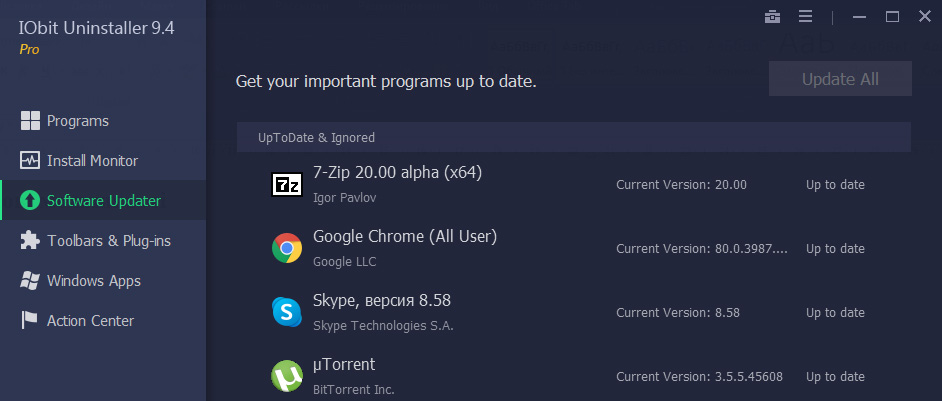 The second feature related to updates is Windows Update Manager, which can be found in the Tools menu (top). Here, in Windows Updates, users can track the installed update packs on the computer and remove them individually or by groups.
Moving on, some people may call it advertising, and some may regard it positively. However, Action Center is added to IObit Uninstaller 9 PRO main menu. Here IObit offers to get acquainted with third-party software and the ability to install it. If a program is already installed, it will check for updates.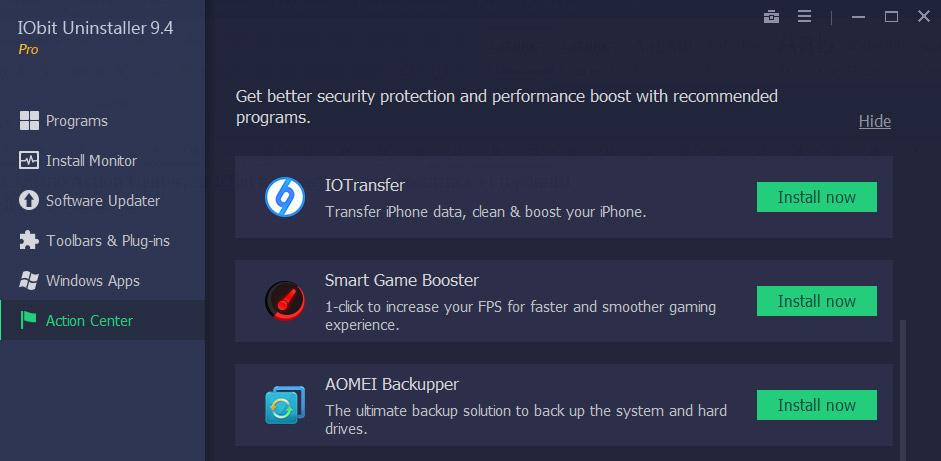 The following feature is rather for PC optimization. After a brief scan (~15 seconds), Software Health shows the presence of program leftovers (to free up disk space), malicious plugins (to speed up internet browsing) and outdated programs (for security and privacy). In terms of performance, we have no complaints here - a few seconds and the remaining files were deleted.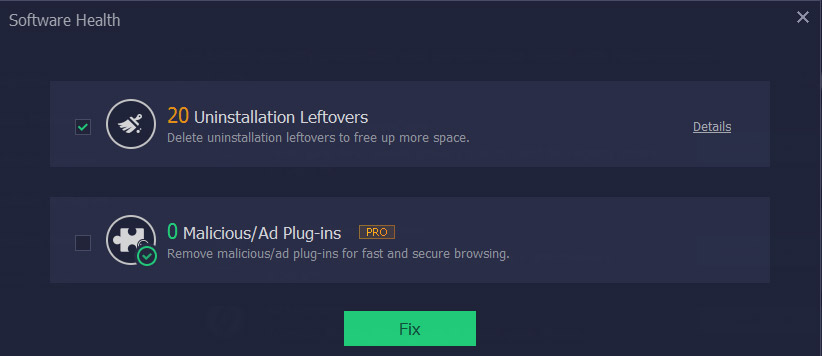 Other extra features all concern different aspects of software removal.
Easy Uninstall displays a target on the desktop that one has to drag onto unnecessary files, programs, or folders to clean it quickly. Although, deleting a blank Word document takes more than 15 seconds, accompanied by two confirmations and unnecessary animation. The function is promising, however, as practice shows, it is hardly used in everyday life and we think it needs improvement. Moreover, some other uninstallers have similar tools, such as Hunt Mode in Revo Uninstaller, which at least deletes files quickly.
Force Uninstall allows to delete a program that cannot be removed in the usual way, as well as to carefully clean its residual files. Just drag a file or shortcut here, then the program will do the rest. This is ideal against malware that is installed without user knowledge and cannot be wiped away.
File Shredder is a utility that deletes files completely and permanently. Not everybody knows that after deleting files or cleaning up the Recycle Bin, they are not permanently deleted, and can be easily recovered with special software. Files and folders deleted using this feature cannot be restored. They also free up more disk space. The function works flawlessly and quickly, without forcing the user to wait.
Uninstall History is an information section that allows to view the history of (un)installed programs, disk space and details about each removed program, reports, and more.
Settings/Support
The program settings are not extensive, though useful. Notifications, ignore list, interface and basic (updates and automation options) can be configured here. We recommend that you immediately enable automatic updating (which is only available in the Pro version), automatic deletion of residual files, and set the font size of the program to large.
Below the settings there is the System Restore, which displays automatically created restore points for deleted programs with information about them. You can also create a full restore point in about 2 minutes. Further below the developers have located an Export program list, where you can get a list and information in a text document.
Notifications tab is particularly helpful and can act as a real-time monitoring system of sorts. A user can choose to let IObit detect and notify about such things, as:
Unwanted apps and plugins
Software updates
Uninstall operations outside IObit
Disk space is critical
Installation logs.
Customer support comes from the Feedback menu item. Here you need to enter an email address, a subject of appeal and a description of the problem or feedback. In addition, you can use the Technical support button to navigate to the section of the IObit site, where all information about IObit software with easy search and FAQ is structured.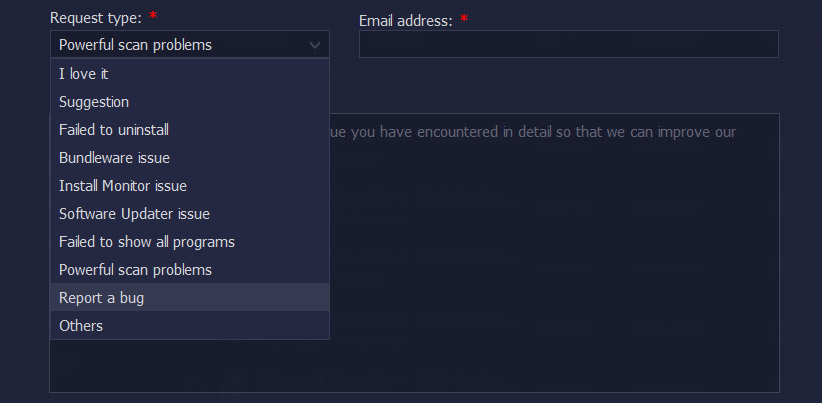 Summary
In our personal opinion, IObit Uninstaller 9 PRO is one of the best uninstaller tools with useful additional features and excellent functionality. It is equipped with a clear and stylish interface. In addition to the uninstaller feature, it can optimize a PC and help monitor the system status.
When running, IObit Uninstaller consumes up to 20% of processor resources, yet has almost no effect on RAM. After applying all the tools, the program managed to speed up the PC by a total of 15-20% in our case. Updates to the program in the Pro version are automatically installed, coming from one to three times a month.
The advantages of the Pro version costing $20/year include:
Get rid of bundleware and plug-ins while uninstalling a main program;
Remove stubborn programs, malicious extensions, adware;
Automatically revert system changes made by a program;
1-click update for important software, auto-update to the latest version;
24/7 technical support on demand.
Our subjective recommendation is to install the Free version and then make a purchase decision. However, Pro can really meet the needs of both beginners and professionals alike. The program is perfectly optimized for devices; bugs and crashes have not been noticed, 24/7 support responds quickly.