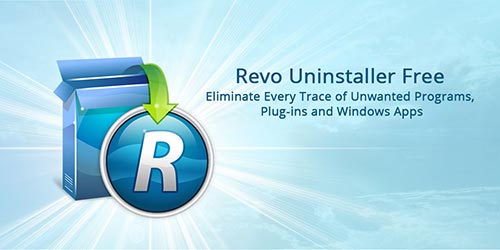 Millions of users delete files from PCs/devices everyday, due to low hard disk space, unused files, games, and plenty of other reasons. However, often we are doing it improperly. Leftover junk files may cause errors, spontaneous shutdowns, overheating. To combat this, tech developers produce special software that helps maintain a PC in good condition and deletes files correctly and completely. These are called uninstallers, one of which we'll review today.


What is Revo Uninstaller?
Revo Uninstaller 4.2.3 is a utility that provides users with a powerful and easy-to-use tool for cleaning and optimizing Microsoft Windows 32 and 64-bit operating systems. Revo Uninstaller has an advanced scanning algorithm for the system before and after installation, and allows you to delete files, folders, and registry keys left after uninstalling the program.
The program also helps to prevent cases where after the program has been uninstalled there are messages that some files could not be deleted and must be deleted manually. Such residual folders, files, registry entries, and other program components not only take up space, but can significantly reduce the system performance and even cause system crashes.
Specifications:
| | |
| --- | --- |
| Vendor | VS Revo Group |
| Latest version | 4.2.3 (March 2020) |
| OS | Microsoft Windows 10/8/7/Vista/XP |
| Disk space | 100 MB at least |
| Menu languages | 44 |
| License  | Trial (30 days) |
| Cost | $24.95 per year $29.95 Portable |
The program is available in three versions (Free, Pro and Pro Portable), which differ in functionality. The longer subscription you buy, the lower is the cost.
Revo Free: scanning for leftovers after standard uninstall, 8 additional cleaning tools, technical support, uninstall Windows apps.
Revo Pro: Free version + delete browser extensions, forced uninstall, quick/multiple uninstall, extended scanning, real-time system monitoring, logs, backup system.
Revo Portable: Pro version + unlimited number of devices/computers, use anywhere on a USB stick. A quick visual introduction in a video below.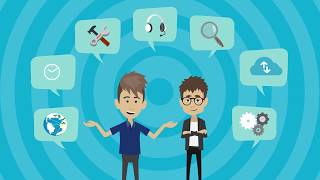 Features
| | |
| --- | --- |
| | |
| Uninstaller | First runs the uninstaller and then scans for stubborn leftovers, temporary files, unnecessary data. |
| Forced uninstall | Assists with partially installed programs, erroneous uninstallation, and disguised programs. |
| Multiple uninstall | Removes several programs in a row, performs automatic scan for leftovers and deletes everything by default. |
| Real-time monitor | Tracks activities during installations, collects data to a log, can revert changes if needed. |
| Windows apps | Less frustration by uninstalling it just like any other app, including leftovers. |
| Browser extensions | Remove all extensions / add-ons from a single window. Supported browsers: Chrome, Firefox, Internet Explorer, Edge, Opera. |
| Logs | Database of logs from real-time monitoring, stored on Revo server, users can import / export logs. |
| Backup system | Creates a restore point and a registry backup before each uninstallation, plus an option to create a backup once a day. |
| Hunter mode | A targeting icon to drop over a program and select action (uninstall, kill process, open folder). |
| Cleaning tools | Autorun manager, junk files, history cleaner, erase confidential data, unrecoverable delete, etc. |
When comparing to similar software, we see that Revo Uninstaller is about the same price range, has a trial period, samed basic features. The difference lies in a user-friendly interface, useful extra features, amount of interface languages, and proper support. Vendor clearly ties his best in helping users through manuals, FAQs, video tutorials, screenshots, logs.On the other hand, it does not offer registry issues fixing. 
Install and activate. There are two activation options in the sign up box: by file and online. The developers have thought in advance about the comfort of inexperienced users, so you can read the extended activation instructions in an email. After activating, we recommend to go immediately to the Auto Update menu just below the settings, and enable the automatic mode. A fresh version of the program always provides faster and better performance.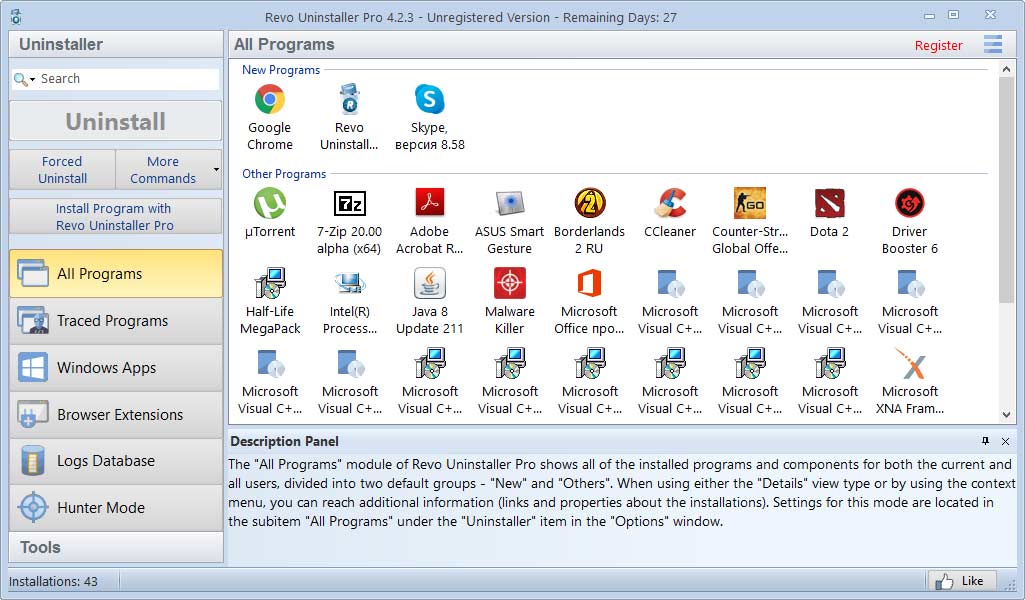 The whole program can be divided into three sections: Uninstall, Tools, Settings. Additionally, there is a Description panel at the bottom of each menu, allowing you to see the features of the section and to read the guidelines.


Uninstall
The key section compiling all the applications installed on a device, the total number is stated in the bottom left. Displaying recently installed programs (as New) section is very convenient when a lot of software and various components appear.

The essence of this menu is very simple: select unwanted programs and uninstall them (big Uninstall button on the left). However, this is not a regular removal, but a special one. Let's try to remove CCleaner. Clicking on it, we immediately have a bunch of information about the program: name, manufacturer, size and version, installation date.
Another advantage: the program notifies us that it has a special removal script that provides the best cleanup. However, we press No and see what happens instead: registry backup, system restore point, and then standard uninstallation. 
Scanning has three modes to choose from:
Safe - additional search in the registry.
Moderate - includes Safe mode and additional search for remnants.
Advanced - the most thorough, including an in-depth search of all program-related entries.
We performed all three removal scenarios and got the following results:
| | | | |
| --- | --- | --- | --- |
| | Safe | Moderate | Advanced |
| Registry scanning speed (seconds) | 1 | 5 | 11 |
| Entries found in the registry  | 65 | 76 | 96 |
| Residual files  | 4 | 4 | 4 |
| Residual folders | 0 | 0 | 1 |
Concluding the test, we recommend that you always use the advanced method of uninstalling programs, as it takes not much more time but cleans a PC better. There are also many features for advanced users, i.e. Forced Uninstall, Windows Apps, Logs Database, and more. They are less often in use, yet may become useful at any moment.

Also, we would like to highlight the Browser Extensions menu, where you can conveniently track, delete, view information, and export all browser extensions on a PC in a file. And one more tool just to mention (more info in a chapter below) is Hunting Mode, which is a kind of gamification element, allowing users to virtually aim at a program on desktop and "kill" it. This probably will be ideal for people with cluttered desktops.


Tools
This is where Revo goes beyond a plain Uninstaller.

Autorun Manager is responsible for speeding up the operating system by shutting down unnecessary programs. Revo automatically exposes those processes that slow down the system. We recommend previewing what programs and processes Revo has identified as not needed to avoid shutting down the ones you use all the time.
Junk Files Cleaner allows you to find and delete different types of junk and leftover files from the system. Select the desired drives and click Scan. The complete process takes about 3 minutes, after which we see a list of all the unwanted files. Click Delete and in a few seconds the files are gone. Additionally: often not all files are deleted at the end of the process. This is normal, they are system files or currently in use. Skip them.
Windows Tools - these are standard Windows features that are compiled into one section for convenience. It's essentially nothing new, but being able to control your PC with one program is a definite plus.
Windows tools:
Network information
Security center
System properties
System information
TCP/IP netstat command
On screen keyboard
Disk defragmenter
Services
Shared folders
Group policy
Windows components
MWMS removal tool
Backup & Restore
Task scheduler
Check disk
System file checker
Disk cleanup
Resource monitor
System restore
History Cleaner is a multitool designed to clean up hard disk space and ensure privacy at the same time. You can clear the history of browsers, Microsoft Office, or any application from the OS in a matter of seconds with a single button. Full cleaning takes about 12 seconds. No report (how many and what files of what size were deleted) is issued by the section, which is a bummer.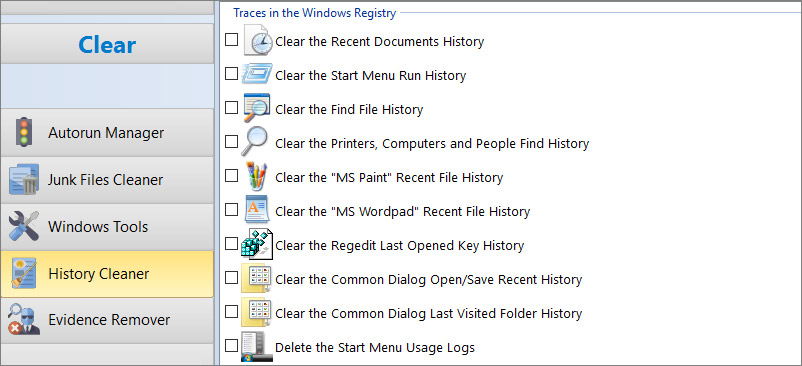 Evidence Remover. When you empty the recycle bin, your files and folders are only marked as deleted, but they are not physically deleted. This tool will permanently erase files and folders that have already been deleted but remain physically on your drive. It does not matter which tool you or someone else will use to recover the data, the result will always be the same - the data erased with this tool cannot be restored. Note that the Evidence Remover process takes about 30 minutes, but no additional load on the computer resources has been detected, so the program can be used in the background mode.
Unrecoverable Delete works easier: select the needed files, make sure you select them correctly, and click Delete forever. It feels like erasing takes a bit longer than normal deletion, but this is best for space saving or privacy. Files cannot be restored.
Backup Manager allows you to safely use Revo. In general, if you need to uninstall the program, backup it before uninstalling. Something went wrong while deleting? Go to Backup Manager and restore everything as it was before.

Select a backup and click Restore. The whole process takes less than a second, the program and the corresponding registry entries have been successfully restored, but the desktop shortcut has not been restored and will have to be done manually.


Settings / Support
In terms of settings, Revo is shining - clear structuring, more than 40 available interface languages, 9 built-in color themes, and the ability to choose custom background color. We should also note that in the Free version of the program the interface is a bit different (header and structure), but still is easy for perception.

Depending on experience and special tasks, you can customize anything - from basic settings, like automatic updates, to advanced nuances of individual features of the application. Below the Settings button, you can find the Support section. We recommend reading help materials, user guides and FAQs first, of course. Then, if you have not found the answer to the issue, contact Revo developers. Support is provided for the free version equally.


Revo Uninstaller review: Conclusion
Revo delivers and surprises: it is a multifunctional program with lots of features. It brings together useful uninstall options and a user-friendly interface. It is clearly one of the best tools in its price range and market segment. It works really fast and smoothly, no bugs, no lags. The ability to scan for registry errors and broken entries would be a nice addition, and maybe it will emerge in future updates.