Ghostery AdBlocker is a multi-browser extension (supports Chrome, Firefox, Edge, Opera, Safary and Cliqz). It protects your privacy online and optimizes browsing speed by means of suppressing the code of unwanted advertising messages. In addition to working in browsers, there are versions for iOS and Android, as well as a desktop application. Below you will find the extensive Ghostery review.
Ghostery Adblock key features:
Ad blocker - disable advertisements, teasers and pop-ups (Enhanced AdBlocking function);
Whitelist - specify trusted websites where not to block content and trackers;
Limiting trackers launch on websites - determines which processes can and cannot be blocked;
Pause button - choose to stop ad blocking for 30 minutes, 1 hour or 1 day;
Online privacy protection - block or track any monitoring activity (Anti Tracking function blocks attempts to get a hold of IP address);
Loading speed optimization - helps speed up any page by optimizing the content on it according to Google's criteria.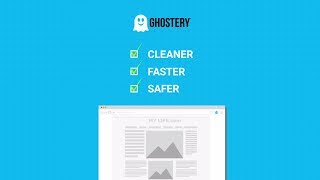 Read next: 10 best ad blocker apps.
Specifications & Pricing
| | |
| --- | --- |
| Vendor | Cliqz, visit site |
| Newest version | Ghostery v.8.4.6 out December 2019 |
| Browsers | Chrome, Firefox, Opera, Safari |
| Installer file size | 5.9 MB (Chrome) |
| Menu languages | 14 (Deutsch, English, French, Dutch, Spanish, Italian, Hungarian, Polish, Portugese, Brazilian, Russian, Chinese, Japanese, Korean) |
| Features | Ad blocker, Anti-Tracking, Ghostery Reward |
| Pricing - Free version | |
| Pricing - Full version | $2.00 Ghostery Plus (1 month subscription, 1 PC) |
The extension has a version for subscribers. Subscription costs $2 per month. There are no bonuses for a one-year or more subscription. The version for subscribers is called Ghostery Plus and has a number of cosmetic and functional differences. The developers promise that the list of paid subscription features will expand in the future. However, at the beginning of 2020 this, in fact, is a donation to developers and the expression of their support materially.
Interface, skins, history
To start off Ghostery review, let's briefly see what's inside. Skins is a cosmetic function that allows you to personalize the app by choosing a theme, display colors and other minute aspects.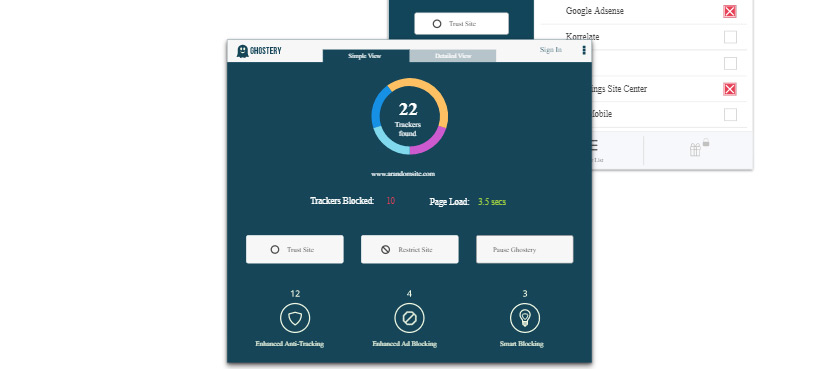 Tracking history, available in paid subscription, allows you to track the history of ads and spyware blocking in the form of graphs and charts.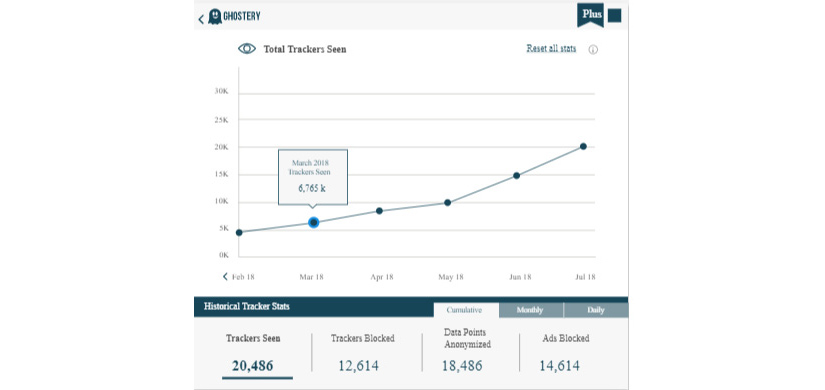 The main window offers a user two choices: simplified and detailed.
Simplified view 
This format is for the majority of users who stick to the "launch and forget" principle. At the top of the main screen is a button for login, next to it is a settings menu icon. The rest of the window area is occupied by three toggle switches to enable the three main functions of the application described above: tracking spy activities, blocking ads and optimizing page loading speed. Above the toggle switches, the URL of the current site and an indicator-diagram of activities that can be blocked are displayed.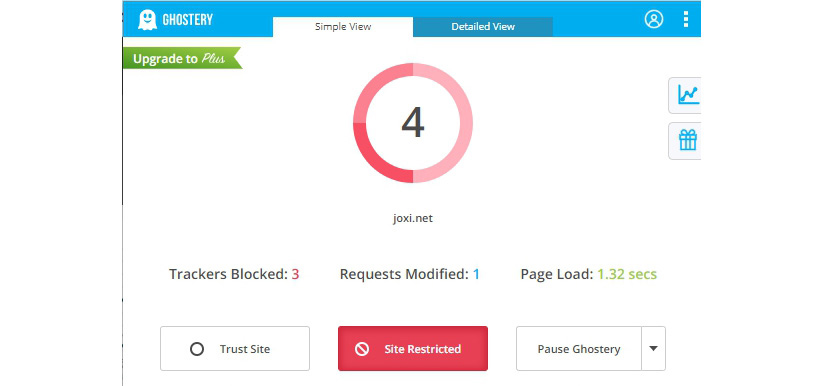 Icons with a schedule and a gift box are for paid subscribers, they offer the list of activities visualization. By default, all toggle switch functions are enabled. Disabling one of those might be necessary, for example, if the website you are currently on, is responding to blocker extensions and does not allow viewing content with the blocker turned on.
Above the Enhanced AdBlocking toggle switch, the number of ad units and other blocks, that the extension is blocking, is displayed. If you disable this function, all adverts and pop-up windows will be displayed on the screen. Smart Blocking speeds up the page loading by blocking all slow processes and above it page loading speed (in seconds) is seen. After disabling one of the functions, the extension will offer you to reload the page.
Detailed view
In this mode, in addition to the toggle switches of the three main functions, the user sees a list of activities that the extension blocked/can block. The control of the toggle switches is the same as in the simplified form, with the difference that here the user can "allow" the site to download each pop-up window or advertisement separately.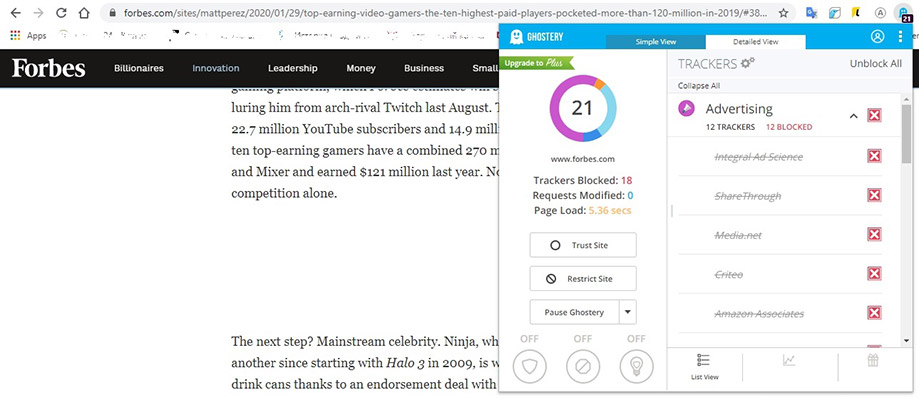 There are three possibilities in total: you can enable the display, restrict it or block it. Also, you can choose to apply the action for a specific website, or for all sites opened in the browser. The entire list of unwanted or potentially dangerous activities is grouped into sections. Thus, you can separately monitor advertising windows, utilities for collecting statistics on site visitors, etc.
In User Menu there are two buttons to create an account or login, and to display the menu. To use the application, registration and login are optional. This is only relevant if you are using a paid subscription. Otherwise, you won't need it. Several items, which are basically the settings, contain:
send tracking report;
inaccessible page report;
display user help menu (FAQ is currently available in English only);
view product and developer information;
purchase paid subscription.
Anti-tracker
One essential aspect to include in Ghostery review is Anti-tracker feature. Trackers are individual modules or parts of web page source code that collect information about visitors. Most trackers run in the background and visitors cannot interact with them. Often, website owners do not notify users about it, and sell information to advertising companies.
Ghostery ad blocker scans pages to detect trackers based on a database. This database is stored locally on the user's PC and gets updates from a vendor from time to time (similar to signature databases in antiviruses). When a tracker is detected, Ghostery blocks its execution and loading, of course.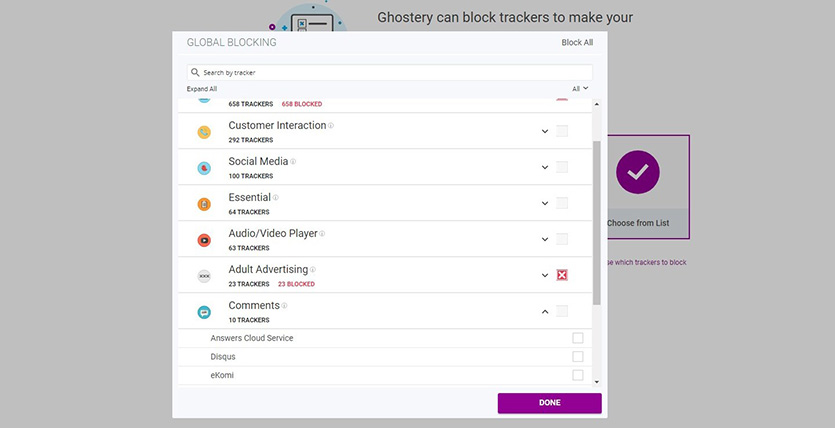 By default, it blocks the most popular trackers. On the Ghostery Hub page, we can enable the following modes: 
Block default, 
Block nothing, 
Block everything, 
Choose from list. 
The last mode opens a full list of trackers that can be detected by Ghostery, divided into several categories. It allows to block entire categories or specific trackers only. This feature is very important, because blocking trackers on some sites can crush page rendering. Despite a huge size (almost 3,000 entries), editing it is quite simple, since there is a filter panel and a search by name at the top of the list.
List of all categories of trackers recognized by Ghostery:
| | |
| --- | --- |
| Trackers Category | Total |
| Advertising | 1772 |
| Site Analytics | 658 |
| Custom Interaction | 292 |
| Social Media | 100 |
| Essential | 64 |
| Audio/Video Player | 63 |
| Adult Advertising | 23 |
| Comments | 10 |
Also, after finishing page loading, Ghostery always creates a "purple box" - a pop-up window on top of the page content, with a list of page trackers. In the Ghostery menu (click on the ghost icon), users can change the rules (enable / disable) for trackers found on the page. Also here you can configure the rules for a purple box.
Tip. Unblocked trackers begin to collect information, even when the page is still rendering. Therefore, the safest way is to use the Block Everything mode with the subsequent inclusion of necessary trackers.
Settings
Trackers Log. It displays all blocked (or not) trackers from all browser tabs that are currently open. You can lock everything, or unlock with one click, you can also enable/disable individually. A similar function is available in the detailed display mode on the main application screen.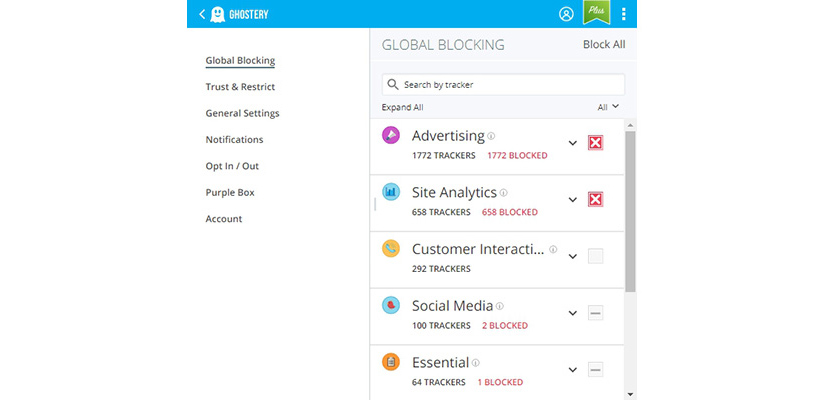 List of trusted sites and restricted sites. Two tabs here: one to enlist websites, and the other one with restrictions for downloading trackers (ads, user activity, etc.). Both lists can be edited by adding or removing URLs.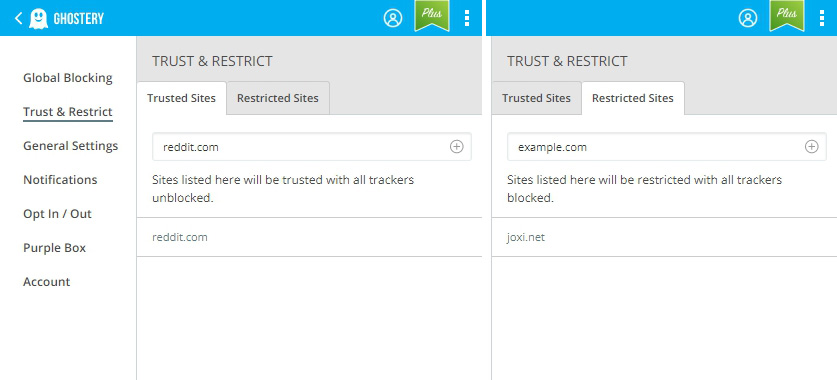 General settings and Notification settings. The remaining settings items allow you to edit the account, configure the pop-up statistics window (purple box), and help developers by participating in rewards programs, etc.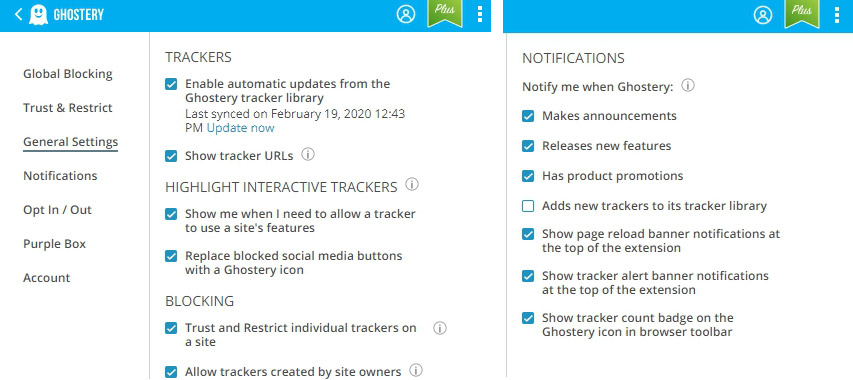 User privacy
Before we get to the testing part of Ghostery review, we have to cover user data policy. Ghostery requires access to a lot of data, including sensitive user data. So, some people might worry about this. According to official statements by developers, Ghostery treats all data according to the principles of Human Web technology by Cliqz, the owner of our ad blocker. 
They collect information, although with several significant differences from conventional ways:
Removing tags that can identify the user, i.e. date, time, time zone, etc.
Removing records, such as social network account names, logins, etc.
Not assigning internal user IDs.
Human Web source code is publicly available on GitHub for everyone to study.
Participation in the Human Web is voluntary and can be disabled in the settings.
In the Cliqz browser, Transparency Monitor is available - an integrated toolbar showing in real time what data is being collected.
We checked it and found out that Ghostery does actually delete all personal data before compiling usage statistics. It may seem strange that the anti tracker asks users to send information, but note that this way it also helps to detect previously unknown trackers and add it to the database. User participation is optional, and refusing it does not affect the program.
Testing Ghostery
Most of all for this Ghostery review, we want to see how effectively it blocks ads and whether it really speeds up loading speed. First up is Google Chrome. 
Surfing protection. The program does not allow sites to read data from scripts and cookies. Developers declare that user data is "anonymized". But how to measure it is not clear. The practical benefit of this is doubtful, unless websites are really prohibited to collect personal data and statistics. Your IP address, however, is still accessible to the site.
Ad blocking. We've visited a few major sites to see the difference. This is how the Forbes news page looks like normally.
If we enable Ghostery, the same page will look like this.

Also, DailyMail before: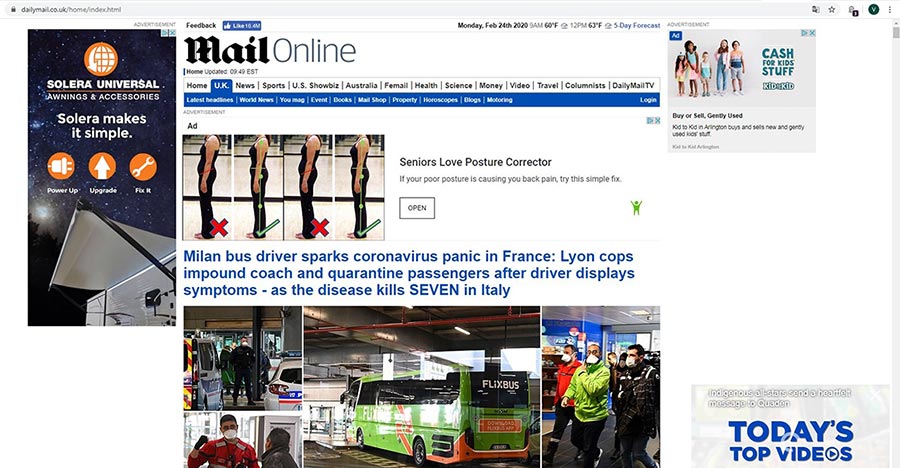 And DailyMail after: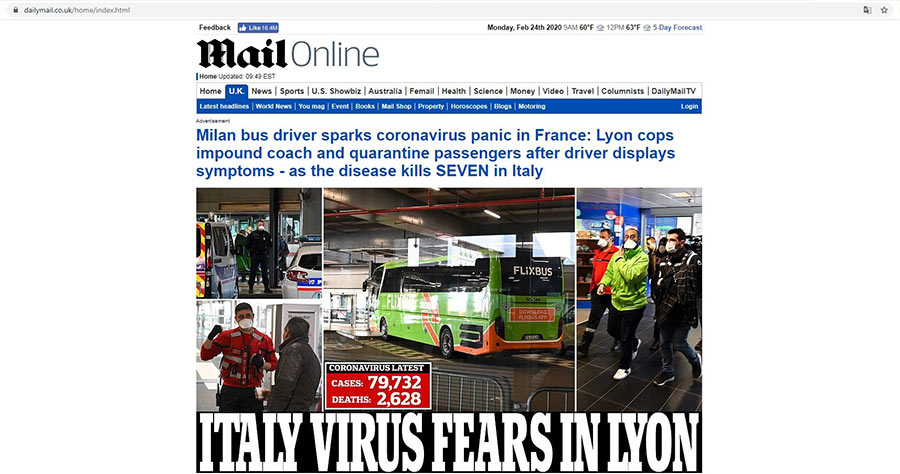 Also, during this test, we've checked the counter of detected trackers in Ghostery. In pause mode, Ghostery reports more trackers on a page than in activated state. This is due to the fact that some trackers launch in a specific sequence, and by blocking one tracker from a sequence, Ghostery stops all trackers altogether.
Speed. In this mode, Ghostery extension blocks elements that increase page loading speed. Formally, the function is useful, yet only the owners of old/weak laptops (2-4 core processors, 2-4 GB of RAM) will get a practical benefit from it. In other cases, the gains in download speed are within tiny margins.
NB: Measurements for Ghostery review.After several days of use, we've concluded that Ghostery stably speeds up sites by 4-8%. One example could be NYTimes.com: the time to fully load the page, as displayed by Ghostery extension, when Smart Blocking was turned off, equaled to 23 seconds. With the ad blocker on, it was 20.4 seconds.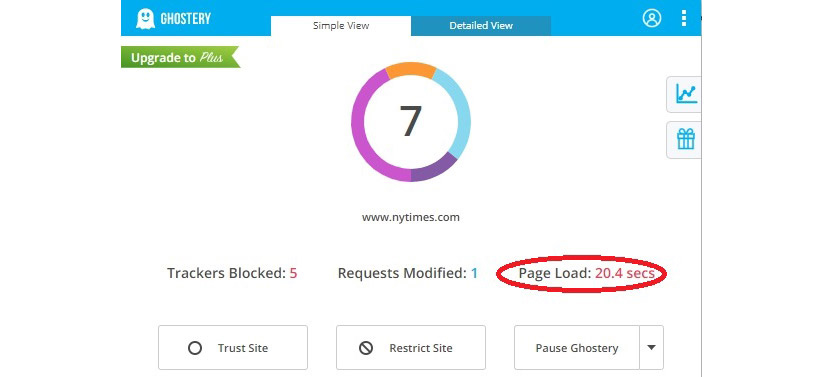 However, using the regular Google Chrome measuring tool (the source code called by Ctrl+Shift+I) says differently. We went on 4 websites (Forbes, taobao, NYTimes and ThinkMobiles) and took 10 measurements with the Smart Blocking function turned off and on.
Page loading time (seconds)
Forbes

Taobao

ThinkMobiles

NY Times

Off

On

Off

On

Off

On

Off

On

5,43

6,08

15,02

15,36

8,75

8,28

16,24

15,81

4,95

6,63

17,2

14,78

8,56

8,15

15,99

15,32

4,92

6,01

13,47

13,7

9,37

8,12

15,77

15,65

5,08

6,13

15,03

14,51

8,68

8,8

14,73

16

6,14

6,11

15,07

14,96

8,95

8,35

16,07

14,14

5,93

5,69

16,5

14,62

8,47

8,14

16,95

15,05

6,3

5,4

14,71

14,75

8,88

8,22

16,93

15,21

4,69

5,5

15,11

15,87

8,69

8,24

15,68

15,11

6,14

5,63

14,93

15,62

9,33

8,47

16,39

15,32

5,56

5,84

15,9

15,3

8,52

8,27

16,85

15,57
Then we calculated the average figures. In some cases, loading time with Ghostery ON is even longer. This is probably due to browser resource consumption by the extension (small, but still) which is not taken into account. Also, on well-optimized sites this difference is generally close to nothing.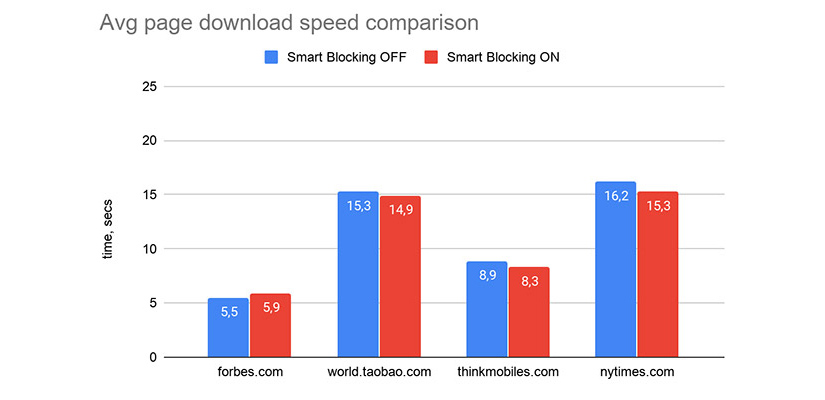 Using Ghostery in Firefox. The installation, configuration and operation of the program in the Firefox browser is similar, so here we will measure the traffic consumption with and without the ad blocker. To continue with Ghostery review we visited 3 popular websites: Forbes, NyTimes, and Youtube. 
After those pages were cached, we took load speed measurements with: A) all Ghostery AdBlocker options turned on; and B) without the extension at all. Forbes and YouTube showed improvement, while NYTimes not so much, most certainly due to a small number of ads there.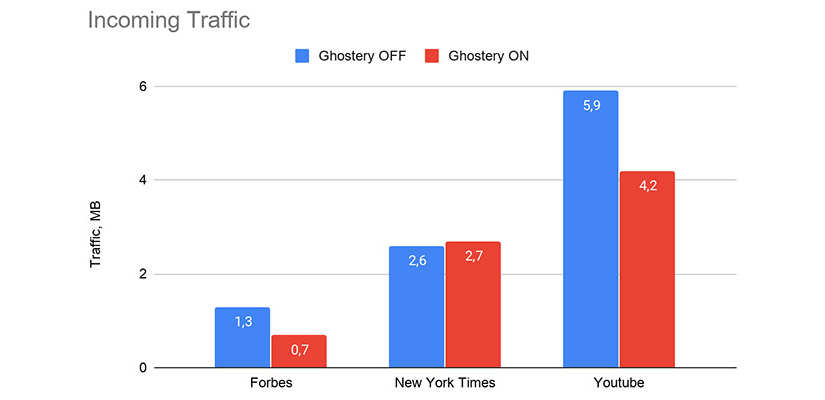 Cliqz, Ghostery browser
Ghostery is also available for the Cliqz browser, and you do not need to install it, it's already in. The interface is somewhat peculiar, yet frequent web users should not have trouble. Of course, installing an extra browser only to suppress tracking, is questionable. On the other hand, if it doesn't bother you, this option is not bad.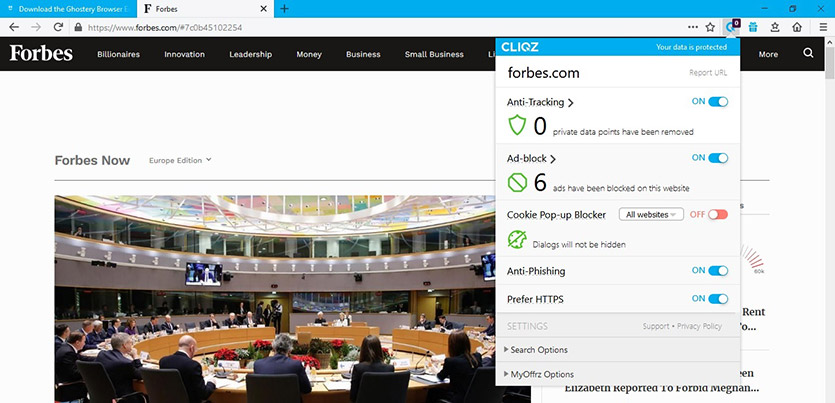 Ghostery on Android
Ghostery as the Android mobile app, installed from the Google Play Market, will also install its own browser. Sadly, this ad blocker won't work in Chrome browser on Android devices.
Beside that, the functionality is the same as in any browser under Windows 10. Click on the ghost icon in the upper right corner and go to the main screen. Here we have three buttons for Trusted sites, Partially restricted access, and Pause.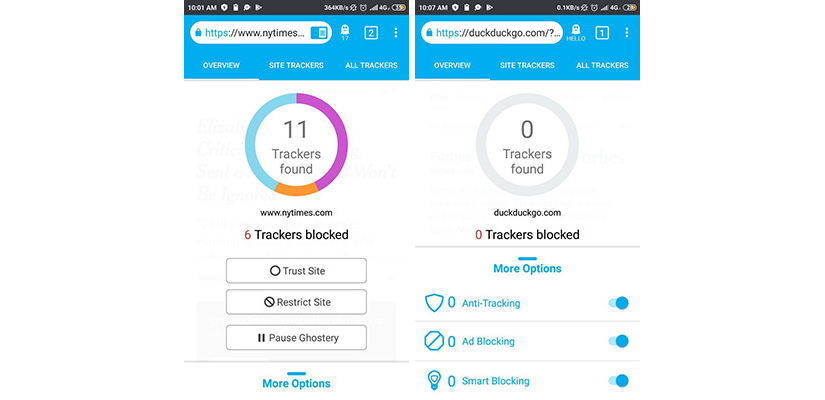 By skipping up the More Options slider, we get access to three switches: Trackers block, Block ads and pop-ups, and Smart Blocking mode to speed up page loading. To view the list of trackers for a specific site, go to the central tab. Both blocked and allowed activities are shown here. On the next tab of the extension, you can track all trackers in currently opened browser tabs.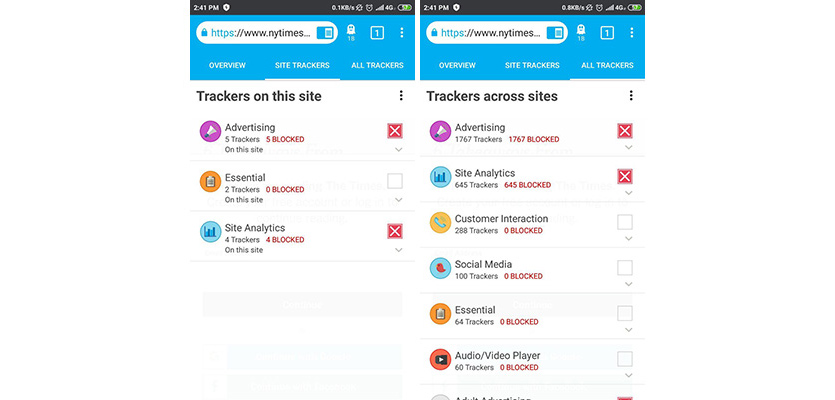 There is no settings menu for the browser extension itself. Everything that can be configured is on/off switch on the main screen. It's bad that one can't take advantage of the extension in Google Chrome browser. Because the opportunity to synchronize visit history, or continue reading an article, etc., is lost.
Ghostery review: Conclusion
Ghostery should not be regarded as a simple ad blocker. It allows to effectively counter the attempts of unscrupulous website owners to collect information about users and their habits. However, due to the fact that advertisers are constantly inventing new ways to bypass ad blockers, sometimes there are errors and/or ads that slip in. One way to improve, offered by the publisher, is participation of users tracker database, as well as purchasing a subscription to Ghostery Plus for $2, as to support development team.
Read next: 8 best free VPNs in 2020.