Shadow Defender, as the name suggests, is a program designed to defend user's PC or laptop. In what way, you rightfully ask? It creates a virtual environment to protect a real environment. This means it allows to launch programs, make changes, delete files… and in case something bad happens, you'd just reboot, roll back changes and nothing will be affected.
Shadow Defender is only for Windows, making a full copy of OS (more precisely, the drive selected). In other words, it can "freeze" Windows. It's not the first program of this kind, it is an alternative to ShadowUser, which was discontinued a few years back. In effect, this utility is used against malware and viruses.
It's a fast and small app, with a free version, which is actually a 30 days trial. System requirements are pretty low: 1 GB RAM, 10 Mb hard drive space, 1 GB or more for each partition in "shadow mode", and of course Windows XP / Vista / 7 / 8 / 10.
Features
You can see the status of the app in the taskbar - icon color yellow means "inactive" and blue is the opposite. The interface contains left sidebar (set of tabs): System status, More settings, File exclusion list, Registry exclusion list, Commit Now, Administration, About. There is no ability to change the program window size.Let's review tabs one by one. First is System Status which displays information about the disk of choice (use the dropdown to select). This includes current status (Shadow or Normal mode), capacity, used/free space, space used by SD, the exclusion list, cache (total and used).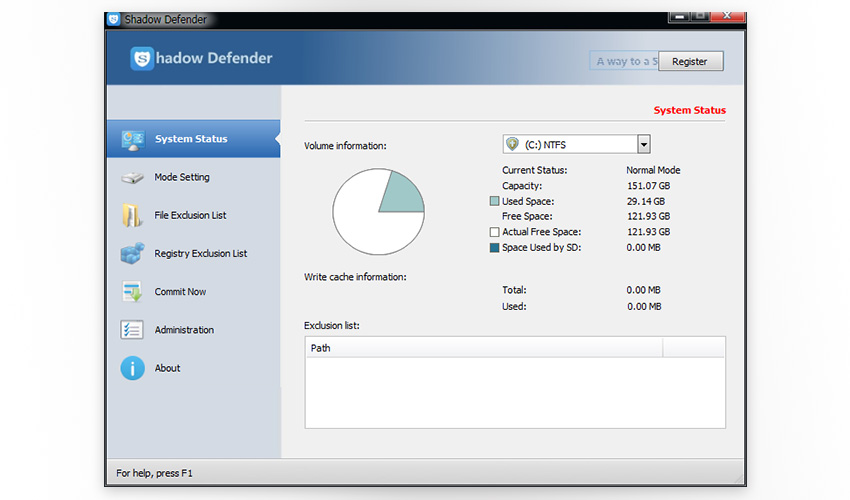 The second tab is Mode Setting. There you can see current volume status of drives, initiate the shadow mode, configure cache, set up a schedule for modes. As changes to the OS could be unwanted and/or "wanted", or allowed by a user to happen, exclusion lists are key. These are the next two tabs.
File exclusion list and Registry exclusion list, both implying that specified files will not be affected by Shadow Mode. Any changes made to such files could not be undone afterwards. For file exclusions one can add folders and files, while in registry exclusion - only keys (folders), and not values. After enlisting files/folders, click Apply.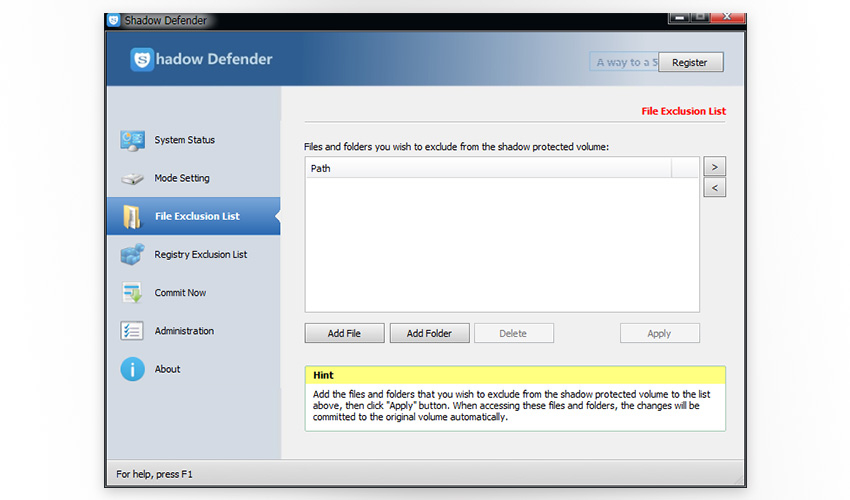 Commit Now tab is similar to exclusions, but the action is taken manually. You add files or folders every time you want to apply certain actions. Alternatively, you can do this via context menu: right-click a file/folder you want to save, and then click "Commit by Shadow Defender". Remember that this will only save changes made beforehand, and to save any following edits this way, you'd have to repeat the action.
Administration is settings. There you can set Shadow Defender to start automatically along with Windows (not shadow mode), enable/disable the tray icon, context menu extension, set automatic updates, set password protection, etc.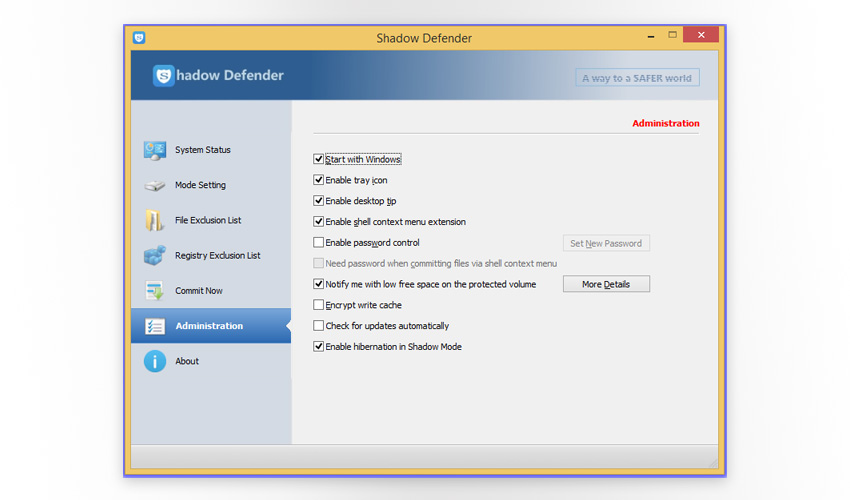 Shadow mode
The main feature, the heart of Shadow Defender. If enabled, any further changes to Windows will be cancelled after a reboot, and the OS will return to previous condition. Shadow Defender is essentially cloning the Windows, and a user works with a copy. To activate shadow mode, go to the Mode setting tab, mark a disk (or disks) to protect. Click "Enter Shadow mode", choose automatic entering on boot or shutdown (if you want it) and click Ok.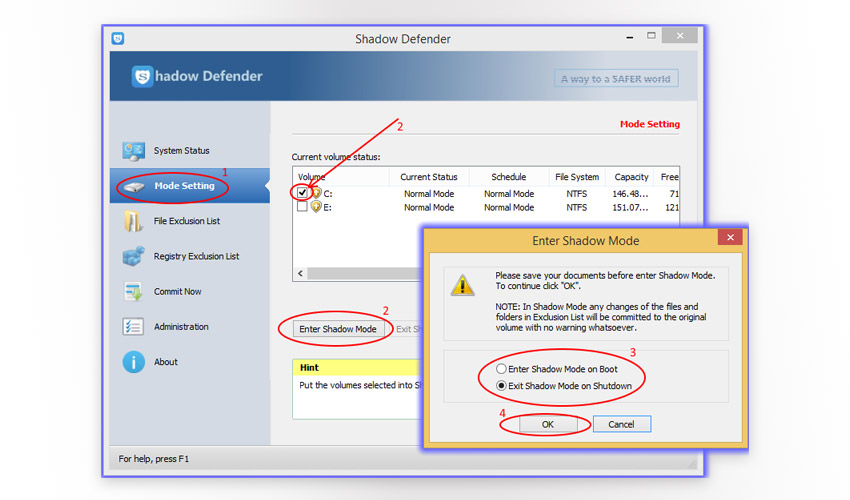 If you want to exit shadow mode, again go to the Mode setting tab, select a disk and click "Exit Shadow Mode" or click "Exit All Shadow Modes" for all drives. Then choose when to reboot.

There's also a Schedule option with 2 possibilities: enter shadow mode on boot exit shadow mode on shutdown.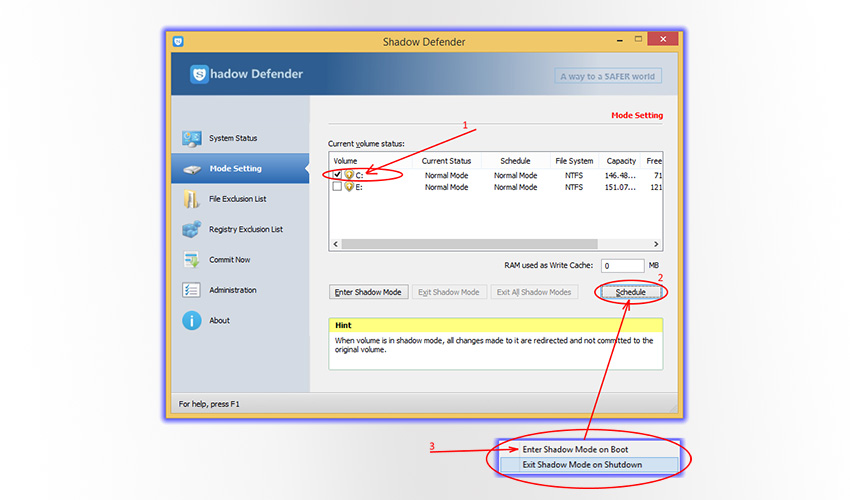 Other functions
Shadow Defender provides several extra features that could be handy at times. Password control means setting a user password to access the program. Also, you can enable password for Commit files via the context menu - it will also bring out a password entry window to take action.
Write cache - when enabled, all changes will be saved into cache, and only after exceeding it actions will be redirected to HDD. The goal here is to increase access speed. There is no ability to copy cache from RAM to HDD or clear it for a new use. Additionally, a user can enable cache encryption. For that, one has to specify the amount of cache (set to zero basically means the Write Cache feature is turned off).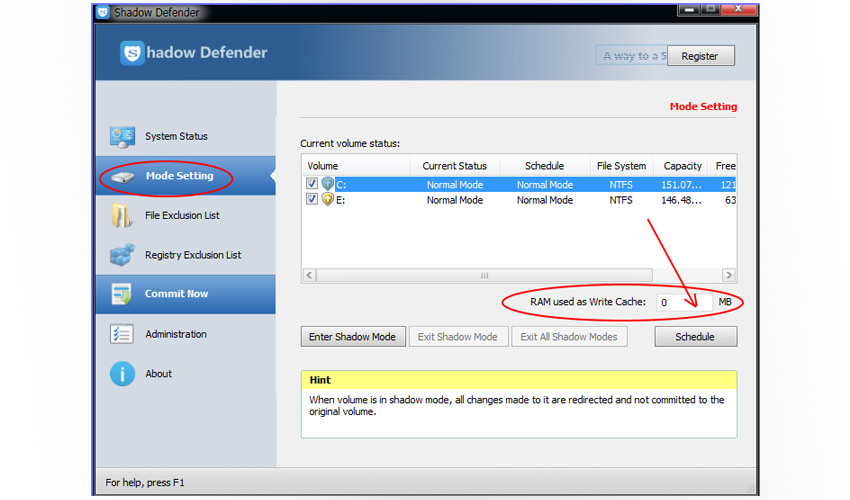 Low space control. Virtual environment still uses disk space, which decreases the longer you go. So Shadow Defender has a warning system to notify users when low space is approaching. Navigate to Administration tab and just enable it. You can also set the concrete amount of space to trigger a notification.
Desktop tip icon, displayed when in shadow mode, is for letting one know about being in a current mode. There are no visual or animations during shadow mode, thus an icon is in place. Though, one can turn it off too, as well as position it differently, customize it.
Help. If you press F1 in the program window it will open the Shadow Defender Manual. There is no contact information in the About tab, though it's in the manual or the website. Technical support is provided via email.
Value, pros/cons
Shadow Defender costs $35 for 1 PC, and one can get up to $14 discount when purchasing it for multiple devices. Free trial version lasts for 30 days. As Shadow Defender alternatives you might want to consider apps like Deep Freeze, Sandboxie, Returnil Virtual System, ShadowXafe, Acronis True Image, or Windows 10 Sandbox. Now, let's summarize strong and feeble sides.
Name of product Pros
Effective and alternative malware protection

Easy, fast and straightforward

Integration into context menu

Working quietly in the background

Offline user manual
Name of product Cons
No ability to change window size

Schedule does not appear in menu

No free version

Only keys to add into registry exclusion

Not asking to save changes via Commit Now list before reboot