Kaspersky Safe Kids is not just a parental control, it is an effective help in raising children. The app blocks dangerous content by opening a safe internet for children, instantly informs you about your child suspicious online behavior, allows you to control devices and applications time of use, set a safe perimeter for your child and determine his/her location on the online map by tracking the phone. You can also monitor your baby's device battery so that the whole family is always connected.
Getting started
Installing Kaspersky Safe Kids on a Windows computer is quick and easy. The next step is to connect your My Kaspersky profile or to create a free account. All settings are made in a personal account. The local client simply follows the rules. Note that you can set up one mobile version in parent mode, allowing you to set your configurations and view reports directly on your smartphone or tablet.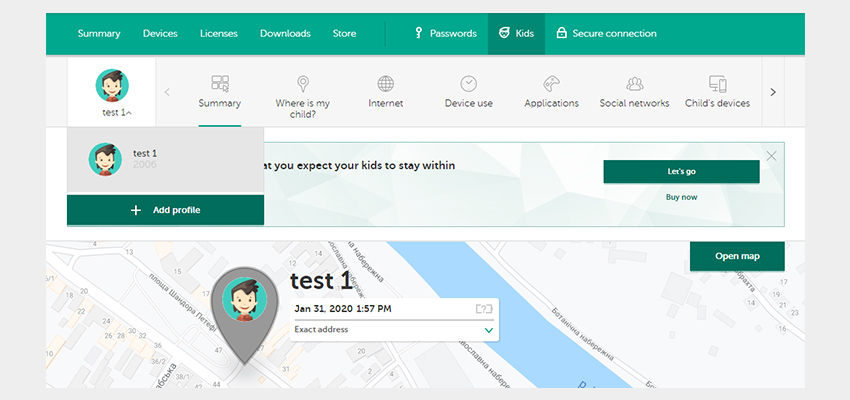 Then you need to add the profiles of your children and enter their names and dates of birth. You can choose an image from the small collection or add your own photo of the child. After that, you must tell the program which child is using the device and identify the child account on a Mac OS or Windows computer.
The online console displays a list of children profiles and contains a button to easily add a new profile. The control panel menu contains: Overview, Reports, Policies, Profile, and Child Devices. You will probably have to spend most of your time in the Rules and Reports sections. If you change the Internet access settings and then go to the reports section, the network activity information will be displayed, which is very convenient.
Content filtering
Filtering sites with unwanted content is one of the main functions of parental control systems. Safe Kids distinguishes 14 content categories, including only for adults, violence, and weapons. Depending on the age of the child, the recommended settings are adjusted. For a hypothetical 12-year-old teenager, everything related to weapons will be banned.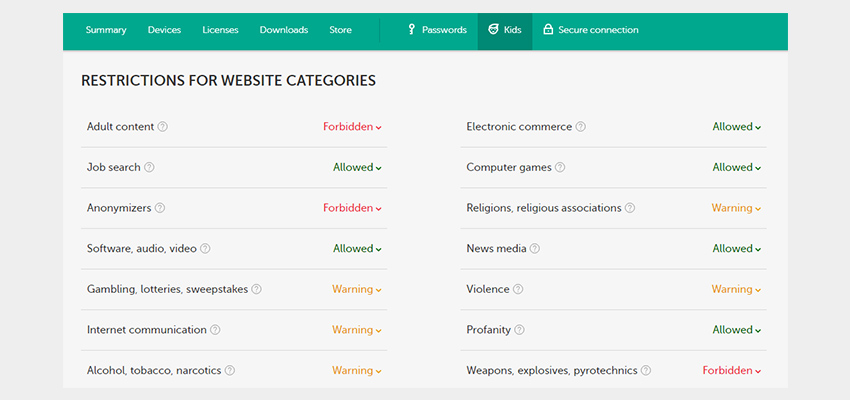 The product displays alerts for sites that belong to other potentially unwanted categories. When a child tries to access such a resource, Safe Kids displays a notification and then notifies the parent if the child ignores the alert and visits the site. For our fictitious 7-year-old child, these categories include: Adult, Gambling, Religion, Violence, Weapons, and Alcohol. As a parent, you can either ban the categories yourself or allow the content.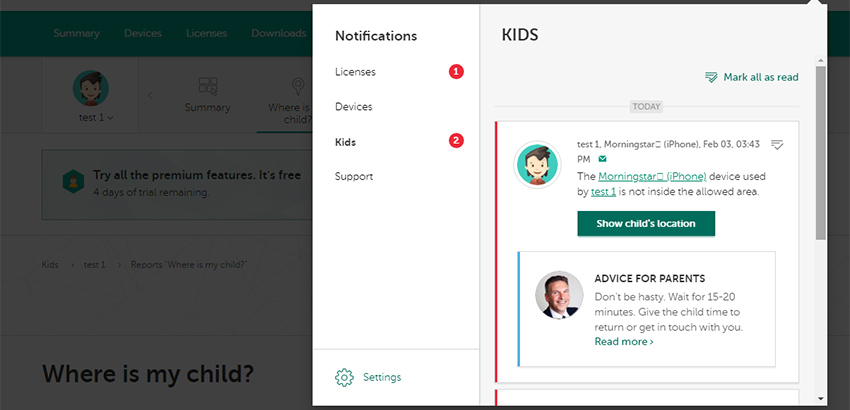 While testing, Safe Kids correctly blocked sites in the categories of forbidden resources. A large warning page included links for parental authorization. You can use this link to stop content filtering for some period of time. When Safe Kids displays a warning, the link at the bottom is called "Go Anyway."
The product actively scans pages and blocks dangerous sources. The effectiveness of parental control was checked on the football news website. Safe Kids provided access to the innocent content but blocked access to football betting sites (gambling). This feature is only available in Windows version.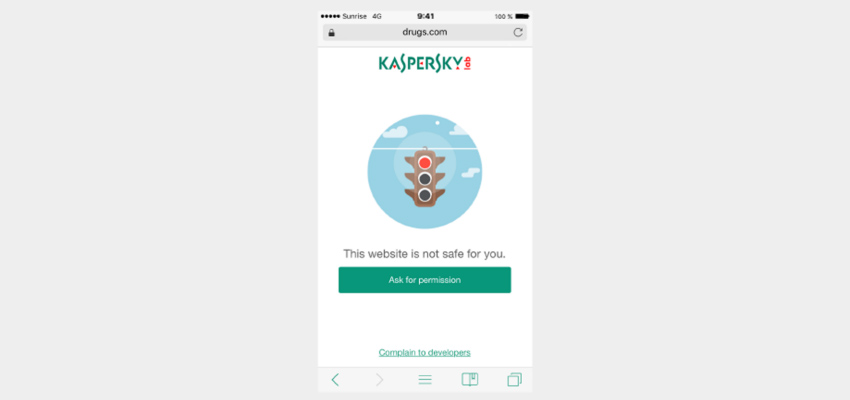 Safe Kids can not be disconnected by a simple network command, which has been successful in the case of some other products. In addition, Kaspersky successfully blocks anonymous proxies. This is important because surfing using these services allows to bypass many parental control systems.
One thing was discovered. When using alternative, less popular web browsers (not Chrome, Opera, Firefox), proxy services were given access, which could mislead the parental control system. To overcome such possibility, parents can use the app control feature to block certain browsers, or make exceptions for browsers that kids typically use.
Social networks
Safe Kids can be configured to monitor children's accounts on Facebook or Vkontakte, the largest and most popular social networks in Europe and Russia. Access to a child's phone is needed to activate this feature. To enable monitoring, a message containing a link to the program installation in the social network profile is sent to the child's e-mail address. Your child may refuse to install the app or cancel it in the future. But Safe Kids will notify parents if the child disables it.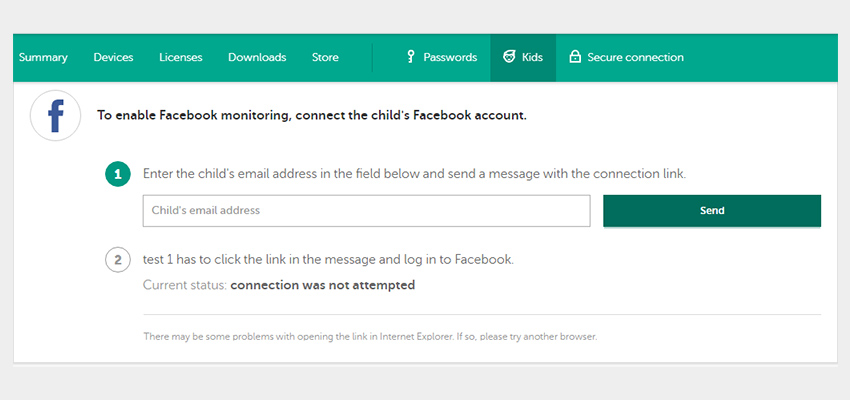 Suppose your child has accepted the installation of the application - in this case, Safe Kids will monitor the activity and display reports with a delay of up to 24 hours. You can see what the child has posted and investigate deeper.
Applications control
On all platforms except iOS, Safe Kids allows you to monitor and control applications usage. Safe Kids can block access to games based on the age-dependent rating system, and this feature runs also on iOS.
Application control works in two different ways. First, you can choose to block all applications that fit into 14 categories or belong to unknown categories. These include file sharing, online shopping, and games.
The ability to customize the usage of individual applications is of particular interest. When you select a device, Safe Kids displays a list of monitored apps. An adult user can block any of these applications, and the child will not be able to break the protection by simply copying or renaming the file. You can set a maximum daily limit for children to use the app, even with a separate schedule for each day of the week.
Time control and daily restrictions
Scheduled access or restriction of the device's access to the Internet is an important function of the parental control system. To get started, you need to enable monitoring of the device - by default it is turned off. You will see two options: statistics only (selected by default) or time limit. When selecting the second option, additional options appear.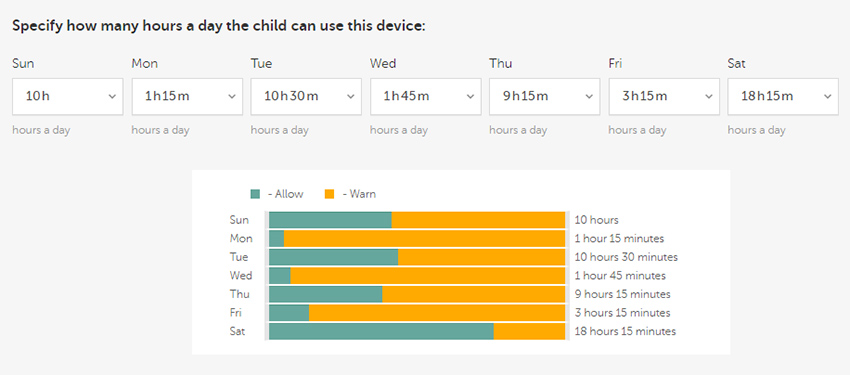 If you choose the limit for the number of hours per day, you will see many sliders, each designed for a separate day of the week. Just slide the knob to adjust the maximum value. Instead, you can set a weekly schedule for using the device. Note that these settings apply to each device separately.
As with content filtering, Safe Kids gives parents the ability to block device usage when the limit is exhausted or simply displays a warning. If the child ignores the alert, the parents will receive a notification.
Where is my child?
If you have Kaspersky Safe Kids installed on any child's mobile device, you can enable the placement monitoring feature. You will then be able to check your child's location at any time with one click. However, the product does not store geolocation history.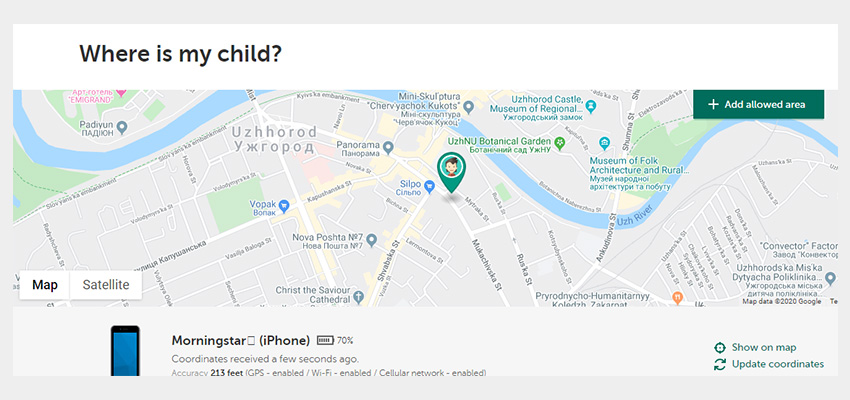 Parents can specify any number of permitted zones in which a child must be present at a specific time. If the child leaves the specified area, you will receive a message. During testing, the reliability of the geo-zone function was confirmed. An authorized area was configured and the device was brought in and out of it. Each time, as expected, a message came.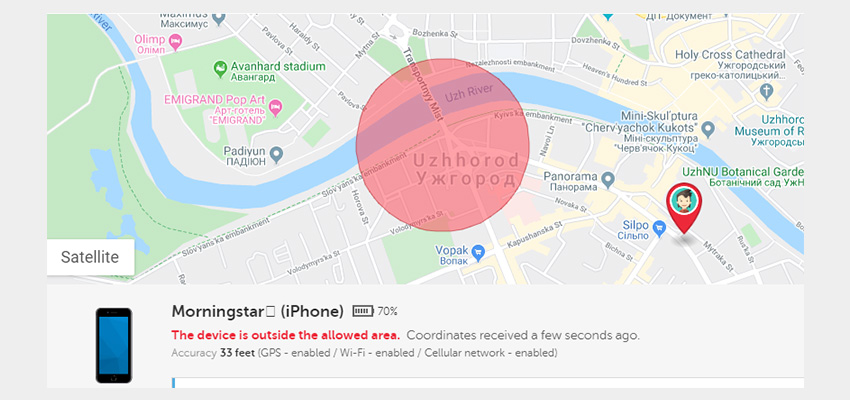 It is not usual to schedule a stay in a particular area. With Safe Kids, you can adjust your child's time at school or at home.
Notifications
The bell icon in the upper right corner of the control panel displays the number of unread messages. Clicking on the icon displays a list of available actions buttons. For example, when a product notifies you that a child has visited a prohibited site, it offers a button to configure that resource. The geolocation message lets you check your child's current location. You can opt out of notifications individually or immediately using the "Mark everything as read" option.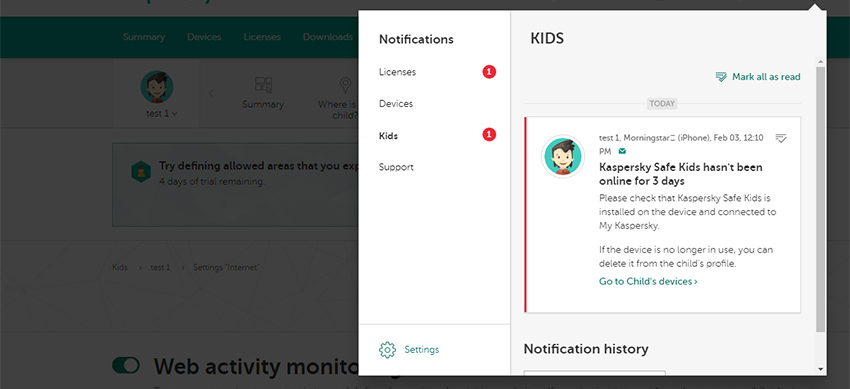 When you click on the settings link, you can specify the type of messages you receive. The user can configure the way messages are received - via email, push messages to the mobile application, or both.
By default, parents are also notified when a child installs a new application, removes a social network monitoring application, or attempts to disable Safe Kids. If your child is using an Android device, you can receive notifications for any calls and text messages with preset contacts. This is an unusually broad collection of features for such applications.
Conclusion
Kaspersky Safe Kids offers a well-balanced, inexpensive parental control and monitoring system. The product does not limit the number of child profiles and devices that can be used. We tested the app on Windows 7 PC paired with iPhone. The PC played the role of parents and the control process itself took place from https://my.kaspersky.com/MyKids. The phone with the installed application acted as a child.
Kaspersky Safe Kids handles all the expected features of the parental control system, and works with devices from different platforms. The product lacks several advanced features that competitors have, such as the ability to block unwanted contact on Android. However, mobile versions are performing well compared to other child tracking apps. Net Nanny, Qustodio, Norton could be Safe Kids alternatives.
Below you will find an extensive FAQ on this kid location tracker app.
Name of product Pros
No limit for the number of devices

Plenty options of phone control

Web content filters

Location tracking
Name of product Cons
Calls/messaging monitoring only on Android

iOS version has less functions than Android

Issues with changing interface language