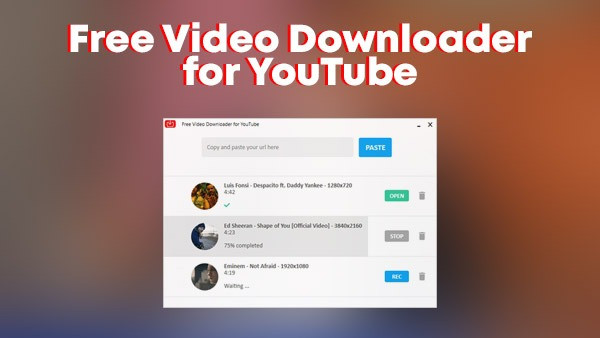 Everyone uses YouTube, literally. This popular video hosting offers tons of interesting content, from jokes with cats to fresh releases from pop artists and online streams from the ISS. It has everything, it's our new TV. Every now and then we'd like to save a video to watch later, but YouTube doesn't have a download function. Only additional external tools can help, and one of those is this Free Video Downloader for YouTube. Let's examine it more closely and conduct several tests of its capabilities.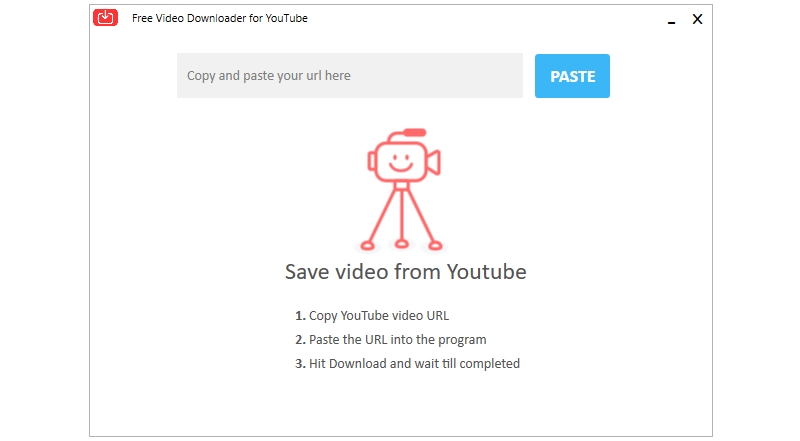 To use Free Video Downloader, you should download it from the official website. Only a desktop version is available, due to the fact that Google (the owner of YouTube) has banned extensions for Google Chrome designed to download videos. The installer is lightweight: ~20 MB, whereas the unpacked program will take approximately 55 MB. It is also worth noting that the program is only compatible with Windows OS (from XP and above). 
Specifications
| | |
| --- | --- |
| Vendor | NotMP3, visit site |
| Newest version | Video Downloader for YouTube v.0.4.6 |
| Operating systems | Windows XP/Vista/7/8/8.1/10 |
| Installer file size | 19.9 MB |
| Menu languages | English |
| Key features | 1000+ sites, no ads, convert to MP3 |
Interface
This software is a champion of minimalism, only the most necessary buttons and nothing more are in place. The program has two types: the main window and the file selection window. The first one is available by default, it is displayed when a program is launched. 
At the top there is a line to input a URL (location of video) and a Paste button. This is all you need to get started using Free Video Downloader. When a video is downloaded, it appears in the list of completed downloads (the central part of the window) and a menu of additional operations with the file will become visible. To open this menu, simply right-click on the file and you will get access to the following commands:
Copy URL - places a link to a file on the clipboard, which allows you to use it again to go to a page in a browser, or to save it.
Play - launches a file in the default system player.
Show in folder - opens the folder where the file was saved.
Delete - removes the entry from the list of completed downloads.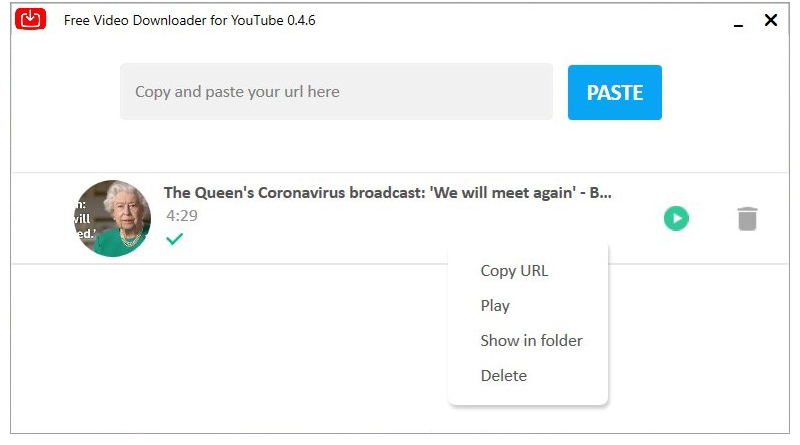 TIP. The program can connect to websites only using HTTP and HTTPS protocols (http://example.com). In all other cases, a connection error message is displayed.
After adding the URL, the app automatically searches for videos on a given web page. If the downloadable content is found, download settings window will automatically open. There are only 3 options available for selection:
Selecting the folder to save (by default, this is the "Downloads" system folder).
Select a format for download (for each option: quality, size and format).
Saving audio.
The last option is worth underscoring. Firstly, the program can save audio tracks as separate files, which can significantly speed up loading if you only need an audio version, such as a podcast. Secondly, Free Video Downloader has a built-in audio converter, yet with strictly limited functionality. To use it you need to enable the feature "Also save as MP3". This will create copies of the downloaded files in MP3 format.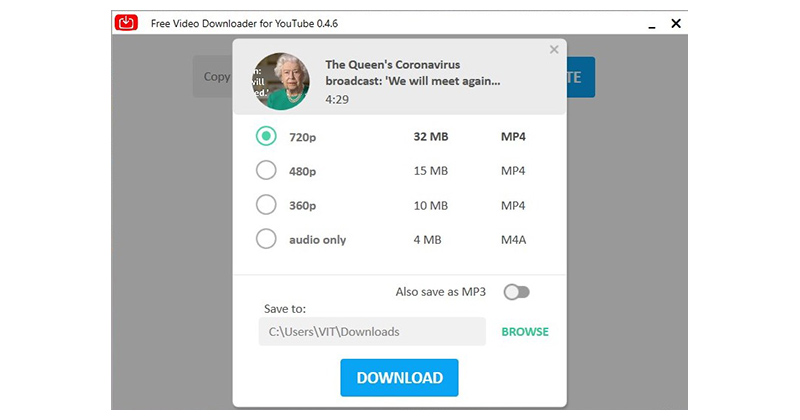 TIP. If you need to cancel or pause the download, you can do this using respective buttons, which are available separately for each file in the download list.
Features
In fact, the program interface leaves a positive impression, although it is necessary to note some functional features that distinguish this program. Free Video Downloader can do the following:
detects content in the formats: MP4, WMV, WEBM, MP3 and M4A; 
works with more than 1000 sites other than YouTube (true or not, we will check in our tests);
supports multiple simultaneous downloads;
has a special feature to detect and download YouTube playlists;
supports batch downloading from playlists (we will check this too);
supports short links by YouTube (youtu.be)
Testing
We have tested this program in different conditions to check its performance. All tests were successfully completed, and here is a complete list of them.
Test 1. Download video from YouTube. Pass.

Test 2. Download Youtube playlist. Pass.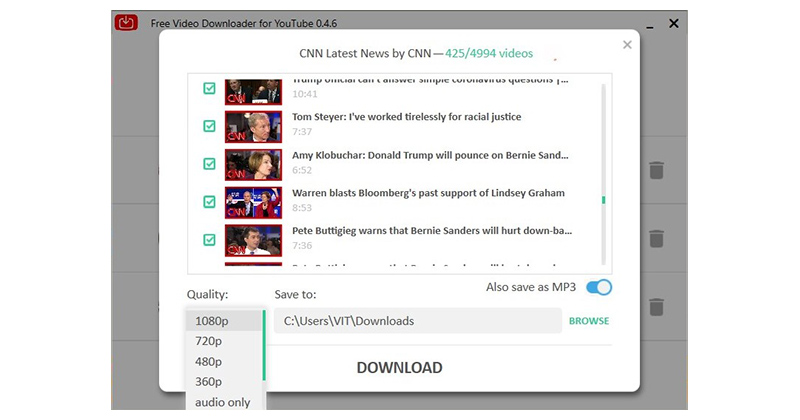 Test 3. Download multiple videos at once (batch download). Pass.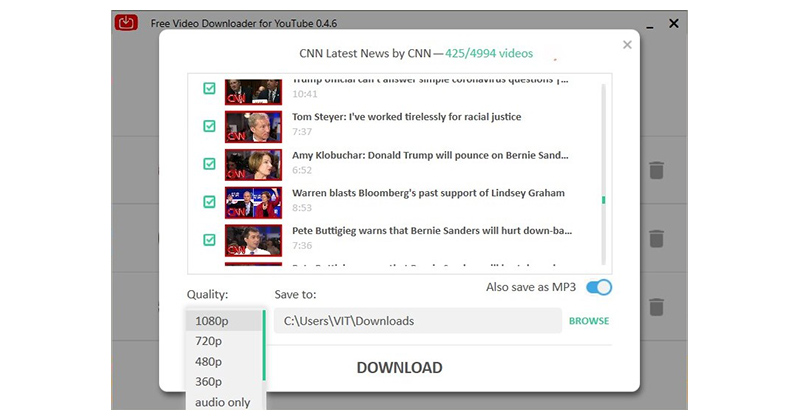 Test 4. Download video from other sources.
Download from Facebook: Pass.
Download from Twitter: Fail
Download from Dailymotion: Pass.
Download from Vimeo: Pass.
Download from SoundCloud: Pass.
Total: 4/5
Conclusion
Free Video Downloader for YouTube is a free software created by tech enthusiasts to download audio and video content from web pages. Our quick tests prove that it successfully copes with whis task. It is easy and to-the-point, it can download multiple files at once (speed is only dictated by Internet connection). Fans of audio files and podcasts will definitely like the ability to download audio tracks and the built-in MP3 converter.