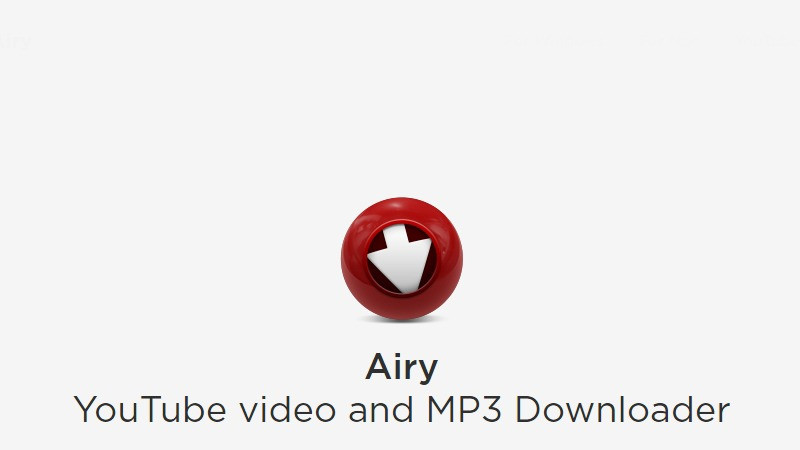 Airy YouTube Downloader is a little and straightforward program designed to download videos of different format and resolution from YouTube. The interface is merely a tiny window with a bar to paste a URL and a few buttons. It is also tiny in size (14 Mb), is compatible with Windows OS and macOS. The latest version is 2.5.265 released on June 2, 2020.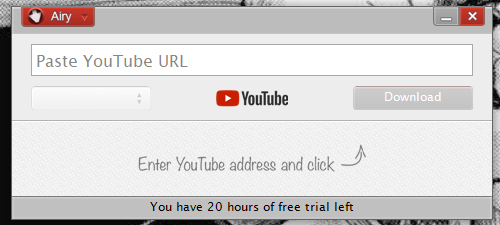 Airy has to be purchased as a lifetime license, although it also offers a 24-hour free and unlimited trial. By the way, it is a product of Eltima Software, a software development company from Frankfurt, Germany, focusing on multimedia, system tools, data protection and mobile products.
There can be no worries about system requirements, as it supports all OS starting from Windows XP, and consumes minimum resources. So you just download it, accept the License Agreement terms, set a directory, choose to create a desktop icon or not, proceed and wait, and then launch Airy. At this point the developer warns users about copyright issues and also reminds about 24-hour free period.

How to use Airy YouTube Downloader
Besides the input line for URLs we see a red button with a dropdown. It has several options, e.g. "Integrate into browser", "Save videos to…" (for folder location), language, updates, etc. We can change the interface language to English, German, French, Spanish, Russian or Japanese.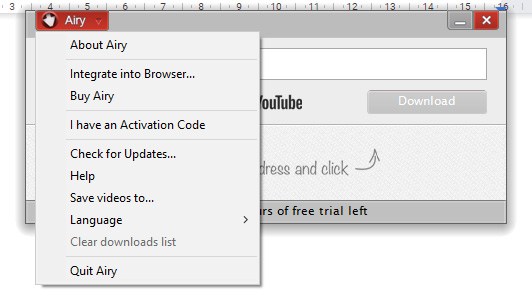 Now let's go over downloading YouTube videos. All is simple. Go to a desired video, copy it's link, paste it into Airy. Select format and resolution - for example, 1080 pixels with 60 FPS, folders to save to, and hit Download.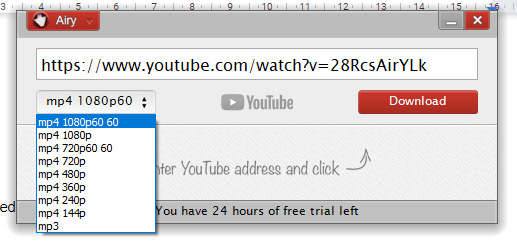 After downloading is complete, you can open the video directly from Airy. We can confirm that the video quality of the output file matches exactly the specified resolution. Sound quality is pretty good as well.
4K videos and processing speed
One outstanding feature of Airy is there are no limits for length of video - one can download even 10-hour video without any problems. Well, actually, let's do exactly that and see what happens. So, 10 hour video in 480 p resolution has been downloaded in about 1 hour (Internet connection speed ~30 Mbps). The same video in 720p, though, took much longer - approx. 8 hours. Therefore, Airy suits best for short clips, such as music videos.
Now let's try to download video of a larger format, for example 4K. Here we see that the maximum output resolution is 2160p (MKV format, 60 FPS). Thus, neither resolution nor quality is decreasing. Unfortunately, downloaded videos of high resolution may lag during playback.

Note: There is no way to select any other format except mp4, mkv and mp3, despite developer description about multiple other formats. This is probably in the work currently.
Downloading playlists
An extra feature of Airy is the ability to get whole YouTube playlists at once. Before the start, if a video is a part of playlist, the app reminds about this and prompts to choose which to download - a single video or a playlist.
Yet, this feature seems not to be working at all, or working improperly. We've tried several ways around playlists (different number of videos, resolution, etc.), and we always get an error. In other words, from a playlist of 10 videos only 6 were saved.
Browser integration
When you click on "Integrate into Browser" a new tab opens with instructions on how to add Airy to bookmarks. It works for Chrome, Safari, Mozilla, Opera and IE. The goal of this extra option is to simplify the download process - when you view a video on YouTube hit the bookmark and Airy opens automatically with a link ready for download. An odd implementation, honestly, as browser extension is a common way for such things, as it seems.
Summary
Overall, Airy is a plain and helpful app if you just need this single function. Additionally, it can act as a YouTube-to-MP3 converter, although there are no settings like sample frequency, bitrate, volume, etc. In terms of pricing, it has 2 plans: Personal - $19.95 for one PC, and Family - $39.95 for 3 PCs. You can also buy additional options such as lifetime upgrades (+$9.95) and urgent support ($15 per month).
Read next: 10 best video downloaders for Mac + YouTube download apps for Mac.