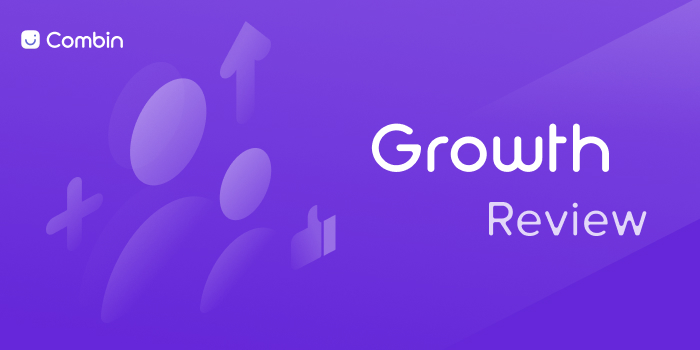 How do we gain the level of social activity that it becomes profitable to invest our time and energy in it? Usually, there are two main ways of leveling-up or boosting or just increasing the activity of your social media profiles: short-term and long-term techniques. Each campaign has unique characteristics, and they reveal the whole point of these methods.
Short-term decisions. I bet every active Instagram user met a service, person, or application that promises to gain 1000+ followers in a few days for a few bucks. Generally, it really can give you a massive amount of new followers in a short period. Yet, in some cases, it can be perceived as suspicious activity, leading to publication restrictions. Anyway, as practice shows, the primary quantity of followers will unsubscribe or stay inactive. And if you have 10K+ followers, but 80% of them are inactive, empty pages, is it really worth it?
Long-term decisions. First of all, defining a niche, then preparing a lot of content for posting, and finally - being active: like posts, follow people with similar interests, leave comments, in other words - be in sight. This evolution method is more challenging, it needs more time, the amount of stuff to remember, and to apply every day is tough. Even skilled users often face certain difficulties.
And now, we are slowly approaching our central theme - Combin Growth. What is this application? What exciting features does it have? We will also look at Combin's interface and try to use it for a while and see how things will go.
Vendor and app introduction
First of all, what do we know about Combin's background? The developer behind this project is Open Media - the same team that made 4K Download - video or audio downloader works with various sources like Youtube, Soundcloud, Vimeo, etc. Earlier, we already reviewed this app in our 10 best downloaders for macOS, and 4K showed some great results, combined with user-friendly design, this app became the golden standard for downloaders.
Now let's move straight to Combin Growth:
| | |
| --- | --- |
| Developer | Open Media LLC |
| Source | |
| Platforms | macOS 10.13+, Windows 8+, Ubuntu 18.04+ |
| Current version | 2.6.2 |
| Size | 87.4 Mb |
Combin is an automation gem for your Instagram. This application is meant to promote Instagram accounts as delicate as possible; therefore, it finds you a loyal audience. Some outstanding characteristics are implemented in this app: interaction, extensive target search, in-depth analysis, management, planning, monitoring options. Each of these items includes at least several exciting tools and features, and just by using most of these opportunities, every user can easily level-up his Instagram account.
To know the application better, we decided to make a test/review to gain a better understanding of the whole app and understand how it helps to improve Instagram accounts. Before writing the review, we've prepared an experimental Instagram account, which will help us test Combin's features.
Profile
To start using this application, you need to download it, install, log in with your Instagram, and right after that, you will be able to explore the whole program. The profile tab is just a representation of your Instagram account; nothing is interesting here, except for one little detail, Engagement rate. It shows you a percentage of the audience that responds to your content - a great thing to know when you are trying to build a healthy IG community.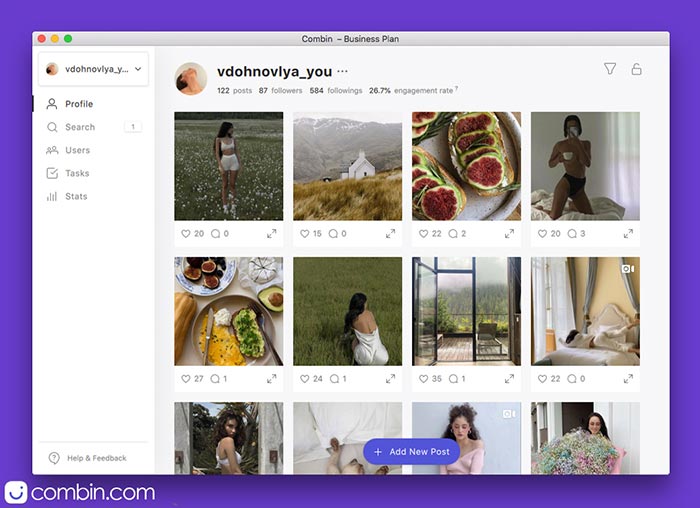 Search
In our opinion, the next tab is the most important thing about this application. In general, this will be your primary workspace. The Search tab is the place where you set up the searching rules, in other words - Targeting options. It takes a while to figure out all the search engine quirks, but these capabilities are immense, as it includes basic and advanced targeting options that contribute to gaining perfect search results. Next, we will highlight some main search adjustments.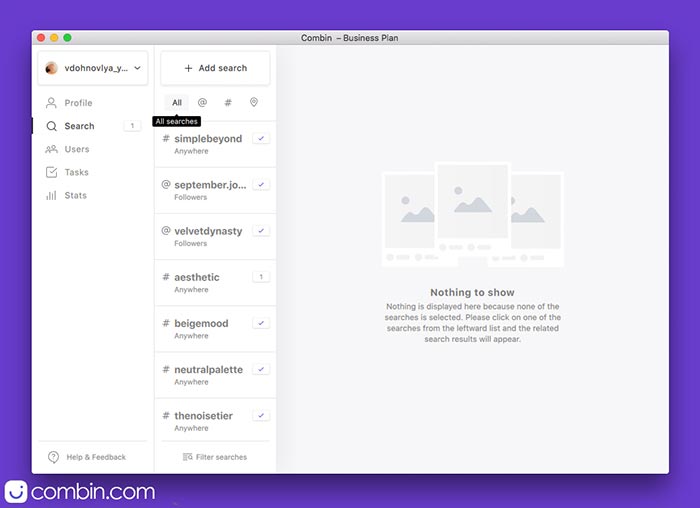 To create a new search template, click the Add search button. We already made a few.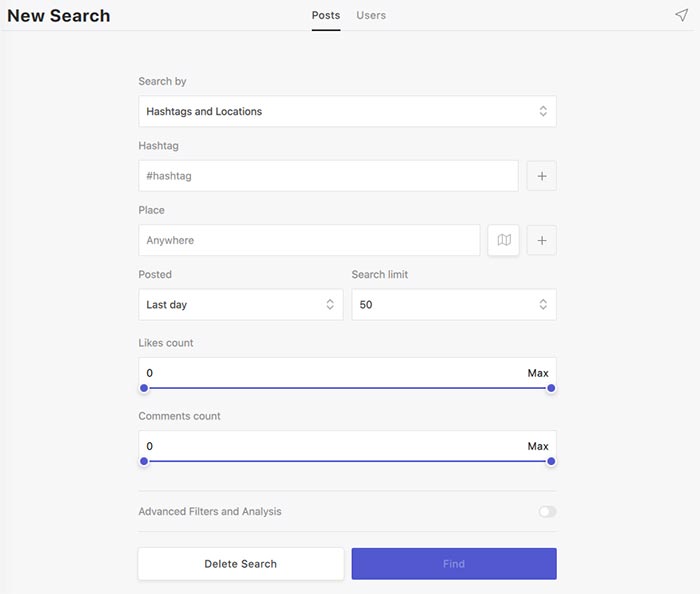 As you can see, there are posts and user searches. So, first of all, you need to figure out what audience you want to find, select the most relevant hashtags (#) in your niche, and understand correctly at what level of development is your account at the exact moment. Depending on this and the rest of the peripheral data, create new searches.
Type the hashtag in the appropriate field, but be careful, do not select the most popular ones, rather relevant ones in your niche. The point is to find the most accurate hashtag. If it is too popular, like #cat, it will cause unnecessary content in this search. Try to select the exact hashtags that perfectly represent your occupation, category, or whatever you like. Don't forget that you also can combine several hashtags for more accurate results.
Then you can pick the exact location where posts with this particular hashtag were published. In our case, we didn't enter any because we see our account as international, without language limits. Likes & Comments count is the amount of those on posts in search, but note, if you will pick numbers that are too high, for example, from 1000 to Max, you run the risk of going unnoticed. As for our account, we entered the next numbers: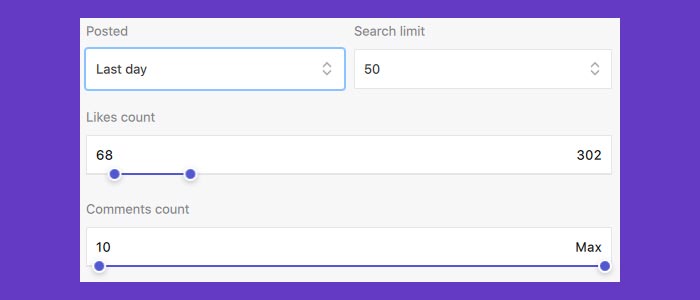 Pay attention that you can also filter results by the publication period. The search limit is the total number of end results. But if you think this is all search filters developers prepared for us, you are wrong. Turn on the Advanced Filters & Analysis toggle switch, and more interesting search options will be revealed.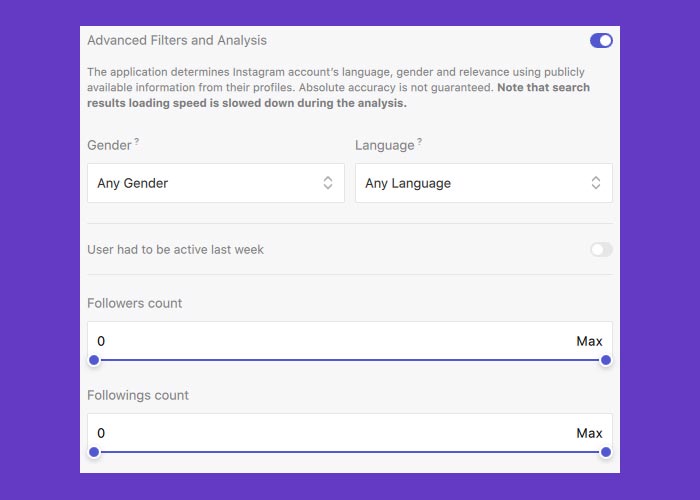 Select the gender of your future followers, the language they speak, i.e. geolocational adjustment, then set followers and followings numbers, and the most impressive is the "User activity" switch. It allows you to find accounts that were recently active.
So, we discovered that you can find posts by hashtags, but what about users. You can set the search to find them too, just switch to the Users tab when creating the New Search.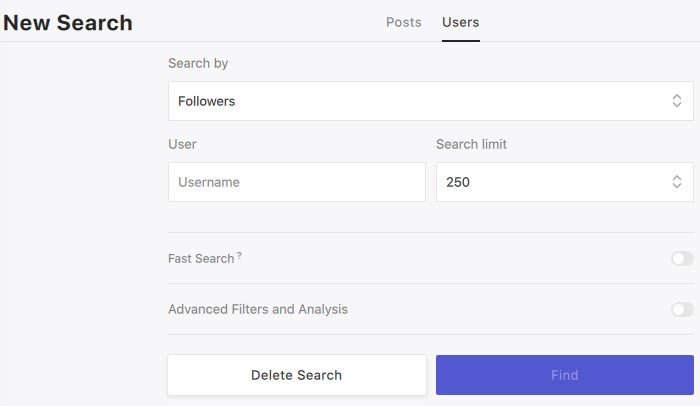 You can find followers, followings, likers, and commenters of the exact Instagram account in this type of search. In other words, you select one popular account which has the same kind of interests, and that is in the same niche as your account. Accordingly, there will be the users you need. This feature also has Advanced targeting options, so to get the relevant search results, you can set these settings too.
So, as you can see now, Combin has wide targeting capabilities, and you can spend a very long time figuring out what's the best strategy for searching. Combine, test, try, decide what's the best way to find an audience you need. Now that we've figured out what is the point of different searches in Combin, let's move straight to the search results and how we can interact with it.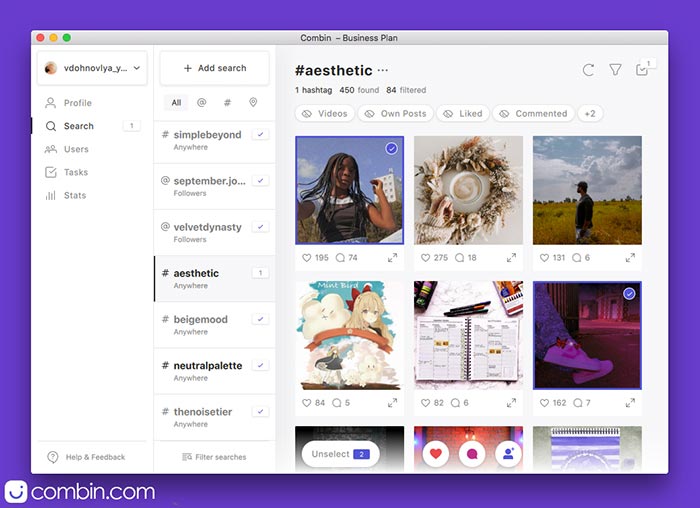 The picture above is the result of posts search by #aesthetic. So, what can we do with them? First of all, select the posts you need bypassing the ads and questionable content. Then click one of the bottom line tools: Like, Comment, or Follow. Let's make it clear, you select a certain amount of posts, then decide to like them, comment, follow these accounts, or apply all actions at once.
As we have been using this app for a couple of days with our test Instagram account, we learned that to get better feedback, it's better to do them both: like and comment when searching for posts; follow and like when searching for accounts, so you attract more attention to your Instagram.
This application is pretty unique, but still, there are a few little features that make this app irreplaceable, for example:
Select posts, then hold down the Like or Comment button, and now you can select to interact either with the exact post or with the last post user published, it can be different posts.
How do the comments work? You create comment templates that are randomly posted under the selected posts. Notice that you can create as many templates as you want, and the bigger their amount, the better. Of course, you need to prepare comments suitable in your niche and that are universal for every post.
As we have been using this app for a while, we figured out the filter thing. Here you can hide certain content to prevent repeated interactions with the same users. It is a handy thing when you manage a lot of tasks daily. To use it, click the Filter button in the upper right corner.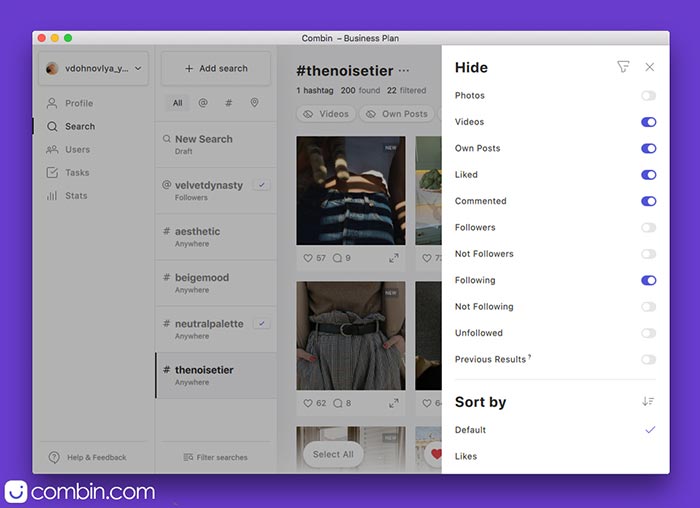 Search is the most essential tool of this app, set it up correctly, and you will achieve success. There are so many ways of interacting with this tab. The longer you play with it, the better the result!
Users
This tab is invented to manage and interact with already existing followers and followings. Make followers know you care about them not only with HQ content but with some liking and commenting on their posts, too, show them some love. Add users to Safe and Black Lists, by the way, which are very convenient features. A safe List prevents accidental unfollowing of specific users.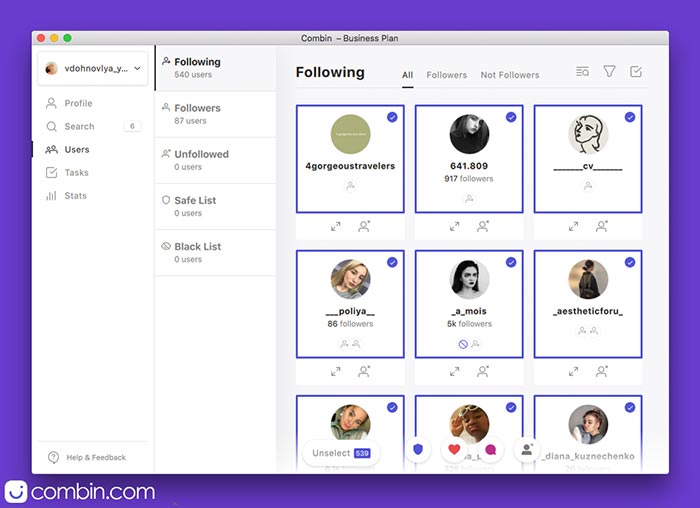 Tasks
Every job you give to Combin, appears in the Tasks tab. They are conveniently sorted by time and day. Pause, Delete active tasks, Filter, and Sort them. This is more of an informative tab.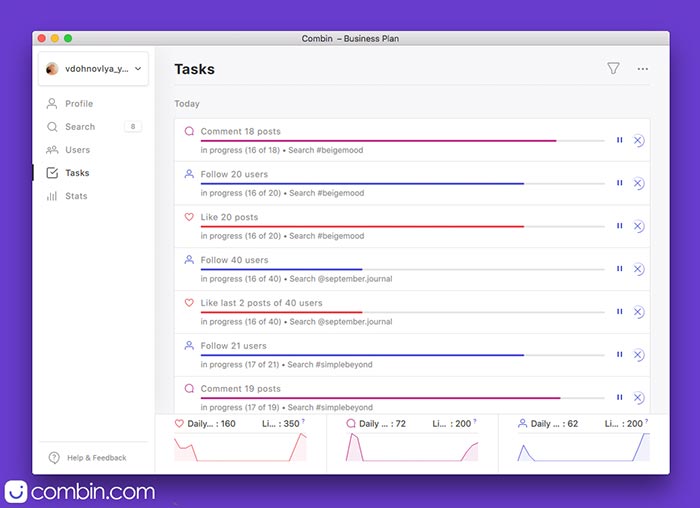 You can notice three little graphics with count numbers and total action limits at the bottom of the window. These limits are adjustable, open Combin settings (CMD + , ), go over the Limits tab, and set desirable numbers for likes, comments, followings per day. There is also an Intensity setting with three options. As we learned, this controls the speed of performing tasks. Be careful with these settings; too high speed and limit numbers can cause your IG account suspicious activity report.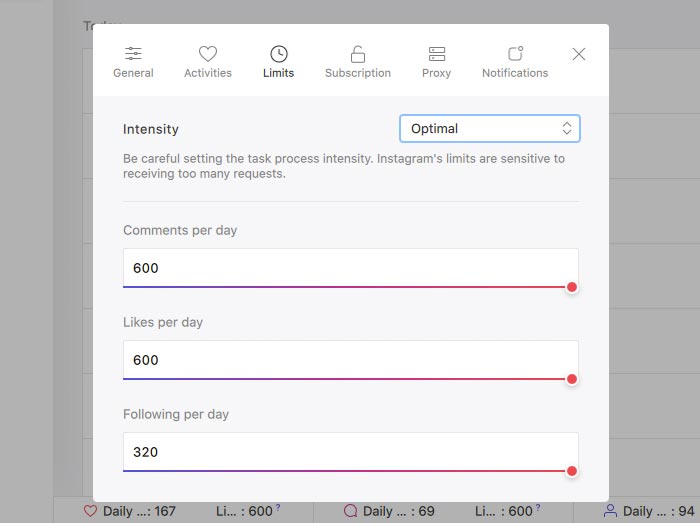 Statistics
This is a useful tab in terms of monitoring and planning your actions and campaigns. The first graph shows the overall gains over a selected period, the second graph shows all performed tasks. When you get used to this app, discover all main features, and use Combin at least for a few days, we guarantee, you will consider Stats more than the graphs and numbers tab.
As you gain more experience with Combin, you begin to understand its primary purpose and rethink some of its features, we mean that even the Stats tab becomes more of a planning tool. Depending on overall income and finished tasks, you decide how to control your campaign.
Settings
We could not forget about some interesting adjustable options in the Settings of the app. To open the Settings, click Combin in the Menu bar and select Preferences, or press CMD + , (comma) on your keyboard. Settings consist of 6 separate tabs:
General - a few integration options, Language change, beta updates switch.
Activities - set up some simple rules for liking and commenting, performance sequence, and set the number of likes on users' last user posts (holding the like action button).
Limits - set liking, commenting, following limits.
Subscription
Proxy
Notifications.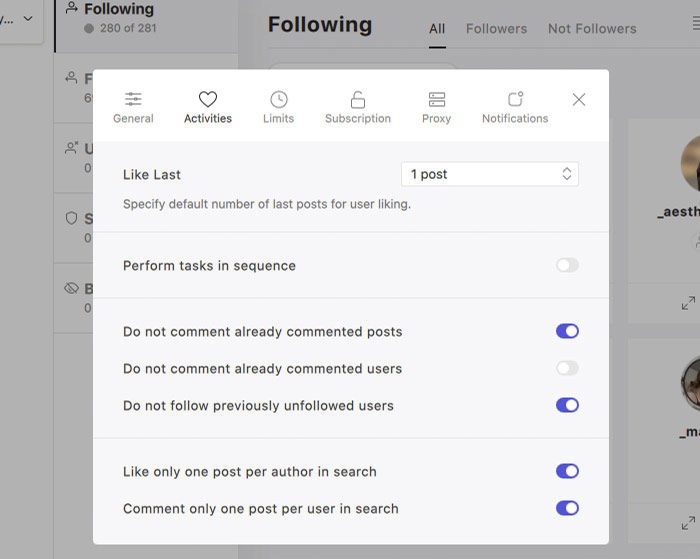 Test Instagram account
Several days into learning and investigating the Combin Growth app, we've begun to review and started our independent testing of its functionality and efficiency. To make end results better, we tried to follow major rules of Instagram promoting: daily activity + daily content, so users could see that a page is not only active, but interesting too.
Combin can do a lot of work, it can even publish scheduled posts and stories for you, but it can't find and make your content. So we prepared photos for everyday publishing: 3+ stories a day, 1-2 posts a day. Half of this work is driven by another application by the same developer - Combin Scheduler. This excellent app will publish stories and posts to your account with geodata, tags, hashtags, description, etc. We will review this app in our next article.
To make it clear, our account was inactive for about a month beforehand, no likes received, no new followers, no activity at all. This is just a page with some beautiful photos, these types of accounts are hard to promote, and they attract less attention than any other accounts. So we present account growth results after a week of Combin active use.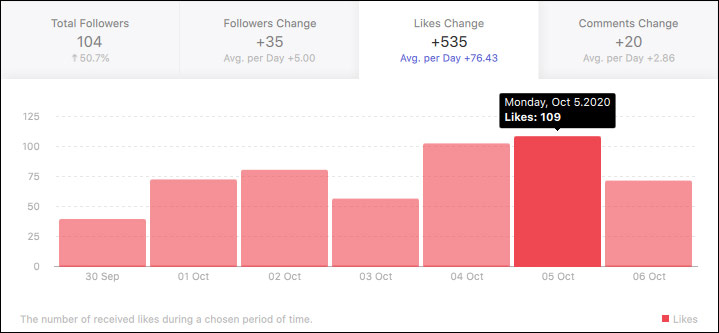 To sum up: for a generic Instagram account with no likes and followers, in 1 week we've got 35 followers, 535 likes and 20 comments. This test's main point was to show that this application works; just imagine the level of evolution an account with 5K followers can get. I assume that in two months, Combin can easily double up the number of your subscribers.
| | | |
| --- | --- | --- |
| | Average per day | Total |
| Followers | 5 | +35 |
| Likes | 76 | +535 |
| Comments | 2.8 | +20 |
Summary
Combin Growth is really helpful for social media management and marketing. The goal is not just gaining a random audience just for the sake of quantity. It allows you to build a successful personal or business account. If you run it properly, it will become an absolute goldmine. Paired with a Scheduler app, the whole project creates perfect conditions for account growth.
The level of activity your page makes, attracts attention, hence you gain a loyal following interested in your persona or product, in your content. Let's not forget the statistics we can learn with this app - you won't even notice how graphics and numbers will become a tool for planning Instagram campaigns.